One more week down in the off-season, and we're within three weekends of Anaheim 1. The test tracks have been buzzing with activity, be it testing or team photo shoots, as everyone gets ready for a frantic holiday season before the real fun begins. This year, at least Anaheim is back to January 9 instead of January 2, as that would be way too close to New Year's for anyone's comfort.
Yesterday, Eric Johnson hooked up with
Chad Reed
for
an interesting piece
where Chad talks about his busy off-season—he rode the MXoN, switched teams, went back to Australia to race, now he's back here—and also his new team. EJ also said #22 looks pretty damn fast on the new Kawi.
On the other
James Stewart
has been down in Florida working on his SX game and from what Garth Milan told us, he looks pretty damn fast too. And Jason Weigandt spoke to him for a magazine piece and he sounded very comfortable and confident. "He knows what the expectations are for the series and he seems very much at ease," reports Weege.
And then there's
Ryan Villopoto
, who graces the cover of the brand new issue of Racer X. We've been watching him ever since he got back on his Monster Energy Kawasaki after taking the summer off with that bum knee, and he should also be 100% by the time we all gather under the Big A, along with the JGR boys, Honda Red Bull Racing, the new #5
Ryan Dungey
, let alone all those fast Lites guys. It's shaping up as a fantastic season!
From what I can tell so far, it appears that Mitch Payton is opening with his aces as
Christophe Pourcel
and
Jake Weimer
will be his West Region riders, with
Josh Hansen
in a support role. That leaves
Tyla Rattray
, who is nursing a shoulder injury, and the rookie
Dean Wilson
on the East Coast.
GEICO Powersports Honda will go to the starting gate at Anaheim with
Trey Canard
and the veteran
Brett Metcalfe
, while sophomore star
Blake Wharton
and SX freshmen
Justin Barcia
will be riding in the East. Barcia's been riding supercross for a while now and should come out firing like he did in the nationals. Check out a great video of him practicing at
Vurb Insider
.
Wow, some good news for a change! According to a source in Washington, DC, the Consumer Product Safety Commission voted late yesterday for a one-year delay (February 2011) for the compliance certification and third-party testing rules on the lead limits in kids' products for ages 12 and under. "Manufacturers and importers are still required to test their products for safety, and comply with federal lead limits," read the email. "The purpose of the delay is to give businesses more time to comply with the additional requirements in the CPSIA. According to Chairman Tenenbaum, 'The extension of the stay was needed in order to give the agency more time to promulgate rules.'"
Here is the gift that just keeps giving and giving and giving. It's
Lee Sutton's Vintage MX slideshow
, which is an astonishing look back at California motocross in the 1970s. Thanks to Pat Schutte for the reminder; merry Christmas, Shoots, and let me know what you end up doing with that big vacant stadium you bought in Pontiac…
Our Virtual Trainer Tim Crytser has
an excellent piece this week
: Training out in California with Star Racing Yamaha's
Broc Tickle
and
Nico Izzi
and watching over the shoulder of the well-respected trainer Charles Dao of the Icon Sports Performance and Wellness Alliance. It's the full day, with videos to help illustrate the workouts they do. As you start preparing for your own New Year's resolutions, this is a great place to get some tips:
Pat Schutte spotted this old-school gem on YouTube: "The Stadium Motocross Phenomenon" in three wonderful parts, featuring the 1975 Superbowl of Motocross from the Los Angeles Coliseum, hosted by Ron Burgundy! Okay, not really Ron Burgundy, but check out the host!
You can go down further on the search page to find more. The film includes Marty Smith's spectacular crash off the start of the first heat, where Smith missed the first turn and went wide open into the whoops! It has to be one of the ten most spectacular crashes in Supercross history, in part because it was captured on film by a camera crew working on a documentary about the race (and used in the TV show mentioned above). What do you think were some of the other Best Known Crashes in Supercross history? Send us some of the ones you best remember right here:
Editor@racerxonline.com
.
There was news from the patent office. John Clark, President of Hammerhead Designs, Inc. and Kevin Maret, inventor of the pin-style holeshot device, and holder of U.S. Patent No. U.S. 7,051,852 B2 announced they have entered into a non-exclusive licensing agreement for past and future royalties on holeshot devices manufactured Hammerhead Designs, Inc.
Hammerhead Designs acknowledged the validity of the Maret patent and signed a non-exclusive licensing agreement. (A U.S. Patent Office provisional patent was issued to Maret on July 26, 2002. Kevin Maret has been manufacturing his own "Tamer Holeshot Hook Up" holeshot devices with his patent number on the devices.)
Chad Reed
was the first. There is a very funny story there: Chad was practicing when he had a failure on the other brand part he was using. He decided to change brands and went to Langston Racing to find something else. Of course they had several, including the Hammerhead product. We guarantee all of our parts and print that on the packaging. When Chad saw our part he noticed this and turned to his mechanic and said, 'Hey, it's a guaranteed holeshot!' They put our part on the bike and subsequently won more holeshots than any other rider that year on the way to winning the 2008 Championship.
"After this fantastic season, we went back to find out what had caused the failure on Chad's bike with the other brand product and were horrified to find that our product design had the same potential for failure, so we went back to the drawing board and completely redesigned this part from the ground up," adds Clark. "We made a large number of substantial changes, many of which are virtually invisible (including an oil-impregnated internal bearing for the operating pin), and the result is by far the most sophisticated Holeshot Device ever produced. Of course it is still guaranteed, and at Anaheim 1 on January 9 I am confident that it will again be the Hammerhead Holeshot device that makes it to turn one out front!"
For 2010, Hammerhead Designs will again have the L&M Racing team running their Holeshot Device, along with Joe Gibbs Racing MX/Toyota Yamaha, Moto Concepts Yamaha, GEICO Powersports Honda, Troy Lee Designs Honda and more, plus a large number of privateers.
Okay, let's turn it over to Steve Cox first.
Ugly Christmas Sweater Parties are all the rage, and although my wife built me what I thought would be a winner for
Ryan Villopoto
's party last weekend, I knew I was outmatched as soon as people started showing up with battery packs in their pockets to power the lights on their sweaters. However, most people seemed to take the theme pretty seriously, which isn't always the case at theme parties. And almost everyone, it seemed, had their wives and girlfriends make/find their outfits for them. It seems women love to make their men look foolish (
Jake Weimer
and
Ryan Morais
demonstrate).
Feld Motor Sports, on the other hand, is taking their new Nuclear Cowboyz freestyle show very seriously. Knowing most of the industry press is out here California-way, Feld set up the full-on Nuclear Cowboyz show basically just for us inside the Los Angeles Memorial Sports Arena. Tickets were not on sale for this event. The people in attendance were given free passes to check it out. It turned out to be quite an exclusive event.
Nuclear Cowboyz is like half Cirque du Soleil and half freestyle motocross. A full-on, choreographed dance show with music and a storyline, and it features some of the biggest names in freestyle motocross, including Nate Adams, Jeremy "Twitch" Stenberg, Ronnie Faisst, Todd Potter, and many more. It's difficult to find an unrecognizable name in the group. This isn't your mom's freestyle show. This is the real deal!
But it's not a contest. While the FMX crowd definitely hones their skills for X Games and other contests, where winning really matters, those skills are put to some amazing use in the Nuclear Cowboyz show. Kind of like the Shao-Lin monks who train for fighting but end up dancing for audiences all over the place.
While the storyline was kind of hard to follow (they are still tweaking it), since it's narrated by the same guy who announces the riders at the Supercrosses (you know, "From Corona, California… Daaaaaviiiiiiidddd Vuillemiiiiiiiinnnn…"), it doesn't really matter. His voice is so gruff, and the arena so small, that when he said it was time for intermission, I didn't know if it was over or not!
However, there's a quad guy whose name I didn't catch who does a couple of back-flips in the show. That was impressive. However, after the first one, he rode off with two of the female dancers! I mean, I believed the whole nuclear holocaust part, and the two "gangs" of a sort who are battling it out by doing freestyle motocross against each other, but when the quad guy got the girls, I felt like the producers jumped the shark. I mean, I'll believe a lot of things, but…
(I keeeed. I keeeeed.)
Check out
my wallpapers
from the event that posted this morning, but do yourself a favor and go to
www.nuclearcowboyz.com
and check out when this show is going to be near your home. It's truly a spectacle.
That's it from Steve "Christmas" Cox. Frank Hoppen was also out at the rehearsal for Nuclear Cowboyz and came up with this really cool video preview:
http://www.youtube.com/watch?v=dE6TZf2KAaU
"It is a pretty cool new thing Feld is doing and this has a lot of potential," Frank told us in an email. "Next step would be to make this a real Broadway musical, it is almost there!"
The first real show will take place on January 2, 2010 at Mellon Arena in Pittsburgh and the whole Racer X crew is planning on road-tripping up to the big show! Also, there will be a HUGE after-party at Julie Kramer's new house. Stay tuned. For more information, check out
www.nuclearcowboyz.com
Here's Jason Weigandt…
For the last few weeks, rumors have been going around that
James Stewart
is injured and possibly out of supercross this season. Well, the rumors of his demise have been greatly exaggerated. He did have to take some time off due to his illness, but he's in Aldon Baker's boot camp right now, riding and training by day and studying film at night. I talked to James on Wednesday night and he seems more comfortable in his role as series' champion now than ever. There's a lot of pressure and scrutiny that goes with being number-one, but James grew up knowing this would be his role, and I think he's starting to embrace it. Look for the full take on this in our March issue, which will actually be out in just a few weeks.
Josh Hill
is down in Florida riding with James. Hill told me he's been working with "a lot of smart people" in order to rebuild his body type and lose weight. He says he's down to 159 pounds, and he's never been that light while racing big bikes. Josh says this is going to be his best year and I believe it. As for Stewart's old teammate,
Kyle Chisholm
, we hadn't heard much, so I got in touch with him. Kyle says he will be racing this year no matter what, even if it's on his own as a privateer. Since he finished inside the top 20 in SX points last year, he's not allowed to race the Lites class, which he says cost him a chance at a few good riders. Chisholm has a bike, he's training and he'll be ready for A1 on a 450, but if any teams have a spot, he'd love to find a deal. Kyle says he would especially like to get on a 450 outdoors, so hopefully he can make something happen.
And yes, he and Stewart are still friends despite all the drama he created at Salt Lake City last year. In fact, Kyle rode at James house just a few days ago.
One American racer who won't be at Anaheim this year is Zach Osborne, as he is returning to the GP scene to take on Marvin Musquin for the MX2 Grand Prix itle. Zach's in Sweden right now training hard. He knows Musquin will be tough, but he feels like with the amount of work he's putting in, he may be able to give him a run.
Here we can turn it over to Ping
This is always a scary part of the off-season. Rider start to really push it in preparation for the season and there's inevitably some crashes and injuries that follow. This week
Tommy Hahn
and
Chris Blose
both had close calls with crashes. They each thought they had broken bones but thankfully x-rays for both guys came out clean. By the way, I'm calling
Chris Blose
as the top privateer in 2010. The kid is solid and he has Tony Berluti spinning wrenches for him. I think it's a great combination and I believe Chris is going to be a regular in the top ten this year. Fingers crossed all the guys can get through a few more weeks healthy. Can you believe we are only three weeks away from A1?
We know who the big players are in the 450 class this year. Stewart, Reed, Villopoto, Dungey, Short and Hill will probably be the guys at the front of the pack. But who's riding west coast in the 250 class? I'm hearing different from DC—that Weimer and
Dean Wilson
will be Pro Circuit's guys out west. And we agree that Canard will ride west but the second GEICO Powersports Honda rider is unknown still.
Broc Tickle
and
Nico Izzi
with both ride west for Star, Searle is KTM's lone rider, Ryan Morias and
Blake Baggett
are Rockstar/Suzuki/Canidae's riders and my guys
Wil Hahn
and
Cole Seely
round out the elite on the west. That's a pretty stacked field and it should make for some great racing.
Make plans to go riding on December 27th at Perris Raceway. The famed SoCal racetrack is hosting a ride day for
Christian Craig
from 9 a.m. to 3 p.m. There will be raffles, a silent auction a perfectly-prepped track and a special mini track for the kids. Christian suffered fractures and a dislocation of his L2 and L3 vertebra in a crash this fall. Miraculously he didn't suffer any paralysis but the surgeries, therapy and time off have put Christian in a very difficult spot financially. Please come out and show your support while you ride a great track. The Troy Lee Designs race team will be in attendance including the boss, Troy Lee. Jeff Ward and Ricky Johnson will be there and many top current pros will be in attendance as well. I'll see you there.
Time for Steve Matthes….
I haven't contributed to Racerhead the last few weeks mostly because I didn't have a whole lot to say. Around this time of year, I find that it's best to hunker down and try to get a little time off before the circus begins again. I went back home to Canada for five days and tried to relax with mom and all the family up there. When it's -48C with the wind chill there's not much to do other than sit inside and watch hockey and curling. Curling is like a giant game of shuffleboard but on ice, with brooms and people yelling "Hurry hard." My mom loves it and it ranks somewhere behind tiddlywinks for excitement but when in Rome…
I'm helping out
Andrew Short
with his new website and soon you'll see a brand new
andrewshort.com
launched which will include some video, audio, giveaways, the ability to ask Andrew a question and weekly updates and fun things that will want to make you keep checking back to see what crazy Andrew is up to now.
A real exciting thing for me is the launch of a weekly internet radio show called
The
Motoworldracing.com
Moto Show
. It will be a live one hour (or longer) show that myself and super-agent Paul Lindsey will host on
Pulpmx.com
. We'll also have Hart & Huntington's Kenny Watson on quite a bit as he's a master story-teller. Some of the coolest people in the moto industry will be on it and the best part is that you'll have a chance to call in and rap with us and the guests. To keep the budget down as much as we could, we decided to go with a local 702 number for you guys to call into because everyone has long distance on their cell phones right? Should we buck up for the 1-800 number? Let me know what you guys think at
matthes@racerxonline.com
. We really wanted this thing to be a forum for all the fans of moto to call in and ask whatever question they want to a
James Stewart
,
Chad Reed
or even a Beeker.
This is all going to go down on Mondays 6PM PST/9EST starting January 4th if we can pull it all together somehow. Thanks to Brian and Glen at
Motoworldracing.com
for stepping up as this thing wouldn't have happened if it wasn't for them.
Matt Boni
and
Chris Blose
have been pounding laps. Interesting to note that the team is using 2009 CRF 450's this year as it's easy to make the'09 into a '10 if the rider desires it. They just can't get the 2010 early enough to start testing so went with what they knew.
As Ping mentioned, Tony Berluti is Blose's mechanic and in talking to him, it seems that he's enjoying his team switch. After being at Suzuki for so long, Tony had maybe forgotten what it was like to have the freedom that an independent team offers plus the shop is ten minutes from his house which has to be sweet for him. The H&H team is already benefiting from Tony's presence as team manager (and original Moto XXX member) Kenny Watson told me that Berloot has already come with some new ways to look at doing things differently on the bike.
And now for the letter of the week:
Steve, you're fat. I'm fat. We need to go on a diet to see who can lose the most blubber. Then race each other. Winner takes all.

Later,
C.Davis
Now I'm not really sure how to react to this. On one hand, he's insulting me and calling me fat. So he's a jerk right? But there's the flip side where he admits that he's also fat and wants to lose weight with my help. So he's trying to motivate me and be my buddy. Then he wants to race me after we lose said weight. I'm really not sure how to take this…
In
Tim Ferry
news…well there's no
Tim Ferry
news actually. He did send me an Iphone video of his kid Evan hauling ass through some sand whoops and a berm. The KXF 70 thing seemed to be wide open. I think the Ferrys have a problem here.
Check out
pulpmx.com
for some different stuff and if anyone knows who the hell Pat Gomm is, please go there and tell me. Thanks to the RXI crew for letting me pump this site. Look for a Super Hunky podcast real soon. Yes, I just said that.
That's it from Mr. Matthes.
Blonix, a new speed & performance shop recently opened its doors for business and launched
www.blonix.com
. Blonix offers top-shelf motor, suspension and EFI services developed from countless hours of testing at the track and on the dyno. Check them out if you're shopping for more giddy-up.
Check those out here
.
Tucker Hibbert
continues to be the GOAT of snocross, or at least it seems that way! The versatile motocrosser who rides on the snow for Monster Energy/Arctic Cat was untouchable at round one of the AMSOIL Championship Snocross Series (ACSS) in Duluth, Minn., last weekend, becoming the first rider in history to sweep the AMSOIL Duluth National two years in a row. In the 18-year history of the event, no rider has ever
won both pro classes twice
.
Look for Tucker to get on the dirt in the spring and back on track for the 2010 Lucas Oil AMA Pro Motocross Championships.
Check this out:
In a historic and monumental display of customer and fan appreciation, DeCal Works, the largest custom and semi-custom dirt bike graphics and decal company in the world, has stepped up in a very big way with it's exclusive sponsorship of the Perfect Card Promotion presented by Decal Works. This fun opportunity gives fans everywhere up to an astonishing 34 chances to win $25,000 CASH this Supercross season starting January 9th, 2010! It's fast and easy, here's how it works: Go to
ProMotoFan.com
and register for the 2010 ProMotoFan Fantasy Supercross Series. Then, before each Round of the Monster Energy/AMA Supercross Series just Submit Your Picks of the Top 10 Riders for each Class in the position you believe the riders will officially finish overall. If you correctly pick all 10 riders in either class in the exact order (Perfect Card), you win $25,000 CASH!
Euro SX update from Gabi Kneip:
There will be live timing of the Munich SX. You can find it on
www.motor-sports.de
under "SX München."
If you're headed to the Phoenix SX next month, check out the first of "Dano Days" out at Arizona Cycle Park.
Carey Hart celebrated the holidays with a company party at Pole Position Raceway in Las Vegas last week. The Hart & Huntington co-founder was the first rider to ever attempt a backflip, which came at the 2000 Gravity Games in Rhode Island. The party included Supercross rider
Chris Blose
, team manager Kenny Watson, factory Suzuki mechanic Tony Berluti, as well as about 50 of the freestyle icon's closest friends. Hart will be signing autographs and racing against the public on January 6 from 6-8 at the all-new indoor kart track in the Summerlin section of Las Vegas. The new track is located at 7350 Prairie Falcon Rd., Las Vegas, NV 89128.
Click here
for more information check out.
Check out Carey Hart's inked-forever tribute
to Pink.
The Donnie Hansen Motocross Academy will be holding classes at the following tracks in Southern California in the next few weeks: December 27-28 at L.A.C.R. in Palmdale, and then January 22 at Piru MX in Piru. Contact Donnie Hansen at 877-883-7260 or email
Donnie@DHMA.com
for info and registration. Check out
www.DHMA.com
for other classes scheduled around the country.
Once again MX for Children will be raising funds for local children's hospitals in the U.S. and Canada in conjunction with the 2010 Monster Energy SX Series. "We are just starting to get the word out for fund raising for the Toronto round," said Rex Backman, who helps out with the program. "Sick Kids has created
this nifty fund raising and donation site
– making things a bit more automated.
People can donate funds directly to Sick Kids via site. Also people can officially register themselves as a fundraiser in which case they get their own unique fund raising page.
We also got this note from Brett Wise of MX for Children: "Randy Abrahamson rode for me back when I was running the race team at a local dealership here in Washington. In 2005, he was practicing for the amateur nationals when he crashed hard and hasn't been the same since. They have started a website for him to try and raise money for him so he can get the medical help he needs:
hopeforrandy.blogspot.com
. They are a great family and are desperate for an answer.
http://www.riderdown.org/forum/showthread.php?p=12526#post12526
An old friend Mike Burgess sent this unfortunate note about a motocross family that is in a crisis as we head into the holidays:
"Mark & Nikki Luinstra and their three girls have suffered a huge setback in Nikki's battle against cancer. Nikki's is facing a long term battle with this nasty disease and her job benefits are sure to run out soon if she cannot return to work. Anyone willing and able to donate and/or contribute to this account to help this great family out in the very most difficult of times. I am also currently collecting and have commitments from many national riders items that I will start an eBay auction called " Help Cure Nikki." I know the economy is rough and it's the holiday season but even if you could just donate five bucks each we can raise a huge amount of money to help out. So I challenge each and every one of you to step up and lend a helping hand to a great family in need of our help at this time. Donations can be made to Nikki's PayPal account and it is as follows:
luinstran@yahoo.com
.
"Also, I would like to ask all Shop owners that may be able to donate any items towards this Auction to please email me:
mburgess7@verizon.net
. I know there must be a few items you can each donate to help raise as much as we can for the Luinstra family.
Sincerely,
Mike Burgess
Mark & Nikki Luinstra
110 Downing Ct.
Bossier City, LA 71111
Thanks for reading Racerhead. Look for a special one next Friday—Christmas Day—and enjoy your holiday season. See you at the races.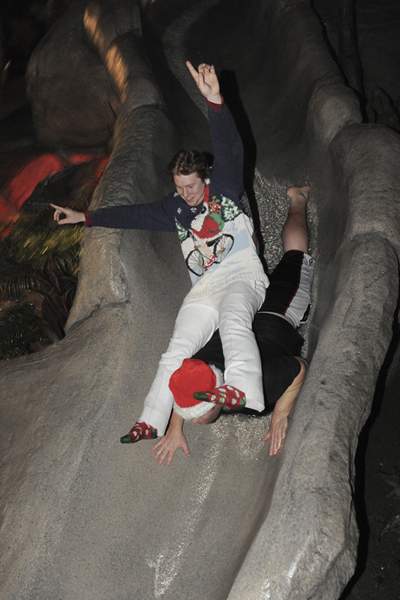 Ryan Villopoto can ride anything" />