Factory Connection Adds New Location
Factory Connection is pleased to announce it has expanded its operations to the central part of the United States. Factory Connection has opened a company owned and operated suspension facility in Muskogee Oklahoma. The new facility employs FC staff and mirrors every aspect of the Factory Connection model that in operate in Barrington NH (FC East) and Corona CA (FC West).
Factory Connection is now within 1-3 days shipping to virtually any place in the United States. The Oklahoma facility will be primarily serving the following states as they are only 1-2 days shipping. Oklahoma, Texas, Arkansas, Colorado, Illinois, Iowa, Louisiana, Mississippi, Missouri, Nebraska, New Mexico, and Tennessee.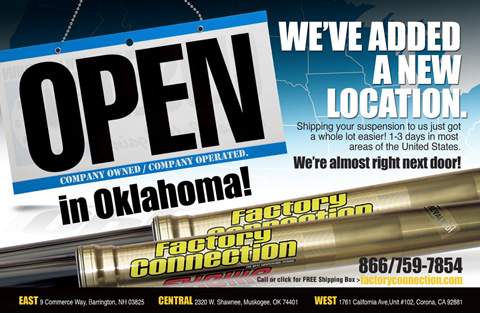 "As a company we look forward to continuing to work with our loyal customers and riders in the central states. Meeting and developing relationships with new customers and riders is always exciting", commented Steve Ross – General Manager. "Factory Connection is very focused on providing outstanding customer service, technical support and The Best Suspension. Period."