Once again, Racerhead is coming to you from Europe, this time on a train from Brescia, site of the 2009 Red Bull Motocross of Nations, to Milan. It's Friday—sightseeing day—and there's a really good vibe in the air about this race. Make sure you tune in very, very early on Sunday morning to www.foxracing.com for the Freecaster.tv live feed of the race.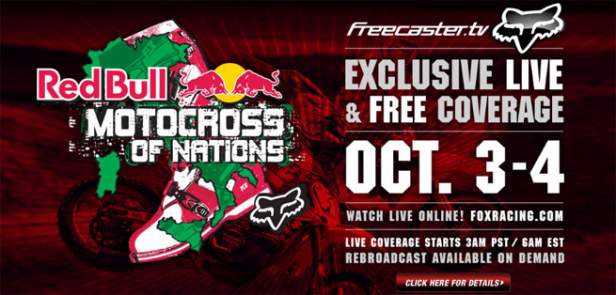 Also, click here to check out Wes Williams' pre- and post-race shows from the event. We will be doing some short highlight clips from the media center, with race footage and interviews. Should be a fun weekend. Full event coverage begins Sunday at 6 a.m. Eastern and 3 a.m. Pacific.

Wes already posted a preview video of Team USA at the Malpensa Airport track, and apparently, word got out that the Yanks and the Australians (almost everyone's favorite to win this time) were going to be riding at the track, which is located on a hill right next to the A4 Autostrade, and the track filled up with flash-mob fans wanting to catch a glimpse of both teams.


Ryan Dungey
and American Suzuki, as well as
Chad Reed
and
Michael Byrne
, or
Mitch Payton
bringing
Tyla Rattray
's bike and supporting him as best he can. The Motocross of Nations is just a special race where things like that happen that we don't often see other times during the year.
Afterward, we were out by the track at the welcome center, which was right next to a service station, and in walked Dungey and his family, plus
Beeker
,
Ivan Tedesco
and
Roger DeCoster
,
and a few more Team USA guys. They were all blown away by the girls they saw on the side of the road wearing sheer miniskirts and thongs, halter tops, and less.… Yes, they were roadside hookers, and Dungey could not get over how bizarre the whole concept was. "Those were not prostitutes," DeCoster kept joking with him. "They are welcome girls."
Pretty soon they were going back and forth on lap times, and apparently Dungey, who has stepped up to a 450 for this race in service to the team, was slightly faster than Tedesco on his 450, though both shrugged off the times when it was mentioned. It's pretty clear that they're in this together, along with
Jake Weimer
, to keep Team USA's winning streak alive at five on Sunday.
We also talked about how devastated everyone was when they heard about Enzo Racing's
Ross Maeda
's terrible crash last weekend. Ross is hands-down one of the nicest people you will ever meet, and he has a considerable group of friends in the industry, because everyone he's ever worked with becomes a friend. I count myself as one of them. Our sincere best wishes to you, Ross, from the whole Coombs family.
Outside the track at the media welcome center, we were greeted warmly by
Giuseppe Luongo
and the Youthstream team, who are doing their best to accommodate Team USA and friends while here in their home country. Luongo was the organizer of the last Motocross of Nations held here—the legendary 1986 race at Maggiora, which was dominated by
David Bailey, Ricky Johnson
and
Johnny O'Mara
. I'm not sure why it took 23 years for the race to return to this motorcycle-crazy country (
Valentino Rossi
is seemingly on the cover of every other magazine), but I imagine it won't take that long to return. They are expecting good weather and hopefully an epic crowd for the race, which is being held on a section of an
autodromo
(which is Italian for racecar track, I think).

Click the image for the great full-sized shot by Steve Cox.
On the train to Milan are my usual traveling companions Cernic and Moe, plus special guest appearances by my mom (her first trip to Italy) and AMA Pro Racing's Roy Janson. We all went to the track yesterday but did not actually go in to see it in person. Overall, the vibe is really good. Team USA is not a clear favorite for once, and it really could go anyone's way. This race often comes down to one exceptional ride by someone unexpected—O'Mara in '86, Paul Malin in '94, Ryan Hughes in 2000—and that just might happen again here this weekend.


James Stewart
. The 2009 AMA Supercross Champion is not participating this year, and it's obvious that a lot of folks over here feel let down. Stewart is actually on the event posters, along with national hero
Tony Cairoli
, German wunderkind
Ken Roczen
, and England's
Shaun Simpson
. What his absence means is a much closer race for the Peter Chamberlain Trophy than we Americans, spoiled by some much success in this race since 1981, feel comfortable with.
Last night, the lobby bar at the AC Hotel turned into one of those epic bench-racing sessions, with DeCoster and Payton holding court, along with Janson, Cernic,
Bones Bacon
,
Doug Sczpinksy
from Bridgestone, and a few others. We are all sworn to secrecy over most of what was said and laughed about … though I can tell you that
Austin Stroupe
signed with Team Suzuki.
The Americans of course are not the only team to be missing top riders (don't forget that
Ryan Villopoto
and
Mike Alessi
and
Josh Grant
were all out with injuries when the team came together). The French do not have either of the
Pourcel brothers
, New Zealand is missing
Ben Townley
, and the Swedes are missing
Jaborg Jaborg
(inside joke).
I saw
Josh Coppins
at that same gas station yesterday and he told me that Ben has been healing up after his shoulder surgery in Belgium and, like
Mike Alessi
plans to do (according to MXA.com), will likely skip the AMA Supercross series and do a few international motocross and Grand Prix races before the 2010 Lucas Oil AMA Pro Motocross Championships start up next May.
And what is
Chad Reed
doing for a ride in 2010? Still no concrete plans, but we may all know by the U.S. Open next weekend. I have a good guess, but I've been wrong there before, so stay tuned.
The train has stopped in Milan, so time for some quick sightseeing….
Motocross Magazine
, one of the biggest magazines in Europe, up in the second story windows of an office building. Upon closer inspection, there was a brass placard on the door with
Motocross
on it as well. So we pushed the button on the wall panel and a woman answered the intercom. We asked for
Edoardo Pacini
, the editor of the magazine, and the door opened. We walked in and found Edoardo, who was stunned to see us all walk in.
Motocross
covers the global scene, with some U.S. coverage supplied by none other than
Steve Matthes
, along with photographs by
Simon Cudby
. We sat down in Edorado's office and bench-raced a little, talked about the upcoming race, the magazine business in general, the online stuff, and the amateur scene in Italy. His immaculate office had bound copies of all the
Motocross
magazines over the years, plus signed and framed autographed jerseys from
Stefan Everts
,
Ryan Villopoto,
and
Tony Cairoli
, among others. (Coincidentally, the magazine office is just around the corner from the Cairoli Metro station.)
After that, there were a few more amazing things to see in Milan, then a short train ride back to the host town, only to find out we had completely missed the press conference! Oh well, thank goodness
Steve Cox
was there. With that, let me turn it over right here to my fellow
Racer X
traveler, Go Team USA!
Watch out! It's the Motocross des Nations!
I've been in Italy all week, going from city to city, and it's been pretty epic. However, today I headed over to the track to get my credentials handled and check out the track. I have to admit, the first time I saw the track in photos I wasn't very impressed. I thought it was kind of lame-looking. But after walking the track with
Brett Metcalfe
and
Michael Byrne
of one of the AMA teams (Australia, in this case), I have to say that the track isn't perfect, but it's pretty damned good. It's very, very wide, so passing should be relatively easy, and the jumps are all massive, but they also seem pretty easy to do. It's going to be really fast and high-flying, but it's going to be good racing as well, in my opinion. The first turn is probably the widest I've ever seen outside of turn one at Talladega, so it will be possible to get good starts from the outside if the riders just bury it in there harder.
Chad Reed
, of the same AMA team as the two I previously mentioned, had some pretty gnarly comments about
James Stewart
in the press conference.
Eric Johnson
asked him if he was upset that Stewart didn't come to the race, and to paraphrase, Reed said he didn't particularly care, but that he thought it was messed up for Stewart not to come to the MXdN, saying that when he (Reed) had a supercross-only deal, he still took the time to go to the MXdN every year, no matter how prepared he was, and that he thinks Stewart should've considered it an honor to be asked to represent his country in the race, but he obviously didn't. Reed calls it like he sees it, and always has, whether others agree or not.
Reed also said Australia is "here to win."
Ivan Tedesco
forgot his FIM membership card, so that caused some issues early in the day today, but it was quickly worked out, and everything's fine now.
There is a go-kart race tonight where one of the team riders is teaming with a journalist from his country, and representing Team USA will be Tedesco and
Transworld
's
Brendan Lutes
. We should win with that team, as Reed is stuck with
Geoff Meyer
– although he has been claiming to be some Australian Karting Champion all day, against
Ayrton Senna
, or something. I guess he didn't know that Senna is from Brazil.
We'll have updates from the qualifiers tomorrow, so make sure you guys check back frequently. Given the time difference, the racing could be over by about the time you wake up in the morning here in the USA. First will be the MX1 qualifier, the MX2 and MX3, and the top team overall will get pick one and 21, followed by second getting pick two and 22, etc., for each moto on Sunday.
Here's
Matthes
.
Carl Vaillancourt
and
JSR
always gave the fans someone that could win the race, but this year the Canadian hopes rest on a couple of West Coast boys.
Colton Facciotti
and
Dusty Klatt
should both give the Americans a tough time tomorrow night, but there is one thing that is for sure: a Canadian will win the MX2 class, as it's a Canadian-rider-only event!
Practice is going on as I type this, and the track looks tricky. there is a sand section, some tricky rhythm sections, and a pretty big triple. JSR still is involved in the event as the head track guy, so he knows what provides thrills and chills for the spectators while keeping it safe for the riders. There's also an Endurocross as well as a quad race. I have no doubt that
Ping
will be on the edge of his seat waiting for the results from that one.
As far as American riders up here, you can't swing a dead cat and not hit a Yankee rider who has come up to try and steal the glory from us Canadians.
Heath Voss, Jason Thomas, Bobby Kiniry, Troy Adams, John Dowd, Kelly Smith, Robbie Reynard, Cole Siebler, Teddy Maier, Daniel Blair, Eric Nye, Jeff Northrup,
and
Ryan Clark
are all here. I think this is shaping up to be a pretty good race. There is no clear-cut favorite, and I think a bunch of guys are really the same speed. It's going to come down to who can get a start and who stays out of the gentlemen's clubs tonight.
There is also a 2010 Yamaha 450 launch tonight on the stadium floor. All the media outlets from across Canada are here tonight to test out this revolutionary machine. They are letting the media guys ride the bike on the actual track. So if you check out directmotocross.com, we'll let you know what we think of the bike and fill you in on the number of emergency room visits by members of the hoser media.
Speaking of DMX, myself,
Jim Holley
and
Todd Kuli
will be bringing you all the action live on the FXR Racing/Campbell Toyota/RTR Orange Motorsports KTM Montreal Webcast. That's right, I'm going to try and be the play-by-play guy while Holley provides insight and commentary. Kuli will be the pit reporter and you can all go to
www.directmotocross.com
tomorrow at 7 p.m. Eastern to get the call from the race.
Supercross Live!
for letting us secure Jim. He's a two-time winner of this race and will be able to provide valuable insight to all the fans listening in at home.
Okay, silly season time. All of these you can write down with a pencil and make sure you have an eraser. As confirmed by DC up there, I heard that
Austin Stroupe
is now signed up to ride the Makita/Rockstar Suzuki 250F next year with
Ryan Dungey
.
Christophe Pourcel
will ride the Suzuki 450, which would be interesting given Dungey's comments about CP377 in an interview I did on pulpmx.com.
Tim Ferry
has talked to L&M Yamaha about that spot next to Stewie, but I still think they would want a younger kid alongside James. But who knows? If they do get
Red Dog
, maybe I can come back as the mechanic and we can reunite the Chaparral Yamaha team of 1999! That would be cool!
Well, maybe just for me.
Now on to the Weege,
Jason Weigandt
.
To the complete surprise of no one (or maybe everyone), while all the cool people are in Italy at the MXoN, I'm going to a GNCC! St. Clairsville, Ohio, will host the next-to-last round of the series, the ITP Power Line Park GNCC. There's a chance the championship could be wrapped up this weekend, as
Paul Whibley
has a 32-point lead for the GEICO/JG Racing/Monster Kawasaki team. You get 30 points for winning a GNCC race, so basically, Whibley needs to finish in front of his main competitors, FMF Makita Suzuki riders
Josh Strang
and
Charlie Mullins
, and he can wrap the title early.
www.gnccracing.com
, the pro classes start at 1 p.m. EST and ends just after 4. You'll be near your computer at that time watching MXoN stuff anyway!
And speaking of the 'of Nations, my crazy English uncle
Lord Alfred Weigandt
has reemerged with his first letter in nearly three years. He has some very, very pointed (and very biased) comments about the race, and of course he thinks team Great Britain is going to win. And that the Americans will get spanked. You can read it on my blog here:
www.blogandt.com
.
Next weekend it's off to the Rockstar Energy Drink U.S. Open, and we're putting the
Supercross LIVE!
band back together.
Jim "Hollywood" Holley
and I will be back for the webcast, and the
www.supercrossonline.com
people have a cool deal for you. Here it is:
Supercross LIVE! is back for 2010 and for a limited time if you subscribe to a season pass for $39.99 you can listen to both nights of the Rockstar Energy Drink US Open and the pre-race press conference for FREE! This special deal will only be available through this week so take advantage of it now! Individual broadcasts will be sold for $6.99. Go to www.ussx.com or www.supercrossonline.com to subscribe today!
Yup, Jim and I on your computer again every Saturday night starting in January. Sign up now!
Danny "Magoo" Chandler
held after the Budds Creek National in August. But, as you may remember, it rained really, really hard that day and the auction never took place.
Well, the folks at MX Sports have collected all of the items and organized an Ebay auction to help raise money for Magoo. Also thanks to
Jonathan Beasley
, the promoter of the
Budds Creek
race, and
"Bad" Brad Lackey
, an old friend of Magoo, who helped put this together.
Go to
www.ebay.com
and type in Magoo Auction to find some good stuff—new items will be posted each week, and this week's stash includes none other than Jim Holley's factory Yamaha jacket from the 80's (still in the bag), a Tim Ferry autographed jersey, and a
Jason Lawrence
autographed #1 jersey, among others.
Each Friday new items will go up on ebay, and there's some really, really good stuff so keep checking in. And remember, all the money goes to the legendary Danny "Magoo" Chandler, who was injured years ago and needs help purchasing a new mobility van.
And here's a get well soon to 2000 GNCC Champion and friend of Racer X,
Shane Watts
, who took a big header while setting up one of his Dirt Wise off-road schools yesterday. Here's the text we got from Shane:
"Crashed at 5 mph while setting up for a school in Kansas City. Endo off a creek and got drilled in the back. Had to walk out by myself. Three vertebrae with multiple fractures, three broken ribs. Everything is working fine, but my need surgery to stablize one vert. More scans coming, more info to follow."
Shane is as tough as they come but even with that, he's got to be hurting. Get well soon, champ!
Okay, wrapping this up, here are some
random notes
:
David Bailey
has written two new blog pieces for his website. Check them out
here
and
here
.
Giuseppe Luongo
of Youthstream recently commissioned English moto artist
Rob Kinsey
to recreate a special moment from the 1986 Motocross des Nations in Maggiora, Italy, which was Luongo's first ever promotion of this prestigious event. Rob's painting captures the final lap of Moto 3 when Team USA riders
Rick Johnson
and
David Bailey
rode in tandem, side by side, styling off every jump, cheered on by the massive crowd!
Enjoy the Des Nations and thanks for all the nice paintings. You're keeping me alive!"
Rick Johnson
is making a return trip to Franciacorta for this weekend to represent to original "dream team" of RJ, Bailey, and O'Mara and hopefully will be involved in presenting this painting, together with another American MXDN legend
Danny "Magoo" Chandler
.
A fully fit Bailey is heading in the opposite direction, to Hawaii to compete in the grueling Ironman Triathlon over the weekend of October 10-11.
For more info on Rob's work check out
www.robkinsey.com
.
Ryan Capes
is at it again, jumping
huge ramp-to-ramp stuff
– 316' 5" to be exact.
We talk about rally cars from time to time here, and it usually involves
Travis Pastrana
. But his Subaru Rally teammate
Ken Block
also gets mentions—often for his spectacular videos. His latest,
Gymkhana 2
, was the #1 branded viral video in the country last week, according to
Advertising Age
magazine, with 1.3 million views. If you haven't seen the video, by all means take a few minutes and
watch this brilliant piece of driving
.
whole new website
up and running and it looks tight and cool.
The
Alli Show
premieres on MTV2 on October 10. The first episode is focused on
Josh Grant
and his crew.
Ashley Fiolek
just keeps on doing the right thing as far as being a motocross racer goes, as well as a human being who can have a huge effect on another person's life. Last week Ashley was presenting to deaf children at Washington Elementary School in Burbank, California, as well as being honored and signing autographs in the lobby of American Honda, which is her primary sponsor. She's also been upgraded at Red Bull and is now one of the energy-drink giant's top-level athletes. We told you about her being on NBC's
Last Call with Carson Daly
, and she was also the featured guest at L.A.'s DEAFestival, meeting deaf children and families. She wrapped up her 72-hour whirlwind tour with a meeting at Los Angeles City Hall. Like I told ESPN when they asked about her, she is a force of nature!
Congratulations to last week's TGI Freeday winner,
Michelle Duffey
of Keizer, Oregon! Michelle is the proud new owner of a pair of limited-edition Motoxtremes DC Command shoes.
MXPrints.com
is your one-stop shop for lettered and sponsored motocross gear, and they are giving a set of customized race gear to TEN different winners! They will give away one set of each brand that they carry.
Click here
to enter the contest.
Lastly, and on a negative note, there's been another big rip-off, this time of Fuel's
Shane Gould
down in Hilton Head, South Carolina. "They stole all my dirt bikes!" says Shane. Here's the list of what he lost:
Yamaha 08' 450 (JGR #24 Clutch Cover)
Honda 04' 250f
Suzuki 07' 250f
Kawasaki 03' 110 (fully modified out with Green camo TJ graphics kit)
Anyone who knows anything, please email us:
Letters@racerxonline.com
Okay, back to my working vacation - the vacation part! Thanks for reading Racerhead. Go Team USA! See you at the races.