Red Bull X-Fighters Texas June 27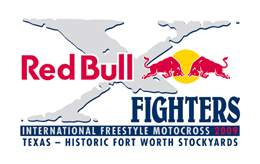 FORT WORTH, Texas – The best freestyle motocross riders in the world, both veterans and emerging stars, are gearing-up to compete in Red Bull X-Fighters Texas on Saturday, June 27 in the Historic Ft. Worth Stockyards.
The final rider invitation list includes previous Red Bull X-Fighters winners Mat Rebeaud (Switzerland), Dany Torres (Spain) Robbie Maddison (Australia), Jeremy "Twitch" Stenberg (USA) and talented newcomer Levi Sherwood (New Zealand), who won Red Bull X-Fighters Mexico earlier this year. Also competing are Eigo Sato (Japan), Thomas Pagès (France) and Andre Villa (Norway). Rounding out the field are Nate Adams (USA), Adam Jones (USA), Cameron Sinclair (Australia) and Rob Adelberg (Australia).
Tickets can be purchased by visiting www.redbullxfighters.com. Three price categories are available - General Admission is $20; Grandstand Seating is $40; and Premium Grandstand Seating is $50.
The Texas event is the third of five rounds in the 2009 global series. What should you expect? Come ready to see the best freestyle motocross riders in the world in action, the largest competition course and highest-caliber elements ever created, rodeo queens, live bull riding, the iconic Dallas Cowboys Cheerleaders and all the authentic pageantry of a summer night in the Texas Wild West.
The 2009 series kicked off in Mexico City, with the 17-year-old Sherwood stunning the sport with his win. Maddison won the inaugural Canadian stop in Calgary last month. Following the Fort Worth event, the series will head for Madrid's Las Ventas bullring, hosting its eighth-consecutive event, on July 16-17. The 2009 series finale will take place at London's Battersea Power Station on August 22.
Red Bull X-Fighters was created in 2001, debuting in Valencia, Spain at the bullring where the legendary 'Mad' Mike Jones claimed victory. Since that historic night, Red Bull X-Fighters events have taken place in the world's most legendary locations, including the famous bullrings in Madrid and Mexico City, Slane Castle in Ireland, the Sambodromo in Rio de Janeiro, a massive stone quarry in Wuppertal, Germany and the Stadion X-Lecia in Warsaw, Poland.
For additional information on Red Bull X-Fighters, please visit www.redbullxfighters.com and for hi-res images, free for editorial use, visit www.redbull-photofiles.com.