Toyota/Racer X Power Rankings: Week 15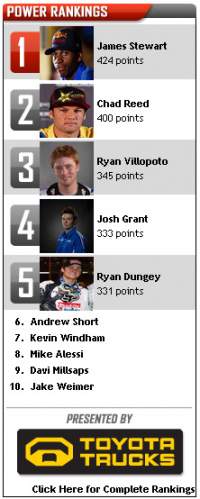 1.
James Stewart
: Despite his "unbeaten when he doesn't crash" streak being broken in Seattle,
James Stewart
finished second and took over the points lead.
2.
Chad Reed
: Second in points, Reed had his worst race of the year in Seattle.
3.
Ryan Villopoto
: The biggest mover of the week, last week Villopoto was 17th, and this week he's third. Winning a main event after returning from not racing for weeks will do that.
4.
Josh Grant
:
Josh Grant
jumped up a spot to fourth.
5.
Ryan Dungey
: After two months away from racing, Dungey's convincing win at the resumption of the Lites West moved him from seventh to fifth.
6.
Andrew Short
: Shorty fell from third to sixth this week, even though his results were normal in Seattle.
7.
Kevin Windham
: Windham dropped a spot from sixth to seventh with a fall during the race that landed him 10th.
8.
Mike Alessi
: Setting fastest lap of the Seattle main,
Mike Alessi
moved up a spot from ninth to eighth after his fourth-place finish.
9.
Davi Millsaps
: With his podium finish, Millsaps moved up from 13th to ninth.
10.
Jake Weimer
: Weimer remains 10th with his come-from-behind fourth-place ride in Seattle.
11.
Ivan Tedesco
: After winning his heat race in Seattle, Tedesco moved from 12th to 11th.
12.
Christophe Pourcel
: Last week,
Christophe Pourcel
was fourth. Now, he's 12th. Nothing changed except that his series is over.
13.
Austin Stroupe
: Likewise,
Austin Stroupe
dropped from eighth to 13th.
14.
Ryan Morais
: After his runner-up ride in Seattle,
Ryan Morais
moved up from 20th to 14th.
15.
Trey Canard
: A podium finished bumped Canard from 23rd to 15th.
16.
Josh Hill
: Hurting his ankle while running before Seattle kept Hilly from racing, and he fell from 11th to 16th.
17.
Blake Wharton
: Wharton fell one spot with his series over.
18.
Nico Izzi
: Despite an injury that will keep him out for a while, Izzi only fell from 14th to 18th.
19.
Broc Hepler
: Hepler crashed out of Seattle on press day and fell one spot to 19th.
20.
Jason Lawrence
: Despite being suspended for the remainder of the SX season, Lawrence only fell from 15th to 20th.
21.
Timmy Ferry
: With Steve Matthes apparently voting in this week's power rankings, injured
Timmy Ferry
re-emerged in the power rankings after being unranked previously.
22.
Heath Voss
: Voss has been a consistent main-event competitor all year, and he re-appeared on the power rankings this week.
23.
Paul Carpenter
: Carpenter's eighth-place finish popped him back up on the power rankings this week.
24.
Ryan Sipes
: Despite injuring himself in Seattle, Sipes moved back onto the power rankings this week.
25.
Justin Brayton
: Brayton fell one spot from 24th to 25th.