This Week Supercross: Jacksonville
AURORA, Ill. – For the first time in AMA Supercross history, Jacksonville Municipal Stadium will host a Monster Energy® AMA Supercross, an FIM World Championship, race tomorrow night as one of four remaining stops on the 2009 schedule. The 2009 season concludes at Las Vegas' Sam Boyd Stadium on May 2 where a champion will be crowned. Vying for the championship are Florida natives Chad Reed, of Tampa, and James Stewart, of Haines City. The two fastest racers in the world are separated by just eight points.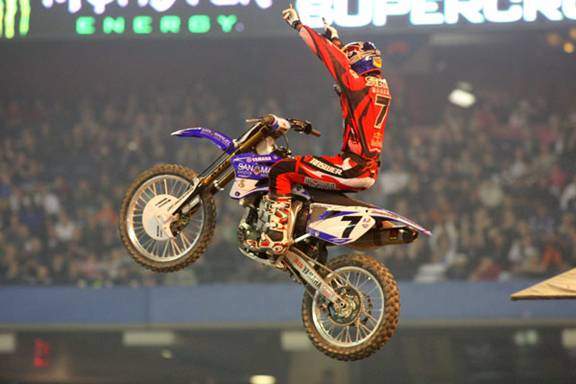 Will James Stewart win the first-ever Monster Energy® Supercross at Jacksonville Municipal Stadium and close the gap on Chad Reed's points lead?
Photo Credit: www.VitalMX.com
"Jacksonville is a new stop and I'm looking forward to that," said Reed. "Also, it's nice to have a race that I don't have to fly to; Jacksonville is only three hours from my house. I've never been to that venue and it'll be exciting to race someplace new. Hopefully the weather will be nice and we'll have good dirt and we'll challenge for a win again."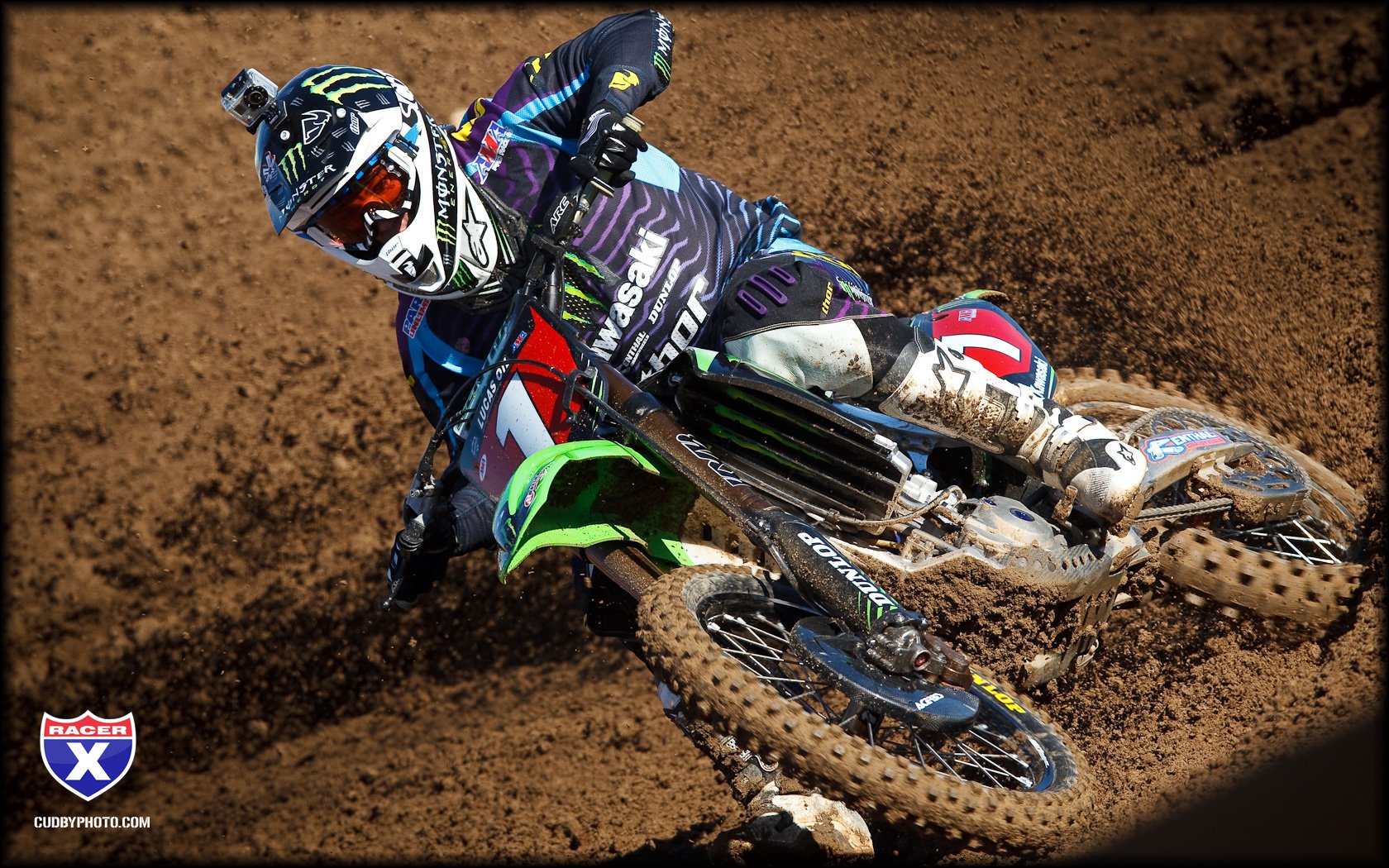 Tampa's Chad Reed races Haines City's James Stewart tomorrow night in the epic Monster Energy® Supercross showdown featuring two Floridians
Photo Credit: www.VitalMX.com
Stewart, the 2007 AMA Supercross class champion, has won nine main events this season, but suffered a 19th-place finish at the season opener in Anaheim and a seventh at Daytona. Reed, a two-time AMA Supercross class champion, has just three wins but has been on the podium at every race – with his worst finish a third at Anaheim 1.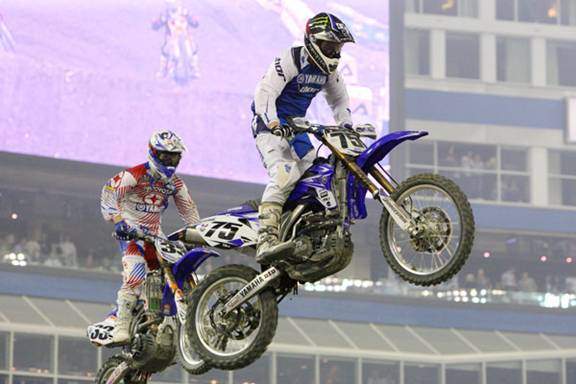 Yamaha's Josh Hill finished a season-best third place last weekend in Toronto
Photo Credit: www.VitalMX.com
Holeshot artist Mike Alessi picked up his best results of the 2009 season at the recent Indianapolis race. His third-place finish was his first-ever AMA Supercross-class podium. He is currently in seventh place in the overall championship standings.
"We have a place in Florida, so Jacksonville will be my hometown race," said Alessi. I'm looking forward to it and it should be a good race. I know I'll have a lot of friends and family there, so hopefully we'll put on a good show there in front of everybody. Also, it'll be everyone's first time there, so that should be exciting."
Nico Izzi has put in a consistent sophomore season, finishing on the podium at five AMA Supercross Lites class races. He is currently third in the overall championship points standings.
"Overall, I'm actually pretty happy with how the season has gone so far. I was pretty consistent the whole year, though I did have two bad rides – one that probably cost me the title, and last week I struggled a bit. But overall, I'm pretty happy because I had quite a few podiums. My plan going into Jacksonville this weekend is to get back on my routine that I've done all year. I want to go out this weekend and not do anything crazy, ride as hard as I can and have a good time. I want to try to stay in the top three and go off to Vegas."
Yamaha's Josh Hill and Broc Hepler haven't exactly enjoyed dream seasons in 2009. Hill, who scored an AMA Supercross class win as a rookie last year, only has one podium, which he landed last weekend in Toronto. Hepler missed the majority of the season with a broken collar bone that he suffered at the opening race of the season. In New Orleans, Hepler picked up the first podium finish of his career in the premier class.
"Hill put in a strong main event ride last weekend, just what he has needed," said Yamaha Team Manager Jim Perry. "Hepler has put in some strong riders, but he needs to be more consistent from week to week. Jacksonville will be interesting being a new event."
Although Muscle Milk/MDK/KTM Factory rider Wil Hahn didn't get the results he was looking for at the Toronto stop, he definitely showed the crowd that he had the speed to earn a podium spot.
Now heading to the final round of the AMA Supercross Lites Eastern Regional Championship, Hahn is determined to finish the season on the podium. "I am happy with my speed last week but wish my results would have been better," commented Hahn. "My KTM is running great and I know I can move it into the top three and that's what I plan to do this weekend."
His teammate, Martin Davalos, has had to sit out the past two races after breaking his fibula earlier this season. Davalos is trying to take the proper precautions with his injury and hopes to be able to race this weekend in Jacksonville but may have to hold off until the Las Vegas finale.
With the AMA Supercross Lites Eastern Regional Championship trophy in his hands, Monster Energy/Pro Circuit/Kawasaki's Christophe Pourcel wants to end the season with another win. Pourcel locked up the title last week in Toronto, but the French rider is still ready to climb to the top step of the podium again.
"It is so good to have the championship done," said Pourcel. "Now there is no pressure this weekend and I can just ride for another win. Once we finish in Jacksonville I'm going to start getting ready for the outdoor season."
With Pourcel already crowned champion, his teammate Austin Stroupe is looking to secure the runner-up position in the championship standings. The easiest way for him to do that is finish on the podium or even end the season with a win.
"I want to get another win this year," said Stroupe. "My goal was to win the title and I can't do that, but I am going to try and get the win in Jacksonville. I'm also getting ready for Las Vegas. I can't wait to race against the guys from the West Coast and I want to win that (Toyota) truck."
Monster Energy Kawasaki's Billy Laninovich is hoping for a better result this weekend after failing to make the main event in Toronto. Laninovich has been riding all week to improve his endurance as well as to get more comfortable on the bike.
"I've been working hard this week,' said Laninovich. "This is a great team, everyone here has been fun to work with and they all are working to get good results. We're going to go to Jacksonville and get those results."
GEICO Powersports Honda's Blake Wharton, a rookie in the Eastern Regional AMA Supercross Lites class, scored the first win of his career at St. Louis and hopes to close out his season with another win after a dismal race last weekend in Toronto.
"Going down at the start of the race last weekend and rejoining almost a lap down, I really had my work cut out for me–getting back up into the top 10," said Wharton on about his performance in Toronto. "I rode well to catch-up, but 10th place was the best that time allowed me to race back too. Launching my pro career with the GEICO Powersports Honda team has been an awesome experience. Their Honda race bikes are great, the team is great and I couldn't have asked for a better way to enter into the pro ranks. Going into the final round of the championship at Jacksonville, my goal is to finish the season on a high. I will be racing to win again this weekend."
Former two-time AMA Supercross Lites class champion Ivan Tedesco, of Tallahassee, Fla., has yet to put his Honda Red Bull Racing motorcycle on the AMA Supercross class podium in 2009, but this weekend, which is considered his home race, may be his best chance in 2009.
"I'm looking forward to racing in front of my home crowd this weekend in Jacksonville. I've had an up and down season but I think with the crowd's supports, I will be able to better my fifth place finish from Toronto last weekend. With only four races remaining in the season–and looking to better my fifth placing in the championship race–I will be chasing hard for a podium this weekend."
The AMA Supercross Lites class race will air on SPEED Sunday, April 5 at 5:00 p.m. EST and the AMA Supercross class will air on SPEED following the Lites class race at 6:00 p.m. EST.
Tickets are now available at Jacksonville Veterans Arena Box Office, Jacksonville Municipal Stadium (Day of race only), participating Yamaha dealers, www.supercrossonline.com, Ticketmaster.com or by phone at (904) 353-3309. Club seats are $40 Adult/$40 Child; Sideline seats are $30 Adult/$20 Child; Corner seats are $20 Adult/$20 Child; Endzone, 300, 400 level seats are $10 Adult/$10 Child. Practice begins at 12:30 p.m. and the race starts at 7:00 p.m.
For more information on the Monster Energy® AMA Supercross, an FIM World Championship, please log on to www.SupercrossOnline.com. For all media requests, please contact Denny Hartwig dhartwig@feldinc.com or 630-566-6305.
About Feld Motor Sports
Feld Motor Sports, Inc. is the world leader in specialized arena and stadium-based motor sports entertainment. Feld Motor Sports, Inc. productions include Monster Jam®, Monster Energy® Supercross, AMA Arenacross Series, Freestyle Motocross, and IHRA® Nitro Jam®. Feld Motor Sports, Inc. is a division of Feld Entertainment, the world's largest producer of live family entertainment. For more information on Feld Entertainment, visit www.feldentertainment.com.