Toyota/Racer X Power Rankings: Week 13
1. Reed - Chad moves into the top spot after his St Louis win. Can he hold on?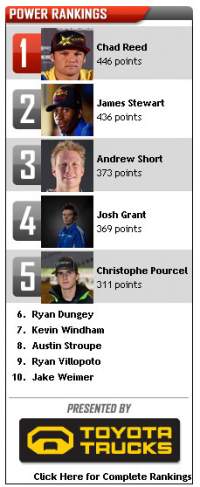 2. Stewart - James has to basically run the table to get the title. Can he do it?
3. Short - The quiet one stays in his same spot.
4. Grant - Josh grabs third in St. Louis and moves up four spots in this week's rankings.
5. Pourcel – C Pour hasn't been as dominant lately, but his lead remains big.
6. Dungey -Idle
7. Windham – Only had the 12th fastest lap time in St. Louis, yet he's ranked this high? Not sure what the voters were thinking here.
8. Stroupe - Austin moves into second in the points after his runner-up finish in St. Louis.
9. Villopoto - RV has been sick and it's two races and counting until he comes back.
10. Weimer - Idle
11. Alessi - Mike hasn't been happy with his PR spot and I don't blame him. He should be higher people!
12. Lawrence - Just like his career, Jason has been up and down in the PR. This week he's up four spots.
13. Millsaps- The mysterious one drops two in the PR. Don't be surprised if he podiums this weekend. He's weird like that.
14. Izz i- Nico is real close to winning his first SX, but last week was not a good showing despite his third.
15. Tedesco - How is Alessi and IT ranked lower than KW and Davi when they are ahead in the points? The fickle voters have spoken.
16. Wharton - First career win moves "Purple Rain" up five spots. Confidence is a scary thing.
17. Hepler - The Iceman is having a solid season in his first year in 450s. If you asked him, he'd say he needs to be better.
18. Morais - Idle
19. Brayton - Justin has been good on the 450s and should stay there the rest of the year, this is his future.
20. Canard - Idle
21. Ferry - I can barely type through the tears as
Red Dog
is probably one week from dropping out of the rankings.
22. Hill – Josh has been up and down this year and dropped two spots this week.
23. Davalos - Didn't race and only dropped one spot. Lucky for him.
24. Jesseman - Didn't make the main and moved into the top twenty-five. Go figure.
25. Sipes - Sipes hangs on to the twenty-fifth spot after his sixteenth in St. Louis. He handles the big-bore KTM well.