We asked our readers to describe the hardships that the CPSIA "Lead Law" has placed on their racing activities. What we got back is something everyone involved with this issue -- politicians, lobbyists, motorcycle dealers, everyday citizens -- need to read.

---
The lead law has affected not only me, but many people I know across a wide spectrum of areas. It has deeply affected my son, as we cannot purchase the size bike he has grown into, leaving him to continue to ride his CRF50. When he does ride it, we are constantly worried about replacement parts, as our local Honda dealers have told us some parts, even after market ones, may be difficult to get. My son was further saddened to learn that many races featuring youths under the age of 12 have been canceled as well. So, in a nutshell, this young, aspiring rider is left without the proper sized bike and with no place to ride.

One of our local dealers shut their doors last week, no doubt partly due to the sharp decline in sales of the smaller bikes. I can only hope that the powers that be get their heads on straight and fix this legal mess they have created before our sport is damaged for years to come.
SEAN O'CONNOR
Albany, NY
---
My family owns a track and we have seen a decrease in mini riders because people can't get parts. This also affects the big bike turnout because if little Johnnie can't ride, dad doesn't want to come and ride in front of him, so the whole family stays home. We have seen at least a 30 percent drop so far.
T.C. PATTON
www.racerxonline.com
---
At the age of 10, I got my first motorcycle. Forty years and some thirty-five motorcycles later, I still love the sport and wish to pass it on to my children. They say a picture is worth a thousand words, so attached please find the Christmas card my wife made this year for us. As you can see, this ban will have a big effect on my family.
THE FOLEY FAMILY
www.racerxonline.com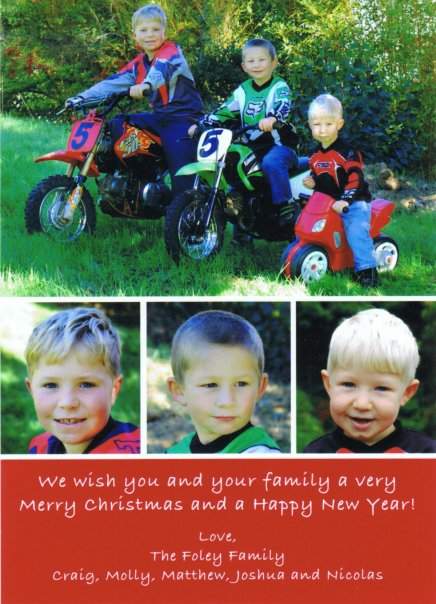 ---
I am not a motorcycle dealer but we are a family that loves going to local motocross races. My son, who is 13, has been riding and racing since he was 5. He rides a YZ85 and has not yet needed any parts, but I know the day is coming when we will need parts. Another concern is, how can I sell this bike if the buyer knows he may not be able to get some parts for this bike? Am I just simply screwed with the investment? Like many, we have accumulated thousands of dollars' worth of related items ... riding gear, enclosed trailer, pressure washer, tires, tubes, generator, tools, etc. I am 48 and still ride; I have a YZ125 that I ride with my son, and we have grown to love and have a deep passion for off-road riding. (And by the way, I have never seen a kid lick, suck, or try to eat their motorcycle.) My son is a little squirt, but I guess I can take the chance and give him the YZ125. I am quite handy, so I can devise ways for him to get on it and start it without falling over, though I suppose he must always find a tree around to lean it against.
JOHN RUSSELL
www.racerxonline.com
---
I am 48 and I have been riding motorcycles since I was 13. I ride a dirt bike, a dual sport bike, a quad, and a Harley. The law will be affecting me in a few years—that is, when my grandson will be able to start riding a bike. I have already started teaching him not to lick any motorcycles, so he is learning.
DAVE ANDERSON
www.racerxonline.com
---
This law is absolutely ridiculous. I am 40 years old and having been racing motocross since I was 5 years old. My dad raced and got my brother and I into the sport when we were very young, so when I had children it was only natural that they would start riding also. I have three kids (ages 13, 9, and 7) and all of them ride. We own six motorcycles: a 2005 CRF250R, 2006 CR85R, 2007 CR85R, 2006 YZ125, 2005 CRF50, and 2008 KTM50SX. We have a track on our property for the kids to ride during the week and we race at least two times a month. We love this sport, and it is a major part of our lives. Motocross gives our family good quality time together—we have even been at a race where three generations of Abbotts were racing the same day (in the Over 50, Over 30, and 50cc classes)!

How can our government pass laws like this? I can't get certain parts for both of my 50s, and my 7-year-old can't ride his KTM 50 during the week because I don't want to put too much time on the motor for fear that I won't be able to get parts to repair it. I am just crossing my fingers that the other 50 holds together until (hopefully) this law gets repealed. My 7-year-old is getting close to moving up to the 65 class, but there are no 65s for sale. I have written to both my Congressman and Senator here in Texas. I have gotten no response from either of them. I have also signed the other petition on Tom Self's web site. What do these lawmakers want our children to do? Sit and play video games all day, watch TV, jack around on MySpace or other internet sites? I could go on and on.
MIKE ABBOTT, #84
www.racerxonline.com
---
I work every Saturday at Carolina Polaris in High Point, North Carolina. The lead law basically sucks. It has dropped all our business on 50cc four-wheelers. Even though the ban goes up to 80cc, we can still sell the 90ccs, but it's still the same difference. It's slow everywhere and I don't see how the government is trying to get jobs back, when to me it seems like they are just taking them away. I read in one of Racer X's articles that a Honda shop had to put away about 140 units—that's crazy! It makes no sense to me. I hadn't really followed government matters and whatnot until it affected my job and my riding. I am only 17 years old and in high school, and this is just putting more stress on me than anything!

DANE YOUNG
www.racerxonline.com
---
The new lead law has dramatically affected me. In January, I started working at a dealership selling machines. Since I'd just moved back to the USA, I had to get an apartment, a car, and pay a lot of money to get to my new job. Now, I am not in the motorcycle industry to make money—there are definitely better paying professions. I am in the motorsports industry because it is fun. I enjoy giving people the same pleasure that I feel when I ride. However, after spending all of my money (and a lot of money that I do not have) just to get started at a new career, I was expecting to be able to catch up on my financial situation. With the new lead law, I have been losing a lot of business. It sucks. We have our youth machines in the back of the store, not for sale. Consumers want to buy them, but they cannot. Some are experienced parents with young riders and some are first timers, however all of them believe it is ridiculous to think their child would suck on their bike.

CHARKIE HUEGEL
Greensboro, NC
---
The lead law has affected us as a family. We have an 8-year-old who lives to ride MX,and it looks like it's all over for him. It's not right!
MARK HEGEMAN
www.racerxonline.com

---
Yes, the lead law has affected me and my family. My son, who is 7, has a CRF50 and started riding it last year. He really enjoys it and is getting better every time out. My daughter, who is 10, tried it out last year also and decided she wants to ride. The only bike she wants is a CRF70. Well, I can't get her one. I will not buy her a used one from someone I do not know. I have been racing motocross and into this sport for over twenty years. I have raced at the highest level and always committed myself fully. I never cut corners with my own bikes, so I'm not about to cut corners and buy her a used and maybe unsafe machine. Our riding season is just starting here in Connecticut, and she will not have a bike of her own to ride. I also pray they don't break the one we have, since parts are scarce.
MIKE CORAZZO
www.racerxonline.com
---
My daughter loves her XR50 but the top end wore out. I cannot get a new piston for it, so it is sitting in pieces in the garage.
JEFF HICKL
Humble, TX
---
My son is turning 4 this year and I had hoped to buy him a PW50, but now I can't go out and buy the bike I had planned on.
JOSH THORNTON
www.racerxonline.com
---
I really appreciate the time you are dedicating to this ridiculous matter. I recently tried to purchase a battery for my son's TTR50 and ended up having to buy it from a specialty store and had to paid about twice as much.

Some of the best memories I have from growing up are of my brother and I going with our dad to ride. This is something I've carried on with my two boys, Hunter (7) and Heath (5). Hunter started riding when he was 3 and Heath when he was 4. This is a very special bonding time for us each week, plus they're not out getting into trouble because they can't find something to do! They're with the family, together, and I hope this is something they will do with their family. What's next—I can't take my kids fishing because they use lead weights?
RANDY BROWN
www.racerxonling.com

My name is Brittany Trentman, Team Manager of Trentman Racing, and we have young riders on the team. We have a rider on a Kawasaki KX85 and we cannot get a certain part for his KX85 because of the lead law. We did not go to Lake Whitney because we were afraid we would go down there then have something happen to the bike that we cannot fix without getting a new KX85. Our sponsors took a hit because of that; we cannot promote our sponsors if we cannot get the bikes on the track. I would like to have the lead law go away, but until Kawasaki tests the parts and gets the okay to sell them, we will only have our 85 riders do the Loretta Lynn's qualifiers and maybe some local races.
BRITTNY TRETMAN
www.racerxonlin.com
---
I have a 3-year-old nephew who is getting ready to start riding. My whole family rides together every weekend and my nephew will have to sit on the sidelines and watch until this law is changed. I live in a suburb of Chicago and every dealership in the area has gone out of business except one.
CHAD LINDAHL
www.racerxonline.com
---
I am part owner and manager of a Kawasaki dealership in central Illinois. The lead law has started to show its effects now that it's getting nicer out and people are starting to ride. One of our best-selling bikes, the KLX110, are all collecting dust in the back right now and we are losing sales and potential long-term customers. We are unable to sell parts to our existing customers. I'm 27 years old and a proud owner of a KLX110, and I cannot buy parts for my own bike! If this "law" continues it will slowly eat away at the growth of our off-road community. Kids will not grow up participating in the sport and will most likely move on to something else. People are just putting up with this for the time being and it won't be long until they just move on. I've never gotten so involved with politics and making my voice heard as I have this year. I feel like our industry is constantly under attack. Hopefully everyone is doing what they can to make their voice heard and stop these "laws" from ever happening.
NICK BLACKLAW, RCR KAWASAKI
www.racerxonline.com
---
My son has a KX65 that needs a rebuild. It is questionable if I will be able to get the part I need.
BRIAN BELANGEE
www.racerxonline.com
---
I am 54 years old and I am unable to repair my DMC CR 85/XR 100 conversion that needs an exhaust valve. Same for an XR80 that my 16-year-old niece rides. I am restoring a STARacer CR 80 flat tracker that I am also unable to purchase engine parts for.
DAVE MARTINEZ
www.racerxonline.com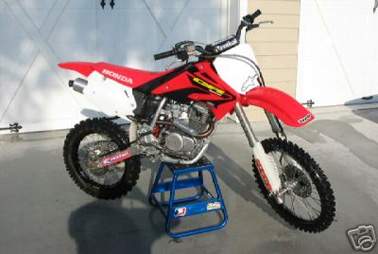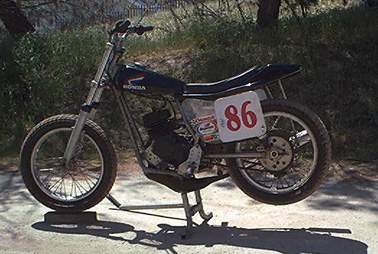 ---
Yes, I have been affected by the lead law! First of all, I cannot get several OE parts I need to get my son's KLX110 running. Second, I am an outside sales rep for Tucker Rocky Distributing and my sales have definitely been affected. If new units are not going out the door, parts and accessories are going to be down! In these economic hard times, this is the last thing our industry needs. Also, I cannot believe how little press this law has gotten in the "mainstream" media; I don't think I have seen a single story. It is total madness!
DEAN SWEET
www.racerxonline.com
---
I have four kids and we try to ride as often as we can out in the California desert. We have a JR 50 and a PW80. The 50 was crashed by a cousin recently and the forks were bent. Could I get the parts to fix it? No! I had to work with friends to try to straighten them on my own. Is it as safe as using new parts? No way, but there would be not other way to ride. Also, my daughter lost the top bolt on her triple tree. The dealership stated they couldn't sell the part because of the lead law. What? It's a bolt! Had to go to the hardware store and find the best fit.

This law is getting crazy. If I have anything serious happen on the bike, my kids will not be able to ride. Those memories and days of fun in the sun with the family will be gone until they get old enough to ride big bikes. But who knows, they might be too intimidated to ride at that time if they don't get the experience now. I'm just another father who loves to spend quality time with his kids, yet stupid laws like this make it more and more difficult. Please help.
RON HUNT
www.racerxonline.com
---
It is my son's birthday today. He is four years old and he's been asking for a PW for his birthday, and I was planning to buy him a new PW50, but I can't. I'm so bummed about that. He would have been so excited to see his new bike in his garage today. Very upset!
HECTOR M. PEREZ
www.racerxonline.com
---
I have two boys who ride. One is 7 years old and the other is 12. Both of my boys are ready for an upsized bike but this law obviously has put a hold on things. I think the worst will be when the parts start to dry up for the existing motorcycles that are out there. One trend I have begun to notice is that the used market is drying out somewhat … maybe this could be related to people hanging on to what they have. Anyways, I will be waiting to see what the overseas sales might do to try to ship to the States. There could be a silver lining in this mess.
DOUG VARNEY
www.racerxonline.com
---
I work in the moto-industry and I get to see the entire spectrum of its products and users, from the OEMs, like Honda, to the end-users, like the dealers and their customers. I have seen, personally, hundreds of motorcycles and ATVs pulled off of showrooms and put into storage because they can't be sold due to this new "lead law." Yes, that's right—hundreds of units, hundreds of vehicles that the dealers are loosing money on, and this amidst an already "bleeding" economy. As I said, I have friends with dealerships and OEMs are my customers. I've seen this with my own eyes! Then there are the thousands of units that are still in warehouses across the country because the OEMs can't do anything with them due to the "lead law," from the most famous 50s to the most popular "mini" ATVs. Thousands of units are losing money for companies that are already in a bind.

This might be a good time to remind everyone that Honda doesn't have a factory road race team in the U.S.A. this year and they don't have a factory motocross team in Japan, either! Maybe some folks don't understand the point, which is that both of those teams were very significant to Honda. Honda's real serious about its image, yet they had to pull the plug on two of their flagship teams. It's potentially the most significant "sign of the times" and now, on top of all the financial problems they're dealing with, they get hit with the "lead law."

If this is hurting Honda, imagine what it's doing to the smaller companies, the dealers, the "Mom & Pop" shops, and their customers. Ultimately it's going to hurt the consumer, because, these companies will have to make up for these losses or go out of business. I'm still hopeful that our political leaders will come to their senses,
MANNY ORNELLAS
www.racerxonline.com
---
Every day, I have to explain that I have the motorcycle or ATV that the customer is looking for but that I can't sell it to them. We have over $43K in inventory sitting here that I can't sell but still have to pay floor-plan interest on. I can't sell the bikes, which would normally lead to helmet sales, among other things. It has slowed our floor traffic—word travels pretty fast—and now people don't even stop to look because they know they can't buy them. And more often then not, a small-bike purchase leads to another purchase for dad.

Here is a letter I have faxed our Iowa reps (Tom Harkin, Chuck Grassley, Steve King, and Tom Latham) twenty-one times now. I have yet to hear anything!
U.S. House of Representatives
Washington, DC
RE: Consumer Product Safety Improvement Act
My name is Jeff Schultz and I work for my father, Larry Schultz, who owns a Honda and Arctic Cat motorcycle/ATV/personal watercraft/snowmobile business based in Storm Lake, IA. We have been in business for 32 years. During that time we have grown to be the largest Honda Power Sports dealer in the state of Iowa and are inside the top 100 Honda dealers in the nation.
On August 14th, 2008, then-President George W. Bush signed into law the "Consumer Product Safety Improvement Act." This law, while well intended, has created a great deal of economic stress to this industry. It has prohibited the sale of any small motorcycles or All-Terrain Vehicles intended for youth enthusiasts age 12 and under. This prohibition of sale has caused thousands of motorcycle dealerships, small businesses, to be saddled with thousands of dollars in inventory that now sits in limbo, unable to sell and unable to return, while we still pay the floor plan interest to our manufacturers. The Original Equipment Manufacturers (OEM) has offered the blanket statement of "Do not sell," with no offer to allow returns on these machines. Currently we have a total of $43,749 worth of inventory that we are prohibited to sell.

In this economy, it is unreasonable to expect the local motorcycle dealership, which is small businesses, to essentially toss tens of thousands of dollars of inventory into the trash bin, or to expect the financially struggling OEM to allow the return of these machines only to have them toss millions of dollars in inventory into their trash bin. In 2008 our dealership sold over 100, new and used, of the models now affected by this ban.

The motorcycle industry, just like the auto industry, is in the midst of a massive slowdown in sales and to just expect the industry to place large amounts of inventory in their warehouses, unable to sell and unable to return, is creating additional hardship.

Three other issues in regards to this law and its application in this instance:
Motorcycles are not toys and are not chewed on by children and therefore do not pose a harm as intended by this law.
Date of manufacture, at the time in which this law was written and passed, the OEM had already completed production on their 2009 models and in most cases already introduced and/or delivered to local dealerships Nationwide.
Youth riders will now attempt to ride larger bikes then they can handle which will cause injury or even death.
It is my opinion that the proper actions necessary at this time is one or both of the following;
The motorcycle/powersports industry should receive an exemption to this new law in order to allow local motorcycle dealerships, nationwide, the opportunity to deplete their on hand 2009 model year inventories (and/or beyond). This would reduce an unwarranted financial burden that is seriously harming an already troubled industry.
Seek a stay of enforcement for the entire Consumer Product Safety Improvement Act in order to investigate other industries wrongly affected such as the publishing (books) industry, bicycle industry and even the antique industry.
Sir, while I understand the intent of this law, now is not the time to be placing large financial burdens on entire industries and small businesses. I respectfully request that you personally look into this issue, take it directly to the CPSC and your colleagues in Congress for either repeal, a stay of enforcement or exemptions to industries that are harmfully affected.
JEFF SCHULTZ
www.racerxonline.com
---
I am the [Honda] DSM for Wisconsin and Michigan's upper peninsula. The one fact that I find curious is that we have never put ages on any of our off-road bikes. ATVs have to have age restrictions because of the weight of the machine and CPSC laws dating back to the early 90s and late eighties. Even though we won't feel the impact as much as some of the southern dealers, these dirt bikes account for nearly fifty percent of our total retail sales. I can only hope that everyone who rides anything that burns petrol is contacting their local and state politicians.

This is forcing people to put their kids on machines that are too big and may scare them away from riding. One of my dealers in southern Wisconsin approached me at my last visit to the store asking me for some advise. He has a long-time customer who promised his son that if he did well in school he could pick out a new dirt bike so the two of them could go riding. This guy's son fit perfectly on a CRF80, but when they returned to the dealership in mid February to purchase the bike, they came to find out that they couldn't. His son was understandably upset and didn't understand, so they tried the CRF100. This could work, but it was clearly too big and the dealer was worried that if he sold this bike, the kid would get hurt because he can't touch the ground very well and quit riding for good. They looked into shaving the seat foam, but that will not solve the power issue—this young boy may not be ready for a 100.

I don't mean to ramble, but as an avid reader/rider/all-out off-road junkie, I just don't understand why the government can't amend this ridiculous act. I would like to thank everyone at Racer X for the great magazine and the constant updates on what some of our brothers are doing to get this great sport back to where we can all enjoy riding.
JACOB CLOTHIER
www.racerxonline.com
---
My 5-year-old suffers from Asberger syndrome, which is high-functioning autism. Motorcycles are his life—he rides almost every day, and I think it is when he feels peace within, while riding on his track. I started him racing last year and it is all he talks about. It is his life! I sold his worn-out bikes to replace them as they are run into the ground and now I cannot take delivery of his new KTM. For the first time in my life, the government has become my enemy. I am sick of them being involved in every aspect of my life. I do not need them to take care of me or my family; we are quite capable of making those decisions for ourselves. One day I hope we all become sick of this and take matters in hand. Thank you for letting me express my outrage.
JAMES R. CHURN
www.racerxonline.com
---
Having two sons who race (ages 9 and 11), it is very concerning for the upcoming race season as to the availability of parts. As any rider/racer knows, there are always parts/accessories that need to be purchased. They have raced since they were 4 years old, so the thought of them possibly not being able to do what they love is troublesome. We also have a motocross track here in Northeast Ohio—Ohio International Raceway(www.handracing.com)—and are concerned how this law will affect our pee wee program. We run a separate pee wee track and have many local riders. While there is new interest in this area for riding or racing, the bikes are unavailable to be purchased and as parts wear out they can't be replaced. This "lead law" may not only affect our children but our business as well. We certainly hope this whole mess gets straightened out soon!
DAVE AND GAIL HAND
www.racerxonline.com
---
I have a 5-year-old boy named Calvin who lives through motocross as much as I do. On February 14 he was riding his TTR-50 when a little half-frozen mud sent him sideways into a tree. Calvin managed to stay up, only brushing the tree, but I later realized he had broken his shift shaft off near the engine case. I tried to talk a friend at a local Yamaha dealer into helping me, but he didn't want to get fired or sued. After many cuss words and letters to Congress and state reps, I realized that Canada does not have dumb laws like this. The shipping cost was outrageous, as was the time it took to get here through the mail, but thankfully I was able to get the stuff I needed and was able to get the bike working again. So no thanks to the people who made this law, we will be off to my son's first race next weekend. Also a big thanks to your magazine for spreading the word on this issue.
JASON AND CALVIN HAMILTON
www.racerxonline.com
---
My name is Kevin Miller and I would like to let you know how the lead law has affected me. Since I was a little kid I always told myself, "When I have a child, it's going to be great being able to ride with my kids and teach them the same values my father taught me." But guess what? I found out recently that my wife is pregnant, however I also found this out with the recent news of the lead law ban. This law makes me sick every single day to think that I won't be able to take my child out and teach him/her to ride. Hopefully someone will be able to turn this law around. Until then, I will have to keep the pit bike I have now in storage and try to not trash it so that my kid will be able to ride when he/she is old enough.
KEVIN MILLER
www.racerxonline.com
---
As a parent of an 8-year-old old boy with a CRF50, it is unsafe to ride now without good tires, brakes, etc. This law is just bad, all the way around.
CHRIS TABELLION
Massillon, OH
---
Hello, I am 34 years old and have been around dirt bikes and three-wheelers all my life. My parents are in their 50s and been around them all their lives. I do not know of anyone who has been affected by the lead until now! This is because some people in suits who have never even thrown a leg over a bike are sitting in their air-conditioned office trying to tell us who enjoy our sport how and what to do with our kids. Not gonna happen! If it's against the law, oh well. I'm a police officer and I guess I'll be contradicting my job. This is ridiculous. What do they want us to do? Just have the kids sit in their rooms, play X-Box and get fat? My 8-year-old has been riding since he was 3. He's fine, gets good grades, and on the honor roll. I see riding that KTM Pro Senior 50 is just killing him. Not! What is killing him (he's disappointed and can't understand) is why his dad can't go buy a brake line to replace the broken one so he can ride. Something needs to be done. This is out of the scope of what the whole lead idea was about.
BRYCE COOPER
Bakersfield, CA
---
Just read Racerhead and got to the bottom, where you asked anyone who has been affected by the lead law to write in. Well, I believe I qualify. I am a parent of a child who would like to ride/rides, I work at a dealership, and have been affected greatly by the lead law.

On February 10, 2009, my life dramatically changed. The CPSC issued a lead law concerning every aspect of my life. The first thing that struck my mind was my newborn son, and whether he would be able to legally enjoy the sport and industry that has made me the man I am. The next was what was my 4-year-old son going to do—my wonderful, happy-go-lucky son who wears Fox pee wee gear to bed and watches Nitro Circus every night before he dreams away the night. And lastly, what effect would this have on me?

I have been working in dealerships since I have been 16 years old. From scrubbing Harleys at the local Harley Dealer to managing the parts department where I currently am, what has just become of my world? It may not seem like much, but if you add the figures together, this is a devastating blow to our lifestyle. This economy crisis has hit more than the average pocket book. I now walk in to my dealership excited to start the day and show off the latest Fox apparel, Shoei helmets, and Scott goggles, but I am faced with an empty showroom. What most people don't realize is that because our youth industry has basically been shut down, it has driven away families. Not one or two, but hordes of families.

I started out in motocross because of my father's love of motorcycles. I rode XRs until the sun went down on our farm and trails. Now, fathers are not able to present their children with this opportunity. As a dealership, we've turned away several families from purchasing packages of bikes for birthdays or presents, and the hit that presents is epic. I have literally been sick to my stomach about turning these customers and parents away. As a father, I thank god every day my son has a brand-new JR 50 in the garage, but how long will that last? I can't even get a brake lever from Suzuki for it to replace the one I bent when it tipped in my truck upon transport.

Our sales are down—down because of the economy, down because GE will only finance 750 credit scores, and down because no fun-loving families can purchase machines to keep their families together. After being relieved from the military, completing my police training and turning down the position to pursue my passion, I have now questioned my actions. I have witnessed several dealerships falter and close due to these conditions, and I wake up thanking God every day I am able to work. I do not know what the future holds for me, and to move my family around to pursue this crazy dream seems out of reach. But right now, that is exactly where I am.

I am extremely proud of Malcolm Smith for standing up against this law, and I applaud every motorcycle-loving Americans' effort to turn this situation around. But I look at my future and I have to wonder, What is going to happen? Will I really have to give up the thing I do best? Will I be driving trucks or working construction in two years? Right now, I am ready to fight. Tomorrow, I'm going to get up and continue to go to work. Sunday is practice at Broome-Tioga, and I have friends, customers, and families to help prepare to have a wonderful day and get prepared to enjoy and compete in the upcoming season. I am going to search MIJ to hope one day Mitch Payton will be calling me to sell his parts, and work as hard as I can to be able to enjoy my and my family's life. Hopefully one day we can get this situation turned around. Hopefully one day I will see my boys on the starting line of A1 donned in KTM gear, and my wife and I will cry in happiness.
BRANDON BUTLER
www.racerxonline.com
---
I am 44 and have two sons, ages 5 and 7. I have been riding dirt bikes for thirty-plus years and racing MX for over twenty. I currently own a 50cc quad that both of my boys ride. Late last fall they had an opportunity to ride a CRF50R and they both enjoyed riding it. I told them I would get them one come spring of next year. A friend and myself found a nearby dealership that had some new, leftover '07 and '08 CRF50Rs. We had the deal made and were going to pick up the bikes (two '07s) on Feb 13. So we were three days too late and are not able to buy the bikes now. I was so looking forward to taking my boys riding with me and teaching them how to ride. They are extremely disappointed as well. I have both written and emailed my Congressmen and the CPSC. I've told my boys that the dealership is out of bikes right now and they will call when more come in. I will let them form their own opinions about how corrupt our government is when they get older.
WADE COOK
Stockton, IL
---
I just recently purchased a 2001 XR 50 for my daughter, Angela. It was to be a surprise for her since she has been to half a dozen nationals and spent countless hours at tracks where my friends and I ride. I have been copying letters against the ban, making labels for the envelopes, and passing them out to everyone I know in an effort against this legislation. I waited long enough to surprise her, so today I pulled a fast one on her and gave her the nice little Honda. I then, in dad fashion, told her about how the government now won't let us buy parts or new bikes for kids her age. Of course, the questions flowed about "not allowed to ride" and I explained to her why we were mailing letters and handing them out. "Dad, that's not fair, I'm not going to eat part of my bike," she said. The government protecting us from ourselves … some kind of help that is.
V. GEORGE SOSNICK
www.racerxonline.com