This Week in Supercross: New Orleans
AURORA, Ill. – New Orleans fans will be treated to one of the greatest title races tomorrow as Monster Energy® Supercross, an FIM World Championship, returns to the Superdome for the first time since 2002. After winning his second-consecutive AMA Supercross class main event, Rockstar/Makita Suzuki's Chad Reed, of Tampa, Fla., carries an 11-point lead into the Superdome over rival James Stewart.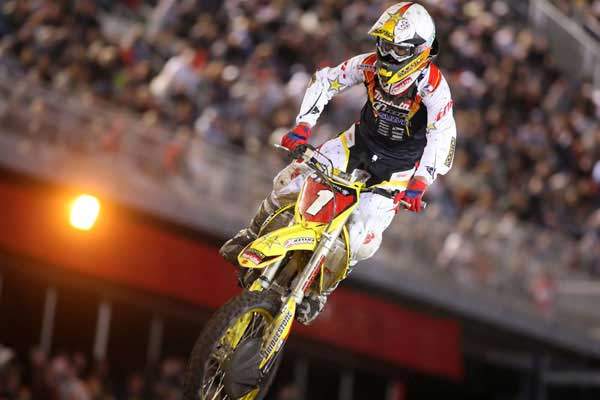 Chad Reed was a Lites class rider the last time he raced inside the Superdome
Photo Credit: Steve Giberson
"This weekend is my birthday weekend and hopefully I'll have something to celebrate," said Reed. "The last time I was in New Orleans was 2002, and I remember it being really humid and the dirt being awesome. So it should be a good race and hopefully I'll get that good start on the Rockstar Makita Suzuki RM-Z450 that we need."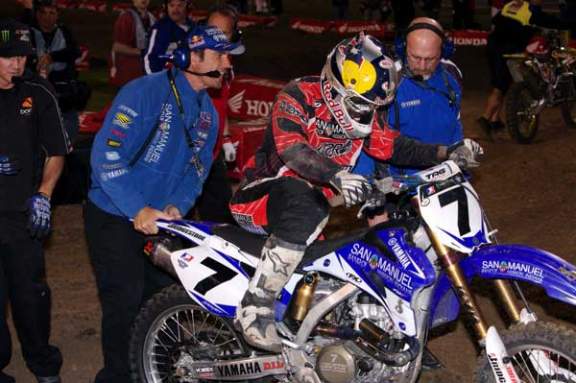 Stewart had to rally after a first-turn crash at Daytona
Photo Credit: Simon Cudby
Earlier this season Stewart reeled off seven consecutive wins after starting the season in 19th place due to a crash with Reed at Angel Stadium in Anaheim. Reed stopped the streak before it reach eight, picking up a win at the inaugural race at Lucas Oil Stadium in Indianapolis.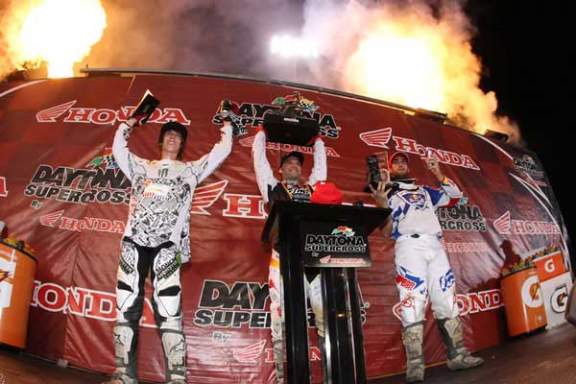 Davi Millsaps (Right) picked up his second podium of the 2009 season and Jason Lawrence (Left) made it to the podium in just the first premier class race of his career
Photo Credit: Steve Giberson
Reed's teammate Mike Alessi picked up his best results of the 2009 season at the recent Indianapolis race, and followed that up with a 4th at Daytona. Alessi's third-place finish at Lucas Oil Stadium was his first-ever AMA Supercross-class podium. He is currently in eighth place in the overall championship standings.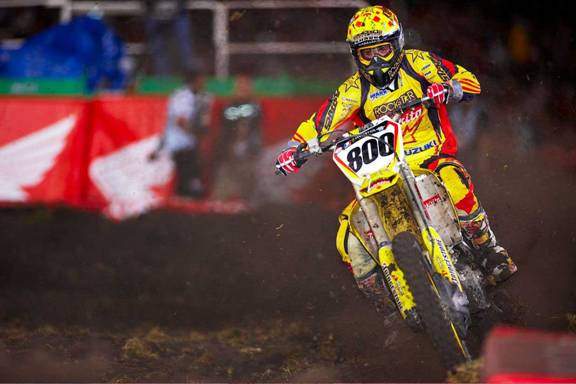 Mike Alessi finished fourth at Daytona and continues to turn in solid results
Photo Credit: Frank Hoppen
"Hopefully I can come back strong for New Orleans and get another podium to follow up the one at Indianapolis," said Alessi. "We were close at Daytona and I'm hoping to do it again at the Superdome. Plus, I've never been to New Orleans so it'll be different and I'm looking forward to it."
Eastern Regional AMA Supercross Lites class standout Nico Izzi has been on the podium at each race in 2009. He is currently second in the overall championship points standings.
"New Orleans is a new stadium for us, and hopefully we can start out the racing there the right way," said Izzi. "I'm just trying to put in a good week of training, and hopefully we'll get another podium, or better yet, my first win."
Yamaha's Josh Hill enjoyed somewhat of a break through during his qualifier at Daytona winning the qualifier and beating Reed.
"Hill rode well in both practice sessions at Daytona, got off to a good start in the heat race, put in solid laps and took his first heat race win of the season over Reed," said Yamaha Team manager Jim Perry. "It was a big improvement. It's was starting to look like his hard work is paying off. In the main event, he was caught in the first turn pile up, going down with Stewart and Byrne. He regrouped and worked his way to 11th. A little disappointing result after how the day started but an improvement overall."
During his debut AMA Supercross class race at Daytona, Yamaha's Broc Hepler crashed in his heat race with eventual second-place finisher Jason Lawrence "In the main event, he was also caught up in the pile up at the start, but did not go down, " said Perry. "He worked his way to 12th, and he still needs to work on his race speed."
Muscle Milk/MDK/KTM Factory riders Martin Davalos and Will Hahn are looking forward to the fifth stop of the Eastern Regional AMA Supercross Lites championship in New Orleans this weekend after both riders put in their best ride of the season at the Daytona race.
"I have a lot more confidence at this point than I did in the beginning of the series, " said Davalos. "After leading for 10 laps last weekend I know that I can actually win a race. I will continue to work on my endurance and hope to come away with a win very soon."
"Each week my lap times have been improving and I am riding faster and stronger than the early races," said Hahn. "I feel confident in my performance as well as my bike and I can't wait to get a podium before the season ends."
Joining the Lites riders at the New Orleans Supercross will be West Lites Supercross rider Justin Brayton who will tackle the Supercross class for the first time this season. "I don't think its any secret that I love the KTM 450 SX-F. I can't wait to race this weekend and hopefully in St. Louis as well," commented Brayton. He will practice with Davalos this week and then the two will head to New Orleans on Friday evening.
Monster Energy Kawasaki is ready for AMA Supercross' return to New Orleans. Ryan Villopoto is coming off a sixth place finish at Daytona, but he knows he is riding well right now.
"I'm making progress every week," said Villopoto. "Now that we are getting to the second half of the season my goals are still the same. I want to keep getting better every week. I've been racing with Chad a lot and I just want to keep being competitive."
Villopoto's Monster Energy Kawasaki teammate Timmy Ferry will miss the race this weekend after fracturing his heel at Daytona.
In the Supercross Lites class, Monster Energy/Pro Circuit/Kawasaki is looking to stay perfect on the East Coast. Christophe Pourcel has won three of the first four events with Austin Stroupe taking the victory in Indianapolis.
"My focus is still the championship," said Pourcel. "I'm going to keep riding smart and pushing at the end of the races to get the best finish I can. I just want to keep finishing on the podium and leading the championship."
In Daytona Stroupe looked like he had a shot at the win. But an early crash caused his first DNF of the season. Now the 18-year-old rider is looking to get back on the podium.
"Not finishing is never fun," said Stroupe. "I'm going to go to New Orleans ready to win again. Most of these stadiums are new to me, but I like how they get pretty rough by the end of the races. Being an East Coast guy, that is what I've been racing on for most of my career."
Honda Red Bull Racing's Davi Millsaps adjusted well to the Daytona supercross track where he earned the second podium finish of his 2009 season.
"It was awesome to put Honda Red Bull Racing on the podium in front of my Florida home crowd, family and friends last weekend at Daytona," said Millsaps. "Heading into New Orleans I am feeling confident that I will again finish podium. My season started out slower but I'm feeling really good now­ and ready to battle for championship points!"
An eighth-place finish is not where Andrew Short wanted to put his Honda at Daytona. Like so many others, Short was caught up in the first-turn pile up. With seven races remaining, Short sits third overall in AMA Supercross class points.
"The Daytona Supercross was definitely a tough night of racing for me finishing in eighth," said Short. "After being caught up in first turn carnage I had to come from a long way back, basically the back of the field, back up into the top ten. Not the result I had hoped for but I rode really well and am confident I will be back racing for a podium result in at New Orleans."
Local favorite Kevin Windham is excited to compete in front of his family and friends tomorrow night. Currently ninth overall in points standings, Windham would like to add to the sole podium finish he has this season.
"This weekend's race in New Orleans should be great," said Windham. "It's exciting to see supercross heading back to a place that is really special to me. I think we can expect a good turnout and an enthusiastic crowd cheering us all on. I will be pushing hard to put my GEICO Powersports Honda on the podium for the third time this season."
Eastern Regional AMA Supercross Lites class rookie Blake Wharton finished within the top five at his first two races of his debut season, he struggled at Daytona and finished ninth. Wharton is currently eighth overall, one point away from Matt Lemoine.
"At the last two races I have had some really bad luck and things just haven't gone my way," said Wharton. "But I am determined that I am not going to let that be the case this weekend. I have been riding really well and my GEICO Powersports Honda CRF250R is great, I just need to make sure I get a good start so I have a good clear run at the race and avoid those opening lap dramas that seem to unfold."
The AMA Supercross Lites class race will air on SPEED Sunday, March 15 at 5:00 p.m. EST and the AMA Supercross class will air on SPEED Sunday, March 15 at 6:00 p.m. EST.
Tickets are available at www.SupercrossOnline.com, by phone at 504-522-5555, the Louisiana Superdome Box Office, Ticketmaster, Ticketmaster outlets, www.ticketmaster.com, and participating Yamaha dealerships. Select 200 Level Seats $50; Trackside Seating in the 100 Level $30; Mid-Level pricing with kids discount $25 for adults and $10 for kids; Supervalue Seats $10. All seats are $2 extra on the day of the event. All Adult tickets (except Club Seats and Supervalue Seats) $10 off July 18th – July 25th during the first week of the public on sale. Discount valid at Louisiana Superdome Box Office, all Ticketmaster outlets and online at Ticketmaster.com.
For more information on the Monster Energy® AMA Supercross, an FIM World Championship, please log on to www.SupercrossOnline.com. For all media requests, please contact Denny Hartwig dhartwig@feldinc.com or 630-566-6305.
About Feld Motor Sports
Feld Motor Sports, Inc. is the world leader in specialized arena and stadium-based motor sports entertainment. Feld Motor Sports, Inc. productions include Monster Jam®, Monster Energy® Supercross, AMA Arenacross Series, Freestyle Motocross, and IHRA® Nitro Jam®. Feld Motor Sports, Inc. is a division of Feld Entertainment, the world's largest producer of live family entertainment. For more information on Feld Entertainment, visit www.feldentertainment.com.