This Week in Supercross: Atlanta
AURORA, Ill. – With the AMA Supercross class points race tied at 152 between San Manuel Yamaha's James Stewart and Rockstar/Makita Suzuki's Chad Reed, the two front runners are essentially starting a new season as Monster Energy® AMA Supercross, an FIM World Championship, heads east and unfolds under Atlanta's Georgia Dome.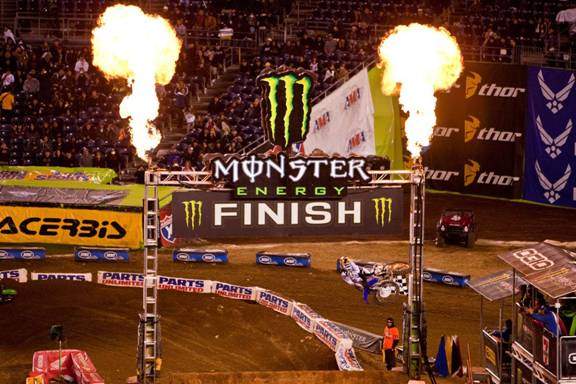 James Stewart earned his 31st AMA Supercross class win last weekend in San Diego, can he make it 32 this weekend?
Photo Credit: Frank Hoppen
The action that has brought Stewart, of Haines City, Fla., and Reed, of Tampa, Fla., to this new beginning should not be overlooked. In the past six races, Stewart, the 2007 AMA Supercross class champion, has been victorious. Reed, the reigning AMA Supercross champion, turned in six consecutive second place finishes. The only other rider to win a race this season is JGRMX Yamaha's Josh Grant, of Riverside, Calif., and he did so at Anaheim 1.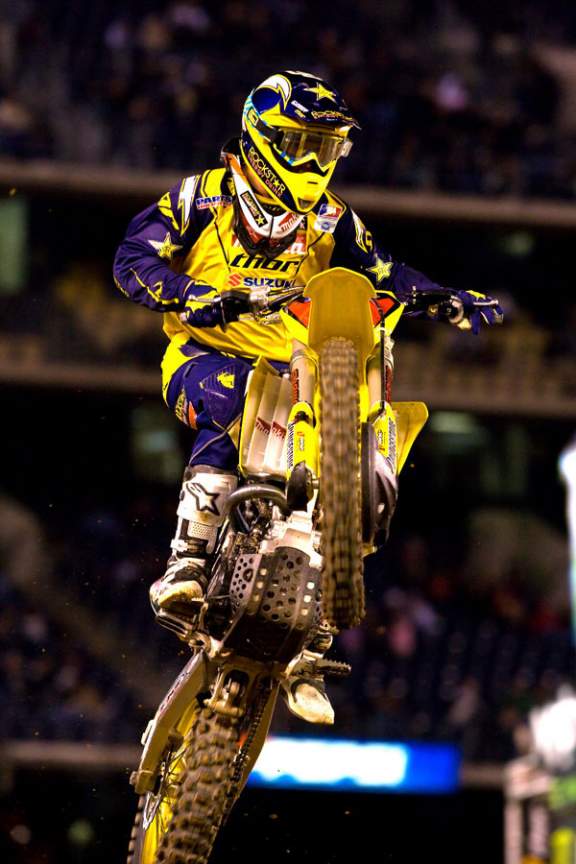 Chad Reed won the AMA Supercross class main event at the Georgia Dome in 2004
Photo Credit: Simon Cudby
"I'm looking forward to racing at the Georgia Dome," said Reed. "Going back East will be good, and I'm looking forward to sleeping in my own bed and doing my own program. Georgia's fun, I love it there. It's a nice, big stadium, and I think it will be interesting because James (Stewart) and I are tied in points after seven races and we're starting all over again, basically, and I'm OK with that."
Reed appeared to be the favorite heading into San Diego last weekend where he's won five races in the past six seasons, but Stewart stopped the momentum and moved into the points lead, erasing the 23-point deficit he faced after Anaheim 1. While Reed and Stewart are technically tied in points, if the season ended today Stewart would be crowned champion because he has more wins.
"To come back where we were at, 23-points back, it's just amazing," said Stewart. "San Diego is special to me - it gave me my first victory in 2002 so I've always had a soft spot in my heart for the city."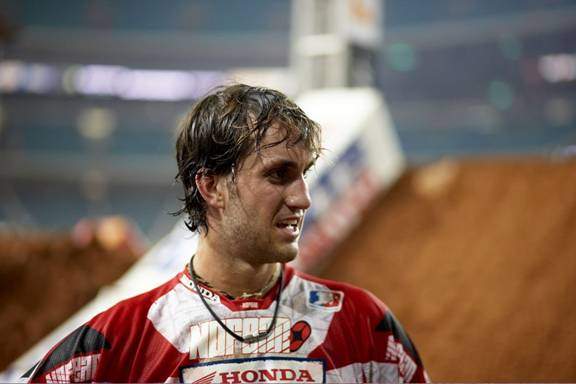 Georgia native Davi Millsaps won the first AMA Supercross class race of his career at the Georgia Dome last year
Photo Credit: Frank Hoppen
Mike Alessi, who rides for the Rockstar/Makita Suzuki team, picked up his best results of the 2009 season last weekend at the San Diego race. He earned the holeshot in his heat finishing third, and then he holeshot the main event and finished up in sixth position. He's looking forward to the upcoming race at the Georgia Dome.
"I've only raced at the Georgia Dome once and it was a very long time ago," said Alessi. "But I'm trying to go into this weekend with a good, realistic attitude and be right there, and finish in the top 10 again. I want to be smooth, steady and consistent every weekend and get the Rockstar/Makita Suzuki RM-Z450 out there on the holeshot."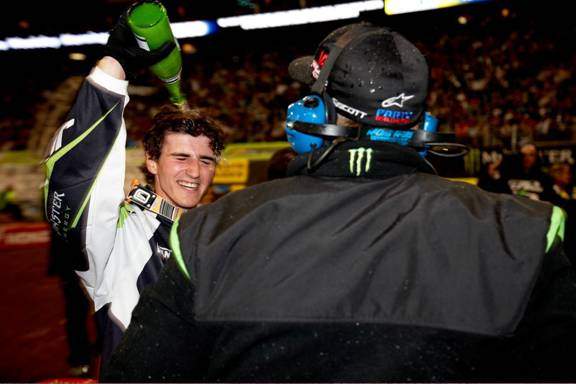 Frenchman Christophe Pourcel leads the Eastern Regional AMA Supercross Lites class points race after winning the opener in Houston
Photo Credit: Frank Hoppen
Making his way back to racing is Rockstar/Makita Suzuki's Michael Byrne, who missed the first several races of AMA Supercross this year with a wrist injury. Byrne returned with a vengeance at last weekend's San Diego race. The Australian rider finished second in his heat race and eighth in the main. When stateside, Byrne lives in Newnan, Georgia, and he is excited to race at his "home track," the Georgia Dome.
"I think now that I've got my first race back out of the way, it makes me a little more prepared for next week," said Byrne. "I just want to go there and ride hard and try to get stronger. I think Atlanta will be even better than this last weekend at San Diego."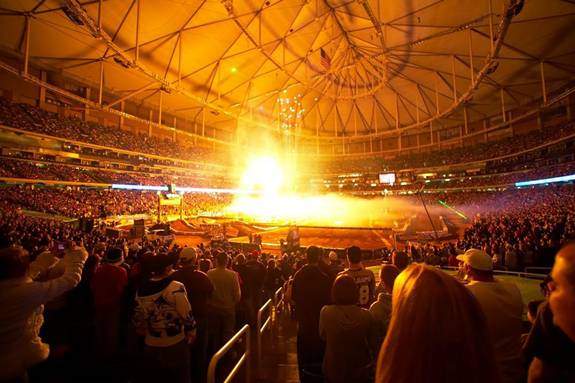 67,425 fans watched Honda sweep the podium at the Georgia Dome last year
Photo Credit: Frank Hoppen
Nico Izzi started the 2009 Eastern Regional AMA Supercross Lites championship strong by picking up a podium position in the season-opening round in Houston. Izzi is hoping to better that third-place result this weekend in Atlanta.
"I've just been doing a lot more intensity work on the bicycle and a lot of riding during the few weeks that we've been off before Atlanta," said Izzi. "I think I've made some big improvements in the past few months because I've just been riding so much. I've stuck to that same program and haven't done anything crazy. I just wanted to make sure I did enough of the basic stuff so I can come out swinging in Atlanta."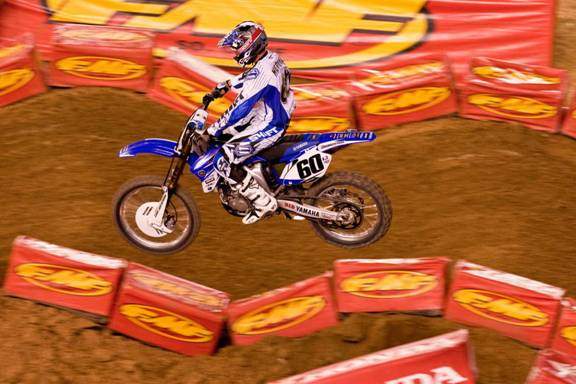 Yamaha's Broc Hepler returned to action at San Diego after missing the first six races and picked up 19th place after crashing
Photo Credit: Frank Hoppen
Yamaha's Josh Hill's dismal season didn't get any better last weekend in San Diego. He failed to make the main event and sits 11th in AMA Supercross class point standings. According to Yamaha Team Manager Jim Perry, the short track and poor starts hindered Hill's performance.
After missing the first six races of the 2009 season with a collarbone injury, Yamaha's Broc Hepler returned to action, scoring a 19th-place finish. Hepler showed flashes of brilliance early on before he crashed out of the race.
"Overall I think it was a step in the right direction," added Perry. "Each time Broc was on the track he improved. This was his first AMA Supercross race of the year. He got good starts in the heats and the main. He came together with Short early in the main and crashed. Broc remounted, had a good race going with Byrner (Michael Byrne), got by him and made a big mistake by over jumping the table tops and crashed out. He is ok and should be good to go in Atlanta."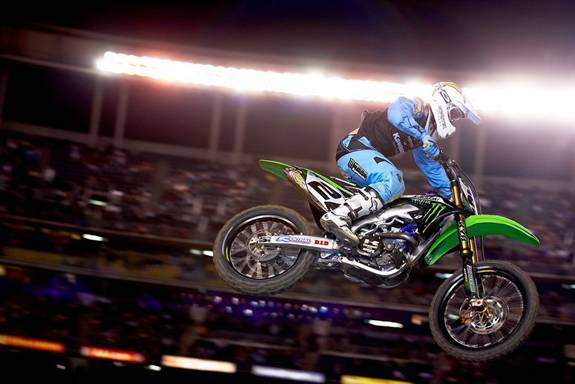 Ryan Villopoto bounced back in San Diego where he finished fifth after failing to make the main at Anaheim 3
Photo Credit: Frank Hoppen
While the Western Regional AMA Supercross Lites Muscle Milk/MDK/KTM Factory Racing Team riders Justin Brayton and Ryan Sipes are heading into their long break, Eastern Regional AMA Supercross Lites team riders Martin Davalos and Wil Hahn are ready to head to the second race of their series.
Hahn mentioned that he was very eager to return to the race track. "It was hard getting the taste of one race early this year and then having to wait a few more weeks before we could race again," commented Hahn. Davalos thought the opposite stating, "I enjoyed the gap because I had some areas I needed to work on and I believe that I have brought my speed and endurance up to where I needed it to be."
Both riders will be heading to Atlanta this Friday to compete in the second round of the AMA Eastern Regional AMA Supercross Lites championship.
Honda Red Bull Racing swept the podium last year at the Georgia Dome as Davi Millsaps, Kevin Windham and Andrew Short rounded out the top three positions respectively. It was a special night for Georgia native Millsaps as he captured the first AMA Supercross class win of his career.
"I won the Atlanta supercross last year and Windham and Shorty both joined me on the podium which was awesome for Honda," said Millsaps. "I am pumped to be heading back east this week – it's my home territory."
Short moved into third place in point standings with his third-place finish last weekend in San Diego. It was a Short's second best finish of the year.
"Finishing on the podium last week in San Diego put me back up into third in the championship points standings, which I am pumped about," said Short. "I finished third on the podium in Atlanta last year and I am really looking to do even better this year. What would be great for the team and Honda would be if we could replicate Honda's 1-2-3 on the podium again. That would be awesome!"
GEICO Powersports Honda won the 2008 Eastern regional AMA Supercross Lites class championship with Ace rookie Trey Canard. This year, Canard is struggling on the Western Regional tour, but rookie Blake Wharton and veteran Bret Metcalfe will represent Honda's Lites class efforts this year in the Eastern Regional AMA Supercross Lites class championship.
Due to heavy rains in Southern California, many of the Eastern Regional riders have struggled to put in some practice time.
"Heading into the second race of the Eastern Regional AMA Supercross Lites championship I am feeling pretty good," said Metcalfe. "With all the rain here in California over the last few weeks it has been really hard to put together a riding schedule, so I have mainly been riding outdoor tracks because the supercross tracks are just too wet. It will be interesting to see how everyone goes because we are all in a similar boat when it comes to practicing."

Monster Energy Kawasaki is ready as the Monster Energy® Supercross heads East for the next seven races. Rookie Ryan Villopoto battled on the East Coast last season to help prepare him for the different types of dirt he would encounter this year, while Timmy Ferry is based in Florida and feels right at home on the rutty tracks the East Coast provides.
Last week Villopoto made a strong run towards the podium, falling one spot short of the box. On the last lap in San Diego, the 20-year-old rider charged hard and made a daring move in the final corner to try and grab third place, but it wasn't enough.
"I'm coming off of a good race," said Villopoto. "I didn't get the start that I wanted but I was able to stay with most of the top guys all night. I'm looking forward to Atlanta. It is a great race and the dirt is always good there."
For Ferry the return to the East Coast means more time at home and an appreciation for the dirt at the next seven races.
"I'm really happy to get back to the East Coast dirt," said Ferry. "It is so much better riding on the same dirt during the week as you are racing on during the weekend. Atlanta has great dirt and it is a really short flight for me, plus they get a really big crowd so it is a great event."
In the Eastern Regional AMA Supercross Lites class, the Monster Energy/Pro Circuit/Kawasaki team of Austin Stroupe and Christophe Pourcel return to the track. Pourcel won in his last race at Houston while Stroupe will be competing at his home race for the first time.
"We did some work on the short break to make the bike better," said Pourcel. "This is my first time at all the tracks so everything is going to be new to me. I think it will be great and I hear the crowd at Atlanta is really big."
For Stroupe, Atlanta is the closest race to his native North Carolina so he is calling this round his home race.
""I'm really excited to be racing in Atlanta," said Stroupe. "It is a great race and there are always a lot of fans. Hopefully they will be cheering me on as kind of a local guy. I know I have the speed to win and I really want to get on the top of the podium."
Tickets are available at www.supercrossonline.com, www.ticketmaster.com, participating Yamaha dealerships, the Georgia Dome Box Office or charge by phone at 800-745-3000. Gold Level Seats are $45; Mid Level Seats are $35; Treadhead Seats are $10. All tickets are $2 more on the day of the race. Fans can save $10 off the $45 or $35 tickets by picking up a $10 discount coupon from participating QuickTrip Convenience Stores (expires 2/20). Participating Subway locations are giving away a free pit pass with the purchase of a 32oz drink.
For more information on the Monster Energy® AMA Supercross, an FIM World Championship, please log on to www.SupercrossOnline.com. For all media requests, please contact Denny Hartwig dhartwig@feldinc.com or 630-566-6305.
About Feld Motor Sports
Feld Motor Sports, Inc. is the world leader in specialized arena and stadium-based motor sports entertainment. Feld Motor Sports, Inc. productions include Monster Jam®, Monster Energy® Supercross, AMA Arenacross Series, Freestyle Motocross, and IHRA® Nitro Jam®. Feld Motor Sports, Inc. is a division of Feld Entertainment, the world's largest producer of live family entertainment. For more information on Feld Entertainment, visit www.feldentertainment.com.