This Week in Supercross: San Diego
AURORA, Ill. – Rockstar/Makita Suzuki's Chad Reed is tied with seven-time AMA Supercross class champion Jeremy McGrath on the all-time win list at Qualcomm Stadium with five wins apiece. A win for Reed tomorrow night in San Diego would give him the all-time Qualcomm Stadium win record but at this point of his season, records should be an after thought.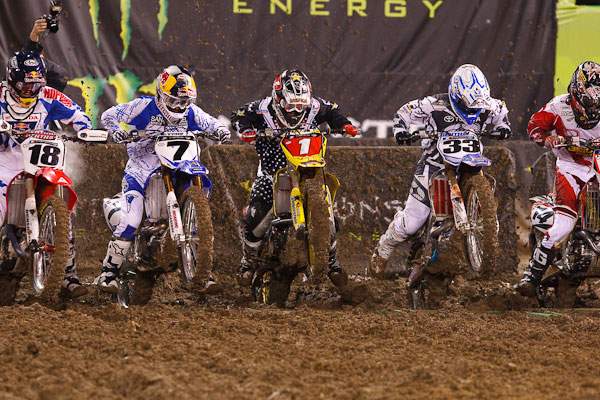 Chad Reed needs to jumpstart his season in San Diego
Photo Credit: Brian Robinette
Reed moved into the points lead after the Anaheim 2 race with a second place finish, passing JGRMX/Toyota/Yamaha's Josh Grant on the leader board. Team San Manuel Yamaha's James Stewart, who has won five consecutive races, started his season 23 points out of the championship hunt but has thinned his points deficit to just three. Having finished in second place at the past five consecutive races, Reed could turn his season around and get the first win of the season out of the way.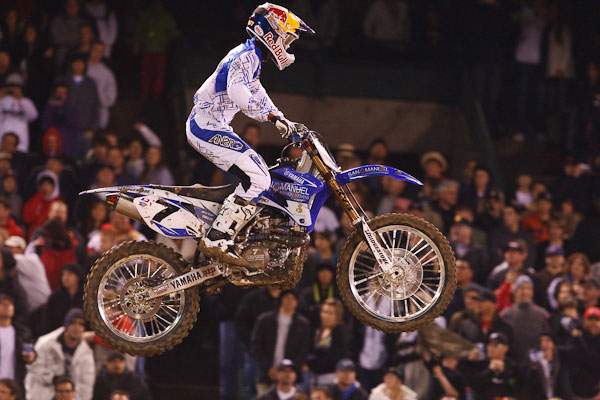 Chad Reed hopes to put an end to James Stewart's five-race win streak
Photo Credit: Brian Robinette
"I love San Diego, I love the area itself and I think it's a beautiful place," said Reed. "The stadium is massive and probably has some of the biggest, coolest supercross crowds of anywhere in the world. The dirt, the stadium, the track layout all seems to gel for me, and I enjoy it there. I've had a lot of success at San Diego and I've gotten a lot of wins there when I needed them, and hopefully 2009 will be no different. I'm really looking forward to it. I'm tied with Jeremy (McGrath) for all-time San Diego wins and it would be nice to one-up 'The King' and try and get my first win for the year. It would be very fitting for it to be at San Diego."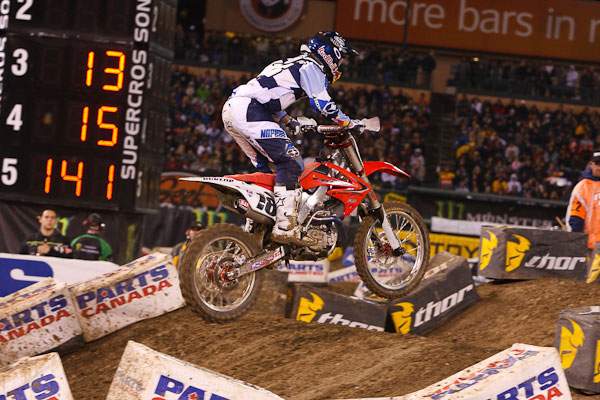 Honda Red Bull Racing's Davi Millsaps picked up the best finish of his '09 season last weekend
Photo Credit: Brian Robinette
Reed's Rockstar/Makita Suzuki teammate Mike Alessi continues to improve as the AMA Supercross season progresses. He is currently in ninth place overall, having picked up his best results of the 2009 season at the recent Houston race.
"I feel pretty good about San Diego," said Alessi. "I've only raced there once, and last year I broke my collarbone there so I don't want to do anything like that again. I want to ride hard and I want to ride consistent, but I also have to ride smooth and smart."
Michael Byrne, who also rides for the Rockstar/Makita Suzuki team, missed the first six races this year due to injuries. However, the Australian rider is now healthy and looking forward to racing his Rockstar/Makita Suzuki RM-Z450 in the remaining events.
"We've done a lot of testing and development in preparation for this year," said Byrne. "I think the Rockstar/Makita Suzuki RM-Z450 has come a long way -- we've made a lot of improvements on a bike that was already great last year. I think we're in a good spot as a team and, for me personally, I'll just try and carry the momentum from the AMA Motocross season and be strong, and be healthy and just try and enjoy the atmosphere. My goals for my first race at San Diego are to continue what I did in motocross, and that's to try and be on the podium, try and be one of the top guys and try and have that motivation that I had in the summer time and keep it rolling."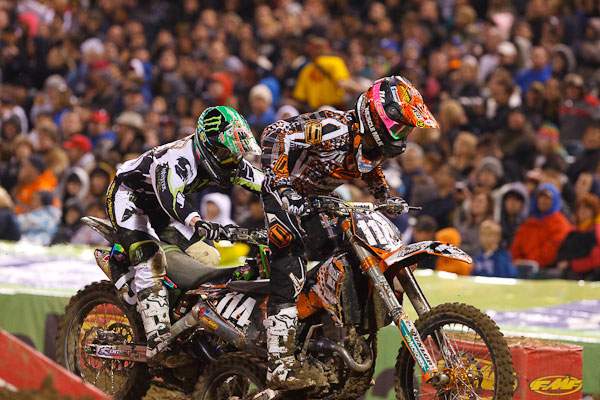 Justin Brayton led the first seven laps of his '09 season before Weimer made the pass
Photo Credit: Brian Robinette
Ryan Dungey has won two races and has been on the podium in two other races. Currently, he's second overall in the championship points chase.
"I'm really looking forward to San Diego. I think they're going to have a good set-up and a good track there," said Dungey. "Just because Anaheim 3 didn't go exactly how I would have liked it to go, we still have plenty of races left and I'm looking forward to racing my Rockstar/Makita Suzuki RM-Z250 at San Diego, and hopefully getting a win to get us right back in there."
Injured Yamaha rider Broc Hepler will return to racing this weekend after rehabilitating the broken collarbone he suffered at the Anaheim 1 race. "Broc has been riding a lot lately and is feeling really good," said Yamaha's Team Manager Jim Perry. "There is a threat of rainy conditions this weekend, which would actually be an advantage for Broc. He's a pretty good mud rider."
Hepler's teammate Josh Hill, who also started the season a little banged up finished eighth at Anaheim 3, which ties his season-best finish. Hill, who finished fifth overall as a rookie in the AMA Supercross class standings, is currently in 11th place overall. "Josh has been improving each week in different areas," said Perry. "Everyone on the team has been working hard to get Josh up on the podium. One week he does well in practice, the next week he does well in his heat race, and I think it's just a matter of time before he puts it all together in the main."
With the heavy rainfall that has hit Southern California over the past week, Muscle Milk/MDK/KTM Factory Team riders Justin Brayton and Ryan Sipes were forced to look elsewhere for a place to ride.
Brayton traveled to Arizona to practice where he will remain until Friday when he will drive over to San Diego for what might be the second mud race of the Western Regional AMA Supercross Lites championship. Sipes, along with Eastern Regional AMA Supercross Lites rider Martin Davalos and Jagermeister/MDK/KTM 450 Racing Team rider Josh Summey, is practicing in Palm Springs this week. Travis Preston has been near his home in Hesperia where he has a private track.
Both Brayton and Sipes are looking to put in a podium finish at the sixth race of the Western Regional AMA Supercross Lites championship in order to go into their long break with confidence.
Honda Red Bull Racing's Davi Millsaps finally put in a performance reminiscent of his successful 2008 Monster Energy® Supercross season as he finished third at Anaheim 3. Qualcomm Stadium could be the place where he strings together two-consecutive podium finishes. Last year at Qualcomm he finished third.
"Finishing on the podium at Anaheim three is a big treat! It definitely felt good for me to put Honda Red Bull Racing back on the podium again after a slow start to my season," said Millsaps. "I'm hoping to do even better at San Diego this weekend and my goal is to finish even higher on the podium."
Despite missing the San Diego race last year, Honda Red Bull Racing's Ivan Tedesco enjoys racing at Qualcomm. "My thoughts are positive for San Diego," added Tedesco. "I missed this race last year after hurting myself at A3, so this will be the first time I have raced in San Diego for a couple of years. I really like racing there and it is usually a lot of fun."
Tedesco and his Honda technicians made changes to the bike the week before the Anaheim 3 race, but the rainy conditions forced the team hold off from using those new settings until this weekend in hopefully dry conditions.
"We did a lot of testing in the lead up to Anaheim three and made some good groundwork. Unfortunately preparations come A3 race day changed due to the rain but if it is dry this weekend, I know the progress we made testing last week will really show. I'm really looking forward to this race."
Western Regional AMA Supercross Lites class front runner Dan Reardon, of GEICO Powersports Honda, finished eighth last year in San Diego as a rookie. The Australia native is no fan of the rain. "The wet weather (this week) really throws your training schedule out of whack but I will be as prepared as the next guy out there this weekend as it affects everyone, " said Reardon. "Who knows what the weather will do this weekend in San Diego but there's every chance that it could be another wet race. We will take it as it comes."
Trey Canard says he owes his GEICO Powersports team a win and San Diego is the perfect place to do that. The defending Eastern Regional AMA Supercross Lites class champion has struggled in '09 with injuries, but the Oklahoman feels good heading into San Diego.
"It's been a rough, up-and-down season for me," said Canard. "The GEICO Powersports Honda team has been fantastic and very supportive throughout this year. I delivered a podium result to them in San Francisco but they really deserve to win. My goal is to deliver that to them in San Diego."
Monster Energy/Pro Circuit/Kawasaki is on a roll in California with Jake Weimer winning the last two events to take the points lead. Ryan Morais is currently sitting third in the standings. The last two weeks have seen Weimer grab the holeshot and ride smart and smooth to get the wins he needed to take over the points lead.
"I'm not thinking about the championship right now," said Weimer. "I just want to keep winning races. As long as I do that, then everything will work out great. These last two races have shown how strong this Monster Energy/Pro Circuit/Kawasaki can be. We weren't the fastest in San Francisco, but we still got the win then last week in Anaheim, it was clear both Ryan (Morais) and I had the speed."
Morais heads to San Diego still looking for his first win, though he was only two turns away from it last week. On the final lap he pulled beside his teammate to challenge for the victory but a lapped rider pushed him high on the berm with two corners to go relegating him to his third straight runner-up finish at Anaheim this year.
"I really want to get my first win," said Morais. "I know I have the speed, I just need a little luck to fall my way too. I'm going to push really hard this week because we have a long break before the season resumes in Seattle."
The Western Regional AMA Supercross Lites class riders will have eight weeks off after San Diego as their East Coast teammates complete their season. After this weekend, Weimer and Morais won't race again until April 18 at Seattle's Qwest Field.
The Monster Energy Kawasaki team has used this week to heal up after crashes in the last two races have caught both Timmy Ferry and Ryan Villopoto. Ferry rebounded from his incident in San Francisco to finish tenth last week at Anaheim.
"I was still pretty sore," said Ferry. "We had limited time on the track and I really wasn't able to loosen up enough. Having another week to heal is definitely going to help."
Villopoto missed the first main event of his professional supercross career after a hard crash in his heat race. Like Ferry he is healing up and will be ready to race on Saturday.
CBS Sports will broadcast the AMA Supercross race on Sunday, February 15 at Noon EST and SPEED will broadcast the Western Regional AMA Supercross Lites class race on Sunday, February 15 at 6:00 p.m. EST.
Supercross made its debut in San Diego on October 25, 1980 when Mike Bell won on a Yamaha. Seven-time AMA Supercross champion Jeremy McGrath and Reed are tied on the all-time AMA Supercross win list at Qualcomm Stadium with five. Kawasaki's Todd Campbell won the inaugural AMA Supercross Lites class on January 26, 1995.
Tickets are available at www.SupercrossOnline.com, participating Yamaha dealerships, all Ticketmaster outlets or by phone at 619-220-8497. Gold Circle seats are $35; Mid-Level seats are $30 for adults and $10 for kids; Treadhead seats are $10. A $5-off adult coupon is available at participating Express Tires (does not include $10 seats) Fans can also request the family section when purchasing. All tickets are $2 more on the day of the race.
For more information on the Monster Energy® AMA Supercross, an FIM World Championship, please log on to www.SupercrossOnline.com. For all media requests, please contact Denny Hartwig dhartwig@feldinc.com or 630-566-6305.
About Feld Motor Sports
Feld Motor Sports, Inc. is the world leader in specialized arena and stadium-based motor sports entertainment. Feld Motor Sports, Inc. productions include Monster Jam®, Monster Energy® Supercross, AMA Arenacross Series, Freestyle Motocross, and IHRA® Nitro Jam®. Feld Motor Sports, Inc. is a division of Feld Entertainment, the world's largest producer of live family entertainment. For more information on Feld Entertainment, visit www.feldentertainment.com.