Of course it's Friday the 13th. What other week could go as bad as this one for the American motorcycling industry?
Jeremy Lusk
, the X Games gold-medal winner, suffered a horrifying crash while trying to land a backflip Hart Attack. Video footage soon showed up on YouTube, and it was obvious to anyone who saw it that Lusk was critically injured. He was taken to a hospital in San Jose, the capital of Costa Rica, where he was put into a clinically induced coma to keep his brain from swelling. Two days later, with his wife,
Lauren
, his family, and a few close friends gathered around him, Jeremy Lusk died.
Because he was an action-sports superstar, and because it was a spectacular crash captured from at least two different angles, footage of Lusk's accident started showing up on mainstream news programs like MSNBC and Yahoo's main page. ESPN Radio Sportscenter carried a headline every twenty minutes in its news cycle. And his devastated friends and fans started posting other videos and tributes—even his baptism in a hot tub near the ramps he practiced on went up. It was a sad day for everyone, losing a great person like Jeremy Lusk was. Godspeed, Jeremy, and my sincere condolences to his wife and family.
The week also started with the news that Leighton Lillie suffered fractures to the T6 and T7 vertebrae in his back after crashing at the AMA Arenacross in Tulsa last weekend. According to Cycle News and Racer X contributor Shan Moore, Lillie was transported to St. Johns Hospital and initially had little to no feeling below the waist, but doctors were optimistic after tests this morning showed that his spinal cord was not severed in the accident and that the nerves in his legs reacted to stimulus.
The Road 2 Recovery Foundation appreciates donations for Leighton, who is a great kid. Please consider making a donation by visiting the Road 2 Recovery website.
Then the nightmare that is the new Consumer Safety Protection Improvement Act went into effect on Tuesday. This is the law I mentioned last week here that would have dire consequences if it came to be. Well, it did, and all hell has broken lose in the U.S. motorcycle/ATV industry. Any motorcycle or motorcycle product for children ages 12 and under has to pass a test to determine that its lead content be less than 600 particles per million. Motorcycle engine and cables all contain some lead. So do bicycles, watercraft, bullets, fishing weights, even the ink in many books!
Unfortunately, there was no last-minute exemption for motorcycles or bicycles with wheels under 24", so motorcycle dealerships all over the country began pulling any minicycles or minicycle parts meant for children under the age of 12 from their showroom floors and stocking shelves.
Matt "Megawatt" Watson
told me they had to pull more than 100 bikes and ATVs off the floor before business opened on Tuesday morning. They were also told to put tags on several Yamaha minicycles (including the YZ85) that stated that those bikes were meant for kids over 12. They couldn't even order replacement parts for any of the bikes in question!
Then they got a letter from KTM telling them to pull a large list of KTM gear and clothing for kids because the lead in the ink on the jerseys had apparently not been tested. Watson also said he couldn't have any YZ85s on the floor without the aforementioned tag, but the tags were somehow lost in the mail, so he couldn't even sell the bikes to adults!
OSET is a company that designs, manufactures and sells little electric minibikes for kids aged officially 4 to 10 years. Unfortunately, they had to suspend U.S. sales on Tuesday due to the ridiculous CSPIA law.
"We designed a lot of safety features into our bikes," OSET's Louise Smith wrote to us. "No hot engine to burn legs, no oil or gas to spill, light so as not to crush, low seat height so kids can get their feet down easily, low center of gravity, no lead in the paint, and speed control form zero to 17 miles an hour which is controlled by the parent. The 'safety' feature that we did not think about whilst designing them was not using lead in steel, inner tubes, cable housing, etc., in case a kid SUCKED on them."
My friend
Donna Macan
had an excellent point on this recall-due-to-lead frenzy: "If they ban the sale of youth OHV because of lead content then the commission needs to ban the sale of hybrid vehicles to people with children under the age of 13 also. The lead content in hybrid vehicles is certainly higher than our gas guzzlers because more batteries = higher lead content."
From
Chris Hultner
: Just got back from Wal-Mart (in Oklahoma), They're still selling toddler and kids' bikes, as well as Matchbox cars and everything else. We also went to Ace Hardware and they are still selling Hi-Flyers Wagons that even have a lead warning on the box."
So will local promoters keep holding classes and races for kids under 12? What happens with Loretta Lynn's and Ponca City and the Mini Os and the big amateur and youth races all over the country? And how will motorcycle dealers, already struggling in this terrible economy, stay in business when their most popular sales items were deemed illegal due to lead content?
Here's the crazy part: Was the rule even meant for motorcycles and ATVs? Aren't motorized vehicles of any size excluded from the definition of a children's product? And how can any reasonable argument made that a child might eat piece a motorcycle's engine case? It's like a nightmare that we have yet to wake up from.
Dave Kimmey
posted on the Vital MX message board to write my two U.S. senators.
Check it out
.
For a list of your U.S. senators,
click here
.
We've got to get this thing worked out or we're going to lose an entire generation of young riders, who will grow up and never know the joy of motorcycling.
Everyone is encouraged to visit the Web site of Americans for Responsible Recreational Access, at
www.ARRA-access.com
, which features a letter generator for constituents to reach their own members of Congress.
And
here's what the AMA is doing
.
Beyond all that—the loss of one rider's life, the serious injury to another, the banning of all motorcycles and motorcycle parts for kids under 12, and the potential devastation that will do to thousands of dealers across the nation—it was a quiet week.
James Stewart
, who has won five in a row since finishing 19th in the opener, is now just three points behind
Chad Reed
. He's also now won 30 out of 46 career AMA Supercross races (and he's crashed in each of the 16 he lost, as we showed you in Bench Racing Ammo yesterday. Reed has always been tough to beat in San Diego, and here's hoping he gets a good start for once and can finally battle James straight up.
CBS Sports will broadcast the San Diego Supercross on Sunday, February 15 at noon EST and SPEED will broadcast the Western Regional AMA Supercross Lites class race on Sunday, February 15 at 6:00 p.m. EST. And for sure listen to the Supercross Live! webcast, which begins at 7 p.m. West Coast time on www.supercrossonline.com.
In the Lites class,
Ryan Dungey
is no longer in the driver's seat, as
Jake Weimer
's third win in five West Region races now has him out front in the rankings. Weimer was featured in a video our colleague
Stephan LeGrand
put together for
Moto Verte
.
Check it out
.
Weimer of course rides for the Monster Energy/Pro Circuit Kawasaki team, whose owner Mitch Payton called me today to voice his utter disgust with the new CPSIA rule. "I grew up going fishing with my dad, and I can't tell you how many times I bit down on those sinkers to keep them on my line, and they are made of lead!" offered Mitch. He then told me that they spent the last two weeks doing outdoor testing with Tyla Rattray and the man "is going really, really fast."
Jorg Domanowski
. "The track was still wet but the conditions were acceptable," he told us. New Martin Honda rider
Kevin Strijbos
was the man of the weekend, winning every moto.
Now we would like to give it up to Steve Bauer, who once again delivered a wonderful gift to a lot of sick children and their families with his Loma Linda Big Air Festival. Bauer, a very fast pro rider in his own right back in the day, organized a freestyle exhibition in front of the children's wing of the hospital in San Bernardino, they got a bunch of moto friends together - including Grant Langston, Tommy Hahn, P.J. Larsen, Chris Blose, and Ricky James, along with top jumpers like Jeff Tilton, Ronnie Renner, Tommy Clowers, Myles Richmond, Robbie Maddison and Destin Cantrell—to give these kids an afternoon worth of smiles. Well done, Bauer, you're work there is top-shelf.
One other rider showed up and spent the day with the kids: Jason Lawrence. Yes, the suspended rider drove out to the hospital and spent the afternoon with the rest of the guys, talking to kids, signing autographs, and just doing his part in Bauer's annual give-back. That's the kind of stuff we like to see from our athletes…
Scott Sepkovic
that he's really pleased with the bike and looking forward to racing it. But right now it looks like it won't be in Atlanta, as
J-Law
wants more time on the bike.
Sounds like Brian Deegan may have had even tougher weekend than we originally thought, according to the celebrity-stalking website TMZ: "Motocross legend Brian Deegan was arrested for an alleged bar brawl on Saturday … the same day his best friend sustained injuries in a bike crash that would later take his life. Deegan was arrested for suspicion of assault after a throwdown at the iLounge bar in Orange County, where he allegedly sliced open a patron's face by hitting him with a glass. The same day, Brian's best friend, Jeremy Lusk, sustained major injuries during a botched back flip at a freestyle motocross event in Costa Rica. Lusk never regained consciousness after the wreck—and passed away on Tuesday."
Sometimes the good things in life really are free. That's certainly the case with Chris Hultner's new online project IMPOUND Magazine. It's 100 pages of magazine-quality content for your computer, free from the founder of Amateur MX, not to mention the first editor of Racer X Illustrated magazine. The coverage goes right up to the Houston SX and it's filled with cool photos, features, interviews and more. Check out your free issue right here.
More on the Hultners, who had a very scary moment earlier this week: On Tuesday they had a direct hit on their street in Oklahoma of an F3 Tornado, which registered 150+ mph. "Our entire family is ok, we were separated for about 30 minutes during all of this and can't tell you how thrilled to see each again we were, well and above any possessions we may have," said Sheri Hultner in an email. "We were one of the most fortunate on our street, as we only suffered complete damage to our fences. The actual tornado hit three houses away from us and destroyed at least half of our street completely, but to note there was not even a single injury which after seeing the homes, is hard to comprehend."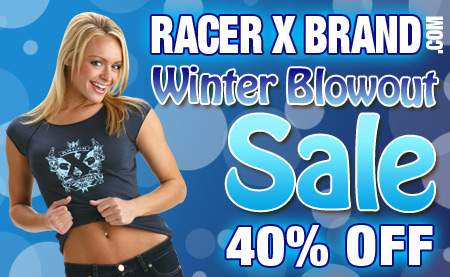 Simon Cudby is down at Daytona International Speedway to shoot Ricky's truck debut in tonight's Camping World Truck Series. Carmichael posted a solid sixth-place in qualifying on Thursday night, only 1/2 second off of pole. Good luck to RC on Friday nights event.
Cudby
also spotted
John "Scrap" Fox
and
Andy "Rev Up" Bowyer
cruising the pit lane checking out
Clint Bowyer
's new ride in the #33 Cheerios/Hamburger Helper car. Clint is on a new team and here's wishing our favorite NASCAR racer good luck on Sunday in the Daytona 500—a race he once finished sliding upside across the strip at about 150 mph!
Carmichael had a busy day yesterday, which included some Monster PR stuff, the rookies meeting, two practice sessions, an MRN radio trip, NASCAR PR, and then a visit to the Speed Report set on Speed TV. RC was the fastest rookie in qualifying and will start behind his teammate Ron Hornaday. The race is live on Speed TV tonight and it starts at 8 p.m. Ricky is driving the #4 Monster Energy, Kevin Harvick All-Stars truck.
A reader sent this thought in:
"I noticed on his MXA blog that Larry Brooks is concerned about lappers not obeying the blue flag, so much so that he feels they should docked a lap when they don't move over enough because they are holding up James Stewart. Here's an idea: Let's give the 20th place guy the same bike setup as James and THEN dock them a lap when they don't get out of the way soon enough… That should help solve the problem before it becomes one."
I don't know why, but that made me laugh out loud.
There was some good news this week for Suzuki riders, if not their dealers: American Suzuki Motor Corporation announced its continued support of several amateur motocross racers under the Rockstar Suzuki racing umbrella, this after at first appearing to be leaving amateur motocross completely. The team will support 16 riders from across the U.S., led by past champions Ian Trettel, Nick Paluzzi and Austin Politelli, among others. New to the Suzuki family are Jesse Masterpool, Gannon Audette, Jace Owen, Rookie White, Jeremy Martin and Tristan Miller.
Ping
first
….
If you are going to be in the San Diego area this Sunday, be sure to check out the 2nd Annual Moto-Superbowl, presented by Red Bull. Last year dreams were crushed, muscles sprained, and Advil consumed as industry folks came out and showed their skills on the field. In the end, Truth Clothing's Temecula Raiders beat out the Racer X Ex-Racers for the flag football title. Who will win this year? It doesn't really matter. If you work in the industry, feel free to show up and join a team. If not, you can still sit in the stands and drink a Red Bull. The action kicks off, literally, at 11:00 a.m. at Balboa Stadium in San Diego. The field is just minutes from Qualcomm Stadium. See you there.
Tournament Details: Feb. 15th from 11am to 4 pm. Balboa Stadium: 1405 Park Blvd., San Diego, CA 92103. It's 6-on-6 flag football, industry only (athletes, sponsors, moto company employees, trainers, mechanics) with refs, flags, refreshments, snack bar and a turf field with lines. We went all-out.
Three former racers have teamed up and started a new business venture. Billy Laninovich, Casey Johnson, and Brian Mason will be operating Christian motocross camps on an amazing piece of property called Sage Canyon Ranch. They will be launching the new venture soon with a press release and dates and information on the first camp.
A quick get-well note to factory Honda Red Bull Racing mechanic Lars Lindstrom. Lars was at the Red Bull compound with the rest of the team this week and, since he is a good rider himself, he decided he would take a few laps on the supercross track. One mistake later and Lars was laid out in a rhythm section. According to a few of the guys there, it was pretty scary for a while because he was unconscious. Lars eventually got up and somehow walked away with no major injuries.
Here's Steve Matthes:

I spoke with Rockstar/Makita Suzuki's Michael Byrne and he's looking forward to getting back on the bike this weekend in San Diego. Byrner is coming back from a broken wrist and also coming back to a ridiculously tough 450 class. He agreed that it was crazy that guys like Nick Wey, Tim Ferry and RV have missed main events. He went on to tell me that he's about 80 percent in both the wrist and the endurance. He's hoping to get into the top ten, and like he reminded me, there is no substitute for racing, so he may as well jump in now and just go with it.
When I asked him about bike setup, Byrne said that right before he went back home and broke his wrist, he got to test and find some settings that should work. He's also jumping back and forth between a wrist brace and just some heavy taping of the joint. Here's hoping Byrne can make a mark in the class at some point this year. He's one of the good guys.
I did a podcast with Dave Osterman this week and if you haven't gotten a chance to listen to it, here's the link. Dave's an interesting guy who goes back a long time in the racing world. I've been trying to get Mike Alessi to do a podcast and he said he would but hasn't answered voice or text messages, so I have no choice but to put heavy pressure via the most-read moto column in the sport.
Jason Thomas
is coming back at A3 and he didn't! Please give me a JT$ update!!!" So I will, again. JT will be making his return to racing at San Diego and it is a little later than usual because he a little setback with his broken leg (he's little, so he can only have little setbacks). Too bad there won't be any industry people there to see him, because EVERYBODY is going to the annual Indy dealer show except for me, Weege, and Cox.
My spies at the Ferry Test Facility report that Tim has been riding the best they've seen him this year. Let's see if it translates to good things in San Diego. If there's one thing I know he prides himself on, it's the ability to be in the top five in practice times, and he hasn't been there much in 2009. Oh, and the saying "Something old is new again" might just apply to the #15 this weekend.
I've got this silly site called www.pulpmx.com that I put dumb stuff on. Check it out after you've looked at every other moto site out there and have absolutely nothing better to do.
Okay, now some last-minute things:

Here's a cool site to check out over the weekend.

Guess who is planning to make a one-off race appearance at St. Louis? Rumor has it that Travis Pastrana is. It's a track he designed, and there might just be an extra factory RM-Z450 laying around by then….
Warren Price has another fine story up on his website, this time about the gentleman champion Danny LaPorte.
That's it for this week. We're driving over to the Dealernews Indianapolis Trade Show, where all of the talk will likely be about this crazy lead law. Please take a moment this weekend and write a letter to your local congressman. A way of moto life that most of us were lucky enough to know growing up may be gone forever if we don't fix this thing. Every letter helps.

Thanks for reading Racerhead. See you at the races.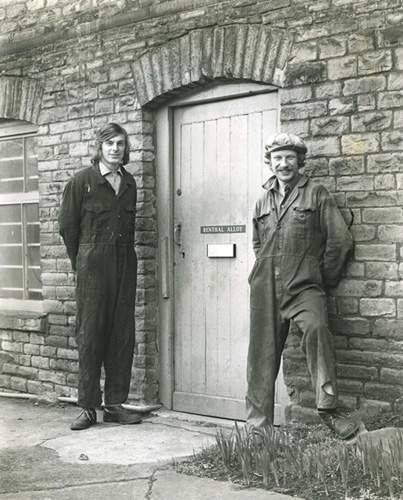 Henry and Andrew from back in the day.