This Week in Supercross: A3
AURORA, Ill. (February 6, 2009) – James Stewart's four consecutive race wins following Anaheim 1 erased a possible watershed moment for the 2009 Monster Energy® Supercross championship. After the hotly contested showdown between Rockstar/Makita Suzuki's Chad Reed and Team San Manuel Yamaha's James Stewart at the Anaheim 1 Monster Energy® AMA Supercross, an FIM World Championship, race, the anticipation of excitement looms every weekend. Could Angel Stadium be the place where fans give fans are treated to that epic entertainment tomorrow night?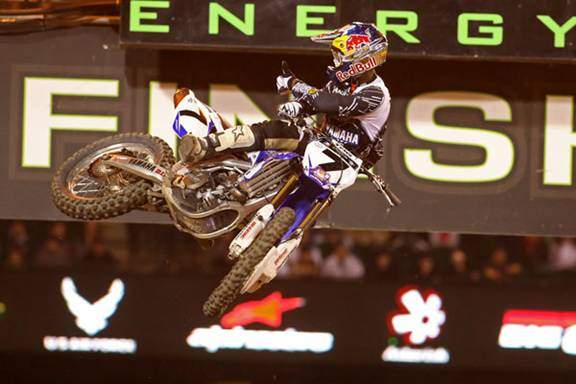 James Stewart Has Narrowed Chad Reed's AMA Supercross Class Points Lead to Six
Photo Credit: VitalMX
At Anaheim 1, the classic battle saw 2 Reed pass Stewart on lap two and Stewart answered back on lap six as he regained the lead. A few turns later Reed and Stewart collided, causing each of them to crash. Upon re-entering the race, Stewart crashed again and was unable to finish race while Reed picked up third overall. Heading into the following weekend at Chase Field in Phoenix, Stewart was 23 points out of the championship hunt and 18 points behind Reed. Since then Stewart cut the lead down to just six points.
Defending, two-time AMA Supercross class champion Reed currently leads the overall AMA Supercross points lead. While Reed has been on the podium every weekend, he's been unable to run up front because of bad starts since Anaheim 1. So far, the Australian rider has been on the podium at every round.
"I'm excited about going back to Anaheim. Angel Stadium is one of my favorite stadiums to race at. I look forward to going there and working on little things where I feel like I need to be stronger. You know, just never give up and keep working with the Rockstar Makita Suzuki team and we'll get there. I still feel confident and we have the points lead and we're not even halfway through the season yet."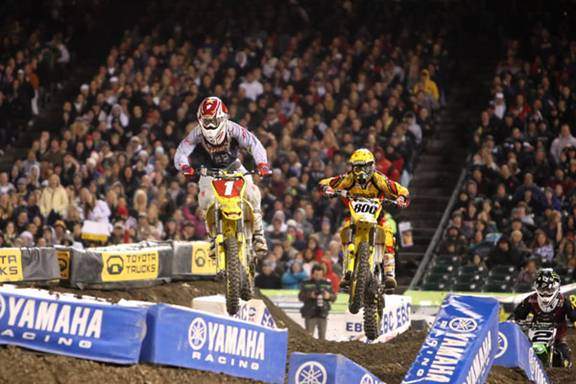 Last Weekend Chad Reed Spent the Early Part of the Race Trying to Pass Mike Alessi
Photo Credit: VitalMX
Reed's Rockstar/Makita teammate Mike Alessi continues to improve as the season progresses. He is currently in eighth place overall, having picked up his best results of the 2009 season at the recent Houston race.
"For Anaheim 3, I have the same goal as I've had all year – to keep getting good starts on the Rockstar Makita Suzuki RM-Z450 and make sure every sees that I'm up there," said Alessi. "This weekend I want to try and be in the top three in my heat race and, in the main event, I want to try and be right there in fifth, sixth or seventh. I think that's a realistic possibility."
Like his AMA Supercross-class counterpart, Rockstar Makita Suzuki's Ryan Dungey currently leads points in the Western Regional AMA Supercross Lites class. So far, he's won two races and has been on the podium at each race.
"I'm super-pumped for Anaheim 3," said Dungey. "I'm kind of curious to see what the track's going to be like and I just want to get a good weekend and have fun and enjoy it. We've come out of the San Francisco race safe and 100 percent healthy and I'm very thankful for that. That said, we'll be ready for Anaheim 3."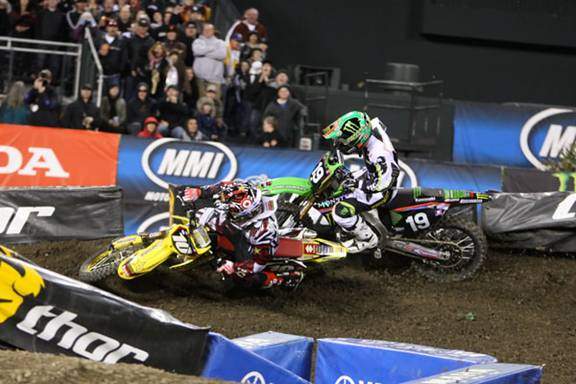 Ryan Dungey Crashed While Passing Jake Weimer at San Francisco
Photo Credit: VitalMX
Muscle Milk/MDK/KTM Factory Team rider Justin Brayton is busy filming a new Muscle Milk commercial after his top five finish at the San Francisco supercross this past weekend.
"I'm really excited that Muscle Milk has chosen to highlight my career in their new commercial," said Brayton. "The commercial will show both the strength training I do in the gym as well as the training I do on my bike at the track to show what most all motocross/supercross athletes do to prepare for the race each week."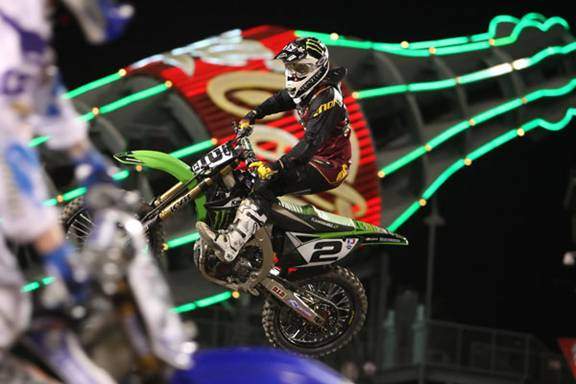 AMA Supercross Rookie Ryan Villopoto Continues to Make Strides in the Premier Class
Photo Credit: VitalMX
His teammate Ryan Sipes returned back to Murrieta, Calif., after the San Francisco race to continue his training program out West for two more weeks before returning home for the break in the series. "I am looking forward to the next two races. I have been improving each week and hope to get on the podium before I head home for the break," stated Sipes.
Missing from action in 2009 has been Yamaha's Broc Hepler, who suffered a broken collarbone at the first practice during Anaheim 1. A plate was surgically inserted to help the healing process, but Hepler is expected to miss six races. Team Manager Jim Perry said, "Broc began racing last week and we plan to have him return to racing at the San Diego supercross."
Yamaha's Josh Hill, who picked up a win at the Minneapolis stop last year as a rookie and finished fifth overall in AMA Supercross class points standings, started the season with a 16th place at Anaheim 1 and earned a season-best seventh place at San Francisco. He came into the season battling injury and has slowly picked up the pace.
"Probably the biggest difference between me this year and last year is just the fact that I came into the series last year 100% healthy, hungry, and wanting to prove that I was one of the best riders out there," said Hill. "And this year I still have the same goal I've just had a string of bad luck with injuries slowing me down, but by midway I expect to be back in the mix for the podium."
Perry, who is racing with only one rider this weekend," said Perry. "Josh has been making improvements each week, He has been working hard to get back up to speed after his off season injury. "
Monster Energy Kawasaki is riding the momentum into the third and final race at Angels Stadium. As rookie Ryan Villopoto earned his second consecutive podium last weekend in San Francisco, the 20-year-old rider continues to make progress and is ready to contend for his first win.
"All along my goal has been to get better every race," said Villopoto. "So far I've been learning a lot and I have been able to translate that into podiums the last two weeks. I'm going to keep working hard and riding my best, but with the way the forecast looks this may be a really hard race for me. It could be my first mud race and if it is, you don't know what to expect."
Villopoto's Monster Energy Kawasaki teammate Timmy Ferry was on the other end of the spectrum in San Francisco as two first-lap crashes kept him out of the main event. The veteran is going to lean on his experience this week to get things turned around.
"I'm riding good right now," said Ferry. "In my heat at San Francisco I got my best start of the year, but I was just in the wrong place at the wrong time. Things kind of spiraled out of control from there, but sometimes that happens. I feel good, and I'm ready to get back on the podium. I had a good race at the first Anaheim and I think I can fight for a podium this weekend."
In the Supercross Lites class a three-way battle has emerged for the championship with Monster Energy/Pro Circuit/Kawasaki's Jake Weimer and Ryan Morais both in position to claim their first title. Weimer moved to within four points of the championship lead as the series crossed the halfway point.
"I'm going to keep riding as best as I can," said Weimer. "I won here at the first Anaheim and finished third in the second one so I'm really comfortable in the stadium. We have a lot of work ahead us and it is going to be a fight through the end of the season, but I like our chances."
For Morais the return to Angel Stadium is more than welcome as he has claimed his career best finish (second) twice in the last two races held in Anaheim.
"There is something about Angel Stadium this year," said Morais. "I finished second there twice and I really want to improve that by one spot this week. This is a tough series, but everyone on the team is working hard and I want to stay near the top of the championship chase."
Honda Red Bull Racing's Ivan Tedesco continues to struggle in 2009. An expected front runner at the beginning of the season, Tedesco, a former two-time AMA Supercross Lites class champion, scored 10th-place finish last weekend. At last year's Anaheim 3 race, Tedesco suffered a season-ending injury.
"I am hoping for a little more luck at Anaheim 3 this year after getting injured in practice at this event last year and having to sit the remainder of the season out. I've had good pace in recent weeks but made some mistakes along the way which has impacted my results. I know it's really important for me to put it all together this weekend to stay in the championship race."
Andrew Short, of the Honda Red Bull Racing team, has been consistent this year with a season-best second place finish and season-worst sixth-place finish. His average finish is 4.4.
"I finished fifth at this race last year and am really looking to build on that result this weekend," said Short. "My goal is to put Honda Red Bull Racing on the podium again–just like Anaheim one."
A banged up Trey Canard, who is the defending Eastern Regional AMA Supercross Lites class champion, made it to the podium last weekend in San Francisco with a third-place finish. He missed the Phoenix and Anaheim 2 races due to an injury and hopes to build off of his success last weekend.
"San Francisco was pretty good to me," said Canard. "I just want to keep the ball rolling and have a good week training in the lead up to Anaheim this weekend. Last weekend I made a couple of mistakes in the main race after getting a good start and know I need to improve on that this week. I finished third at San Francisco, which is an awesome turn around for me after the bad luck I've had this year."
The AMA Supercross class will air on SPEED, Sunday, February 8 at 2:30p.m. EST and the Western Regional AMA Supercross Lites class race will also air on SPEED on Sunday, February 8 at 3:30 p.m. EST.
Tickets are available at www.SupercrossOnline.com, by phone at 714-740-2000 or 213-480-3232, the Angel Stadium box office, Ticketmaster, Ticketmaster outlets, www.ticketmaster.com, and participating Yamaha dealerships. Club Level and Diamond Club seats are $75; Trackside Seats are $45; Extreme seats are $35; Upper Deck seats are $30 for adults and $15 for kids. All seats are $2 more on the day of the race. Practice and qualifying begin at 12:30 and racing begins at 7:00 p.m. Just recycle any empty Monster Energy can at the Pit Entrance for your free admission to the Pit Party with a valid Saturday ticket from 12:30PM – 6:00PM. Pit Passes will also be available for purchase for $10 on the event day at the Angel Stadium box office.
For more information on the Monster Energy® AMA Supercross, an FIM World Championship, please log on to www.SupercrossOnline.com. For all media requests, please contact Denny Hartwig dhartwig@feldinc.com or 630-566-6305.
About Feld Motor Sports
Feld Motor Sports, Inc. is the world leader in specialized arena and stadium-based motor sports entertainment. Feld Motor Sports, Inc. productions include Monster Jam®, Monster Energy® Supercross, AMA Arenacross Series, Freestyle Motocross, and IHRA® Nitro Jam®. Feld Motor Sports, Inc. is a division of Feld Entertainment, the world's largest producer of live family entertainment. For more information on Feld Entertainment, visit www.feldentertainment.com.