Wow, the hits just keep coming... Have you heard the one about the Consumer Product Safety Improvement Act of 2008? It's no joke, unfortunately. It's a new law on the books that prohibits the distribution or sales of children's products that have any part with a lead content above 600ppm. The CPSIA law is supposed to make toys safer for kids aged 12-and-under by limiting their exposure to lead. It turns out that minicycles have some parts with lead in them—too much for this provision. Now the industry is in panic mode, and for good reason.


I asked one OEM executive just what is going on here, and he responded, "What it comes down to is a law that is meant for things like Matchbox cars is having an unforeseen effect on the whole motorcycle industry. Our bikes have too many lead parts per million pieces because there's lead in the ends of cables, lead in the alloy, lead in the cases... It's all a big mess. There's been a stay allowing us a year to comply, but they still aren't saying we can sell them in the meantime." Needless to say, the legal people and the Motorcycle Industry Council are ramping up plans to get the law changes; as it stands now, any bicycle or scooter with cables that have lead endings will be illegal for kids under 12!
A letter issued by the American Motorcyclist Association on Tuesday says, "Although the CPSC has published proposed procedures for seeking exclusion from the lead limits, there is no practical way for manufacturers and distributors of ATVs and off-highway motorcycles to seek and obtain exclusions prior to the February 10 effective date... Unless the CPSC acts immediately to grant the manufacturers and distributors of motorcycles and ATVs emergency relief and a temporary exclusion from the lead limits for certain applications, a severe and unwarranted disruption in the supply of youth-model vehicles will occur."
Also, the Specialty Vehicle Institute of America's (SPVIA) and the Motorcycle Industry Council's (MIC) member companies urgently requested the Consumer Product Safety Commission and federal legislators to take a common-sense approach to implementation of the Consumer Product Safety Improvement Act's lead provisions.
Man, when it rains, it pours...
Speaking of, we don't need a rainy day at Anaheim 3, but we might be in for one. As the 2009 Monster Energy/AMA Supercross tour sets up beneath the Big A for the third and final Anaheim SX of the season,
Chad Reed
is still our points leader, but
James Stewart
is methodically chipping away at the 18-point head-start he gave them with his opening-round crash. It's been a steady three points at a time, as Stewart has gotten first in the last four rounds and Reed second every time.
The last time something like that happened was maybe 2003, when Reed swept the last six rounds with
Ricky Carmichael
second every time, but Ricky did the math and knew he had the points to spare; Chad does not have that luxury. In fact, by the time the series leaves California next week after San Diego, we could see a tie at the top.
If you're not going to Anaheim 3, be sure to tune in to SPEED on Sunday for two full hours of coverage with the AMA Supercross class broadcast airing at 2:30 p.m. ET, followed up by the Lites show at 3:30 p.m. ET. As always, check your local listings.
And if you can't wait that long, by all means tune in to Supercross Live! over on
www.supercrossonline.com
, where Jason Weigandt and Jim Holley will be calling the action live. Coverage begins just before 7 p.m. West Coast time, 10 p.m. in the East.
Smith Optics Track Walk
). After we went around the Jeremy McGrath-designed course, I asked Denny who the very busy, jumped-filled track might favor—Stewart or Reed?
"It's hard to bet against James on any type of track right now," offered the 1990 AMA 125cc East Region SX Champ. "He obviously had some problems there at the beginning of the year but it now looks like they've got their suspension issues worked out. On the other hand, Chad has looked uncomfortable the last couple of rounds, and this track looks more like his style than [Houston or San Francisco] with all of the whoops Jeremy has laid out here. This is what he's been asking for, so if he's going to turn things around, this might be the place."
"One thing that I really like about all of the tracks this year is the fact that they've all been different up to this point," added Stephenson, who now works with Connexions Sports Entertainment. "They haven't just been cookie-cutter tracks, and that's the way it supercross should be."
Let's hope that Jeremy's radical designs aren't washed out
with this
.
Also, here's a Get-Well-Soon going out to Jeremy, who suffered a pretty heavy crash last weekend while riding at his track in Thing Valley Ranch and appears to have a couple of broken ribs and a concussion to keep him on the sidelines for a little while
Jake Weimer
got his second win in four races, pulling back three points on West Region leader
Ryan Dungey
after a fantastic main event in San Francisco. Weimer led the whole way until Dungey took his one shot in a hairpin, only to get the short end of his own block pass. He remounted third, caught back up past a finally-fast-again
Trey Canard
, and settled for second. Afterward, Jake and Ryan went at it—in congratulating each other and being professionals. In other words, they were doing what you would expect young professionals to do after a great contest...
Michael Phelps had a better weekend than
Jason Lawrence
. The wild child of supercross showed up sick on Saturday morning with food poisoning, then pulled himself out of the race due to an AMA rule that would not actually relate to his case, and then he ends up involved in a brouhaha in front of the Troy Lee Designs Honda rig, backing up his lifestyle teammate
Josh Hansen
as he took on
Steve Boniface
. Apparently, at the back of the pack in the 450 class, Boniface crossed over into Hansen's line, and that pissed #100 off enough to go looking for the Frenchman in the pits right after the race. (Editor's note: After this went to edit, the AMA issued this
press release
announcing
J-Law
's suspension. There's no word yet on penalties for Hansen or Boniface.)
The whole thing was a bad idea from the start, leading to a lot of he-said/Hanny-said. Once the AMA and FIM sort through it, there will likely be some fines and suspensions. After all, it happened in the pits, right in front of a lot of fans. Why Jason would put himself in that position, considering all he'd been through in the last year, is beyond me.
If you want to hear what TLD Honda's Boniface and team manager David Pingree had to say about it, check out the DMXS Radio archive from Wednesday night
right here
. It's just one side of a complicated story...
I've received about a million calls and emails from people wanting to know what happened after the races in our pit area in San Francisco. I told the story to DMXS radio this week and that is the last time I want to talk about it. Feel free to visit their website and listen to the interview if you'd like but I am moving on.
The AMA is calling out for help from all OHV users to block a bill that is being fast tracked through the U.S. House by our government officials. They're shooting for a shut-down of 2.1 million acres of public land being closed to all off-highway motorcyclists and OHV users. You can still voice your opinion on the matter at:
www.americanmotorcyclist.com
.
As DC mentioned above, it looks like the rain is going to make a mess of the Jeremy McGrath-designed track in Anaheim this weekend. It's too bad because it would have been the best track we've seen all year. For the most part, the tracks so far have been very easy and one-lined. The whoops have been ridiculously small (since, like, 2003) and the tight corners they do have are closed off by the inside marker, so block passing is made very difficult.
Who hates the tracks the most right now? Well, that's tough to say, but Nick iWey is in the running. Nick got the Racer X Gas Card last weekend and when he was handed his check, he snapped, "Yeah, maybe I'll give this $750 to Dirt Wurx so they can afford to put a few more jumps on these tracks." He was speaking out of frustration, obviously, but he wasn't alone in his dislike of the course. Hopefully things will improve as the series rolls on.
Jake Moss
is back to racing this weekend. The Australian has made a miraculous recovery from a broken back in November and he's saying he's ready to go. He says he likes the mud so it sounds like things will be right up his alley.
The XTRM AMA Supermoto Championship has been announced for 2009. The schedule is West Coast-based and it has been reduced to six rounds. The good news is that there are some amazing venues on the schedule this year. Mammoth Mountain is hosting the season finale in September; the track will run right in front of the Mammoth Mountain Inn at the base of the gondola. With the elevation change, unlimited dirt section and classic Mammoth ambience, it should be epic. There are also rounds in Las Vegas and Sonoma, which will be great, and there is an amateur day at every event. Those are huge steps in the right direction. Unfortunately, some of the sports top riders will not be returning. Troy Herfoss was last year's champion but he is Australia riding for a factory Suzuki road race team. Chris Fillmore was second and he is competing in the AMA Superbike series here at home. Cassidy Anderson has a new job with a computer marketing company and riders like Ben Carlson and Brandon Currie have gone to Europe to race. It will be interesting to see who lines up at the opening round in March.
Here's a note from "Super Bowl" Bill Ursic:
While on layover in Atlanta earlier this week, I bumped into GEICO Powersports Honda mechanic Schnikey, who has been M.I.A. from supercross most of this year. Why? Well, he told me yesterday that he has been focusing on working with their amateur phenom
Justin Barcia
. In fact, that's why he was in Atlanta; he was on his way to the Millsaps Training Facility to do some testing with Barcia in preparation for his pro debut at
Glen Helen
on Memorial Day Weekend. "The kid is flying," Schnikey said.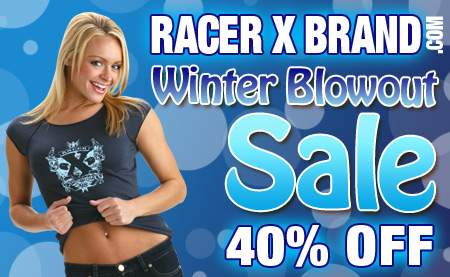 www.afamilyblessing.com
which is dedicated to prayer, updates, links, various Fund Raising projects, online donations, and pictures.
Also, Earlier today we threw a
Flash Trivia
question at you, asking you to identify the rider on a random Hi Flyer card. The four people who correctly identified
Erik Kehoe
and who will be getting a brand new pair of Oakley goggles are Rocky Sobotka, Ryan Dare, Nicalee Sowders and Dustin Braaten. Thanks to all who participated, and stay tuned to Racer X Online every day for your chance to win cool stuff.
Here's Steve
Cox:
I have yet to hear one of the top riders say anything immensely positive about the last few racetracks – from Anaheim II on, at least. After Houston,
Kevin Windham
made sure I turned on my recorder for him to say, "That start was stooooopid." He asked me to spell it like that, too. At San Francisco, Windham said that his bike is more or less sorted out, but that he couldn't pass anyone after a bad start because the track only had one racing line.
"There's a silver lining [to his sixth-place finish in San Francisco], and hopefully we can get through A3 with minimal bike changes," Windham said. "Looking at the long-range forecast, it looks like there might be some rain there, so it's going to make some weird things happen, possibly, but that's where we want to be – where we can go to a race and race when we get there instead of taking half the day and most of the night program trying to get things ready to race. That's not a good feeling for me. It's just a mark against me that it's not the kind of environment that I can thrive in and do my best work. The team's been busting their butts trying to get things going – they've done a great job, and we're getting really close to having a bike that fits me like a glove."
Timmy Ferry
missed his first main event since probably pre-history in San Francisco (make that Anaheim 1, '06, says Matthes). First, in the heat, he was knocked down in turn two when he was hung up underneath
James Stewart
and someone else and was clipped by
Andrew Short
, then run over by the helmet-cam wearing
Josh Summey
. Riders just piled into Ferry after that. He lined back up for the LCQ, but went down in the first turn there. It's the second race in a row where it seemed every race had a first-turn (or second-turn) pileup.
After the race, Ferry seemed pretty chipper considering he just missed a main event. He made a comment about being lucky "just to walk out of here." Still, this hasn't been a great season for Ferry, and I had someone tell me down on the track that he was "too old." Of course, that's what they said the year that Ferry rode for Moto-XXX, followed by a ride with Kawasaki that has gone pretty well until this slow spell.
Mike Alessi
. Although he got beat to the first turn by Stewart at San Fran, he still came out in second and blocked his teammate
Chad Reed
, and everyone else who passed him on his way to ninth-place. He got a good start, and then worked his way through the pack, as a good friend of mine says. He would've finished 10th if not for Tedesco having trouble with about five laps to go. It makes you wonder what his finishes would be like if not for the starts – not that it matters. He's easily the best starter in the world, and that's obviously part of the race. He hasn't missed a main event yet, and not all top names can say that.
Behind him, I watched as
Tyler Bowers
caught
Troy Adams
, and the two nearly collided in mid-air over the third-baseline triple, after which Bowers decided not to turn in the following left-hander, pushing Adams right off the track. Adams then rode around, waiting for Bowers to catch him again, and he took a shot at Bowers for payback.
In addition to penalties expected for
Jason Lawrence
, people are talking about penalties for Hansen or Boniface. I don't know about Boniface, but there could be a good argument made for making Hansen race being a bigger penalty for him than anything else right now. It's like giving someone life in prison instead of death, because then they have to deal with the guilt of it. And to think that only a year ago, Hansen laid a smackdown on
Josh Grant
to win the X Games. He was faster all weekend there. Now look at those two. Maybe what Hansen needs is to go to North Carolina... Oh, wait, didn't he already try that?
Hansen's normally a really nice guy, but sometimes he makes it easy to understand how Robert Louis Stevenson came up with his novel, "The Strange Case of Dr. Jekyll and Mr. Hyde."
How's this for a list of guys who didn't make the 450cc main event in San Francisco?
Nick Wey
,
Timmy Ferry
,
Josh Summey
,
Matt Boni
,
Jacob Marsack
and more.
new Racer X Film
went up today). It was a pretty cool layout, with a huge warehouse full of ingredients and the biggest mixer you'll ever see (behind the group of them in hairnets), and they say that's at most about two weeks worth of ingredients and product, so that's pretty crazy. In the back of the warehouse was the "toy box" which featured a Bentley, a Porsche Carrera GT, two Ferraris (a 599 and a 430 under covers), a couple of race cars, a half-dozen shifter karts, stacks and stacks of racing slicks, the Muscle Milk hauler, and more.
Also, in the Cytomax gym, racecar driver and Kart champion Memo Gidley was working out while we were there. Apparently, he used to race motocross. Can you imagine how many great drivers there wouldn't be if not for motocross? Just a thought.
That's it from Cox, who will be on the beat at Angels Stadium all weekend.
It was a big week for a couple of industry friends. First, here's the news from DC Shoes' co-founder and Subaru factory Rally racer Ken Block:
We are proud to announce the arrival of our daughter #2! Lucy had a successful birthing this morning and popped out the baby in a very quick time. Lucy and baby are doing well…and Lia is enjoying the benefits of the birthday of her baby sister (she got ice cream and sang Happy Birthday).
STATS
Name: Kira Lova Block
Born: 2/5/09, 9:47 AM
Location: our home in California (in bed)
Weight: 8 lbs 2 ounces
Length: 21 inches
Next, it's One Industries co-founder Ludovic Boinnard:
Maxime has arrived in our world on February 4th! He's 8 pounds and 21 inches.
His big brother Orian and sister Anouk join parents Nanouchka and Ludo in celebration and emotion.
Congratulations to the Boinnards and the Blocks on their growing families.
And here's a note from David Bailey, the Icon himself:
I was looking at the forecast for this weekend and it looked like rain so I dug this up:
http://www.davidbaileymx.com/pages/News.cfm
That's Johnny O' at the Valvoline 125cc U.S. Grand Prix at Mid-Ohio.
Here's a shot of Ricky James and I celebrating his award at the Endurance Sports Awards last saturday night at Sea World in San Diego. In just 10 months, he finished three 1/2 Ironman races as well as the Hawaii Ironman and went out with a bang in Clearwater Florida by winning the 70.3 World Championship by a mere 40 seconds. Coverage of that race will air this spring on NBC.
Thank Bailey. Okay, a friend of mine named Michael James is working his way up through the Hollywood food chain to become a screenwriter. He's been keeping a blog of his travels up that stream and you can check it out
here
.
Danny Brault offers these notes from up north…
Josh Woods has to be happy with Tyler Medaglia's performance in the last two rounds of Toyota AMA Arenacross. The Canadian rider was hired onto the GPF/Babbittsonline Kawasaki Team to fill-in for an injured rider, and has been putting in respectable results so far. At the first round in Louisville, Medaglia finished 12-5-8-10 in the AX and AX Lites main events after posting the fastest lap times in both classes. It's not an easy go in "fish bowl" racing as Medaglia quickly found out. "If you're not trying to pass someone, then someone is trying to run it in on you," said Medaglia after his first race.
Tyler and his younger brother, Jeremy, who finished off the Winter-Am Series with three podiums in the Open Pro class, are both signed to race the MX1 class at the Canadian Nationals this summer. Stay tuned to directmotocross.com for all of your Canadian moto news.
We spotted
this piece
on Italian snowboarder-turned-FMXer Alvaro Dal Farra on ESPN.com
The Monster Energy KLX110/Racer X Online Giveaway is still going, so make sure you enter soon.
Click here
for details.
That's it for this week in our sport. Thanks for reading Racerhead; here's to future days. See you at the races.