This Week in Supercross: Houston
AURORA, Ill. – Reliant Stadium will play host to the highly anticipated opening race of the 2009 Eastern Regional AMA Supercross Lites class championship tomorrow as Monster Energy® AMA Supercross, an FIM World Championship, drops the gate in Houston for the 43rd time in history.
The Eastern Regional AMA Supercross Lites class championship will be headlined by last year's winner at Reliant Stadium, Austin Stroupe (Monster Energy Pro Circuit Kawasaki), rookie Blake Wharton (Geico Powersports Honda), veteran Brett Metcalfe (GEICO Powersports Honda), sophomore Wil Hahn (MDK/KTM) and 2008 AMA Supercross Lites third-place finisher Nico Izzi (Rockstar/Makita Suzuki).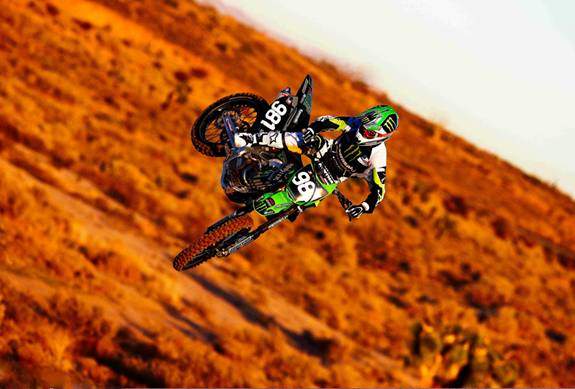 Austin Stroupe Won the First AMA Supercross Lites Class Race of his Career Last Year in Houston
Photo Credit: Racer X
Wharton, who is from Texas, makes his professional AMA Supercross Lites class debut this weekend.
"I'm really looking forward to racing my first AMA Supercross Lites race this weekend," said Wharton. "I have put a lot of work into my starts because I've learned that a good start is everything in supercross racing. My plan is to be consistent because you can't afford to crash or fade with only 13 laps in a race. I have been practicing at the Honda test track in Corona everyday riding with the Honda riders, and I feel ready and prepared to race my first race for GEICO Powersports Honda this weekend in Houston."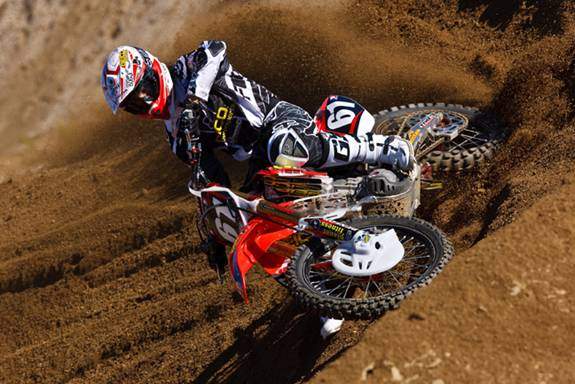 Blake Wharton Enters the Big Leagues This Weekend at Reliant Stadium
Photo Credit: Racer X
At last weekend's race in Anaheim, defending, two-time AMA Supercross class champion Reed took over the championship points lead, thanks to a second-place finish. Prior to that, Reed had tallied two more podium results.
"I feel good about Houston," said Reed. "Houston is a lot like Phoenix for me; it's a race where I've kind of struggled over the last few years. I look forward to going there and putting in a solid ride on the Rockstar Makita Suzuki RM-Z450. The track at Anaheim last weekend was dry and slick and difficult to pass on, and I learned a lot about falling and when you need to dig deep and really go for it. I think Houston is going to be good, it's a stadium I enjoy, it's the new one and a football arena, so there are a lot more 180-degree turns, which I really enjoy."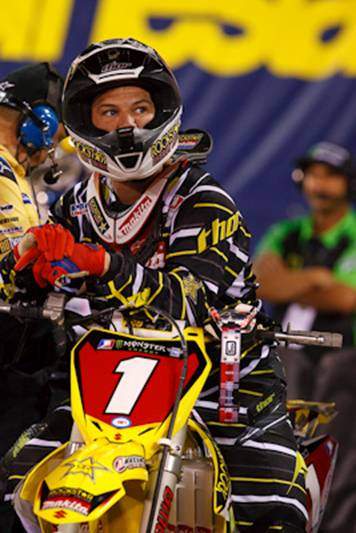 Chad Reed Likes Racing Inside Football Stadiums
Photo Credit: Brian Roniniette
Geico Honda's Kevin Windham is the defending winner of the Houston race. Last weekend in Anaheim he finished a season-best third place.
"It was great to be back up on the podium last weekend," said Windham. "Knowing the success I had in Houston last year, winning the event, I feel confident heading there again. The GEICO Powersports Honda team put a lot of work into each race and I am confident we will again be on the box this weekend. Since the start of the year I have been in California riding and training, and I'm really looking forward to seeing my friends and family again. I'm especially looking forward to seeing my wife and daughters–they always give me energy."
Honda Red Bull Racing's Ivan Tedesco, who missed this race last year due to injury, has finished sixth (Anaheim 1), fourth (Phoenix) and seventh (Anaheim 2). He's currently sixth overall in the AMA Supercross class standings.
"I just want to get on the box this weekend. I just want to put A2 behind me and move on to Houston. I didn't get to race Houston last year because I was out injured so I am keen to race in front of the Texas crowd again."
Honda Red Bull Racing's Davi Millsaps would rather forget the first three races of his 2009 season, finishing 12th (Anaheim 1), 12th (Phoenix) and 10th (Anaheim 2) during the
"I definitely haven't started my season off the way I had hoped for. It's hard to say where my plan isn't working. I love the bike and it runs great, and I'm feeling really fit and healthy. I just need to put it all together come race day. I am trying to mix things a bit and have fun riding. I want to arrive at the track in high spirits and enjoy the competition. That is my plan for this week anyway
AMA Supercross class rookie Ryan Villopoto earned his best finish of the season, placing his Monster Energy Kawasaki in the fourth-place position.
"Running up front last week was really good for me," said Villopoto. "I know I have the speed to race with the leaders and I just have to work on a couple of little things to be with them every week. It is about getting better every weekend and right now I'm doing that."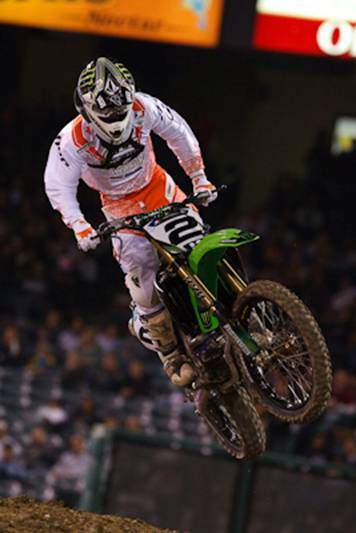 Ryan Villopoto is Racing up the Learning Curve
Photo Credit: Brian Robiniette
Villopoto's teammate, Tim Ferry, comes into Houston looking to move up on the speed chart. Last weekend saw Ferry up in the top five during practice and looking good in his heat race as well.
"I always like coming to Houston," said Ferry. "After being on the West Coast, it is good to head back East and get in some different dirt. I know I have the speed to be up front and I just need to put together a solid race this weekend."
Rockstar Makita Suzuki's Mike Alessi continues to make progress as the AMA Supercross season rolls on. At Anaheim last weekend, Alessi picked up a ninth-place finish, which is a steady improvement over the two 11th-place finishes he carded previously. Alessi is currently in ninth place in the overall championship points standings.
"I think Houston is gong to be a good race," said Alessi. "I'm just trying to keep getting a little better each weekend and working on steady improvement. Next weekend, the goal is to be in the top 15 in practice times, fifth again in the heat race and, in the main event, I'll try to get another holeshot. Also, I want to better my finish by a position, so hopefully eighth place. That's all I can really ask for."
Izzi finished off the 2008 race season by taking the prestigious AMA Rookie-of-the-Year award for Supercross/Motocross. Izzi raced the Eastern Regional AMA Supercross championship in 2008 and finished third overall – for 2009 he will again race on the East Coast and hopes to improve his results.
"I've been preparing and training really hard for the first AMA Supercross Lites race," said Izzi. "I'm better prepared this year for the start of the season than I was last year and I think a lot of people are going to be surprised. For my first supercross race this year, I just want to get on the podium and, then, I'd like to try to be consistent and stay on the podium all season."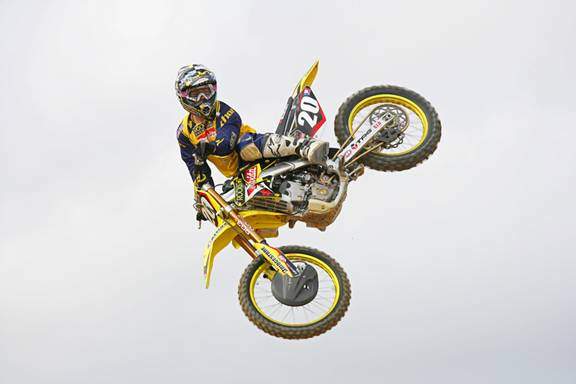 Sophomore Nico Izzi Will Build off his Rookie '08 Season
Photo Credit: Racer X
Metcalfe brings a wealth of experience to the Eastern Regional AMA Supercross Lites class championship as he makes his debut for the GEICO Honda team.
"Everything with the GEICO Powersports Honda team and myself is going great. The CRF250R is a great bike and can't wait to race it at the opening round of the Supercross East Lites Championship this weekend. The competition is going to be strong but I have confidence in my ability to be up front."
Two new faces will be under the Monster Energy/Pro Circuit/Kawasaki tent this weekend as the supercross lites class opens its East Coast season. Austin Stroupe and Chris Pourcel are set to challenge for the championship on their Kawasaki™ KX250Fs. Stroupe comes into Houston as the defending lites class winner. Last season, Stroupe earned his first professional win at Reliant Stadium.
"Houston is a great place to race," said Stroupe. "It's been a long off season and I'm ready for the season to start. I'm glad we are in Houston, winning there last year was amazing and it gives me a lot of confidence coming into the season."
For Pourcel, the 2009 season marks a return to the United States for the French rider. Pourcel raced twice in 2007 before injuries sidelined him for the better part of the last two seasons. He is fully recovered and ready to get back on top of the podium.
"I'm excited to be racing in the U.S.," said Pourcel. "I've been training really hard and I think we can have a really good season this year."
Muscle Milk/MDK/KTM Factory Racing Team riders Martin Davalos and Wil Hahn are eagerly awaiting the start of the Eastern Regional AMA Supercross Lites championship in Houston this weekend.
"I have been working so hard for this season," commented Davalos. "My bike is dialed in and I feel really comfortable and confident about the first race. I can't wait to get to Houston and see what the night brings."
Hahn, who was injured just five weeks ago at his practice track in Texas, said: "I feel almost up to speed. I am amazed at how quickly I recovered from my injury and I am actually feeling really good about the Houston supercross."
Director of Racing for KTM, Kurt Nicoll, commented, "Hahn looked good at the test track this week. We are glad to see he is recovering well and that he will be ready enough for the first round. Davalos has also been hard at work and we anticipate good results over the weekend."
Tickets are available at Reliant Stadium, all Ticketmaster locations, participating Yamaha locations or by phone at 713-629-3700. Extreme and Club level tickets are available for $40 club; Gold Circle tickets $40/adults/$10 kids; Treadhead Seats $10. Get in free with an empty can of Monster Energy.
For more information on the Monster Energy® AMA Supercross, an FIM World Championship, please log on to www.SupercrossOnline.com. For all media requests, please contact Denny Hartwig dhartwig@feldinc.com or 630-566-6305.
About Feld Motor Sports
Feld Motor Sports, Inc. is the world leader in specialized arena and stadium-based motor sports entertainment. Feld Motor Sports, Inc. productions include Monster Jam®, Monster Energy® Supercross, AMA Arenacross Series, Freestyle Motocross, and IHRA® Nitro Jam®. Feld Motor Sports, Inc. is a division of Feld Entertainment, the world's largest producer of live family entertainment. For more information on Feld Entertainment, visit www.feldentertainment.com.