This Week in Supercross: Phoenix
AURORA, Ill. – Monster Energy® AMA Supercross, an FIM World Championship, heads to Phoenix's Chase Field for the second race of an already dramatic season tomorrow. Defending AMA Supercross class champion Chad Reed said his goal was to win the opening race of the 2009 Monster Energy® Supercross championship at Angel Stadium. A victory would have carried a special meaning for Reed.
"Every time I won that race, I won the championship, so I wanted to try and keep the ball rolling," said Reed. "I had seven races in a less-pressured situation, and my new mechanic and I bonded, and I think we we're looking good. So bring it on, let's go have fun and try to win another championship."
As things played out, the dramatic start to the 2009 season saw Reed and Stewart tangle in a crash on lap six, forcing both riders to the ground where they lost valuable positions in the race. Upon reentering the race Stewart was hit once again by GEICO Powersports Honda's Kevin Windham and unable to finish the race due to mechanical problems. Reed rode away to finish third, placing him 18 points ahead of Stewart in season point standings.
"This week I'm just sticking to the program that I know works," said Reed. "I'm pretty excited for the Phoenix race and I have a lot of motivation there. I've never, ever won there, but I've had a lot of close battles and a lot of 'almost wins.' But I've always come out of there second, so I want to go in and fight and get my first Phoenix win on the Rockstar/Makita Suzuki RM-Z450 after seven or eight years of racing in the U.S. I think it's the only stadium I've never won at, so it's a good goal to have."
This scenario sets up a situation for Reed that's atypical for his previous two championship seasons. For Stewart, he'll need to follow the path of five-time AMA Supercross class champion Ricky Carmichael's 2002 season in which he started the season with a DNF at Anaheim 1. Carmichael went on to win the championship that year and is the only rider in history to accomplish this feat. Stewart's done a good job following Carmichael's milestones. This past summer at the AMA Motocross Championship, Stewart tied Carmichael's record-setting perfect season, winning 24 out of 24 motos.
"We'll regroup and come back stronger next week," said San Manuel Yamaha Team Manager Larry Brooks. "Hopefully, we've gotten all of our bad luck out of the way now and we can focus on just winning races. James is the fastest rider on any track and he knows how to win races and championships. Now, we don't have to protect a points lead so we'll concentrate on winning races."
Chase Field is a bittersweet for Stewart. Last year it marked the last race of his 2008 Monster Energy® Supercross season before an injury forced him to miss the remainder of the races. It was his second consecutive win at the venue and not only is he the only rider to win at Chase Field in both classes, but he's won each class twice during his professional career. On the other hand, Reed has yet to win at Chase Field, having competed there only in the premier class.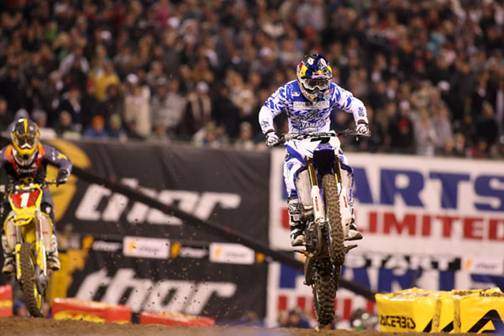 Stewart leads Reed through the early part of the race before the epic battle ensued. There is some unfinished business to take care of this weekend in Phoenix after a lap 6 crash between the two left Stewart out for the rest of the race
Photo Credit: VitalMX.com
Arguably the biggest surprise of the race was eventual winner Josh Grant. Grant was making his premier class debut at Anaheim 1 and not expected to prevail over Reed and Stewart, but he managed to etch his name in the record books. As an AMA Supercross Lites class rider, he only won three races and his best championship finish was third overall. He's obviously changed his program and is headed in the right direction.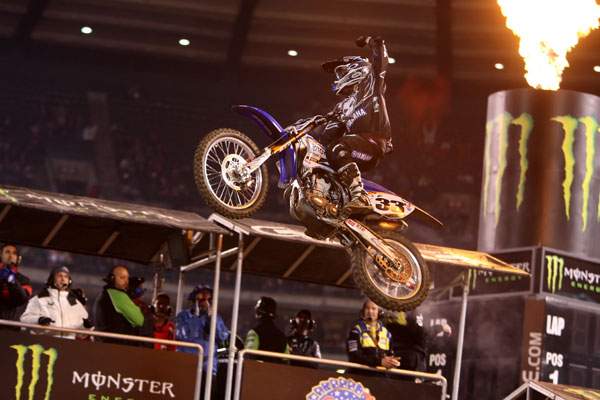 In his first full season in the AMA Supercross class, Grant picked up the big win at A1. Heading into Phoenix he's leading the pack of premier-class riders.
Photo Credit: VitalMX.com
If this past weekend's Western Regional AMA Supercross Lites class race is any indication on how the 2009 championship will unfold, fans won't want to miss a race. Monster Energy/Pro Circuit Kawasaki's Jake Weimer, who had only won one Lites class race prior to Anaheim 1, led 13 laps Saturday night en route to his second career AMA Supercross Lites class win. 2007 Eastern regional AMA Supercross Lites runner-up Ryan Morais finished second at Anaheim 1 where he made his Monster Energy/Pro Circuit Kawasaki Debut. Rockstar/Makita Suzuki's Ryan Dungey rounded out the podium with a third-place finish.
"I like racing at Phoenix; it's a good track, and I've had good results there in the past," said Dungey. "It's a little tougher track than usual because it's slicker, but I kind of like the slick stuff. Also, I've been training on my Rockstar/Makita Suzuki RM-Z250 in California and the tracks there get hard-packed and slick, so I'll be prepared for it this weekend."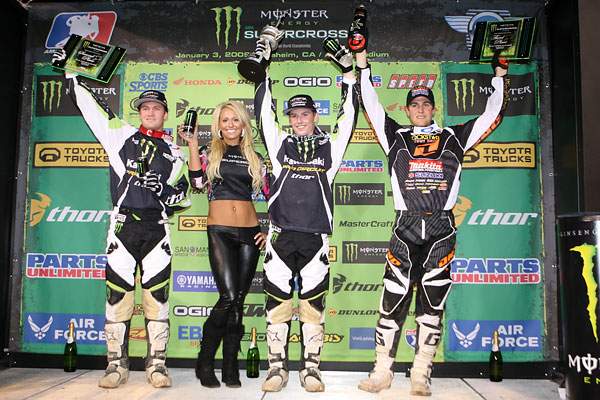 Dungey and Morais will challenge for the top podium position week-in-and-week-out in 2009. Defending Western Regional AMA Supercross Lites class champion Jason Lawrence did not make the podium but finished fourth and was dropped to fifth because he cut the track.
Photo Credit: VitalMX.com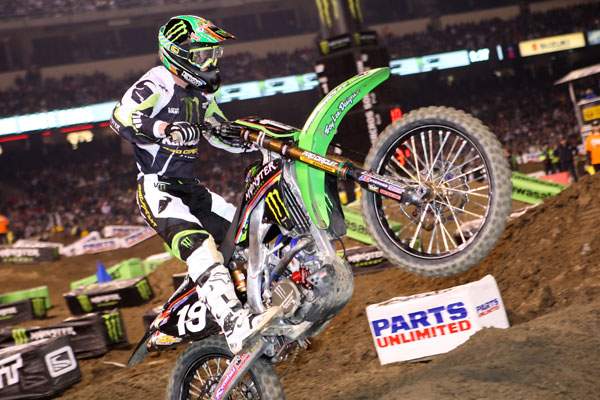 Weimer dominated the opening race of the Western Regional AMA Supercross Lites class championship and brings a three-point lead into Case Field.
Photo Credit: VitalMX.com
The Muscle Milk/MDK/KTM Factory Racing Team riders, Justin Brayton and Ryan Sipes, were not happy with their results from the first race "We went into Anaheim with strong expectations and we fell short of meeting our goals," commented team rider Justin Brayton. "I felt like I was riding well in the main, but after crashing with Dan Reardon while battling for second I surrendered the chance to finish on the podium."
KTM Racing Director Kurt Nicoll commented, "We were not happy with the results, but both riders scored solid points to build on over the next few weekends. Justin was fast all through practice and probably got just a little impatient when he tried to move into second place during the main. He is riding very confidently, and I expect that he will do much better in Phoenix. Ryan got tense after he got involved in Justin's crash. He is working on the test track this week to improve his endurance levels in order to finish as strongly as he starts. Overall the season did not start spectacularly, but we are still in the hunt for podiums."
Monster Energy Kawasaki is ready to head to the desert for the second stop of Monster Energy® AMA Supercross, an FIM Championship, in Phoenix. Rookie Ryan Villopoto earned a heat win and a top-five finish in his AMA Supercross class debut at Angel Stadium, and he is happy to have that first race under his belt.
"I'm more comfortable heading into this race," said Villopoto. "The first Anaheim has a lot of distractions and now I can just concentrate on racing. I rode really well in my heat race, but I could have rode better during the main. I'm working on that this week and I'm just going work on getting on the podium."
Timmy Ferry was fourth at the season opener and has spent the week testing with the Monster Energy Kawasaki team. Ferry comes to Phoenix hoping to get back on the podium at a track that suits his riding style.
"I like racing at Phoenix," said Ferry. "It is a fast track, and I really like it. Anaheim 1 was really technical track and you saw a lot of guys go down. Phoenix is a fast layout that is kind of slippery. The dirt is similar to what I practice on at home so racing at Phoenix has always been good to me. Hopefully I get my first podium of the year there."
The defending AMA Supercross Lites class race winner at Phoenix moved to the Monster Energy/Pro Circuit/Kawasaki team in the off-season and showed everyone he was a title contender. Weimer won both his heat and the first main event of the season. The Idaho native is looking for that momentum to carry him to the top of the podium for the second straight year at Chase Field.
"I feel like I can win again in Phoenix," said Weimer. "I feel confident going into the race. I know I can win and I always feel good in Phoenix; last year I picked up my first win there which was awesome. The most important thing is to not throw races away and not throw points away because I want to win the championship."
Riding right behind Weimer throughout Anaheim 1 was his teammate Morais. Morais led the majority of his heat race and finished second. He then parlayed that finish into a second in the main event, marking his career best result.
"I really can't wait to race at Phoenix," said Morais. "Finishing second in my heat and also in the main, I'm ready to keep racing and riding this momentum. The Monster Energy/Pro Circuit/Kawasaki team is really great, I just want to keep riding up front and stay on the box."
GEICO Powersports Honda was successful in winning the 2008 Phoenix AMA Supercross Lites race while Windham began his run of podium finishes for the season, placing third. After a rough start to the season in Anaheim, he will undoubtedly rely on his veteran experience to bounce back and run at the front of the pack.
GEICO Powersports Honda's Dan Reardon, riding in his second year of AMA Supercross Lites competition, opened his 2009 season with the holeshot and led the first two laps of the race. Bad luck struck when he crashed with KTM's Brayton.
"I'm not going to let myself get too down about last weekend," said Reardon. "I got a great start and rode really well, and it felt great to be back out front leading again. I rode a really competitive race at Phoenix for GEICO Powersports Honda last year and I'm really looking forward to going back there this weekend."
2008 Eastern Regional AMA Supercross Lites class champion Trey Canard opted to try his hand on the west coast for 2009. The likeable Oklahoman struggled at the start of the start of the Lites class main event thanks to a second turn crash and only managed a 14th-place finish. This weekend will be the first time he will race at Phoenix's Chase Field. Canard's start to the 2009 season is a polar opposite to his 2008 campaign where he won the first three races of the season as a rookie. However, that past early success and his determination will surely play into his favor as he hopes to rebound.
"This will be my first time racing in Phoenix and I have been told that the track is pretty dry and fast which I am really looking forward too," said Canard. "Last weekend certainly wasn't the ideal start to my season but it's not the end of the world. I intend on being strong and bouncing back this weekend, going out there and doing the very best I can."
Honda Red Bull Racing's Andrew Short earned the best AMA Supercross class finish of his career last weekend in Anaheim. He's currently second in points and is motivated heading into Phoenix.
"Finishing second at Anaheim 1 was a great way to start the 2009 supercross season and a great motivator heading into Phoenix," said Short. "The Honda Red Bull Racing team and I are really pumped with the way things are going for me and I feel in great shape heading into this weekend."
Rockstar/Makita Suzuki's Mike Alessi had a strong showing at the season-opening round at Anaheim, overcoming an early-race pile-up to finish 11th. Still working on recovering completely from a late off season injury, Alessi is looking forward to the race at Phoenix's Chase Field this weekend.
"This week we'll be doing a lot of testing with the suspension and with the forks, trying to get me as comfortable as possible on the bike," said Alessi. "Also, I've been testing the Rockstar/Makita Suzuki RM-Z450 at my house in the high desert with sandy, looser dirt like the track at Phoenix. So I'm looking forward to the race this weekend and I'm hoping to be riding good and be in the top 10."
This weekend's AMA Supercross class race will air on Sunday, January 11 at 5:00 p.m. EST on SPEED. The AMA Supercross Lites class race will air on SPEED Sunday, January 11 at 6:00 p.m. EST.
For more information on the Monster Energy® AMA Supercross, an FIM World Championship, please log on to www.SupercrossOnline.com. For all media requests, please contact Denny Hartwig dhartwig@feldinc.com or 630-566-6305.
About Feld Motor Sports
Feld Motor Sports, Inc. is the world leader in specialized arena and stadium-based motor sports entertainment. Feld Motor Sports, Inc. productions include Monster Jam®, Monster Energy® Supercross, AMA Arenacross Series, Freestyle Motocross, and IHRA® Nitro Jam®. Feld Motor Sports, Inc. is a division of Feld Entertainment, the world's largest producer of live family entertainment. For more information on Feld Entertainment, visit www.feldentertainment.com.