Power Rankings: Week 1 Results
Welcome to the results of our first week of voting for the Toyota/Racer X Power Rankings. How did your favorite rider fare? Click here to see the top 25 riders. You can also view the power rankings by scrolling down on our home page. We picked out a few of this week's top performers and gave you our thoughts below...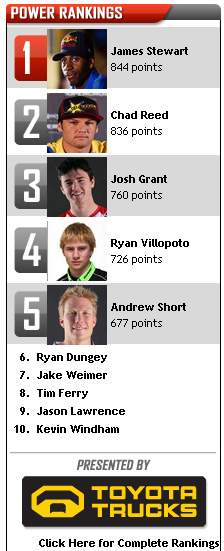 1 - Stewart: James started out fast but ended up on his head. Regardless, he still garnered the most first-place votes in week 1. Can he turn it right back around quickly and keep the top position?
2 - Reed: Who would have guessed that Reed would end up third yet still pick up 18 points on his arch-nemesis? What a wild way to start a season!
3 - Grant: Great win for him and the team. He needs to top five to prove no fluke.
4 -Villopoto: He was almost lost in all the talk but was very fast. This week-no crashing!
5 - Short: Tied his best finish ever in the SX class. Does he have the speed for the top step?
7 - Weimer: Not a bad debut with his new team!
9 - Lawrence: Had he not crashed off the start, we might have heard one of the all-time craziest podium speeches ever!
12 - Morais: Another fine effort for
Ryan Morais
, this time on a green machine. If he ever gets a good start and things fall into place, he's going to finally win one.
13 - Canard: It was good to see Trey back on the bike but a mistake cost him the lead in his heat race and a first-turn crash cost him a shot at the win.
14 - Millsaps: If you were expecting more from this Honda factory rider, you are not alone.
15 - Alessi: Mike looked rusty out there but its understandable—he hasn't raced SX in nearly 12 months, suffered through three major injuries and only just got back on the bike in December.
17 - Brayton: Once again, a good effort by the KTM rider goes south when he runs into a rider who fell in front of him.
19 -
Chris Blose
: The last-minute replacement on the Troy Lee Designs Honda team comes through in the clutch.