MDK/Warthog Racing Academy Announces 2009 Line-Up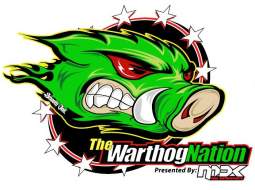 As Anaheim I is Now Only Days Away, the 2009 AMA Monster Energy Supercross Season is Upon Us. The MDK Motorsports/Warthog Racing Academy (WRA) has Solidified its 2009 Rider Roster and Sponsor/Partner Program to Maximize Results and Impact the Standings Beyond what Would Generally be Considered.

Anaheim I will see eleven riders taking their places under MDK/WRA canopy and tent. These riders are as follows:

Supercross Class
Heath Voss - Honda #13
Tyler Bowers - Honda #911
Antonio Balbi - Honda #37
Sean Collier - Honda #207
Manu Rivas - Kawasaki #921
Tiger Lacey - Honda #221
Vince Friese - Honda #719

West Coast Lites
Mike Horban - Yamaha #143
Rhett Urseth - Kawasaki #727
Deven Raper - Kawasaki #447
Mitch Rask - Honda #177

The team has also made its selection for the East Coast Lites contingent:

East Coast Lites
Clayton Miller - Honda #147
Logan Martin - Honda #566
Jacob Saylor - Yamaha
Ryan Mills - Honda

And finally, the team has already committed to one rider to help him with his outdoor Nationals program. He hails from Sweden and is a multi-time Motocross of Nations participant. MDK/WRA will help him live his dream to race the US AMA National series before he retires.

Jonny Linde - KTM

Our team's mission is to help deserving privateer racers live their dreams. We've been living this vision since 2003. Our program – The Warthog Racing Academy -- provides the riders motorcycle transportation, pit set-up, mechanics, who work through the unique Motorcycle Mechanics Institute Internship program, gas, food, water, hospitality, and rider marketing and promotion, as well as the opportunity for riders to "graduate" to better resourced teams at any time during the season. The individual riders are responsible for their own motorcycles, race entry fees, and travel expenses.

Also new the 2009 season is the Warthog Racing Supercross Complex with two SX tracks on it. We have built exact replicas of the 2009 Anaheim 1 and Atlanta tracks to give the privateers the real world experience they need to compete. It is located on the Honolulu Hills Raceway property located near Bakersfield, CA. It is part of an awe-inspiring 2100 acre riding park. It is open year round to all AMA SX endorsed privateers at no cost – it's not just for our MDK/WRA riders, it's to help all the participants of the sport in an area that is sorely needed.

Finally, we have created an affiliate program that links like-minded teams together in an initiative we call the Warthog Nation. These teams are all working to support the goals of Warthog Racing – to support the privateer through creative programs and to make Supercross/Motocross the standard by which all Motorsports are measured. Our first member team of the Warthog Nation is the new elite MotoConcepts/MDK Speed Honda team featuring our recent graduate from the Warthog Racing Academy Jeff Alessi as well as Frenchman Ben Coisy, Australian Daniel McCoy, and Cole Siebler. Also joining the Warthog Nation for 2009 is the always popular Fire and Police MX team featuring Carlos Gonzalez and Justin Keeney. And finally, our lifetime charter member of the Warthog Nation is the former Supercross World Champion Heath Voss, who will be representing MasterCraft Boats whilst spreading the gospel of the Warthog Nation.

This season would not be possible without our committed and actively engaged sponsor/partner group. For 2009, we have teamed up with the following entities:

MDK Motorsports – Title Sponsor. Sells all 5 brands Honda, Suzuki, Kawasaki, Yamaha, and KTM.

MDK Speed – Preferred WRA Performance Products. Nice Guys, and Great Engines!!

DeCal Works – Supplier of All Graphics including Bike Graphics to the Team. They are the "Original" in an Industry that is Chalk Full of Imitators

Smooth Industries – Designed the Wrap for the Team's Semi, Team Pit Shirts, and Team T-Shirts. Smooth is also the Warthog Racing Merchandising Brain Trust as well as the Largest Manufacturer of MX Accessory Products for Kids.

Motorcycle Mechanics Institute (MMI) – Provides Mechanics to the Team as Interns. These Mechanics are Available to All Team Riders. MMI Supplies the Team with Mechanics that Represent the Top-of-the-Class. Many MMI Interns Have been Placed on Factory Teams Based on their Performance During the Warthog Racing/MMI Internship.

P-LoK – The Bike Fastening System to Hold the Bikes in the Upper Deck of the Semi. MDK/WRA is able to Fasten 18 Bikes in the Upper Deck using the P-LoK system.

MotoConcepts – Provide the MotoPads that the Bikes Sit on in the Pits. They do a Nice Job of Cleaning up the Pit Appearance and Providing a Solid Platform to Work From.

Transworld Motocross – The Team's media Partner, Transworld will be Publicizing the Plight of the Privateers and The Progress they Make within the structure of The Warthog Racing Academy

Vanquish MX – The Team's Official Street Wear Clothing Sponsor.

DT1 Air Filters – Provides Top Quality Air Filters to All the Riders on the Team.

MXResultz.com – Builds the Team's Website. The sites can be seen at www.WarthogRacing.com or www.WarthogNation.com

Devol Engineering – Provides Top Quality Performance and Protection Products for Off-road Motorcycles

Liquid Performance – Liquid Performance Provides Products to the Team Including Radiator Fluid, Chain Lube, Bike Wash, Brake Cleaner, and Plastic Polishing Products.

CP Pistons - Pistons are Available to the Team's Riders.

VP Fuel – VP Provides Race Fuel to the Team at 50% Off Retail.

Dunlop – Tires are Available to the Team's riders.

The Plumber Inc. – America's Greatest Plumbing Company, Located in Las Vegas, NV.

MB2 Raceway – Has Two Indoor Karting Tracks – One in Sylmar, CA and one in Thousand Oaks, CA – They are Super Fun to Race

Edgile Consulting – Microsoft's #1 Implementer of Microsoft Security Solutions on the West Coast

Feld Motor Sports – The Series Promoter. If it wasn't for the Support of Feld Motor Sports, Our Privateer Support Program Would have a Much Tougher Roe to How

MX Sports – MX Sports Supports Our Effort for the Outdoor Nationals. Without Their Generosity, It Would be Hard for WRA to Compete Outdoors.

Dana K Business Parks – Dana K. Is the Quintessential Benefactor. He's Helped so Many Kids over the Years the We've Lost Count. Thank God There are People Like Dana K.

The Whitaker Wellness Institute – Provides Alternative Medicine and Health and Wellness Services to the Team. Radical Approaches are Just What is Needed.

Atlantic Promotions – Home to Our Outstanding Business Manager, Alison Turner. Alison Rules!!

NXTAgency – Our Agency that Helps Bring in Paying Sponsors/Partners. Great Guys, All of Them, Todd, Gregg, Otto and the Rest of the Gang.

Relentless Media – Our PR Firm Led By Jamie Allen. Jamie is Hardcore Moto, Highly Recommended.

MotoTees – When We Need to Get Team Shirts and T-Shirts Done in Record Time, We Turn to John Ayers and His Team at GearRaceWear. Excellent Prices and Turnaround Times.

Racer X Illustrated – The Magazine That Started the Privateer Revolution. Davey Coombs is Single-handedly Responsible for the Creation of Wonder Warthog Racing Back in 2003. Kudos to You Davey!!

Dirt Rider Magazine – Pete Petersen is the Privateer's Best Friend. He's Always Looking for a New Angle on the Struggle of the Privateer to Write On.

Honolulu Hills Raceway – The two Supercross Tracks on the Honolulu Hills Raceway Property. We have A1 and Atlanta 1 Built for the Privateers to Cut Their Teeth On.

L&M Racing – A Very Generous Team that Helped Make Us Solvent for 2009.

Fire and Police MX – An Affiliate Team that Believes in Many of the Same Philosophies We do

With this fine group, anything is possible. And special thanks to Feld Motor Sports. Because of their full support, dozens of privateers get the opportunity to live their dreams.

Take care and we'll see you at the races!!


Newbury Park, CA.