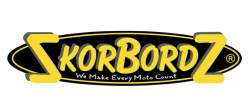 11+2 Days till Christmas. The clock is ticking, but don't worry: today's gift is a can't-miss idea. Does the dirt bike rider in your household have a favorite number? Of course! Not sure what it is? Well, take a quick peek at his or her bike and presto, lucky number revealed. Now, call Skorbordz and order up a set of their pre-printed number plate backgrounds. Not only can these little babies be custom-ordered with six different design options and your number of choice, but you can even have a name printed on the top of the front number plate for free. Pricing starting at $49.99.
Your name, number, and custom-mold plate:
-Choose a 2 colors or 3-color kit for $39.99
-Chrome Kit $45.99
-Skorbordz molded plate only: $12.95
-Custom graphic applied $10.00
So what are you waiting for. Get their lucky number and order them a Christmas gift that'll keep on giving year round!
Skorbordz
Po Box 190
Somersworth, NH 03878
Ph: 800-352-5525
Fax: (603) 330-3766
Sales email:
Sales@hrpsports.com
Website:
www.skorbordz.com