CANIDAE® Pet Foods To Sponsor MotoSport Kawasaki Team
Corona, Calif.,
- CANIDAE® All Natural Pet Foods, a leading manufacturer of super premium dog and cat foods, has announced that it will be the primary sponsor on the CANIDAE MotoSport Kawasaki team for the 2009 Monster Energy AMA Supercoss, an FIM Championship and the Toyota AMA Motocross Series.
"CANIDAE Pet Foods was founded out of love for pets, the importance of family, and the belief in having fun and enjoying life," said sales manager, Robert Bemis on behalf of CANIDAE. "Our new partnership as title sponsor of CANIDAE MotoSport Kawasaki and as the Official Pet Food of Kawasaki Team Green™ Off-Road presents a great opportunity for us. We're excited to be able to share with the passionate fans of Supercross, Motocross and Off Road racing our philosophy of "Responsible Pet Ownership" through proper nutrition and care featured at www.canidae.com and on our motorsports site www.canidaeracing.com."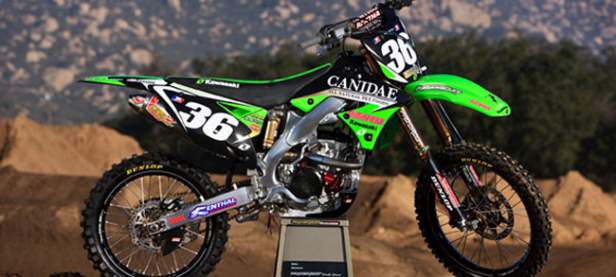 "At CANIDAE Pet Foods we are committed to providing our valued customers and their pets with the highest standard of excellence for product quality, palatability and customer satisfaction. We stand behind the guaranteed analysis of each and every one of our products and invite supercross and motocross fans everywhere to discover the benefits of feeding their pets CANIDAE and FELIDAE All Natural Pet Foods."
CANIDAE MotoSport Kawasaki also announced that
Tommy Hahn
will be returning to the team riding the all new, fuel injected 2009 Kawasaki KX™450F in both the supercross and motocross series.
New to the team for 2009 and riding the all-new Kawasaki KX™250F is former Team Green rider
Kyle Cunningham
, along with 2003 AMA Supercross Lites East Champion, Branden Jesseman. Kyle and Branden will be joined by recent Xtreme Team Green graduates
Hunter Hewitt
and AMA Horizon Award recipient
PJ Larsen
, both of whom capped off very successful Team Green amateur careers in 2008.
"We're proud to introduce CANIDAE All Natural Pet Foods to the loyal fans of supercross and motocross." said Xtreme Team Green founder and CANIDAE MotoSport Kawasaki Team Owner Bobby Hewitt. "The support of CANIDAE Pet Foods and all of our other great sponsors will allow us to race in both the ultra competitive 250 & 450 divisions for 2009. MotoSport.com will continue to be a big part of our program for 2009. The entire crew at MotoSport.com is as passionate about racing as we are. As the industries largest internet catalog business they know what it takes to be the best."
"We've put a lot of good things in place during the off-season," said Bill Keefe, Team Manager, CANIDAE MotoSport Kawasaki. "We've brought in some tremendous sponsors, team partners and we can't wait to get started. We're also pleased to have Tommy back with us this year. Tommy's done a great job for us with two podiums in supercross lites, and two fifth-place finishes in the premier supercross class in 2008. Moving Tommy up to the 450 is going to keep our sponsors on the track and in front of the loyal supercross and motocross fans throughout the event. Our 250 program with Kyle, PJ, Hunter and Branden is the most competitive group we have ever fielded in the class. I'm looking forward to an exciting and successful 2009."
About CANIDAE Pet Foods, Inc:
Founded out of love for pets and animals, CANIDAE Pet Food, Inc. manufactures and distributes a complete line of healthy meat based, holistic all-natural dog food, cat food, and gourmet pet treats sold world wide through independent pet food retailers including over 6000 locations throughout the United States and Canada. For more information visit www.CANIDAE.com.