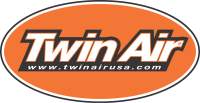 Looking for some ideas to stuff the old stocking of that MX rider in your family? Look no further. These gifts not only make a great stocking stuffer, but they're essential to keeping your motorcycle running strong all year long. So what more could you ask for?
But that's not all. The company that set the clean air standard for your engine now extends their expertise to oil filters. Constructed with the highest quality paper mesh and the latest in production technologies, now there's only one name you need to remember for maximum protection, performance, and value in all of your filtration needs. Twin Air oil filters are available for all modern four-stroke bikes and ATVs and cost between $8.95 - $14.95.
Contact
www.twinairusa.com
or call 800-749-2890.