Chinese Democracy
.
It's wild how much the world has changed since 1993. Back then there was no such thing as iPods, and the internet was just breaking out. Jeremy McGrath was just starting out his rookie year in the 250 class, wearing Sinisalo and everyone was riding two-strokes except for brands like KTM, Husaberg and Vertamati. Doug Henry was about to win his first 125 SX title,
Ricky Carmichael
was riding KX80s and
James Stewart
was riding a white Y-Zinger pee-wee bike at the Mini Os.
Stewart is back at the Mini O's this week with his family, celebrating Thanksgiving yesterday with his little brother Malcolm and his family at Gatorback Cycle Park. This after being named AMA Speed Athlete of the Year on Sunday night at the AMA Awards Banquet in Birmingham. Stewart sat with his old crew from Monster Energy Kawasaki, which was also there to accept the Peter Chamberlain Cup for another Team USA win at the Motocross of Nations. I spoke with James afterwards for this week's
Between the Motos
about how his prep for 2009 is going. He told me he's ready.
Also down at the Mini O's is
Mike Alessi
, who rode a bicycle there from near the Georgia border, covering 130 miles, according to the Alessi Weekly.
www.vurbmoto.com
, which has daily reports and videos. You can also check things out at
www.amateurmx.com
as well as
www.motoplayground.com
.
Eli Tomac
is down there on his new Factory Connection Hondas, along with teammate
Justin Barcia
, who will join the pro circuit in May for what's shaping up as a very competitive AMA Toyota Motocross Championship.
Speaking of that, when we spotted the report below, we couldn't believe what we were reading:
Echter na verschillende testsessies besloot KTM dat ze nog niet helemaal klaar waren om volgend jaar al met een linksysteem te gaan rijden, een beslissing die Tyla erg betreurde. Omdat Tyla's droom is om in Amerika te gaan rijden, heeft hij na goed overleg met KTM besloten om zijn contract te laten ontbinden en naar Amerika te trekken waar hij voor het Pro Circuit Kawasaki Team van Mitch Payton zal gaan rijden.
Tyla Rattray
really coming to America to trekken his voor net Pro Circuit? We called Mitch Payton, and as could be expected, he played his cards close to his vest gave us a little to go on, but he did say this:
"We have not signed anyone other than the four riders presently on the team…. But Christmas is right around the corner, and you never know what Santa is going to leave in your stocking."
Sounds like Tyla's dream is about to come true.
Carlos Aguirre was out at Starwest earlier this weekend and spotted a guy going fairly fast, but not running any numbers. Upon closer inspection, he realized that it was none other than Brian Deegan, high overlord of the Metal Mulisha, putting in some laps and having fun.
There was some debate around the managerial circuit as to who should wear #100 in 2009. The digit belonged to
Josh Hansen
, who requested it a few years back. The century number has long been held back for either rookie factory riders—Ernesto Fonseca—or returning from the GPs or injury stars, like Ron Lechien, Jimmy Button and Mike Healey. It was given to Hanny because he was going to be a KTM factory rider, albeit one without previous pro national points.
Tommy Searle
was hoping to use the #100 digit in his outdoor-only deal for 2009. Hansen, meanwhile, earned #67 in 2008 based on his AMA Supercross races with JGR Yamaha. He's now riding for Hart & Huntington Honda and wants to keep #100, but it's not a permanent number for him.
I thought they should let Hansen have #100 indoors in the 450 class in SX, and let Searle run #100 outdoors in the 250 class, then let both of them take the number they earn in 2010 and give the #100 to Rattray (if he's not already here) or Tony Cairoli or Sebastien Pourcel or whoever the next top GP rider is that ends up here on the AMA circuit.
But then the whole thing was a mute point anyway when Carlos Aguirre spotted
Tommy Searle
this week trying out a new digit: #123. That used to be
Brett Metcalfe
's number, but he's riding the #24 GEICO Powersports Honda now.
We got a note from
Travis Pastrana
who wanted to make us aware of a situation he's got himself into with the United States Parachute Association:
"Some of the best skydivers in the world are trying to help safely progress the standards and thinking of skydiving. I had my skydive license taken for doing a skydive that was easily and safely executed as a stunt for a movie. I'm not saying the new school of thinking would have allowed me to do this, but they would have helped me to do it more safely and through the right channels. As it sits, I am on the FAA (Federal Aviation Administration) black list and banned from a sport that I truly enjoy. Every vote counts, please help skydiving progress."
Unfortunately, you have to be a member to vote. If you already are, or want to join the USPA and help Travis out, visit:
www.uspa.org
Sorby also let us know he will race under the JGR tent at Anaheim, then after that with the Wonder Warthog Racing gang, though he will keep his JGR sponsors on his bike and body. Eric looked good in Bercy two weeks ago, so here's hoping for a good, safe weekend in Germany and next weekend in Switzerland.
Are you a B or A class rider that wants to be a professional someday? There is a place that will steer you in the right direction, but it is a commitment. Sebastian Tortelli has two spots left in his advanced camp but they are for serious racers only. If you aren't quite there yet, check out one of his other instruction options.
If you have a mountain bike and live anywhere in southern California be sure to join the Asterisk charity ride on December 13th. The cost is $30 and all proceeds go to the Asterisk Mobile Medic Unit. Asterisk spends a grip of money making sure our top riders have the best possible medical care at every supercross and motocross national. Besides, you know that holiday weight that saddles up on you about this time of year? Well, here is a good chance to shed some of it. It will be a good time for sure. Check this flier out for all the details.
Looking for Christmas specials on Black Friday and over the weekend? Racer X Brand is blowing out their inventory to give everyone a special gift before the Holidays.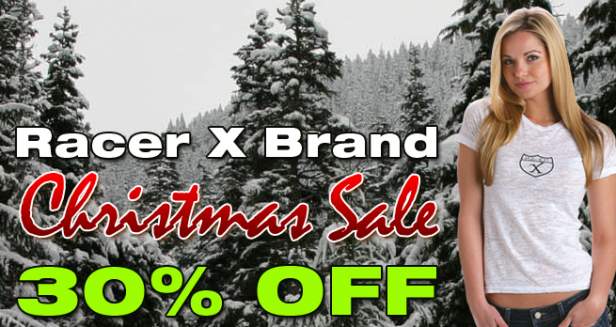 That's it for me. Here's Danny Brault with a Canadian update.

Big news this week up north: Dusty Klatt has signed on to race the 2009 Canadian Nationals for Team Toyota Yamaha/Red Bull/Blackfoot/Fox Racing. I caught up with Dusty yesterday afternoon for an interview, and he sounded very relieved and confident on returning to Blackfoot … which is not really a surprise.


The Dusty Klatt story really hit its pinnacle in 2006. Armed with his bike of choice, a Honda 450, Klatt would go on to win nearly every moto (I believe he won 12 of 18) an claim his first MX1 title. (It also marked the first time in five years someone had beat JSR.) Taking what he had learned racing against the "King," Klatt spent two years chasing success on the AMA scene. It didn't come so easily, as it rarely does for anyone competing in the most prestigious series. Now, after seeing what both sides of the border have to offer, Klatt has decided to stay home.
"I'm not one of those guys who can race all year long," he admits. "I like taking some time off, not to party or anything, but to hang out friends and family, BMX and just be kind of normal."
The Campbell River, BC kid is also looking at the big picture and can see that a career in Canada can earn him a good living and offer him longevity. "I will definitely be able to race for a lot longer because my body won't be so beat up," he says. "And I think I can have a really good future with Blackfoot." While Klatt will focus on winning the Canadian MX1 championship, he says he will try to race one or two U.S. events.
(post photo of Blackfoot team with this caption: Check out the 2009 Blackfoot lineup:
Aron Harvey
, Colton Facciotti, Dusty Klatt, and Kyle Beaton. Photo courtesy of Blackfoot.)
In other silly season news, Eric Nye has resigned with KTM Canada. The 2008 MX2 champ is in between some overseas indoor events at the moment. I was chatting over MSN with his teammate, Jeff Northrop, last week and found out that he broke his foot. "Yeah, my rear hub busted over a jump and that was it," said Norcal. "It's busted up good. I hope to be riding in January." Norcal couldn't confirm if he was also going to be back with KTM.
Fun Center Suzuki's Brady Sheren is back on two wheels and back to SoCal. Sheren will be the lone Canadian racing Anaheim 1, so everyone above the 49th better be cheering for him! Sheren qualified for a main event last year and is working with former MX champion, Donnie Hansen. So we know he has the speed and resources, you just have to give'er, Brady.
The Canadian Arenacross Championships have taken a break until the third and final round on January 9-10. Leading Edge Kawasaki's Teddy Maier is leading the Lites and AX points, but word has it he may not be back for the last round. Beaton should be in position to steal the title, but a DNF put him back in the standings. Judging by the points, I'm guessing the "Newf" Ryan Lockhart will be the champion. He's sitting second in the Lites and third behind JSR in AX.
I have yet to catch one of these events live, but thanks to the folks over at MXForum, readers have been listening live over the internet. John Hellam also posted this not bad video from Round 2. Check it out
HERE
.
Okay, DC is yelling at me to hurry up and wrap it up. Cheers!
Some random notes:
JGRMX uses first Superflow test system of its kind:
http://www.superflow.com/whatsnew/index_3942.cfm
Bored this winter? Check out
www.onitracing.net
for the winter MX vs. ATV Untamed December tournament on Xbox 360. There will be a ton of great prizes given out. Below is the list and details:
1st Place Overall
receives $100 cash, iPod Touch, One-year Racer X and Transworld Motocross Subscription, $60 Best Buy Gift Card
2nd Place Overall
receives $70 cash, iPod Nano, One-year Racer X and Transworld Motocross Subscription, $30 Best Buy Gift Card
3rd Place Overall
receives $30 cash, One-year Racer X and Transworld Motocross Subscription, $10 Best Buy Gift Card
4th Place Overall
One-year Racer X and Transworld Motocross Subscription
5th – 12th Overall
One-year Racer X Subscription
Main Event Holeshot
– For every main event race (Top 12 Main) the holeshot winner will receive $20.
Thanks for reading Racerhead, and Happy Thanksgiving again. See you at the races.