Virtual Trainer: Diet Confusion
By Kim Wathen, M.S.
Exercise Physiologist/Dietitian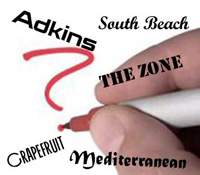 Diet fads in the American culture are as common as arm pump remedies in the motocross world. And just like arm pump cures some diets work and some are down right dangerous! With the myriad of diet fads being pushed by everyone from Oprah and Dr. Phil to Hollywood's hippest stars the debate as to which diets actually work is as big as Obama vs. McCain. Whether you are a motocross athlete on the fast track to the pros or a weekend warrior anxious to shed a few pounds, our registered dietician, Kim Wathen has a few suggestions that will help settle the diet debate. In this article, Kim wades through the seemingly endless sea of diets and fishes out which diets are good and which should be thrown back in the sea.
>>>>
Read More
.
Also new this week on Virtual Trainer (
www.racerxvt.com
) Fuel Clothing has again supplied us with another photo that is sure to
Fuel Your Inspiration
. Remember…Training Amplifies Talent!
Archive
7 Tips for Successful Training
Australian SX Rider Review
Trainer Talk with ….. Tim Ferry
Product Review: The TRX Suspension Trainer