Shift Number Cruncher: Bradshaw
Welcome to the Shift Number Cruncher. How many of you guys used to be fast, but hung it up when it just wasn't working for you anymore? How many of you took a year or so and never even looked at a dirt bike? Then one day you decided to borrow a buddy's bike and take a couple laps and surprised yourself at how little you had lost? Damon Bradshaw is feeling this right now. "The Beast of the East" had already experienced three career re-starts before he raced in the legend's event at the US Open. But for the fourth time in his life he climbed off the bike and probably said something like, "Man, I think I still got it." Hell yes, he still has it. More than a few industry insiders said Bradshaw could have made the main events and been competitive.

I heard a little rumor this weekend that Damon's weekend in Vegas has him looking at the 2009 Outdoor Nationals. How cool would that be? Who cares how fast he would be, or what place he would get. There would be thousands of people who would drive hundreds of miles to get another look at the most electrifying man in the history of the sport. While you sit and stew on that possibility, check out some of the number's Bradshaw wore during his career.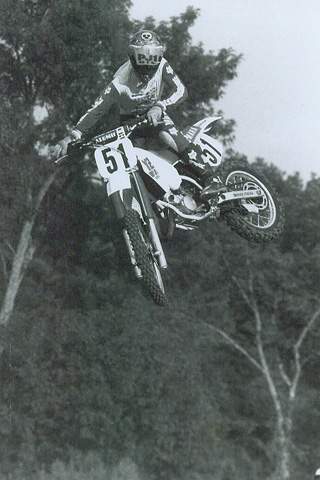 There are a lot of Loretta Lynn urban legends. You can hear them all throughout the ranch at night when kids huddle by the creek, or as parents convene at the beer tent. My favorite one was the story about Damon Bradshaw going down in the first turn and passing everyone by the halfway point to take the win with a ten-second lead. It is my favorite one because it really happened. I was there and watched every lap from the back corner sitting on my BMX bike with my elbows perched on the handlebars.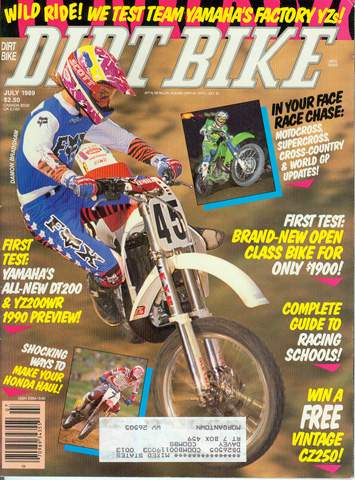 Lightning struck in a big way in 1989. Damon burst onto the scene and nailed down six 125 East Coast Supercross victories (and the title) with four outdoor wins to accompany them. You historians will recall that before that he made an attempt at the 250cc Supercross crown but suffered a back injury.
This is the year that manifested the Bradshaw/Matiasevich rivalry. Damon won five supercross main events, but in the middle he broke his ankle at San Diego which opened the door for Jeff Stanton to win his second consecutive SX title.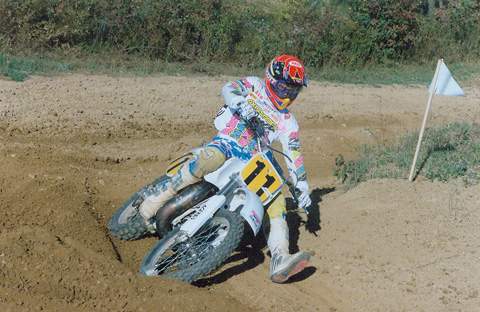 Here we have Damon riding an air-cooled WR500 at the 1991 Steel City National. I really smiled when I saw this picture as I was riding a YZ450 at Steel City last weekend through this same corner. The '91 season was a rough one for Bradshaw, and everyone else. Of course 1991 will forever be known as "The Year of the Frenchman."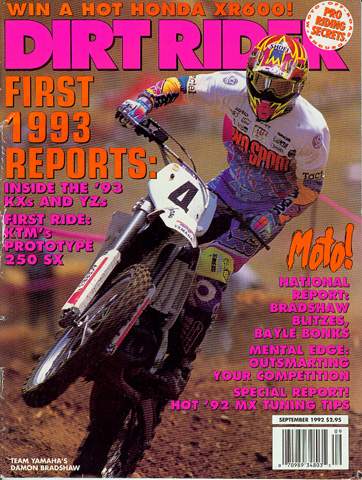 Nine Supercross main event victories in one season was an unprecedented mark in history. It was a remarkable feat matched only by the monumental failure of losing the championship to Jeff Stanton, yet again. Damon came back in 1993 to try again, but for the most part, the magic was gone, and Damon was getting tired.
Damon hung up his boots at the end of the 1993 season without so much as a word. Journalists chased him for interviews and answers but had little success.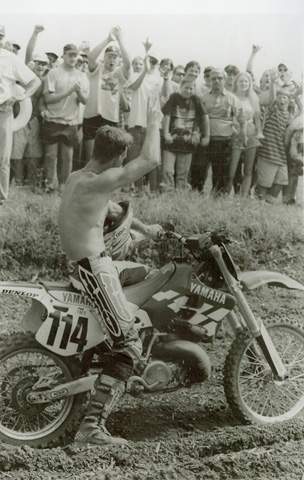 The comeback. We think this photo was taken at the 1995 Broome Tioga National. Damon came out of retirement to ride the last couple nationals and he didn't win, but people still nearly knocked the fences down cheering him on. Oddly enough, #114 was the last two numbers of his career. (#11 and #4).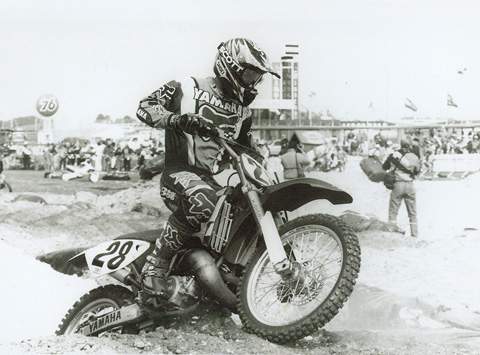 This is Bradshaw on the charge at the 1996 Daytona Supercross. Damon had a couple podiums in supercross but he, nor anyone else, had anything for Jeremy McGrath.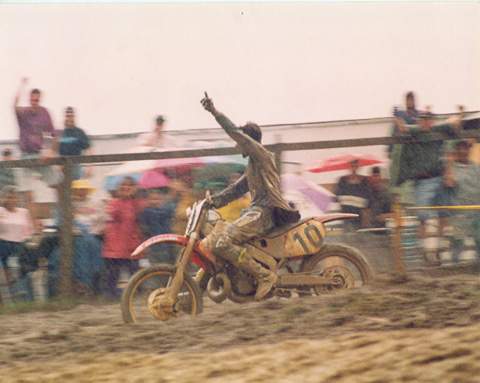 Bradshaw won six 250 outdoor wins in his career. Four of them came at High Point. His win in the rain in 1997 remains one of the most nostalgic victories in motocross history.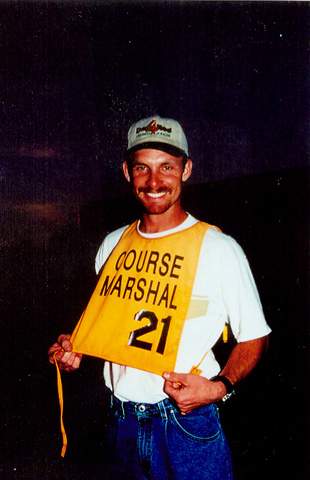 I found this one way, way in the bottom of the archive pile. This is Damon wearing a GNCC course worker bib. Just thought it was a funny picture that showed a rare light side of Bradshaw.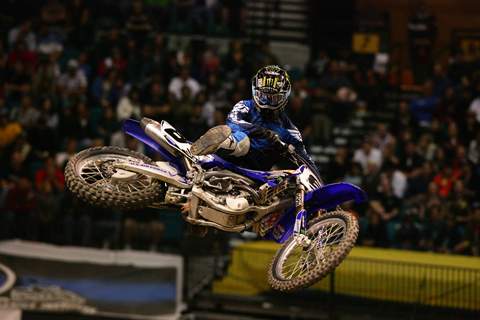 How does that saying go? "Once you learn how to ride a bike, you never really forget." Motocross is kind of like that. Once you "have it" you have it. If Damon spent the next six months riding and training with good equipment, how would he do when the gate drops at Glen Helen on May 23rd? Who knows, but I promise you if he shows up to race you will know exactly where he is at on the race track. Just follow the screams and swinging t-shirts.

We are leaving out Damon's famous amateur number on purpose. Your assignment this week is to send us the "O.G." Bradshaw shots. You know, skulls and bones on the helmet with #68 on the plates. Extra points for open-face, venturi-raider shot.