Shift Number Cruncher: Yellow #10
Welcome to the Shift Number Cruncher. The biggest number going this week is none other than the big number 10. What's cool is when I looked back at the Number Cruncher archive, I found that we actually did number ten on this very same week one year ago! While we have already crunched this number, it is so rich in history that we will be able to spin it several more ways. For this week, we are going to take a look at the Suzuki riders who chopped wood with number ten on their plates. It just had to be this way after
Ryan Dungey
busted it out as his new permanent number and the Suzuki squad had a stellar weekend across the board. I believe you will find this week's edition quite interesting. Number ten and the yellow bikes have been oddly synonymous throughout motocross history. Enjoy.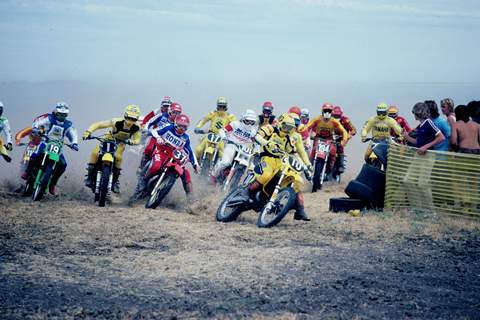 Credit: Racer X Archives
Up first, old school. I mean, come on, how bad ass is this? Here we have Mark Barnett banging a holeshot at the 1980 Sears Point Outdoor National. How many riders can you name in this shot?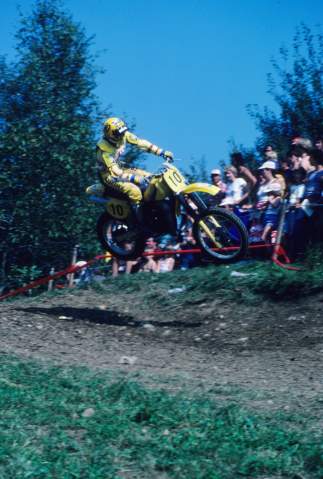 Credit: Racer X Archives
The shot of this number ten Suzuki rider was taken at the 1982 Trophy Des Nations. Name him!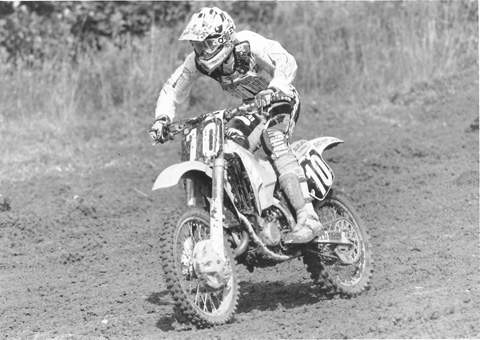 Credit: Racer X Archives
Larry "Big Bird" Ward raced with #10 in the '91 and '92 seasons aboard an RM125. Even though this is a black and white photo, it looks like this bike has a white rear fender, which would mean this was 1991. Ward won his home state national at
Washougal
that year.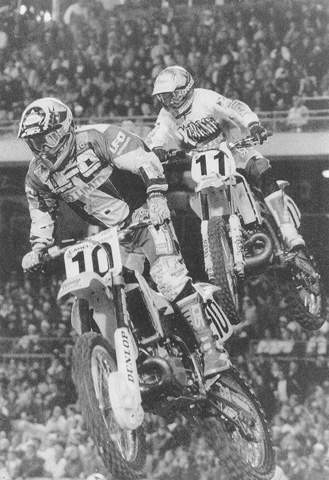 Credit: Racer X Archives
While Larry only dropped one digit to #11, the #10 stayed on a Suzuki when Brian Swink took over the reigns. Pretty cool to find this picture with the two of them!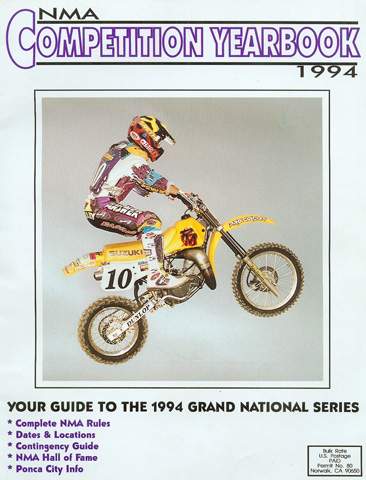 Check out this Ponca City event program with Charley Bogard on the cover. In my opinion, Bogard is one of the most underrated mini cycle riders of all-time. I raced against him the year this picture was taken (1993), and I can tell you that his speed was simply amazing. How fast was he? He beat
Ricky Carmichael
straight up at Ponca that year. Nobody ever, ever, beat RC. Bogard did though.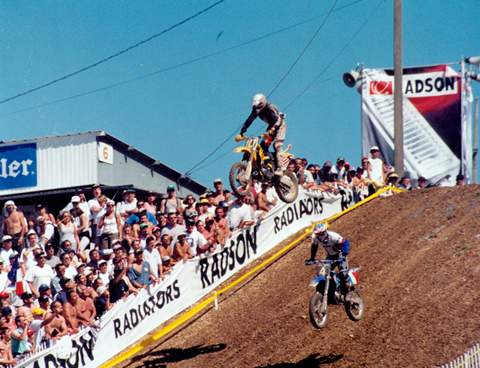 Credit: Racer X Archives
First there was Guy Cooper, then came the second mad man of motocross,
Travis Pastrana
. Travis' battles with Stephane Roncada were legendary, but the crowning moment of their duels came in this picture. What do you think went through Ronron's head when Pastrana's #10 Suzuki fell out of the sky right in front of him?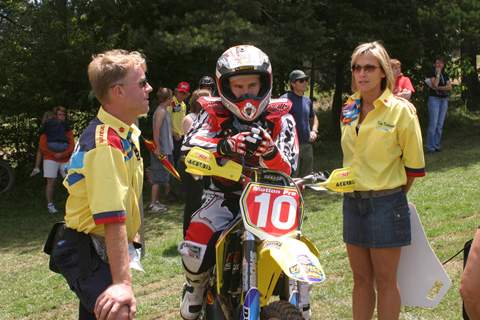 Credit: Mike Nichols
I was at the ITP Power Line Park GNCC this weekend to watch team FMF Suzuki steal the top four positions in the XC1 Pro class. It got me to thinking, that I remembered another off-road Team Suzuki rider that raced with #10. Here we have the MX Kied running the red number plate before it was cool.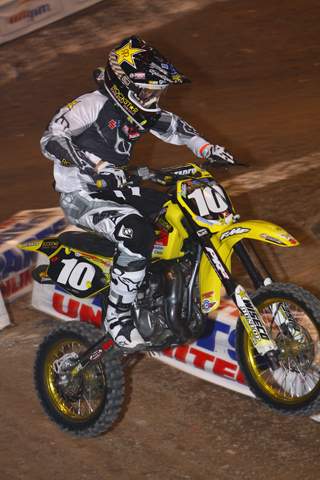 Credit: Simon Cudby
Wildomar, California's Austin Politelli was the big winner in the Alpinestars 85cc Invitational at the U.S. Open last weekend. The word on the street is that he is a silent assassin. Politelli is one of those guys that came in under the radar to bust out a big win.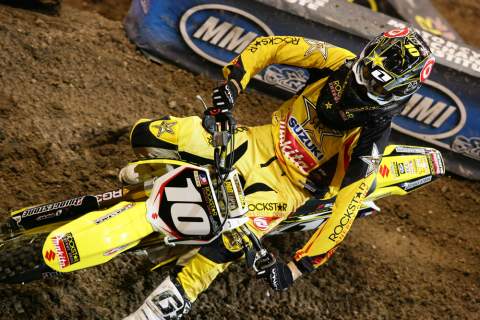 Credit: Simon Cudby
I have to admit that I thought it looked odd seeing Ernie's #10 on Dungey's RMZ-250. But hey, numbers live on. Dungey had quite an interesting weekend, and had the speed to win even though he was on a small bore. Although, after his riding buddy
James Stewart
cleaned him out in the first corner on opening night, he had to ride the whole main event, sans left side grip.
Mike Brown
actually did that at
Southwick
the year he won the title in 2001. And
Mike Brown
raced the GNCC this weekend….but I digress…
OK, folks. Don't get your riding pants in a bunch. There is a grand buffet of other #10s we have yet to go over. While researching this one I already set aside a Honda and a Kawasaki themed #10. Let's wait and see if Dungey can win a title, then we'll try it a different route.