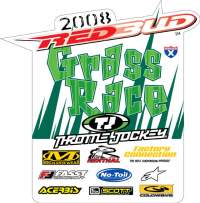 PRESENTED BY THROTTLE JOCKEY, SUNDAY, OCTOBER 19TH!

RedBud
and Throttle Jockey have raised the bar once again for the annual
RedBud
Grass Race with tons of great prizes from loyal industry sponsors. Plus new Throttle Jockey apparel for sale and the 2009 line of graphics will be on display. Tim Ritchie will again come up with a one off track design that will only be raced on Sunday. The KTM Kids Track will be running a full program, too, including the nostalgic "XR Championships" at halftime. So come check out
RedBud
's grass race cult classic, the last race of the season.
Signup: 7:00a.m. Practice: 8:30a.m. Full race program plus XR qualifiers and finals Sunday. 2 XR classes: Single Shock & Twin Shock. Also Suzuki contingencies on Sunday (makeup date for the rained out 9/14 Suzuki Fall Classic).
RedBud
Kicks off the weekend with Open Riding on the pro track and kids track on Saturday. For more details go to
www.redbudmx.com
.