Red Bull Motocross of Nations This Weekend
September 24, 2008 9:38am
FUNCHAL (PORTUGAL) – The 62nd edition of the Red Bull FIM Motocross of Nations is set to round off the 2009 season in style being held this weekend at the fabulous Donington Park area in Great Britain.

35 Nations will enter this prestigious and unique event with the goal of winning the special Chamberlain Trophy. Defending Champion Team USA has won it for the latest three editions of the event including the last Red Bull Motocross of Nations appearance in Great Britain in 2006 at Matterley Basin.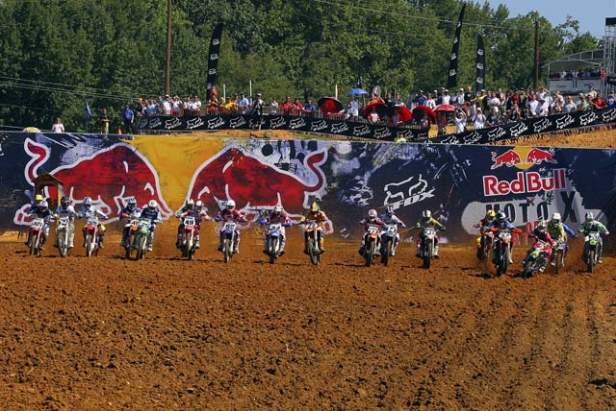 The American squad is at present the winningest team in the history of the event courtesy of 18 Chamberlain Trophies taken home. The team is back to action after their home clean sweep last year at Budds Creek with a different line up. As Open class rider Tim Ferry and MX2 rider Ryan Villopoto remain the MX1 rider will be James Stewart completing an all Kawasaki line up. Last year's MX1 rider Ricky Carmichael is now retired.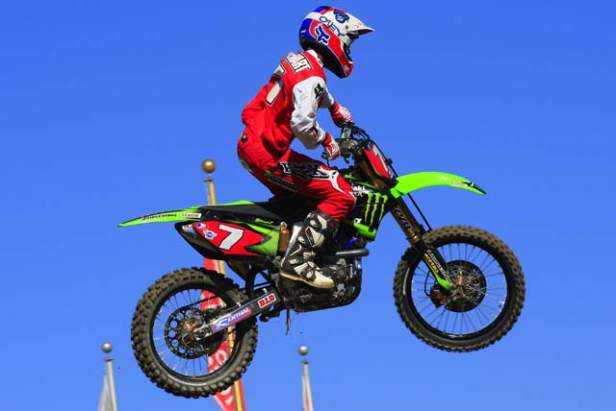 James Stewart onboard his works Kawasaki
Stewart missed the event last year due to injury as again injury prevented him from completing the 2008 Supercross campaign. Though Stewart was in the winning team at Matterley Basin in 2006 alongside Villopoto being at his maiden MXoN appearance. The latter won both heats he entered last year at Budds Creek onboard an MX2 bike to write his name in the history of the event.

Winning the Trophy at Budds Creek for his first time, Ferry will complete the strong line up of Team USA.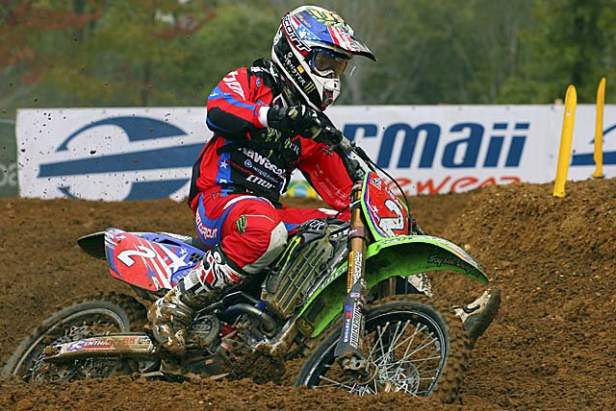 Ryan Villopoto at Budds Creek last year
Ending second last year Team France will be back again with GP winners Sebastien Pourcel in MX1 and Nicolas Aubin in Open with youngster Anthony Boissiere completing the squad in the MX2 class.
After a solid mid season in the MX1 World Championship Pourcel ended seventh in the standings as Aubin was a positive third in the MX2 becoming the highest placed Yamaha rider after defending Champion Antonio Cairoli injured and pulled out of the season. Taking a couple of podium spots this year in the MX2 GP campaign Boissiere gained a place in the team when previous MX2 rider Steven Frossard injured himself.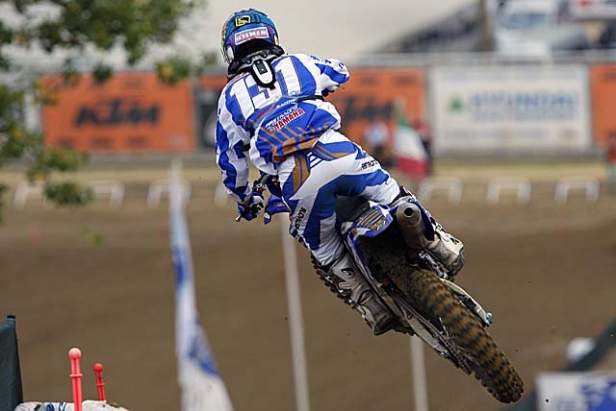 Nicolas Aubin will ride for Team France in the Open class
Belgium completed the podium last year making it a positive maiden MXoN outing for debutants Ken de Dycker (MX1) and Jeremy van Horebeek (MX2) who will be back in the team this year together with two time Motocross World Champion Steve Ramon.

Riding both for the Teka Suzuki Team Ramon and De Dycker ended second and third in the MX1 Championship as Van Horebeek finished his best MX2 World Championship season in eighth.

The squad aims at repeating their success from 2004 as they have been the last winners before the three consecutive strikes of Team USA.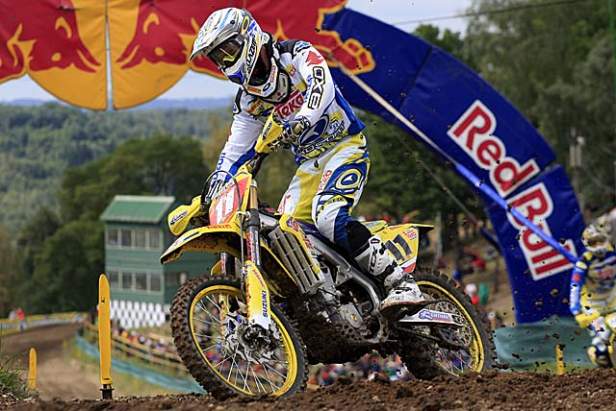 Steve Ramon held the red plate once in this year's MX1 World Championship
Italy had to make a significant change to their three men line up when two time World Champion Cairoli injured but they found another World Champion in the likes of David Philippaerts, winning his maiden title in the MX1 class at the final GP at Faenza this year.

Alongside Philippaerts also MX2 rider Manuel Monni and Open class rider Alex Salvini will ride for Team Italy.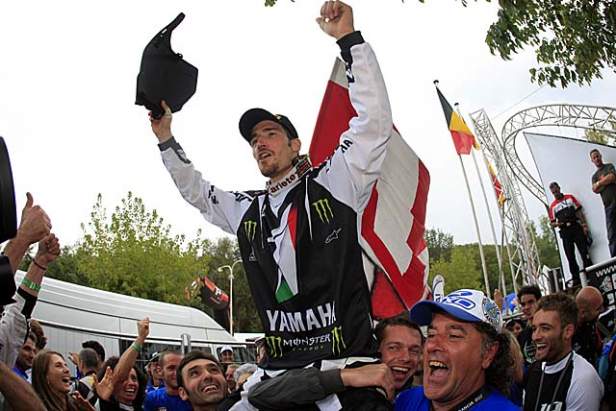 David Philippaerts will attend the Red Bull MXoN as the 2008 MX1 World Champion
Great Britain will be the home team this year with Billy Mackenzie (MX1), Tommy Searle (MX2) and Shaun Simpson (Open) aiming at a good performance for their home fans as Great Britain is the second winningest country in the event with 16 Chamberlain Trophies to their credit.

As Mackenzie rode a positive first season onboard works Honda machinery Searle battled it out for the MX2 World Title with eventual Champion Tyla Rattray until the final round of the GP campaign. MXoN debutant Simpson ended his best MX2 World Championship season in fourth being the only one in the top five to have missed a GP due to injury.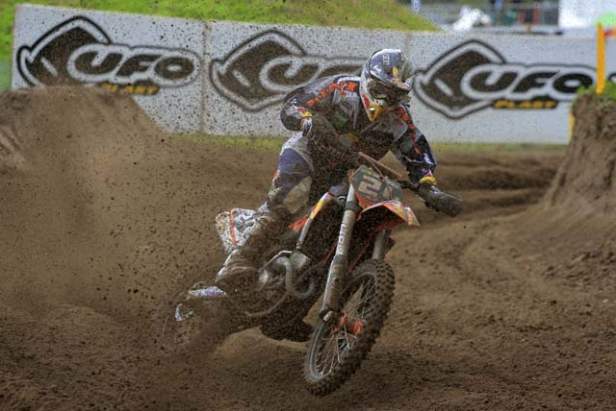 Shaun Simpson will make his debut in the event this year riding for home team Great Britain
Among the 35 teams entered in the event there will be many other top riders leading their Nation to glory this weekend at the Red Bull Motocross of Nations.

Four time GP winner in 2008 Jonathan Barragan will be at Donington riding the Spanish Team's MX1 bike alongside Carlos Campano and Alvaro Lozano.

Other factory KTM rider in the MX1 World Championship Max Nagl will be the MX1 rider in the German team together with countrymen Marcus Schiffer and Daniel Siegl.

Estonian stars Tanel Leok and Gert Krestinov will keep up the good work for Team Estonia together with Aigar Leok.

Fresh MX2 World Champion Tyla Rattray will ride the MX2 bike for team South Africa alongside Neville Bradshaw and Kerim Fitzgerald.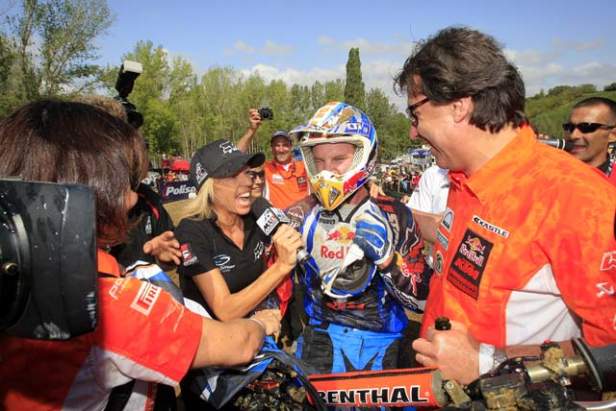 After collecting his maiden World Title this year in MX2 Tyla Rattray is pumped for this weekend
2008 Supercross World Champion Chad Reed will lead team Australia onboard an MX1 Suzuki –the manufacturer he will ride for in 2009 after winning the Title onboard a Yamaha- with Brett Metcalfe and Michael Byrne completing the team.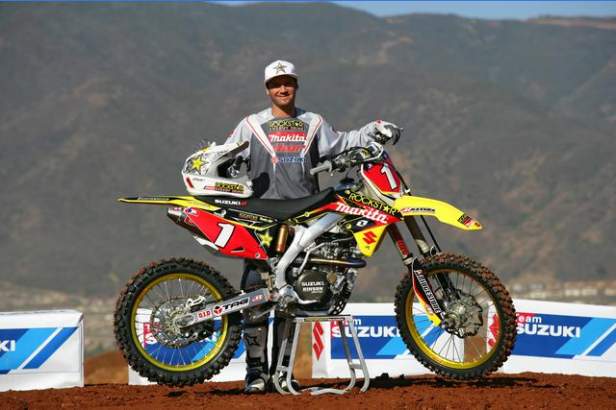 Having won the 2008 Supercross World Championship Chad Reed is another World Champion entering the event (Photo courtesy of Suzuki Racing)
Puerto Rico might be a surprising squad with Tarah Gieger at her second appearance in the event after becoming the first woman to have ever taken part in the MXoN last year. MX2 World Championship race winner Zach Osborne will ride in the Open class with Gino Aponte completing the squad.

The Dutch Team will enter the Red Bull Motocross of Nations with GP winner Marc de Reuver alongside Ceriel Klein Kromhof and Herjan Brakke.

New Zealand will line up MX1 Grand Prix riders Josh Coppins and Scott Columb with AMA Motocross rider Cody Cooper.

This year's Red Bull Motocross of Nations will see Team Mongolia take part in the event for their first time with the riders Erdenebileg Khaliunbold, Khadbaatar Temuujin and Boldbaatar Ganod.

DONINGTON PARK GRAND PRIX CIRCUIT AND CASTLE DONINGTON

The Donington Park Grand Prix motocross circuit is named after one of the most famous permanent road racing complexes in the world which is hosting the track itself. Having its first Motocross GP in 2007 Donington Park came back on the 2008 calendar with the most prestigious event of the year, the Red Bull Motocross of Nations. This year the ground will be enriched with woodchips making it softer that it was in 2007 as the changes to the layout will make the course more challenging. At last year's GP Antonio Cairoli won at his first and only appearance in the MX1 scene while current British Team member Tommy Searle won his maiden MX2 GP.

The weather is predicted to be cloudy until Saturday as Sunday will be sunny. No rain is expected this week as the temperatures will be around 18° Celsius.

Castle Donington is a small town in a corner of Leicestershire being 18 kilometres South East of Derby and about 200 kilometres North of London. The town is named after a Castle which was built to command the crossing points of the River Trent in the eleventh or twelfth century and is now merely a mound on the northern edge of the village. Castle Donington is placed on the former Nottingham to Birmingham trunk road and is characterized by modern shops standing alongside dignified Georgian and Regency houses in a fascinating blend of modernity and tradition.

THE EVENT'S SCHEDULE

Saturday September 27: Free Practice MX1 at 10:00 am; Free practice MX2 at 11:00 am; Free Practice Open at 12:00 am; Qualifying Heat MX1 at 2:30 pm; Qualifying Heat MX2 at 3:30 pm; Qualifying Heat Open at 4:30 pm

Sunday September 28: Warm-up B-Final at 8:40 am; Warm-up MXoN Group 1 at 9:10 am; Warm-up MXoN Group 2 at 9:40 am; B-Final at 11:00 am; MXoN Race 1 (MX1+MX2) at 1:08 pm; MXoN Race 2 (MX2+Open) at 2:38 pm; MXoN Race 3 (MX1+Open) at 4:08 pm

LINKS

Red Bull

ACU-Auto-Cycle Union

Donington Park

Visit Derby

Information, photos and results are online at http://www.motocrossMX1.com, the official website of the FIM Motocross World Championships.

More information on the series are available online in the official FIM Motocross World Championship Guide, which can be watched by clicking here.

MediaZone Moto is the leading global online broadcaster of Motocross and SuperMoto events. Fans worldwide can watch the thrills from this and every race of the 2008 FIM Motocross & SuperMoto World Championships LIVE and On Demand exclusively at www.MediaZoneMoto.com.