Snowshoe GNCC Results
September 15, 2008 8:45am
Knight Extends Points Lead with Snowshoe GNCC Victory
West Virginian DuVall Makes History with Runner-up Finish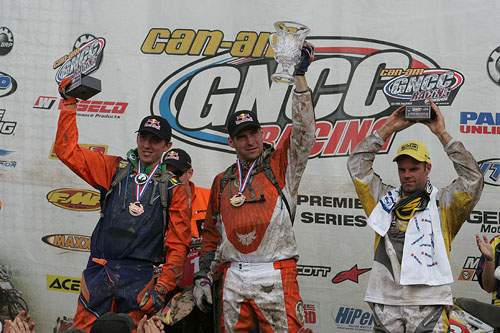 Winner David Knight (center) celebrates on the podium with runner-up Paul Whibley (right) and third-placed Nathan Kanney.


SNOWSHOE, W. Va. -- Prior to this weekend, David Knight said the Snowshoe Can-Am Grand National Cross Country (GNCC) race was his favorite event of the 2007 tour. That love affair hit rocky times but came out intact on Sunday as the defending champion and current points leader overcame bad luck and held on to win the 2008 edition of the event, sponsored by Moose Racing.

Knight (No. 1 Red Bull/KTM) beat out Paul Whibley (No. 6 Suzuki) and Nathan Kanney (No. 116 Red Bull/KTM) to win the Pro XC1 Class.

Knight was pleased with the results and can now numerically clinch the GNCC title at the next race, scheduled for the end of September in New Berlin, N.Y.

"Everything from the off just went wrong for me today," said Knight, "I had trouble at the start, and I got hit in the shoulder with a rock on the second lap, so I'm glad at least the first race of the season is over.

"It is nice to know that I can wrap up the championship at the next race," added Knight. "KTM has some new bits for the bike, so that should help."

However, the real story of the three-hour event on the 14-mile course around picturesque Snowshoe Mountain Resort, was home state rider Thad DuVall from Williamstown, W. Va. Duvall, a rider in the Pro Lites class (XC2) made history on Sunday by leading most of the event and finishing second overall. This marked the first time in GNCC's 29-year history an XC2 rider finished on the overall podium.

DuVall's strong run combined with a run of bad luck, left a bittersweet taste in Knight's mouth.

"I couldn't have gone and faster and I couldn't have gone any slower," said Knight, who overcame his motorcycle shutting off at the start, trouble in the middle of the race with a mud hole and the charging DuVall late in the event. "It was just a matter of getting to finish and stopping."

The next race for the Can-Am GNCC Series is scheduled for Sept. 27-28 at Unadilla Valley Raceway in New Berlin, N.Y.

SNOWSHOE, W. Va. (Sept. 14, 2008) -- Results of Saturday's Can-Am Grand National Cross Country Pro Motorcycle race at Snowshoe Mountain (Showing finishing position, rider, bike number, bike brand, and hometown):

1. David Knight, 1, KTM, Isle of Man, U.K.
2. Paul Whibley, 6, Suzuki, Pahiatua, New Zealand.
3. Nathan Kanney, 116, KTM, High Falls, N.Y,
4. Jesse Robinson, 10, Kawasaki, Connelly's Spring, N.C.
5. Barry Hawk, Jr., 2, Yamaha, Smithfield, Pa.
6. Josh Strang, 8, Suzuki, Salem, Ohio.
7. Jason Raines, 100, Yamaha, Belfair, Wash.
8. Louwrens Mahoney, 401, KTM, Tavares, Fla.
9, Jim Jarrett, 4, Suzuki, Salem, Ohio.
10. Glenn Kearney, 7, Husqvarna, Antioch, Calif.
11. Paul Petrin, 342, KTM, Calgary, Alberta.
12. Joshua McLevy, 711, Yamaha, Fairfield, Conn.

Notebook:

WHIBLEY CELEBRATES...Paul Whibley had more to celebrate this weekend than just his fourth GNCC podium. The New Zealander was happy to see that his nation's rugby team, the New Zealand All Blacks, beat out its rival Australia to win the Tri-Nation's Cup, one of professional rugby's highest honors. In fact, several Whibley fans were seen wearing All Black's clothing to celebrate the victory.

HOME FIELD ADVANTAGE...It was obvious that Thad DuVall was a fan favorite here. During a special podium celebration to commemorate the Williamstown, W. Va. resident's history-making overall runner-up finish the crowd erupted in applause. Many in the crowd were also seen wearing "Bad Thad" T-Shirts.

SUN AND MOUNTAINS...Sunday's weather was a complete turnaround from Saturday. Sunny skies and temperatures in the mid 60s made for a postcard event with the Alleghany Mountains as the perfect backdrop for motorcycle racing.

UNIQUE VENUE...This weekend's race featured a completely different venue from many on the GNCC National Tour. The Snowshoe GNCC is run in and around Snowshoe Village, a full-service winter/summer resort nestled in the mountains of West Virginia. The podium was set up in the middle of the resort with tourists and fans, alike, taking in the post-race ceremonies.

"This is what it's all about," said Event Director Tim Cotter pointing out the vista of mountains just off the start line. "The Snowshoe staff have been very helpful and open to our needs in putting on this event. To have GNCC race at a resort of this caliber is truly amazing."

WILD LIFE...Many different types of local wildlife were spotted by riders and track crew this weekend, including black bear and deer.

RACING 'EVENT'...This Snowshoe GNCC was more than just a race weekend as many different activities were help adjacent to the race track. A Friday golf tournament to benefit RiderDown Foundation kicked off the weekend, while craft events for children, a climbing wall, bungee jumping and much more were held during the races.

About GNCC Racing:
The Can-Am Grand National Cross Country series is America's premier off-road racing series. The 13-round championship series is produced exclusively by Racer Productions and has run since 1973. Cross country racing is one of the most physically demanding sports in the world. The nearly three-hour long GNCC races lead as many as 1,800 riders through tracks ranging from eight to twelve miles in length. With varied terrain including hills, woods, mud, dirt, rocks and motocross sections, GNCC events are tests of both survival and speed. GNCC Racing will air weekly television shows on the Versus network starting August 2. GNCC featured sponsors include Can-Am, Parts Unlimited, Moose Racing, Maxxis, Pirelli, Wiseco, Acerbis, Elka, Geico, Klotz, FMF, ITP and Weekend Warrior, and riders compete for over $3 million in series prizes and contingency money. Associate sponsors include Alpinestars, Cometic, HiPer Technology, Laegers, Moose Utility Division, The National Guard, Powersport Grafix, REM, Scott, Thor, Tire Balls, Twin Air, Ogio, Rekluse, and MotoTees. For more information, please log on to www.gnccracing.com.