Coppins Concludes 2008 MX GP Season in Italy
September 15, 2008 10:42am
The fifteenth and final round of the FIM Motocross World championship has come to an epic end at the hillside circuit of Faenza in Italy. Yamaha Monster racer, Josh Coppins, finished a tough and testing season with 5th in the overall in the MX1 standings.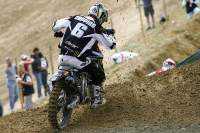 Overnight rain threatened to make the clay based track a quagmire but riders were welcomed with partially blue skies on Sunday morning in time to dry the most of the moisture and make for perfect racing conditions. Coppins grabbed what was probably his best start of the season in moto 1 but seemed to struggle with the handling of his machine and the Kiwi hit the ground twice. He managed to put in a last minute charge to pass Steve Ramon for 10th spot but was disappointed with his result.
Once again Coppins was placed well in the start and tried to hang on to first moto winner Maxi Nagl. A revived Ramon, found a way past Coppins and went after Nagl with the New Zealander having to defend his 3rd position. The number 6 Yamaha, never faltered and managed to keep a charging Jonathan Barragan at bay to claim a podium finish.
"I had probably my best starts of the season today so I was pumped with the work that Yamaha had done in the week to give us a little bit more of an advantage. I struggled with my front suspension this weekend and couldn't get any traction but we finally found a comfortable setting in the last race. I was happy to finish on the podium in the final moto after a really tough season. I also want to give it up to my Yamaha Monster team-mate, David Philippaerts. He rode a great season and proved to be the best. I'm happy for Yamaha and the team after last year's disappointment and want to thank them as well as all my sponsors, THOR, PARTS UNLIMITED, AIROH, MONSTER, ALPINESTARS, SCOTT, HYUNDAI, KRM Motorhomes, for all their support. We had a solid effort this year and I look forward to working hard for next season and challenging for the title." commented Coppins.
With the 2008 MX GP season now wrapped up, Coppins will spear-head Team New Zealand in two weeks time at the Motocross of Nations to be held in Donington Park in the UK.
w
ww.joshcoppins.com
Image: CDS
Race results:

MX1 Race 1

1 Nagl, Maximilian GER KTM
2 de Dycker, Ken BEL Suzuki
3 Philippaerts, David ITA Yamaha
4 Barragan, Jonathan ESP KTM
5 Mackenzie, Billy GBR Honda
6 de Reuver, Marc NED Honda
7 Bill, Julien SUI Honda
8 Desalle, Clement BEL Suzuki
9 Schiffer, Marcus GER KTM
10 Coppins, Joshua NZL Yamaha
11 Ramon, Steve BEL Suzuki
12 Church, Tom GBR Kawasaki
13 Michek, Martin CZE Honda
14 Priem, Manuel BEL Kawasaki
15 Correira, Luis POR Suzuki
MX1 Race 2

1 Nagl, Maximilian GER
2 Ramon, Steve BEL
3 Coppins, Joshua NZL
4 Barragan, Jonathan ESP
5 de Dycker, Ken BEL
6 Leok, Tanel EST
7 Desalle, Clement BEL
8 Campano, Carlos ESP
9 Philippaerts, David ITA
10 Mackenzie, Billy GBR
11 Bill, Julien SUI
12 Priem, Manuel BEL
13 Salvini, Alex ITA
14 Church, Tom GBR
15 Renet, Pierre A. FRA
MX1 World championship final standings:

1 Philippaerts, D. ITA 509
2 Ramon, Steve BEL 495
3 de Dycker, Ken BEL 490
4 Barragan, J. ESP 455
5 Coppins, J. NZL 446
6 Nagl, M. GER 444
7 Pourcel, S. FRA 392
8 Leok, Tanel EST 352
9 Mackenzie, B. GBR 320
10 de Reuver, M. NED 292
11 Desalle, C. BEL 290
12 Priem, Manuel BEL 261
13 Bill, J. SUI 183
14 Leok, Aigar EST 164
15 Nemeth, Kornel HUN 159