Kyle Loza Set to Unveil New Trick at Mexico X Games
Monster Energy's perennial Gold medalist, the first rookie to take the Gold at X Games and the first to win Gold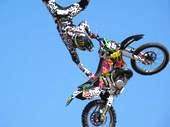 back to back are all titles that signify Kyle Loza's impact on the sport of FMX. However in 20 years from now, when it's all said and done, the thing that will be remembered most is the Hostile Takeover that left the FMX community scratching their head and playing catch up. The lasting impressions left by a rider that breaks the boundaries of FMX and goes where none have gone before will be his legacy. The sport that needs to advance faster than imaginable may have meet its match. The new tricks being released in the near future are bigger and more technical than ever imagined and Kyle Loza is leading the charge. It is fair to say that for the first time, the Video Games have to play catch up with reality. Mexico X Games is only a few weeks away and this looks to be one heated competition that will put the best in the world in a battle for all the Peso's. Kyle, whose grandfather is full blooded and from the same region in Mexico, takes these games very seriously and has planned a new trick to release. I can't tell you too much but look closely here is a sneak peak.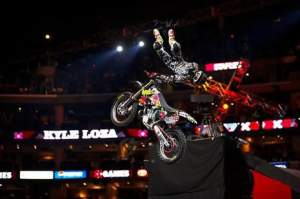 Check out
www.MonsterEnergy.com
for the full report following Mexico X Games.