Welcome to the
Shift Number Cruncher
. We have a good one for you this week! With the 32nd Annual
Southwick
Outdoor National upon us we took a look around the racing world and tried to see what related to the number thirty two. And, man, it is down right spooky how numbers seem to follow a pattern. It didn't take long for me to raise both eye brows when we discovered how many things pertain to #32 in the world of racing right now. And outside of racing, The NFL is getting ready to roll. How does #32 pertain to the NFL? Well around these parts folks make a pretty big deal out of the "immaculate reception." This number really made us appreciate how fun the Shift Number Cruncher is to put together week. Enjoy.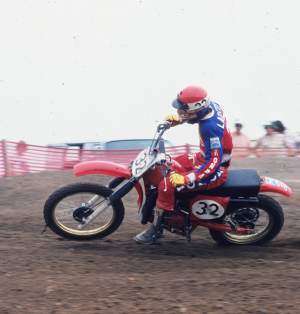 "Bad" Brad Lackey
won 19 professional races in his career, but only one on a Honda, at the 1977 Sonoma, California Trans-AMA event.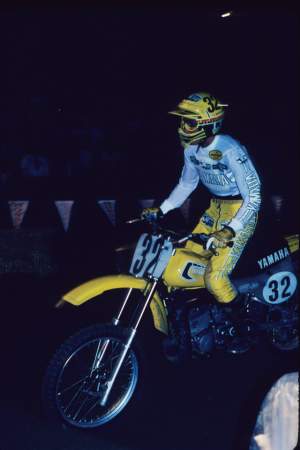 Check out this badass picture of
Scott Burnworth
racing at the 1981 Superbowl of Motocross. Man, that silver and yellow YZ250 is cool. Even for 1981.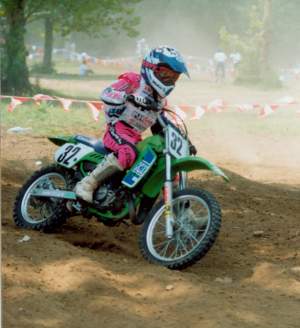 I raced with #32 at the 1989 AMA National Championship Finals at Loretta Lynn Ranch. Won the 65cc championship and placed 8th overall in the 85cc (7-11) class. Would have gotten a top-five, but Zac Bradshaw took me out in moto two. Note the smashed radiator.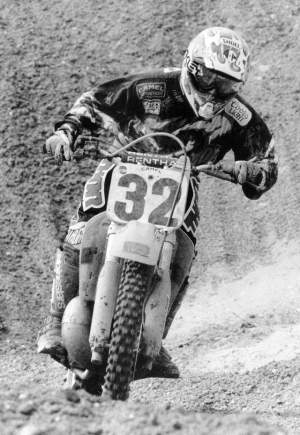 When you sit back and name some guys that rode for a lot of teams, "The
Bud Man
" should definitely be in the mix. Let's see here: factory Suzuki, Peak Antifreeze/Pro Circuit, privateer Honda, privateer Kawasaki, Great Western Bank, Tuf Racing Honda, Primal Impulse Suzuki….what are we missing? Anyways, Buddy was #32 in 1993.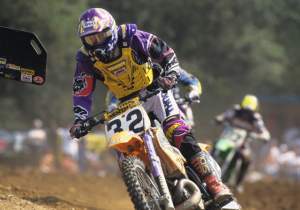 The late great
Kevin Crine
was AMA Pro #32 in 1996. His father, John Crine was on hand at
Budds Creek
this year to present the Southern Maryland Dirt Riders Club award to the top privateer. They dedicated the award to Kevin, who was the epitome of a privateer.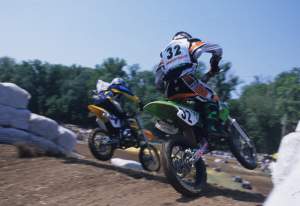 There are a couple of things that are interesting about this picture. For starters, that is
James Stewart
wearing #32 in 2000 on his way to the win in the 85 modified (14-15) class. Last weekend he won his first outdoor championship in the premiere class. Any takers on who #34 is? Free Shift t-shirt to the first three correct answers.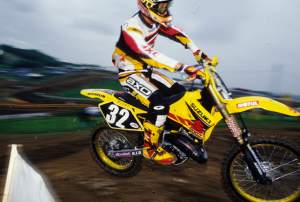 Here we have France's
Rodrig Thain
running the "three-two" in 2001. This was right in the middle of the huge French Invasion that struck American Motocross around the new millennium. I think this was the year Ping threw Rodrig down Mt. St. Helen's too…anyways, Thain is back at it in the GP's.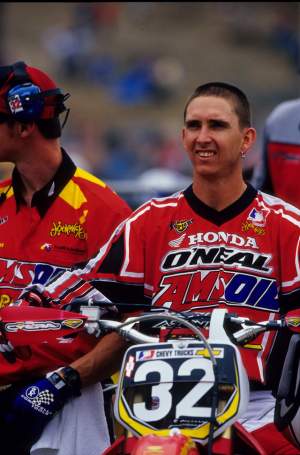 With the 32nd annual outdoor national at Motocross 338 coming up this weekend I thought it was cool to remember when
Michael Byrne
won the opening moto of the 125 class (on a CR125) back in 2002.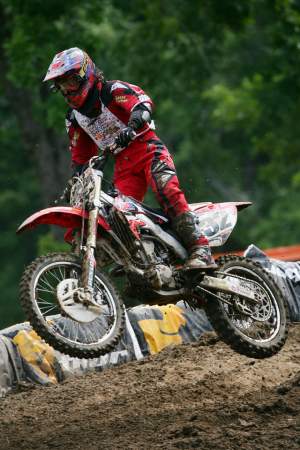 The big buzz at
Millville
last weekend surrounded Texan
Blake Wharton
. The new kid on the block threw down impressive lap times and produced two strong motos for fifth overall. The number he wore the week before? #32 baby.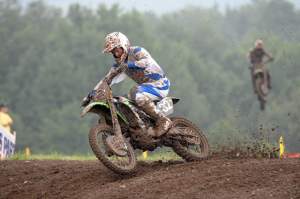 The "
Kansas Komet
" showed some muscle in "SX08" but his only shinning moment in the outdoors came at
Unadilla
with he pulled the second moto holeshot. How does Hahn's luck work? The moto was red-flagged due to LIGHTNING.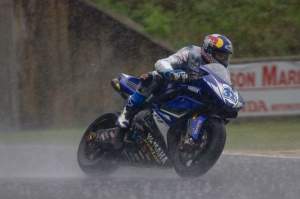 These guys are gnarly.
Eric Bostrom
raced with #32 last weekend at Virginia International Raceway (AMA Round 9), where he scored a solid pair of fourths behind the trio of dominant factory Rockstar/Makita Suzukis. Also, the apparel business he runs with brother Ben (www.bozbros.com) is going really well.
There is a plethora of other #32s out there so I'm going to turn it over to you guys. Please send your e-mails to
andy@racerxill.com
.