Two things to start off with: My condolences to ISDE/WORCS star Kurt Caselli, who lost his father Rich to cancer on Wednesday. Rich Caselli was a motorcycle enthusiast through and through, and he was a tireless proponent of Team USA's effort in the annual International Six Days Enduro. Kurt has vowed to see his father's work through, writing in an open letter on the WORCS website, "Although he won't be able to be by my side at this year's ISDE, myself and my teammates will hold our country's flag proudly, and I hope my father's name will be held in the hearts that he has touched." Godspeed, Mr. Caselli.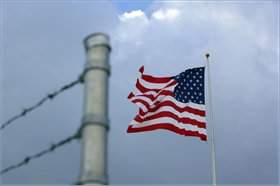 Happy 4th of July!
photo: Simon Cudby
Next, happy birthday to the United States of America. It's July Fourth, and that's a big day for all of us. It also means that this Sunday, it's Red Buuuuud!!! Watch the
Racer X Pre-Show on Motocross.com, presented by Toyota Trucks
, on Saturday afternoon and then listen to the live webcast on Sunday afternoon, which begins at 12:30 p.m. EST and will feature
Jason Weigandt
,
Steve Matthes
,
Jeff Stanton
,
Andy Bowyer
and more on
www.motocross.com
. (And trust me, you're going to want to see the pre-show with all of the interviews
Erin Normoyle
did with rivals
Jason Lawrence
and
Ryan Dungey
, not to mention
Josh Grant
; these guys are getting pretty bold, both on and off the track.)
Just got back from a nice summer vacation in New England, where I watched whales and seals with my son Vance and took my daughter Sloane for her first scooter ride. Like thousands of others, I watched the Thunder Valley night race live via Motocross.com and the Racer X Motocross Show, then I flipped the TV on to Speed for the second 450 moto. In between, I listened to Jason Weigandt and Kevin Kelly call what sounded like the best moto of the year so far, the second Lites moto battle between points leader Ryan Villopoto and off-the-bench-and-immediately-fast Josh Grant. When this one comes on Speed, I will be right in front of my TV.
David Clabaugh
deserves a round of applause for the idea and the effort he put into lighting up the side of a mountain in Colorado. It was a historic event, being the first-ever nighttime national, and it shows his commitment to the AMA Toyota Motocross Series and the sport in general. The race was spectacular, to say the least.
That said, the general consensus is that they needed more lights, and Clabaugh realizes this and will bring in more. He also hopes to make some tweaks to the scheduling of the motos, because as everyone knows, the hardest time to drive a car comes right when the sun is going down and the street lights and headlights are just turning on. Maybe they can hold the first two motos when it's still light out, take an hour-long intermission while the sun goes down, have some freestyle or something, then come back when it's pitch dark with the second set of motos.
And speaking of trying different things, here's one for you: For the last couple of years a few team managers have raised the idea of trying a Saturday national. Not a night national, like Thunder Valley, but rather a Saturday afternoon one. Yamaha's Jim Perry and Monster Energy/Pro Circuit Kawasaki's Mitch Payton have been the strongest proponents of the concept, reminding me time and again that it's more important for them to be at work on Monday than it is to be there on Friday. Also, as we get closer to fall, Sundays in America are for football, and that's a tough game to challenge in a city like Pittsburgh.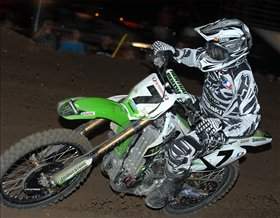 James Stewart was dominant once again in Colorado
photo: Carl Stone
So we're moving
Steel City
to Saturday, August 30, 2008. That's right: The last round of the 2008 AMA Toyota Motocross Championship will be a Saturday afternoon race, followed by a big amateur day race on Sunday. This move also gives the riders and team personnel a chance to get home on Sunday and enjoy Labor Day, September 1, with their families and friends, rather than in an airplane. Will it work out okay? We'll see. But back in 1993
Glen Helen
tried a one-moto, Saturday afternoon national and it seemed to go pretty well. (And no, we're not going to a one-moto format.)
Honda Red Bull Racing's
Ivan Tedesco
will be out for a couple of weeks after twisting his ankle again at
Thunder Valley
. Tedesco is wearing one of those boots on his ankle, and his doctor told him the problematic ankle wasn't going to get any better until he took some time off. Here's hoping Tedesci takes his time, gets himself healed, and then gets back up to speed in a hurry.
The hot rumor over on VitalMX.com is that Rockstar/Makita Suzuki has an offer on the table for Chad Reed after all. Apparently, the 2008 AMA Supercross Champion has been offered an incentive-heavy deal that will give him the chance to work with Roger DeCoster and the same crew that supported Ricky Carmichael through his last four championships in '05 and '06. So will CR be the new RC for the yellow team? Stay tuned.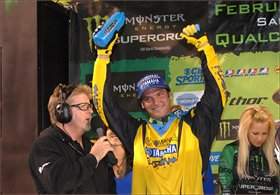 Will Chad be riding Suzuki soon?
photo: Carl Stone
Ricky Carmichael
is again signed up for the X Games in Step-Up, and he will fly to Los Angeles the first weekend of August right after his annual visit to Loretta Lynn's.
And speaking of Loretta Lynn's, here's a public service announcement to all of the riders and parents, coaches and track-builders: Marc Peters of Petersbuilt MX tracks is coming to the ranch in a couple of weeks to work his magic. The general layout will be the same, and the track will again run counter-clockwise like it normally does, but the jump configurations will be revamped—even a great lady like Loretta Lynn's needs a little nip-and-tuck now and then. (And don't worry, Colleen, he's keeping the Ten Commandments in!)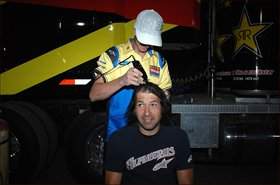 Ed lost a bet!
photo: Carl Stone
Here a funny story from Lakewood:
Michael Byrne
's bus driver
Ed Chavez
had a deal with the Rockstar/Makita Suzuki rider. If Byrne cracked the top five at one of the races, he would get his head shaved by Mike after the race! Well, Burner placed fifth on Saturday night, so out came the buzzer after the race!
Our man
Carl Stone
was there and was asked to shoot the event. Apparently, Chavez had not cut his hair in over three years! No matter, it all came off in just a few strokes of the electric clippers. "Byrne did a very thorough job," says CStone, "He did not miss a spot!"
Back to Carmichael: The first thing he said when we spoke was, "What's going on with Team USA?" RC's motocross racing career ended last September at the Motocross of Nations, a race that the GOAT never took lightly. That's a large part of the reason that Team USA is on a three-year winning streak, the second-longest in the team's history. This September, the race goes off in England, and once again, MX Sports and Loretta Lynn's will step up to help the riders and the crew get over and back. We are already taking with Team USA manager Roger DeCoster, Monster Energy/Pro Circuit Kawasaki's Mitch Payton, Kawasaki's Mike Fisher, Team USA assistant manager Scott Taylor, the AMA's Ryan Holliday, Live Nation's Todd Jendro, Monster Energy's Scott Sepkovic and more. We have also started coming up with some plans for fund-raising ideas, sponsorship strategies and other related things.
So who should be on the team? There is an obvious trio at the front of the pack right now, but as Holliday said, that needs to be Roger DeCoster's decision. In the meantime, stay tuned for ways to help out Team USA, as we will be making up some cool T-shirts and hats to support the guys as they head to England.
Looks like we made a mistake with the RC Hard Charger Award this week. The concept is to give the guy who passes the most riders from the first lap on the award, and last Saturday night Hooters/Moto XXX Honda rider
Antonio Balbi
put in a terrific performance, rising from 35th on the first lap to 17th. The announcement was made, but then someone pointed out what we overlooked: Privateer
Bobby Fitch
was 17th on the first lap, only to crash and drop back to 39th at the end of the second lap. From there Fitch put his head down and worked his way back up, climbing to 19th at the finish and earning two championship points. So while Balbi passed 18 riders on his way up through, Fitch passed twenty!
So we're giving them both the award: Co-RC Hard Chargers for Thunder Valley were Antonio Balbi and Bobby Fitch! Here's a list of Fitch's sponsors: Race Day Performance, Sun Honda, Pirelli, Bell, Fox Racing, Scott, RK Chairs, Woody's Wheelworks, CCG, Asterisk, Rider Down Fund, Renthal, CP Pistons, and FAF MX School.
Fitch and his new bride (and WMA racer) Alyssa are featured in Two Tribes in the brand new September issue of Racer X Illustrated, which features a bizarre Simon Cudby photo of Travis Pastrana flipping over the flying car of his Subaru Rally USA teammate Ken Block on the cover. Sign up right now for a Racer X Digital subscription and it will be on your desktop today!
You probably saw all of the strange happenings in the last few weeks with Yamaha of Troy's
Jason Lawrence
. Carmichael certainly has, and he wasn't happy about it when he went on DMXS Radio on Wednesday night. When asked about
J-Law
, the 15-time champ said, "I think it's horrible. I've said it once and I'll say it again: All his antics and what he does, he might of won a Lites deal, whatever. I mean good for him, but look it's finally coming around right now. And you can't be like that dude, and he gets exactly what he deserves."
When asked about how to stop J-Law's smack talk and taunting of rivals like Ryan Dungey, RC replied, "You just keep whipping his ass on the motocross track to keep his mouth shut. That's how you solve that problem right there, you know. It's all making full circle and you hear all these things like he is going to lose his ride and this and that. I think he deserves to lose his ride if you ask me. You know this is a professional sport and all these guys, the Villopoto's and Dungey's and all these other guys that are trying to put a good face on the sport. You get a guy like him that just ruins it."
When asked what he would do in Dungey's shoes, Carmichael said, "He won't talk smack to me because I'll just ruin the guy. You know what I mean? I wish he would, you know; I wish I was racing that guy, I really do. That is one guy that would just make me go out and put in more time than anybody else to put that guy into early retirement. Guys like that just feed me."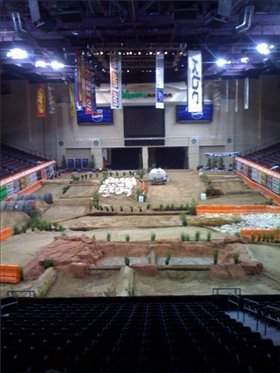 EnduroCross this weekend!
The first round of the 2008 AMA/EnduroCross Championship goes off tomorrow night in Las Vegas at the Orleans Arena. Joel Grover sent over a pic of
Eric Peronnard
's latest creation, and this looks like the coolest course yet! Tickets are available at
www.Endurocross.com
,
www.orleansarena.com
, or at the Orleans Box Office
Paul Carpenter
is still recovering from injuries suffered at
Glen Helen
when he was run into on the first lap of the second moto. The bone contusion has healed, but he's still suffering from a torn right calf muscle. Here's what a trooper Pauly is, according to his pal
Warren Johnson
: At
Thunder Valley
he could barely walk, he rode practice but couldn't put his foot down in right-hand corners, so he road-raced it with both feet on the pegs in the clockwise turns and would lift his damaged leg off the peg and land the jumps one-legged to lessen the impact! After qualifying 20th, he didn't feel he should race and sustain further injury, so he didn't line up. His goal is to return at
Budds Creek
if fully healthy and compete for a Top 5 position!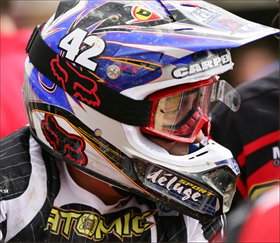 Pauly plans on being back for Budds Creek
photo: Simon Cudby
There's a bunch of good stuff over on Motocross.com right, including
Steve Matthes
' hilarious
Bottom Line show
. There's also an interview with brand new Yamaha factory rider
Sean Hamblin
, a back-on-track
Trey Canard
riding session, plus Oakley's "Rolling O Tour" feature. Check it out this weekend as you get ready for Red Buuuuuuud!
Everyone in American motocross was happy to hear that Sean Hamblin got picked up for a three-race deal (soon to be rest-of-season, we hope) by the Yamaha factory team. Hamblin, who returned from Europe this season, sat out SX and has been getting help from close friends like
Grant Langston
and
Jason Lawrence
, not to mention former pro-turned-business owner
Andy Stacy
of TUF Racing. Sean acquitted himself well in his Yamaha factory debut under the lights at
Thunder Valley
, then posted his thoughts on the race and the new ride on the VitalMX.com forum.
Here's what SH_105 had to say about the revolutionary night race: "Overall thoughts of the whole weekend I think it was great and can only get better and better. Many were a little skeptical with the lighting and I was one but I think this gave the fans a different perspective and allowed more to come and ejoy the races, not just the average Moto fan either, there was a good variety of spectators out watching the races."
Got this note from
Jamey Bertrand
about a
KW
sighting:
"Just letting you know, that Kevin W. was actually riding this past weekend at a track in Kentwood, LA (Britney Spears' hometown,) lol. It was a huge benefit race for a cancer victim who races in that area. We had a large group of riders attend this race on Sunday. It was over 450 riders. Kevin spent the entire Saturday making dozens of laps practicing. It was fun riding with him again. He brought his motorhome with his entire family to the event and spent the whole weekend hanging out. It was just like back in his younger days. Kevin would just hang out and joke with everyone and go out and ride with everybody. NO special practices times for him. He was still in great shape, lean and no fat. I doubt he makes any of the outdoor races this year. He has something going on for the supercross season and doesn't want to get hurt racing one or two outdoor races before the SX season starts.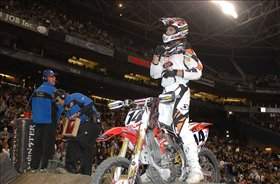 When will we see Kevin back?
photo: Carl Stone
"
At one time during Saturday's practice, he hopped on a 1978 vintage Maico dirt bike and rode about 10 laps, jumping every huge jump on the track. He is crazy! That bike looked like it was going to fall apart. He was on his way to the line to race in the 30 vet class Sunday with me, and the storms rolled in and it rained and lighting for about an hour. Track was to crazy muddy and the races were cancelled for the day. Most of the riders and family still had a blast getting a chance to see Kevin ride again on one of his favorite LA tracks. The track is called Wildwood MX. Very nice red clay, elevation changing track.
"
On the Grand Prix front, they are enjoying some fantastic parity over there—the kind of parity the NFL, long a bastion of even competition, could only dream of. Rinaldi Monster Yamaha rider Josh Coppins, the heavy pre-season favorite (not to mention a Racer X columnist), finally got his first win of the year in Germany. What's really interesting here is that Coppins is the seventh man in eight races so far to win a GP in the MX1 class. That's the polar opposite of what's going on with our AMA Toyota Motocross Championship, where James Stewart is now 10-for-10 in motos and 5-for-5 in overalls.


Tyla Rattray is coming off a win in Germany
photo: Ray Archer
In the MX2 class, Red Bull KTM rider
Tyla Rattray
got himself another win, as he continues to battle with young teammate
Tommy Searle
and Yamaha's defending champion
Tony Cairoli
for the title there.
Speaking of the MX2 class, it's been some 10 months since
Christophe Pourcel
had his terrible get-off in Ireland that resulted in a fractured pelvis, all kinds of health issues, and a lost chance at joining the Monster Energy/Pro Circuit Kawasaki team for 2008. But the word out of France is that the '06 MX2 world champ is finally getting back up to speed. According to his agent/advisor
Russell Stratton
, "He's doing really well, riding a lot and making a lot of progress. His sense of humor is back and he seems more and more like to old Christophe, only better." Here's hoping we see Pourcel back on a starting gate to start 2009, be it here or over there.
"Dynohut" sent this note to
Steve "Mr. Tim Horton's" Matthes
after he spotted mention in the Lakewood Observations about
J-Law
pulling out with a burning sensation in his lap from spilled fuel:
'
Yo Steve, I thought of you during one of my strolls thru the pits at Lakewood when I noticed from afar that Ferry's chain could have used a bit more slack and his lever setup was dropped a bit lower than he prefers. Oh well, "cheap labor" as they say. Anyway here's the scoop on J-Law, fuel on the nuts? Fuel on the nuts my ass! How about an old faithful geyser blast of race fuel (unleaded) in the goggles, the nose, the chest, the nuts and more! when he landed off of the sweet table top on the lower South end of the track (leading into the left hand downhill sweeper before the L.H. pit side U-turn, followed by the R.H. tree turn) his gas sap blew off and the fuel shot up two feet above his head in a mist. My buddy Darren who first got me into motocross in 1972 saw the same thing I did and snuck in a wicked kidney punch (no alcohol involved) and said dude did you see that! he's @#%!ing soaked. J-Law made it around the R.H. tree turn riding with one hand when he found his gas cap and screwed it back on and then continued for a lap and a half farther than most would have before pulling in."
500Guy TV, one of our favorite websters, had an interesting night at
Thunder Valley
: He ended up pushing
Chris Blose
's bike back to the pits after his engine detonated on the last lap, costing the kid a top-ten finish. Shortly thereafter,
Jay Perkins
pulled out his video camera for
this interview
.
Okay, let me turn it over to "2007 FIM Journalist f the Year" (as he always reminds us)
Steve Cox
here:
The first-ever nighttime AMA National wasn't a massive failure like many people assumed it would be. Was it a little too dark? The consensus was yes, it was. However, the promoter David Clabaugh showed his commitment by working with the teams and riders to do as much as possible to address the lighting issues after Friday practice. Did that fix the problem? Not quite, but it was better, and the consensus after the race was that everything at the first-ever nighttime national would've been perfect if there had just been more lights.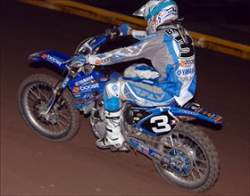 Mike Brown returned to AMA motocross in Colorado
photo: Carl Stone
To adjust for the darkness, the track was groomed to be as smooth as possible so that riders would be less likely to be caught off-guard by a hole that was deeper than they thought or anything like that. The end result was some pretty good racing, where
Mike Alessi
was able to keep
James Stewart
honest for a bit longer than normal, and
Ryan Villopoto
had to work his butt off to pass the just-returned
Josh Grant
for the lead in moto two. If the race would've been during the day, and rough, these scenarios probably wouldn't have played out quite the same.
Now, I know Stewart and Villopoto won't like this idea, but maybe the tracks should all be a little smoother so that it's harder to make up for a bad start or something like that. It's just an idea. Ultimately, the same guys will probably win, but maybe just not by as much.
If I had my way, we would take the top qualifiers and draw a number out of a hat and do it like The Winston, the old all-star NASCAR race. For the last segment in The Winston, they would draw a number, and that was the number that was going to be inverted for the final leg. So, if it was seven, then first would be seventh and seventh would be first, but you had no idea what the number was going to be. It would be cool if we did that for timed qualifying. Pull a number from 1-20 and that is the number that would be inverted. With one, there would be no invert, and then with 20, it would invert the whole first half of the field. Then, have them pick gates based on that. It could add some serious drama, and it would be a lot of fun – at least for me.
Sean Hamblin made his factory Yamaha debut in Colorado and looked pretty impressive. He's still running Tuf Racing logos on his clothes, as they did help him grab this factory opportunity, and he went out and beat his teammate
Josh Hill
overall. Even in the second moto, after a bad start, Hamblin was chasing Hill down late in the moto for sixth only to run out of time (and goggles). If he keeps riding like that, I don't see any reason why Yamaha would let him go after his three-race deal is completed.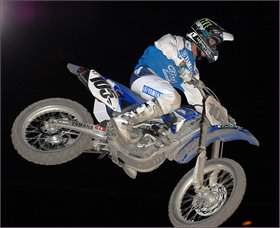 Hamblin on his factory YZ450F
photo: Carl Stone
I caught an email from a friend with a link to a thread on the former Motodrive boards (over at VitalMX.com now) claiming that teams were after a lot of top U.S. talent to go race GPs, and he included Hamblin (who just came from there) in the list of riders talking to teams about the move. Hamblin himself responded, saying that no, in fact, he is not talking to any GP teams about going back to Europe. This is significant because if it was anybody but Hamblin himself, it could've been easily disregarded as hearsay, but it wasn't: It was Hammy! This just goes to show that maybe the message boards are good for something after all. Then again, it started on a message board, so maybe not….
And no,
Andrew Short
is not interested in going to Europe either. He wants to stay on the Honda Red Bull Racing team, but he knows he needs to get closer to the front—and fast.
However, there usually are a few riders playing musical chairs coming and going from Europe to the USA and vice versa. The latest example is
Steve Boniface
and
Mike Brown
. Rumors have it that
Tyla Rattray
is being courted by at least one top U.S. team (a red one sponsored by a lizard) to come over in 2009, with the only real question being, "Can he race supercross?" Everyone knows he can ride outdoors. The other question is, "Can the AMA series handle yet another fast redhead?"
Somehow,
Jake Weimer
found himself tied for third in the points standings after Colorado even though he was eighth overall. He has never done well in Colorado, but with the misfortune of
Austin Stroupe
and
Ryan Dungey
, he's right in the thick of it – for second in the championship, anyway. But his cause wasn't helped any when he was given last gate pick in the first moto.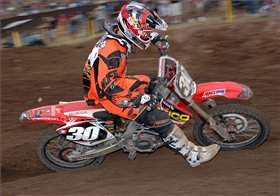 Jake Weimer sits tied for third in points
photo: Carl Stone
"I think they screwed me because the first moto, there was an issue with the bike at the last minute when I sat on it to go up to the line," Weimer said. "So I ran up to get my spot, and they said I couldn't get my spot without my bike, and I don't believe that's what the rules say. I don't think that's right, but I didn't know that until someone said that. Some people were looking in the rulebook, and I don't think they were allowed to do that, so I think I kind of got screwed in the first moto because I ended up with the last gate pick in the first moto. So that didn't help my cause, either. If you're going to get last gate pick and bad starts, the least you could do is be the fastest guy out there, and that definitely wasn't the case for me…"
I looked into the rulebook and it's really a matter of timing, as it has very specific time guidelines for the bike and rider to be at the gate, and it's impossible to tell after the fact what the time constraints were for Weimer. However, there was also an added schedule bulletin that was handed out to all of the teams/riders by the AMA on Saturday, so it's possible that Weimer met the rulebook guideline and not the addendum. I asked Steve Matthes about it (I don't know if you heard, but he used to wrench for
Timmy Ferry
) and he said there were lots of times that he sent his rider up to the start line without a bike while he was finishing things up back when he was wrenching. Maybe things have changed since then.
Rumor of the week: L&M Racing to be on Hondas next year. Hmmm…
Everything you wanted to know about Lakewood but were afraid to ask, click
here
.
Ever wonder what
Jake Weimer
's like? Listen
here
.
That's it from Cox.
David Pingree
, who is headed out to the first round of the AMA Supermoto series this weekend, sent this over:
I feel like I've been wandering around aimlessly for the past week. Just over a week ago my laptop initiated a meltdown that made the Three Mile Island incident of 1979 seem as insignificant as slightly over-cooking a Pop Tart. I don't have another computer and I'm not smart enough to have a back-up hard drive, so I am starting over. Quick-like, the gang in Morgantown shipped me out a computer that had been passed around the
Racer X
office like a new girl at a Hell's Angels rally. It was dirty, scratched, and smelled like dirty pennies and burnt hair. It was completely different from my previous laptop. But after being "off the grid" for seven days I am happy to just be back in the game. Now, on to business…
The opening round of the XTRM/AMA Supermoto championship kicks off this weekend in Seattle, Washington. It has been a tumultuous off-season for the fledgling sport and as the XTRM group takes over the reigns it will be interesting to see what direction Supermoto goes in.
Mark Burkhart
is the current national champion and if his performance at the Navy Moto X World Championships was any indication, he is ready to defend his title. While his nemesis,
Jeff Ward
, will only compete in select events this summer, there are a few riders looking to knock Burkhart off the top step of the podium, including yours truly. Also capable are former Lites champion
Cassidy Anderson
,
Troy Herfoss
,
Chris Fillmore
and
Ben Carlson
. This opening round is also serving as a qualifying event for the X Games in August. Those riders that are not already seeded can qualify to compete at the Home Depot Center for X Games medals. I know there is an amazing following of motocross fans in the Seattle area and I hope all of you will make it a point to come out and watch the racing this Saturday night. Supermoto is incredible to watch in person and you will leave the race a fan of the sport. For details and information check out
www.evergreenspeedway.com
or
www.amasupermoto.com
.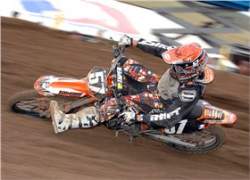 Will Ryan Sipes have a linkage next year? 2010?
photo: Carl Stone
I heard from a very reliable source within the industry that KTM has been working on a bike with a linkage. The link-less system that they have been preaching about for years works incredibly well in an off-road setting and even on a typical motocross track. Supercross, however, is a whole different animal and it seems like the link is just a big advantage, particularly in whoops and on-off sections. The rumor is that they will continue development on the linkage system through 2009 and introduce it on some or all of their 2010 models.
Last week Suzuki hosted a celebrity ride-day at Starwest Motocross Park. Media were invited but not given any information about whom the talent was. When we got there I scanned the list and realized that I didn't recognize one name. Someone from Suzuki explained that one of them is from that TV show
Heroes
and another one is from another show and on and on until we hit the bottom of the list. I don't watch much television so the fact that I don't recognize them doesn't mean much. And then I spotted a familiar face. Burning laps around the pit area and kids track was none other than
Shooter McGavin
. You know, the arrogant golfer from
Happy Gilmore
. It is one of my all-time favorite movies and all I could think about was running up to Shooter at the track and spouting off every line he had in that film. I didn't do that because he is actually a great actor with some serious cred; he has films such as
Requiem for a Dream
,
Thelma and Louise
and about ninety-some others on his resume. Anyway, I sat down with him for an interview and found out that he rides all the time near his home in Big Bear, CA. He was a super-cool guy and you can read the interview in its entirety in an upcoming issue. I did ask him if I could take him out for Sizzler afterwards… my treat. Not sure if he thought it was as funny as I did.
Here's Jason Weigandt:
Did altitude really effect/affect things in Colorado? Seems like a lot of people were on edge over the weekend, and it wasn't just because of the lights. The trouble started Friday afternoon, when the sun was still shining. In the staging area of Lites practice, I was interviewing
Ryan Dungey
for our
Racer X Webcast on Motocross.com
, and
Jason Lawrence
walked over to listen in. Ryan wasn't saying anything about Jason this time, but I did give Jason a chance to respond to what Ryan had said in the
High Point
press conference two weeks earlier. Not surprisingly, Jason wasn't shy about firing back (in fact, this was the easiest
J-Law
interview I've ever done). Here's what Lawrence said about Dungey: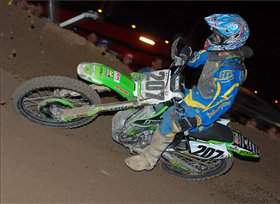 Sean Collier put in another impressive ride in Colorado
photo: Carl Stone
"I don't know, I'm not going to really talk too much right now, but I heard what he said, and that's just something he's going to have to eat, those words. Saying I'm an embarrassment to the sport and getting drunk the night before? I don't know, if I'm an embarrassment to the sport, than what is he? Because I just won a championship that he lost pretty dramatically. Speed-wise he hasn't had it for me outdoors; we've had motos where we were together and I just straight up beat him every time. I think that should do the talking. He got lucky last week because I had a bike problem and I wasn't in the press conference, so he got to pop off his mouth a little too much. He'll eat his words real soon. I remember him saying he was going to blow me out as soon as he can. I'm not going to do something like that because of my situation, but when he tries to do that I'm putting him down. For sure, when he's behind me he's going to be going for it, but I'm just going to keep on putting time on him and let him cry, cry, cry."
Not long after this,
Josh Grant
and
Ryan Villopoto
started getting into it on the track, stuffing and brake checking each other around the track, and pushing the pace super hard. Grant, in his first race back from a major head injury at the Vegas SX, ended up with the fastest Lites lap time on Friday, and then he and Villo had words after practice. These two aren't as much for talking, though. In the post-race press conference on Saturday, both Ryan and Josh were asked what happened in practice. Both said "Nothing." Impressive.
At the end of the first Lites moto, Dungey had words with his teammate
Nico Izzi
, who ran some defense on the last lap to prevent Dungey from passing him.
Then we had
Mechanics Gone Wild
break out during the motos. Riders were getting too close to the mechanics' area during the first Lites moto, so the AMA threw a hay bale down to block them.
Kyle Bentley
,
Brett Metcalfe
's mechanic, picked up the hay bale like it was a piece of paper and tossed it aside. The AMA's
Jay Mitrowitz
wasn't happy about that, so he gave Bentley the "You're outta here!" and ejected him from mechanics' area. Wow. That's the first mechanic ejection I've ever seen, and maybe the first ever. Scott USA's
Bevo Forti
thinks he's been ejected back in his mechanic days, but he just doesn't remember.
In the same moto, we also saw a random pit board come flying out of the mechanic's area, and Matthes also reported that
Erin Bates
tried to get an interview with
J-Law
's mechanic but got denied (probably the first time in her life).
The 450 guys are a lot tamer. Poor
Tim Ferry
was eating roost all day (and night) but I didn't see him swing at anyone. The Colorado track was worked over heavily so it would stay smooth (avoiding dark holes at night), and that made passing difficult. Ferry was mired at mid pack for most of moto one, and then spent 30+ two trying to figure out a way around
Andrew Short
in moto 2, to no avail. The smooth track deal worked out like it usually does. You get good racing when the faster guys get bad starts, but it also gets frustrating if you're one of those fast guys.
We tried a new feature on our webcast, live call-ins from the fans during intermission. We'll try to do it again this weekend, so make sure you tune in for the live audio, which starts with our pre race show at 12:30 p.m. central time.
From
Andy Bowyer
:
Rob Buydos
called the office this week and nearly blew the receiver out of my phone because he's so pumped for the Legend's Lap this weekend at
RedBud
. Rocket Rob went on to tell us that "Iron"
Mike LaRocco
will be in the house making a lap on a KX500;
Todd DeHoop
will be returning on his sano, championship-winning RM125; and the cinderella privateer story of all-time himself,
Tom Carson
, will be making a cameo. Other riders include the legendary
Larry Whitmer
, local legend
Mike Hartwig
,
Broc Glover
,
Mike Fisher
and
Andy Stacey
. Also making a special appearance will be four-time Loretta Lynn's champion,
Lisa Akin-Wagner
, on her Team Dynamic's YZ100.
Rob also mentioned there vintage bike show Saturday afternoon, then the Grand Daddy of all Pit Bike Nationals Saturday night.
From the
Racer X
inbox: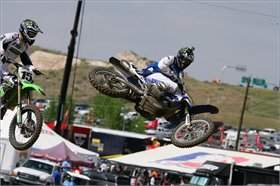 photo: Simon Cudby
We got this note from former Kawasaki factory rider-turned-race promoter
Larry Wosick
, who runs the highly-acclaimed Honey Lake MX Park out in California: "Last week the Board of Supervisors voted 5-0 in my favor to acknowledge that we have proven compliance with our county's noise element. The month prior we won a court decision against our neighbors that tried to close us on contempt of our court order saying we have been exceeding the county's noise element. The court ruled in our fav