Racer X Race Report: British 2 Stroke Championships
Round 4, Pontrilas
The DEP crew went to Pontrilas for round four of the British 2 Stroke Championships on Sunday. Johnathan Pettitt continued his absolute dominance of the 125 class, winning all three motos with ease, with Jack Brunnell comfortably the second-fastest rider out there. Dave Willett's title defense took another battering around the fast Herefordshire track, with the Ironman having to come from behind in all three races - he just seems unable to get the 125 out of the gate, as he has no problems starting on the 250.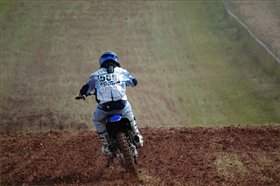 Comfortably second fastest on the day, Jack Brunnell spent large parts of sunday circulating on his own.
That was amply demonstrated in moto one of the 250 A group - Matt Ridgeway led from the start, with Mark Eastwood in close attendance and David Willett just a place or two back. Eastwood was happy to let Ridgeway make the early running, as they started to motor away from the pack, but Ironman Willett was very quickly into third and began to close them down. Eastwood, surely aware that Willett was on his way, made a move for the lead but Ridgeway was enjoying being up front and passed him straight back. Willett took the opportunity to go past Eastwood, then immediately put a move on Ridgeway, as Eastwood followed him through and they began to edge away.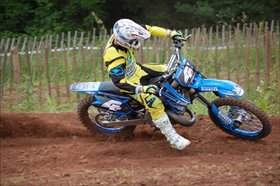 Jim Davies was riding quick, but the super-fast track made coming through the pack a tough task.
Eastwood was stalking Willett, close but not close enough to make a telling move, when Willet's Yamaha was baulked by a lapper going through the whoops - Easto needed no second invitation and was immediately into the lead and going flat-out in an effort to drop the Ironman. But Willett was in no mood to let it lie, and he stuck right with Eastwood as they flew around. With barely a lap to go, Eastwood found himself baulked by a lapper, and Willett was just as quickly through into a lead he held to the flag.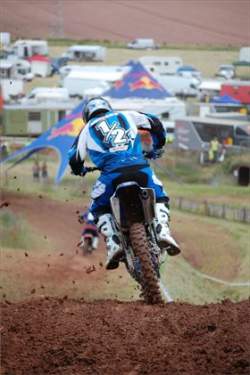 David Willett's 125 title defence is definitely not going to plan, but the Ironman is in great form on the 250.
It was a scintillating battle. However, the one thing it did was inspire Eastwood - the reigning champion just blew everyone away in moto two, pulling away from Willett and cantering into a 40-second lead by the flag, as Willett had an incident that saw him cross the line just four seconds ahead of Andre David in third, with Ross Hill and Alfie Smith fourth and fifth - Smith making a wildcard appearance at the age of just 15, and making a great impression on the borrowed Still-MX YZ250.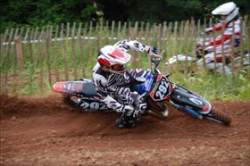 250 regular Ash Harland dropped down to the 125 class for Pontrilas and came away with a top ten Expert class finish.
It was all set for a thrilling showdown in moto three, with Willett and Eastwood tied on a race apiece, but the red-flag incident at the end of the 125 A race saw one unfortunate rider being taken to hospital - with medical cover lower than it needed to be, the final race of the day was canceled.