Number Cruncher: Legends Lap at High Point
Welcome to the Shift Number Cruncher. Last Sunday at High Point was one of those days that reminds me why I'm so passionate about motocross. The most gorgeous day of the year met a huge crowd, while a great track met great racing. It was Father's Day, and I don't think I've ever seen an outdoor national with a larger contingent of children. They were just everywhere, hanging with their dads, walking around with little fake Monster tattoos, smiling all day long.
I searched all weekend to find a number worthy of dedicating this week's column to, but it was an event that sparked my imagination this time instead of a number. The Number Cruncher is all about the old-school, and with the Legends Lap taking place a few moments before the first moto, I thought it would be fitting to point the focus in that direction. We are what history made us, and the days those men spent behind the handlebars helped shape almost every aspect of modern motocross. Let's talk about the Legends then and now.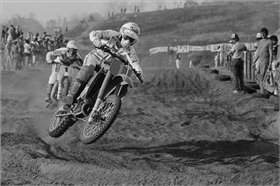 David Bailey and Broc Glover
photo: Paul Buckley
An extra-special thanks goes to Paul Buckley for this shot. This is one of the most unique pictures in motocross history: two #1s on the same track at the same time.
Broc
Glover
was the 1983 500cc national champion and
David
Bailey
was the 1983 Grand National Champion.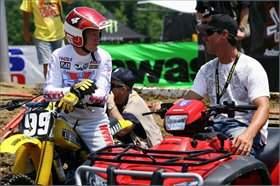 Broc Glover and David Bailey
photo: Matt Ware
Seeing Broc Glover and David Bailey on the same track at the same time was a really heavy moment. With 80 wins between the two legends, Glover and Bailey command a level of respect very few have ever warranted. Their passion for motocross has never wavered, and you could see smiles a mile wide after they circulated the freshly disked brownie-cake track surface. Glover was on a Yamaha and Bailey was on a Honda, just like it always should be.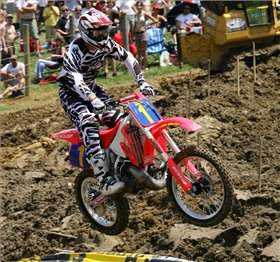 Jeff Stanton Legends Lap
photo: Matt Ware
He didn't have a nickname. He never had super-trick helmet paintjobs. He never really had that clean of a riding style. But
Jeff Stanton
won races and championships more efficiently than any rider in history. He remains ninth on the all-time win list with 37.
It's no secret that Jeff Stanton is still fast. He'll invite an up-and-coming rider to his place in Michigan for a few weeks of training, and not only are they surprised with his speed, most have their tongues in their spokes trying to match his stamina.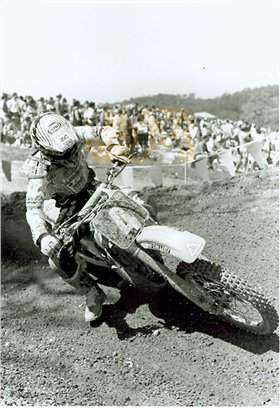 Steve Lamson in 1994
photo: Jim Talkington
Steve "Serpico" Lamson
is one of the fastest 125cc riders in motocross history. He earned 21 125cc outdoor victories during his career, and two championships. There were few bikes throughout motocross history that sounded as sweet as his factory Honda CR125 when he had it at full song – which was pretty much all the time. Steve is pictured here racing the
High Point
National in 1994.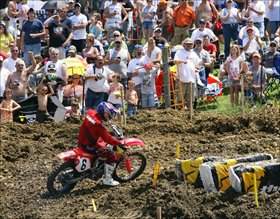 Steve Lamson Legends Lap
photo: Matt Ware
Steve Lamson was also out there cutting a line on the track. He was aboard a cherry 1996 CR250 that was cackling and barking like the days of old.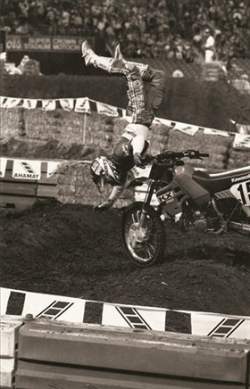 Mike Fisher
photo: Racer X Archives
Once upon a time,
Mike Fisher
was a factory KTM and Kawasaki rider. I still have the VHS tape of him highsiding and flying over the "hydro barrier" during a late-'80s supercross race. While this shot wasn't of that particular crash, this one looks pretty gnarly too.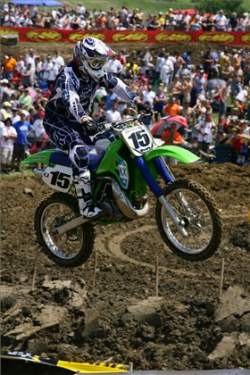 Mike Fisher Legends Lap
photo: Matt Ware
Like Roger DeCoster, Erik Kehoe, Kurt Nicoll, and Larry Brooks, Mike Fisher graduated from the professional circuit to become team manager for a factory. Fisher is a cool guy who commands respect, but he's also easygoing and fun to be around. He looked like he was having a blast out there Sunday afternoon on his 1988 KX250.
Like I mentioned above, last Sunday was just one of those special days at the track that doesn't wash off for a while. Some call them instant classics, some call them banner days. I think I'll call it a history lesson. High Point has been holding races for 32 years and has as much history as any track in the United States, or the world, for that matter.
It all began with a one-lap history lesson. I saw moto dads all over the infield with one arm around their son and the other pointing at Bailey and Glover, telling their story to the next generation.