Welcome to the Shift Number Cruncher. Another great outdoor national is in the books and another number has risen to the top. Interestingly enough, it didn't come from the Motocross or Motocross Lites classes. The WMA has grown exponentially in the past few seasons and the female racers are getting faster and faster. I remember a time not too long ago when names like Mercedes Gonzales, Dee Wood, and Kristy Shealy were almost looked at as outcasts at the races because they were fast females. Today there are so many fast girls it's astonishing! Gear companies make women's specific riding gear, they have a league of their own, and a dozen or so are making a real living as factory motocross racers. The day we see a female line up in the men's class is not too far off.
It is with this that we dedicate this week's column to Ashley Fiolek and her favorite #67. She went toe to toe with Jessica Patterson and had the fans screaming on her way to her first professional win. Turns out #67 has seen some other big moments in motocross history. Enjoy.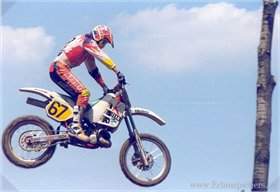 Kurt Nicoll
photo: Courtesy of Daniele Sinatra
Our friend Daniele Sinatra sent us a couple shots, which included this gem of
Kurt Nicoll
. Kurt knows the pain of finishing runner up in the 500cc World Championships four times. He should have drinks with Marv Levy. You know, for an old open bike, that KTM looks pretty good. And what's that? Looks like linkage to me!
Our Minister of Commerce jumped on board for some more bench racing on Kurt. (insert English accent) "Oi, lest you forget that Kurt was a "memba" of the 1994 Motocross Des Nations squad that defeated the yanks. On that glorious day, Paul Malin, Rob Herring, and Kurt stood above the world."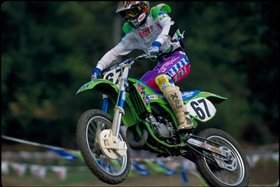 Robbie Reynard
photo: Racer X Archives
There are many insiders that consider
Robbie Reynard
the fastest man to ever ride a motorcycle. I've been on the track with him on afternoons where this simply had to be true. Last weekend Robbie and his Dad drove down to
Freestone
and threw down a top ten in the second moto for 13th overall. Reynard is a legend and will be talked about during beer-filled bench racing sessions for decades to come.
Here is
Mike Treadwell
flying the sands of
Southwick
wearing sixty seven in 1991. Motocrossers are the toughest men in professional sports. Their passion for their trade is unmatched and if you ever cross one in a bar it is in your best interest to turn around and walk away. If you need a testament to that statement listen to this: Mike Treadwell showed up at
Steel City
last weekend with casts on both arms and qualified for Loretta Lynn's in the Vet 35 Plus class. Treadwell abides.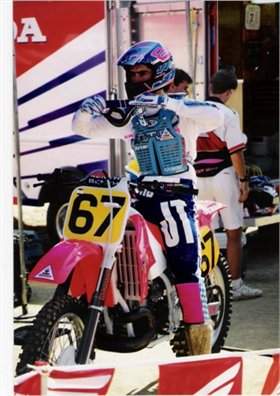 Jean-Michel Bayle
photo: Keith Lynas
We think Ashley would approve of
Bayle
's pink #67 HRC 500. No rider dominated so brilliantly then left as quickly as this Frenchman. Like Reynard, many folks consider Jean-Michel to rank in the upper echelon of the greatest of all-time.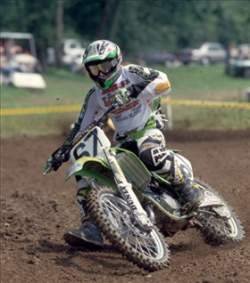 photo: Racer X Archives
Nick Wey
won the 125 Pro Sport class in 1998 wearing national number 67. You can't do that anymore, which leads us to the Loretta Lynn's lesson of the week:
The following riders are not eligible to participate in the National program:
a. Riders earning AMA Pro Racing motocross points in the current year;
b. Riders qualifying for an AMA Supercross main event in either the Supercross Lites or Supercross class in the current or previous year; or
c. Riders earning an AMA Pro Racing national number (2-99) in motocross or supercross in the current or previous year.


Branden Jesseman
wore #67 during his rookie season for team Primal Impulse Suzuki. We dedicated a
column
to him a few weeks ago to get him pumped up for the 2008 Toyota AMA Motocross Nationals and he's been riding pretty well.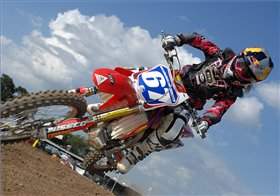 Ashley Fiolek
photo: Carl Stone
Young
Ashley Fiolek
may be the most amazing story in motocross. She is profoundly deaf, yet has the ability to ride a motorcycle with incredible prowess. She cements the fact that motocross is the most diverse sport in the world.
James Stewart
's famous quote was, "we all look the same with our helmets on." None of Ashley's peers treat her any differently on the track because of her handicap. We're all motocrossers out there on the dirt and we are lucky to have Ashley Fiolek in our industry. Ashley is a very special girl that will no doubt be impressing us for years to come. Thank you for inspiring us with your favorite #67.
You can also check out this cool story about Ashley in USA Today.
If you have any other #67s out there, please send them to andy@racerxill.com.