Between the Motos: Oakley's Ryan Evert
While most of the motocross industry was in Sacramento, California for Round 2 of the 2008 AMA Toyota Motocross Championship at Hangtown, I got invited to a stop on the Oakley Factory Pilot Tour. What's that, you're probably wondering. Well, Oakley is looking to get back to its roots—motocross—so they've started this tour with their Rolling O Lab truck traveling across the country. Their goal? Well, we spoke to the Rolling O Lab Manager Ryan Evert to give us the scoop for today's Between the Motos interview...

Racer X: Ryan, we're here in Colorado at the IMI Motorsports Complex for the Oakley Factory Pilot Tour. Begin by telling us the main concept of the tour?
Ryan Evert: Well, we here at Oakley really wanted to get back to our roots, which is motocross, to share the features and benefits of all Oakley products with the people on the sales floor. And the Rolling O is a perfect way to accomplish that goal.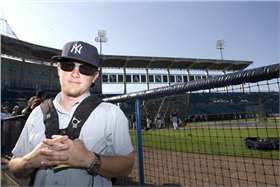 Ryan Evert manages the Oakley Factory Pilot Tour

photo: Courtesy of Oakley

This is a pretty unique concept for an eyewear company such as Oakley. How has the response of the Tour been so far?
The response has been great. We had over 500 people attend our first Factory Pilot Tour event on May 22 at the Oakley Headquarters in California. Of that, 350 were actual sales associates from Southern California MX dealers. Our second event in Utah went really well, too.
There's a very good turnout today. Who all is invited to these tours?
We invite all of our local MX dealers, industry friends, and media.
Is this the first year for the tour?
Last year we did the Revolution Tour which was the same concept for the snowboard and ski industry, but yes, this is Oakley's first retail tour based around MX accounts.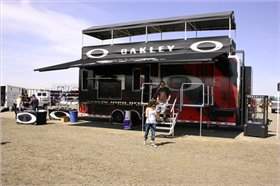 The Rolling O Lab

How many more stops are there, and is there somewhere where people can find more information?
There will be seven stops in 2008. So far we have completed Southern California, Utah, and Colorado. The tour will continue with stops in Oregon, Northern California, North Carolina, and Florida.
The best way to find information would be through MX accounts in the regions where the tour will stop. We will not be promoting the tour outside of Oakley MX accounts, so to find out more on updates and information people can just check out www.oakley.com.
Let's talk about the truck you have out there—the Oakley Rolling O Lab. I checked it out and man, that is a very impressive set-up you got there.
When people would come check out the Oakley Headquarters and see all the technology involved in developing our products, we received overwhelming positive responses. So what we tried to accomplish with the Rolling O Lab is the same response, but on the road. We basically took our Research and Development Lab and brought it to the accounts, consumers, media, athletes, events, etc. The result has been an amazing education and marketing tool for Oakley.
How many Rolling O Labs are there and what events can people find them at?
The program started last January with a single truck. With such quick success we added two more trucks and trailers to the fleet. The two new Labs are smaller in size to be more conducive to retail and smaller grassroots events. You can always check our O Lab website for updates on the schedule. The trucks have been to events such as Montréal Formula 1, Crankworx MTB, Brickyard 400, Indy 500, Boston Marathon, MLB Spring Training, FBR Open (PGA) and the MotoGP at Laguna Seca. Also, one of the Labs will be shipped over to Hawaii for the Kona Ironman. All of the Labs cover an amazing diversity of sports and retail stops.
After I did the tour through the O Lab, I came away not only very impressed, but also educated.
Yeah, the main purpose is to educate people on Oakley's HDO technology (high denfinition optics). We have an eight point test that we can show people in the truck all based ansi 87.1, which is the most stringent eyewear testing criteria in the world (5 optical, 2 impact, and UV). Through showcasing our process of testing we are able to show and compare Oakleys to any competitor in the world. Along with education, it is an amazing branding tool that has a presence anywhere it shows up.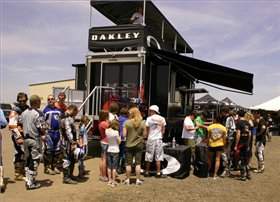 The Colorado stop had a good turnout

Can motocross riders expect any new offerings in the goggle department from Oakley?
Yes, there are always new products and ideas coming down the Oakley pipeline.
Well, I hope to see you at a future stop on the Factory Pilot Tour! Thanks for having Racer X!
No problem, Billy, it was nice to have you!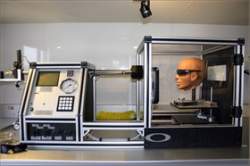 This contraption shoots a metal pellet at the lens at over 100 mph!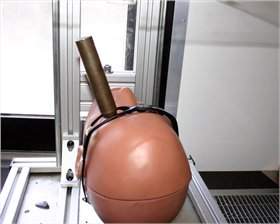 Those aren't Oakleys...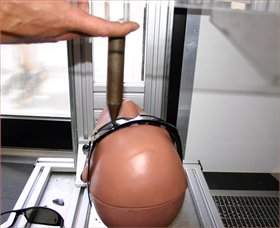 These are.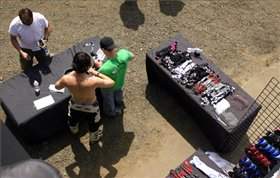 After the tour you got to build your own goggles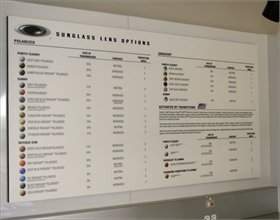 Oakley has a lot of lens options