Between the Motos: Mitch Boehm
Motorcyclist Retro is a brand new quarterly magazine that celebrates the good old days of American motorcycling. The magazine covers everything from "Bad" Brad Lackey's quest for the 1982 500cc Grand Prix championship to a shootout with a pair of revolutionary street bikes that changed everything back in 1969. There's even an ode to Yamaha's legendary Yamaha Mini Enduro, the bike that launched many, many moto careers.

Mitch Boehm is the man behind Motorcyclist Retro, and he starts by running a photo of himself at Moto Sport Trails (the old Malverne, Ohio track) from 1978, running an Electro helmet, Jofa mouthguard and a JT chest protector, socks folded down on his Hi-Point boots…. In other words, he lived it!
Racer X: Mitch, congratulations on getting this thing out of the starting gate! I know it was a labor of love for you and a longtime passion to put Motorcyclist Retro together!
Mitch Boehm: It was! It's funny, we've been talking about this at the Indy Trade Show for what, two or three years now? I started vintage racing ten or 12 years ago with the Heritage Racing guys, and little by little it just became more important than the new stuff to me. I still enjoy riding the new bikes and going to the race track and everything, in fact, I just bought a new KX250F, but I just dig old stuff. It's a strange thing; it just magnetized me. So Tom White yesterday, I was at his place, and that's just an amazing little museum; have you been out there yet?
I have not, but I have a standing invitation, and I understand it is amazing.
It is just the coolest thing I ever seen. But I was with him last night, and he just looked at me and goes, "You know, I just can't stop myself, I have to dig into all of these old stories." It's like moto-archaelogy. There are all these great stories to tell, and I think that's kind of part of it—the stories and the people.
I think you and Eric Johnson might be twin sons from different mothers, because he'll call me once or twice a week and be like, "We got to do this story on Marty Smith trying to race GPs and Nationals in 1976! Or, what about the battle of New Orleans! Or whatever happened to Zdenek Velky? It's incredibly interesting to him and myself and a lot of motocross people, but you have to find the balance when you have a contemporary magazine. But what you've done is you've guys have gone all-in with this magazine—it's full retro!
All-in is a great way to describe it, absolutely! The key is, I'm so enthused about the opportunity to go all-in, and if there's enough people out there to who want to read about this every month, then it's great work if you can find it. It's just so great to dive in and do 12 or 15 of these stories every month. I'd love to get Broc Glover and LaPorte and Hannah together and talk about "Let Brock Bye."
Do you know who took that famous photo?
Probably (Jim) Gianatsis?
One was by Gianatsis, but another was by a young Jody Weisel, who was just cutting his teeth at Cycle News at the time.
Wow, I didn't know that!
Jimmy "The Greek" Gianatsis has such an exhaustive and wonderful collection of photos, I think that there's a story on that man alone.
Absolutely! He was there from the beginning, and I just remember seeing his name when I was 11 or 12 and first started racing XR75s.
I remember we were at the Florida Winter-Am Series and we were staying at Bill West's house, and Gianatsis was staying there too, and I laid my sticker collection out on the floor and made him take a picture of it! I was like nine… [Laughs]
A sticker collection is such a cool thing!
So, how did you sell your publishers on this idea? I know a lot of people have kicked around the idea, but the fact that someone finally pulled it off here in America…
Well, it's a couple things. I've been talking about it casually and flipping a hint here and there, and just pushing Primedia—now Source Interlink Media—to do it. They all knew I was interested in doing it, and every once in a while when I would get a piece of evidence that the market was really growing and becoming strong and that baby boomers were really kind of getting back into their roots and restoring bikes and racing them, etc., that whole wave have been coming in the last ten years. I wasn't really getting anywhere. Marty Estes, who is the publisher, is way into this. And also we have an Editorial Director named Alex Hern who is from the UK. He started TWO magazine in the UK, and he's a sharp guy and a bit younger than me. And he said, "Yeah, this could work." He comes from Britain, and Classic Bike in Britain is a big success, so I think he realized that he was able to go up to the money guy and say "Hey, let's give this a shot."
We're still not out of the woods yet; we have to make these first two issues work over the next four or five months. If the first issue comes in and has good newsstands sale and we have a decent amount of ads in the first one, I think we'll be fine, and then the plan is to go bi-monthly in '09 with subscriptions, and that's the key. These people don't want to run out to Barnes & Noble; some of them will, but they want to say here's my $40 or $50 bucks, but I want them to come to my house. If we get to that point, I think we can easily get 30,000 to 50,000 subscriptions over the next few years. Once we get there, I think we'll have a legitimate business.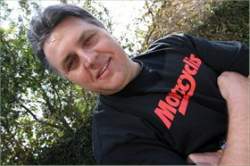 Mitch Boehm is Editor in Chief of Motorcyclist Retro

As far as the content of the magazine, now, I saw a different cover. I know you have two bikes from 1970, but was there a chance that Marty Smith was going to make that cover?
That was a comp that we did for the Indy Trade Show. We did an eight-page full-color that was just a promotional piece to just let people know we were going to do it.
Charlie Morey also has what is widely considered the greatest motocross photo ever, which is "Tony D. and the Jammer" at a national in Ohio in 1974.
Absolutely. I saw that picture back in the day, and then again four or five years ago on your cover, and I was just reminded of what a great image it was. We figured a lot of the people who are going to read this book are going to come from the street side, and the ones from the dirt side probably don't read the contemporary motocross magazines. I think it was a good idea to run it because it's just so dramatic. Talking to Jimmy about it and Charlie about how it happened and how he didn't know what he had. The story behind the stories is something we really want to dig through, because there's a lot of stuff that has been rehashed, but I want to get behind the scenes a little more, I think that's the key.
It's like the Brad Lackey feature. His '82 season has widely been documented, but you can approach it from so many different ways because there are so many things about it. Brad is such a good story teller, as long as you can call the images to illustrated the story, every story can be retold.
Absolutely, and a different angle is always refreshing. And that's the key. I think we can do a better job. I didn't write that story, and it wasn't ideal because it was a mixture of history and how he got his bike back, but I think as we move forward I think we're going to be a little more focused on the specific piece that nobody knows about and try to do a little better job there. I've gotten a ton of emails and readers are really liking it. I was also talking to Malcolm Smith, and he called me and said, "Mitch, I want to get with JN Roberts and ride our bikes into the reunion while everyone is there, but I don't know how to get in touch with Larry Langley." But it did end up happening, and those guys rode into the crowd on those old bikes. It was just really neat to go back and grab those stories. These people all grew up riding dirt bikes and mini bikes. It's not like the car side where you just have one discipline.
Do you think there's been sort of a change ever since the off-road side went all four-stroke, a lot more people are looking back to the old days and really missing it because it has changed so much in the past few years?
You're right. Two-strokes are of a bygone era, and the smoke and the sounds and smell, that's almost gone now.
So where's the best place to pick up Motorcyclist Retro?
Check out this press release, and there are a lot of dealerships carrying it, along with bookstores like Barnes & Noble, Borders, and Kroger's and more. The key for us right now is just surviving these first two issues and proving to the company that we have some staying power and that there is a good market. Once '09 comes around and we can offer subscriptions, it'll be a lot easier.
Right on. We'll do what we can to help, and congratulations Mitch, it's a great book.
Thanks, Davey.