There really isn't much more to say about James Stewart's performance so far in the 2008 AMA Toyota Motocross Championships other than that he is one badass on a motocross track. The Monster Energy Kawasaki rider was as perfect as one can get at this point, leading every lap and winning all four motos to date. At Hangtown he had some trouble with Honda Red Bull Racing's Davi Millsaps for a grand total of less than one lap, passing with a high-speed duel to the apex of a funky corner coming out of the off-camber section of the track.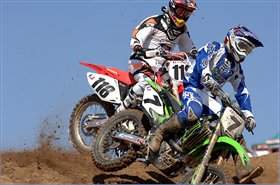 Millsaps battled James for one lap
Behind Stewart, though, were all kinds of interesting stories, each man deserving of mention here.
Tim Ferry
, the runner-up in both motos, had to come from behind both times. It was his best outdoor event in some time – better even than his win at
Washougal
last year. He has the single best chance of topping his teammate now.
Ivan Tedesco
finally got his Honda up on the box exactly one year to the race that Eric Johnson broke the news he was going from yellow to red. "Hot Sauce" was certainly a different rider in the second moto after a lackluster fourth the first time out.
Davi Millsaps
had a decent first moto third, but he dropped anchor in the second moto and struggled with Ferry, Tedesco and
Mike Alessi
, all of whom passed him after his scorching first lap seemed to drain him of his drive.
Steve Boniface
was a revelation. With his team listed on the AMA scoring sheets as "none listed" the French veteran actually beat half of Team Honda proper on a borrowed bike. We said he was working out of his pickup truck on the webcast, but I later heard he was actually driving Eric Sorby's box van around. But he won't need it this weekend—he's on his way to Europe to race a Yamaha in France.
Ben Townley just can't get healthy. He crossed-rutted on an ill-planned downhill drop-away in practice and managed to injure both ankles. It was obvious that the friendly Kiwi was struggling to get around out there, though he did manage 8-7 motos for 27 championship points (this after crashing hard while practicing midweek at Zaca Station and getting himself all stitched up).
Rockstar/Makita Suzuki's
Mike Alessi
bad-started his way into an early hole in both motos, crashing the first time and bending his bike up. The second time out he looked like he might finish second, but then accepted fourth. He also got an uncharacteristic earful from team manager Roger DeCoster after running
Tim Ferry
up high on a couple of the
Hangtown
bowl turns.
Michael Byrne
's 9-10 was so quiet that the numbers speak for themselves.
Honda's
Andrew Short
struggled with injuries he suffered in his own midweek practice crash.
Beyond that, the worst story of the day was Cody Cooper throwing away a sure third in the first moto when he tipped over in a corner right before the mechanic's area, breaking off his clutch lever in the first moto.
The best story was Sean Collier's magnificent fifth in the first moto. The rider who once quit to make a go at becoming a Hollywood actor went off the script to climb past several factory riders to earn the best moto finish of his career, though an early crash in the second moto meant he had no chance to back it up.
And finally there was
Jeff Alessi
, riding a Honda for the Warthog Nation. He raced to seventh in the first moto and was doing fantastic the second time out before the popped his shoulder out of socket on the same wall-like jump that would claim former prodigy
Bobby Bonds
in the second moto. Alessi then had the shoulder pop right back in, allowing him to finish the moto and salvage points.
This could be a long summer for anyone not wearing #7.
Check out all of the action on the Toyota All-Access Racer X Motocross Show on Motocross.com.