Mallory Park GP Race Report
Recently the British GP has been the proverbial "hot potato" of GPs, with nobody either willing or able to keep hold of it. The last four years alone have seen the GP lay its hat at the Isle of Wight, Matchams Park, Matterley Basin and Donington Park.

For '08 the GP found yet another home, this time at the legendary Mallory Park road racing venue, on a brand-new track designed and built by Justin Barclay, the same man who built last year's GP track at Donington. It's always a nervous time for everybody when a track gets used for the first time, but as it happened, the tacky track made for some fantastic racing in both the MX1 and MX2 classes and proved a hit with the spectators who had great viewing areas.

Saturday's MX2 qualifying saw Yamaha's Tony Cairoli topping the pile in the first heat, followed home by red plate holder Tyla Rattray and Molson Kawasaki's Stephen Sword in third. In the second heat it was British hopeful Tommy Searle aboard his Red Bull KTM who came in first, with Britain's Shaun Simpson in second and Belgium's Jeremy Van Horebeek in third.

In the MX1 timed practice Kawasaki's Seb Pourcel was quickest and grabbed pole position from Marc De Reuver and World Champion Steve Ramon, with red plate holder David Philippaerts languishing down in 14th.

Sunday

MX2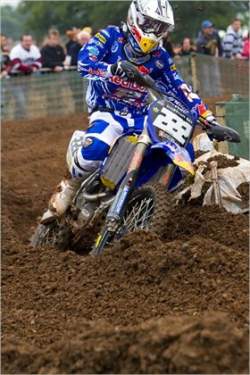 Cairoli's 2-1 finishes carded him the overall in the MX2 class.
With the promised rain holding off, the crowd was in for a treat right from the start. In the first of the MX2 races, the KTM trio of Rattray, Searle, and Simpson headed the field after the first lap with Cairoli a few seconds back in fourth. The leading three were separated by no more than two seconds until midway through the race, when a mistake by Simpson allowed a pass by Cairoli, who then proceeded to hunt down Searle. With only a couple of laps to go, Cairoli and Searle had a slight "coming together" as they rounded a left hander entering into the whoops, with Searle going off the track and dropping his bike. Luckily he kept the motor running, but Cairoli was already long gone and hunting down race leader Rattray. The last lap saw Cairoli right on Rattray's rear wheel, but the South African was able to hold off the Italian's challenges to take the checkers by a mere half second, with a very unhappy Searle 42 seconds back in third.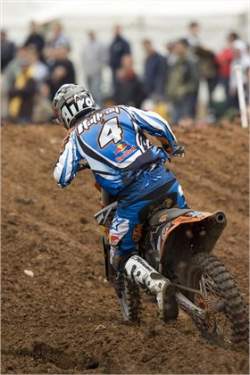 Rattray started the day strong with a moto win, but a fourth-place finish in Moto 2 left him the runner-up on the day.
The second race had Cairoli grab the holeshot while a first turn pile up saw Rattray on the ground and picking it up in virtually last place. Meanwhile, his KTM compatriots Simpson and Searle were up in third and fourth with Frenchman Jeremy Tarroux in second aboard his Silver Action KTM. Within a lap, Searle moved past Simpson into second as Tarroux slipped back, but the real action was near the back where Rattray had his head down and was storming through the field. By the end of the fourth lap it was Cairoli, Searle, and CLS Kawasaki's Stephen Frossard up front, which would be how they would eventually finish, though most eyes were following Rattray, who was already inside the top ten and steaming through the pack like a train. A four-way battle then ensued between Simpson, Stephen Sword, Xavier Boog, and Rattray, with no one giving an inch. At the finish it was to be Rattray who came through, having come from near last to fourth, ensuring he didn't lose too many points on his championship rival Cairoli in the process.
MX2 Race 1
1.
Tyla Rattray
(KTM)
2. Antonio Cairoli (Yamaha)
3.
Tommy Searle
(KTM)
4. Shaun Simpson (KTM)
5. Anthony Boissiere (KTM)
MX2 Race 2
1. Antonio Cairoli (Yamaha)
2.
Tommy Searle
(KTM)
3. Steven Frossard (Kawasaki)
4.
Tyla Rattray
(KTM)
5. Stephen Sword (Kawasaki)
MX2 Overall
1. Antonio Cairoli 47 pts.
2.
Tyla Rattray
43 pts.
3.
Tommy Searle
42 pts.
4. Shaun Simpson 32 pts.
5. Stephen Sword 31 pts.
MX1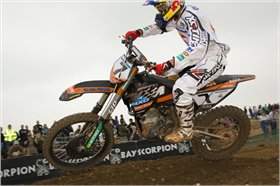 Barragan found himself on the top of the podium after finishing with 2-1 moto scores.
Spain's Jonathan Barragan has been riding excellently this year despite being switched from the factory KTM team to the satellite AXO Silver Action KTM team, in a situation similar to Honda's
Kevin Windham
. It was Barragan who grabbed the holeshot in the first moto, while behind him championship leader Philipaerts, among others, was caught up in a melee that also dropped Josh Coppins toward the rear of the field. At the end of the first lap Barragan held a lead over crowd favourite Billy Mackenzie, with World Champ Steve Ramon in third and Coppins all the way back in 27th, with Philippaerts midpack at best. On the fifth lap Mackenzie made a mistake, allowing Ramon to move into second and Red Bull KTM's only MX1 factory rider Max Nagl to move up into third. The man on the move was Philippaerts, who was absolutely flying and seemingly came from nowhere to mug Nagl of third spot, while Ramon relieved Barragan of the lead. Philippaerts then moved into second and Suzuki's Ken De Dyker into third for what was a thrilling battle to the flag. While challenging Ramon for the lead on the penultimate lap, Philippaerts made a costly mistake, dropping him back to fifth and moving De Dyker into second. De Dyker then set about Ramon in an amazing last lap, eventually passing him just a few corners from the end and claiming victory, his first since the opening GP of the season.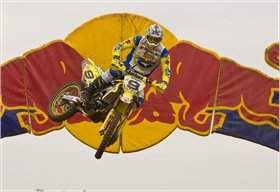 De Dyker won a thrilling Moto 1 thanks to a last lap pass on Ramon.
In the second moto it was the Flying Dutchman Marc De Reuver with the quickest reaction as he grabbed the holeshot and led into the first corner with Barragan in second and De Reuver's teammate Julien Bill in third. Behind them there was an almighty pile up which again snared Josh Coppins, leaving him in dead last ... he sure could do with a bit of luck at the moment! Meanwhile, De Reuver made a mistake and dropped himself out of the running fairly early on, leaving Barragan to start checking out at the front while Philipparts and Mackenzie had a great battle going on for third behind Steve Ramon, with Sebastien Pourcel sitting in fifth. Ramon made a mistake toward the end of the race and dropped himself back to fourth, while Pourcel capitalized on this and grabbed second. On the last lap Barragan almost snatched defeat from the jaws of victory when he dropped the bike with only half a lap to go--something he seems to have a habit of doing lately--luckily he had a big enough lead and managed to fire it up quickly, crossing the line five seconds in front of Pourcel, with Philippaerts bringing it home in third.
MX1 Race 1
1. Ken De Dyker (Suzuki)
2. Steve Ramon (Suzuki)
3. Jonathan Barragan (KTM)
4. Max Nagl (KTM)
5. David Philippaerts (Yamaha)
MX1 Race 2
1. Jonathan Barragan (KTM)
2. Sebastien Pourcel (Kawaaki)
3. David Philippaerts (Yamaha)
4. Billy Mackenzie (Honda)
5. Tanel Leok (Kawasaki)
MX1 Overall
1. Jonathan Barragan 45 pts.
2. Ken De Dyker 40 pts.
3. David Philippaerts 36 pts.
4. Steve Ramon 36 pts.
5. Tanel Leok 31 pts.