Hello, everyone, and welcome to the Rev-Up. And so it begins. Sure, the Motocross class was a runaway, but it was good to see Stewart back riding like Superman. That said, the Lites class over-delivered on expectations.
So, now on to the Hangtown Classic in sunny Sacramento, California, and there is still a lot to be decided. The Glen Helen race course, while immaculately maintained, was oddly fast and wasn't the most technical track. A lot of the riders commented about the rider-friendly track and weather conditions in the post-race conference. Hangtown will be much, much different. The weather will be warmer, but it won't be hot, as the forecast is calling for low 80s. But the track is going to be completely different. Every year the Dirt Diggers crew brings in loads of sand and work the track up into a rough, rutty, tacky (and slick) torture test. And the word on the street is they have given the track a major facelift for the 2008 running of the Hangtown Classic.
Hey man, this my old stomping grounds, as I lived in NorCal for five years. I can tell you that the fans are about as loyal and hardcore as they come. Me and the boys used to pack up my black Econoline E350 and road trip up from Morgan Hill, California, to watch the madness unfold. I can't recall a
Hangtown
Classic that didn't have some major drama to it. Remember Langston vs. Bonds? Remember Langston taking down Alessi on the last lap of the second moto for the win? How about Carmichael opening up a can of whoop-ass on Stephane Roncada? Then we had Carmichael pulling a tear-off going around the first turn and stacking it up, the incredible mudder of 2002, the bar-to-bar RC and
Bubba
battle of 2006, and Townley Tornado last time around.
More than enough history to get it up on the rev limiter for round two of the 2008 Toyota AMA Motocross Championship. Let's get Revved Up, NorCal-style.

Lites
I tell you what, it's hard to really throw the middle finger to the haters any better than Jason Lawrence did in that first moto. "He was out partying and missed the banquet." Maybe that was the case. The man came out and straight waxed everyone in the first 30-minute-plus-two-lap moto of the outdoor season.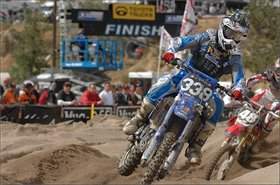 J-Law waxed them in the first Lites moto
There were a lot of eyes watching those four riders last summer at Loretta's:
Trey Canard
,
Austin Stroupe
,
Nico Izzi
, and
Wil Hahn
. Trey had them handled in Hurricane Mills, but there was something about Stroupe that gave the idea that he was going to have his time. He still hasn't won a moto, but moto wins mean nothing in the overall win column, where his name is now chiseled for eternity.
What's going to happen this time? Ryan Villopoto should be able to win both motos. But he was supposed to have done a lot of things this year. Maybe Dungey will have the juice this week? Maybe Lawrence will win a moto again? Hangtown has a penchant for bust out performances and I wouldn't be surprised to see a new name in the top five.

Motocross
I was at Mosier Valley around the turn of the century and this tiny kid on a Yamaha 105 with #800 was absolutely flying around the track in the lead. Two laps later an intimidating kid from Haines City, Florida, drew to his rear wheel and blew his doors off. I was reminded of that moment as I watched the Racer X Post-Race Show on
www.motocross.com
. One of these days Mike is going to beat James. But I don't think that is going to happen this season.
I wasn't surprised to see James dominate last weekend. That is what he has done his entire career. His final quote in Terrafirma 3 was "I'm planning to dominate." He has, for the most part, but he has yet to put together an injury-free season in the premier class.
It's good to have you back, James. Keep it rolling.
The rest of the boys have some work to do. Sure, Alessi has been riding Glen Helen every weekend since February, but the others weren't even close. Where was Ivan? Where was BT101? They all have some work to do.
Time to go to work.
So here comes the 2008
Hangtown
Classic. It's going to be a beautiful day for American motocross. There is going to be a giant, highly energized crowd, and when Erin Normoyle turns that card sideways, you're going to know it. Stay tuned to
www.racerxill.com
to watch, listen, and feel it all go down.
Thanks for reading, see you next week.