Glen Helen Podium Predictions
Racer X Glen Helen Staff Picks
Mike Farber
MX
1. Ben Townley (The Glen Helen track suits him perfect)
2. Mike Alessi (Both holeshots)
3. Davi Millsaps (He will hang around the leaders until about the halfway point)
MX Lites
1. Ryan Villopoto (Can't be stopped at Glen Helen)
2. Austin Stroupe (He'll be fast this year and will win three races in 2008)
3. Branden Jesseman (Brando is fast outdoors and will shock everyone)
Darkhorse - Stewart (As always, the Stewart camp has kept things to themselves and he could come out and kill everyone)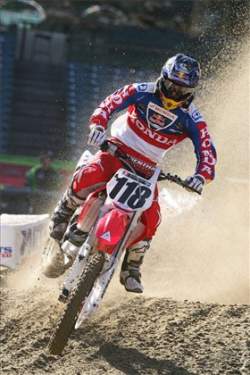 Farber is picking Millsaps to be on the podium

Steve Cox
MX
1. James Stewart (Duh)
2. Ben Townley (If he's healthy, he'll be fast)
3. Mike Alessi (Two holeshots, goes 2-3)
MX Lites
1. Ryan Villopoto (Duh)
2. Trey Canard (Goes 3-2)
3. Ryan Dungey (Ready to prove himself outdoors)
Darkhorse: Jimmy Albertson in the MX class. He's training with Trey Canard and he's going very fast.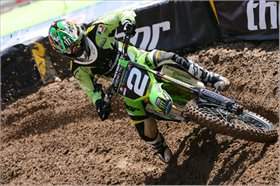 Cox is going with RV1 in the Lites class

Steve Matthes
MX
1. Ben Townley (has been training and focusing on nothing but GH for months, think Tortelli `99)
2. Tim Ferry ( Will no doubt ride incredible to a second)
3. Mike Alessi (Just like BT, plus he's been actually riding at GH)
MX Lites
1. RV (The class of the field, should be with the big guys)
2. Ryan Dungey (You'll be looking at the 2009 Lites MX champ out there)
3. Dan Reardon (They'll be no "rear" of the pack for this guy, my pick for shocker of the season)
Darkhorse: James Stewart, four months is not a lot of time to come back from an ACL injury. I see him killing everyone or just not ready.

Billy Ursic
MX
1. James Stewart (Bubba rides GH really well)
2. Mike Alessi (Glen Helen is basically his second home)
3. Tim Ferry (Knows he needs to open the season strong)
MX Lites
1. Ryan Villopoto (No explanation needed. RV flat out hauls at GH)
2. Ryan Dungey (Has momentum from the Vegas Shootout win)
3. Austin Stroupe (Ready to redeem himself after a mediocre SX season)
Darkhorse: #902 Cody Cooper in the MX class. Will finish top five on his new Suzuki.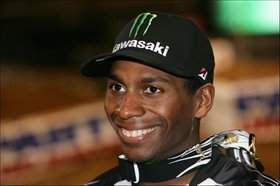 Will James be smiling Sunday afternoon?

David Pingree
I have an uncanny sense about these things. Here's your winners:
MX
1. Michel Kadlecek (highly under-rated rider from the former
USSR)
2. Hunter Shryock (formerly a champion gymnast from a small
eastern block country, Hunter will stun the moto world this
weekend)
3. Sean Kranyak (his name keeps with my Euro theme)
MX Lites
1. Matt Vanderwater (if you ain't Dutch, you ain't much. Go
Holland!!)
2. Joel Barnowski (The Poles land on the Lites podium for the first
time since Mike Kiedrowski)
3. Davide Degli Esposti (Cheers can be heard from the boot-shaped country as Esposti fires up a ciggy on the podium)

Matt Ware
MX
1. JBS (He can ride at 70 percent and still be fast enough to be in front)
2. Townley (He's been training with RC and will be tip top for his first AMA 450 ride)
3. Mike Alessi (I think Alessi and Ferry will battle it out for third but Mike will finish better in Moto 2)
Lites
1. Villopoto (Did you read his interview on our site? He's got unfinished business.)
2. Dungey (He's got SX momentum and will keep it on two wheels for a strong ride)
3. J-Law (Again SX momentum and will be on it)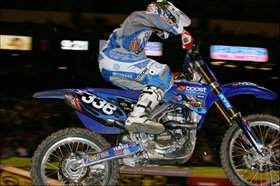 Ware has J Law finishing third

Scott Wallenberg
Open
1 Hakan Carlqvist
2 Bengt Aberg
3 Rolf Tibblin
250
1 Torsten Hallman
2 Thorleif Hansen
3 Ake Jonsson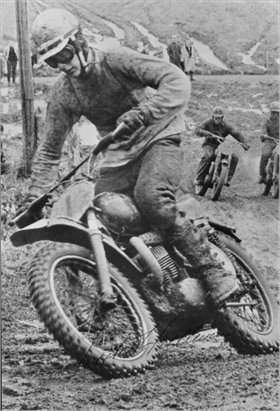 Wallenberg is going with Torsten Hallman

photo: Racer X Archives

Keith Burgie
MX
1. James Stewart (If the knee is really 100 percent, no one will be faster)
2. Ben Townley (The last time I saw him on a big bike he was following RC)
3. Mike Alessi (Consistently strong outdoors and should be well rested)
MX Lites
1. Ryan Villopoto (Beat the whole world in 2007)
2. Trey Canard (Has ridden Glen Helen and done well)
3. Ryan Dungey (Had a couple podiums last year, will be looking for more)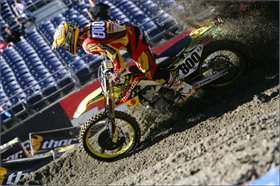 A majority has Alessi finishing on the podium

Andy Bowyer
Motocross
1. James Stewart's undefeated (overall) status will not be
changed. Both motos by 10+.
2. Timmy Ferry will ride to something like a 5-2 for second.
3. Alessi should be consistent with a 4-3.
Lites
1. RV Park on full assault. Gone with the Santa Anna winds to a
1-1.
2. Ryan Dungey comes up short on starts and hills, but still
beats everyone else both motos. 2-2.
3. Austin Stroupe comes behind both motos and rounds out the
podium with a 4-3.
Mike Fisher
1. James Stewart (Come on... it's Stewart)
2. Ivan Tedesco (Being coached by the GOAT never hurts)
3. Mike Alessi (He could ride Glen Helen blindfolded)
1. Trey Canard (He isn't called 'Ice Trey' for nothing)
2. Ryan Villopoto (Under pressure and craving revenge on TC will lead to costly mistakes)
3. Ryan Dungey (A smooth ride from a smooth rider)
Jason Weigandt
I hate making predictions.
Motocross
1. Sean Hamblin: Rails at Glen Helen. Riding without factory pressure.
2. Cody Cooper: Looked fast there last year. Riding without factory pressure.
3. Juss Lansoo: The Juss is trained by Jim Holley! Also riding without factory pressure.
Lites
1. Josh Grant: Even though he's out injured I believe he will still holeshot the first moto like he does every year.
2. Broc Hepler: Loves Glen Helen.
3. Barry Carsten: If he unloads his '93 RM125, look out. A master of the SoCal tracks, too.

I feel strongly about these picks, but if it doesn't work out I have some dark horses, including Stewart, Townley and Alessi in the Motocross Class, and Villopoto, Dungey and Stroupe in the Lites class.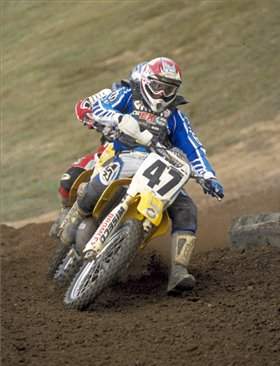 Weege is playing it safe with Carsten

David Brozik
MX class
1. Bubba - (DC first introduced me to, then, "James" Stewart in the pits at the Pontiac SX, a newbie on the circuit back in '02. He had all of his gear on and was getting ready to go out for practice. He politely shook my hand and said, "Hi, my name is James." Unbeknownst to me he'd become an MX superstar.
2. Millsaps - I met Davi on my first trip out of the country - to Talavera de la Reina, Spain in 2001 to write my first-ever mag story and cover the FIM Junior Motocross Cup. Davi was the favorite going into the race, but re-twisted his knee and didn't do so well. Back then he was a little squirt, barely in his teens. I remember him using a set of handlebars after the race as a crutch as well walked down the tile-walled, Spanish streets on our way to eat celebration Spaghetti in an Italian restaurant 'cause REAL Spanish food sucks.
3. Townley - Nice guy. I met Ben at the 40th Anni of Thor at the Primm museum outside of Vegas last year. He was kind enough to chat with me and the RX boys while we interrupted his carb-loading on free buffet spaghetti. And he's easy to find on the track. if he's upside-down, or backwards, he's alway 101.
I still have a dark horse for the podium. KW - First time I met Kevin, I was at the press conference at A1 where K-Dub won the ugliest mud race I've seen (up to that point) and my first A1 attendance. My brother and his Big-K supporter wife also made the trip to Anaheim to witness this momentus occasion. Right before the press conference was to start, I called her up to gloat that I was in the PC with the winner, then I ballsily stuck the phone under KW's nose so she could tell him congrats on his big win. Turns out, my brother and she were adapting to the biblical monsoonitude out in right field with biblical amounts of smuggled airplane bottles for about five hours, and she just wanted to tell him she was wearing his (pink #14) underwear.
Lites class
1. RV - His parents gave me a ride from the hotel to the track last year at Budds Creek after my co-workers ditched me at the continental breakfast station. Ryan won that day. I still tell folks I was his size-14 lucky rabbit's foot that day.
2. Jesseman - I'm rooting for our local boy n'at. He's had some tough times, but summer '08 is his year. Plus, I know he knows Chad Sanner, but I won't hold that against him. And I nearly split my sides every time Farber says "Jezz-ze-man."
3. Goerke - I've haven't met Matt yet, but I've been calling him "Beef" Goerke around the office for some time now. I also got to design the Loretta Lynn's parking passes a couple years ago and a pic of his riding style was perfect for the sticker.
So, yea, riding skill has nothing to do with my picks. It's the personalities that make motocross.