With the latest rumors regarding L&M Racing and our newly crowned Monster Energy AMA Supercross champion, Chad Reed, it got us thinking: has there ever been a time when a brand-new champion lost his ride? Sure, over the years we have seen many riders switch teams after taking a #1 plate, usually going from the 125 class to the 250 class, or more recently Lites to MX. For instance, Mickey Dymond went from Honda to Yamaha after winning two straight 125 MX titles in 1986 and '87.
And Ricky Carmichael changed teams twice after winning championships, going from Kawasaki to Honda for 2002 and Honda to Suzuki for 2005.
Back in December '96 Jeremy McGrath blew the industry's collective mind when he split from Team Honda after winning four straight AMA Supercross titles, taking up a ride with Suzuki instead. That didn't work out for either MC or Suzuki.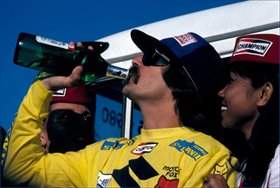 Brad Lackey
Ron Lechien won the '85 AMA 125cc National Championship but then was unceremoniously fired on the spot—literally—when he was arrested in the Tokyo Airport for carrying a small amount of marijuana on his person. "Dogger" ended up on a Kawasaki a few weeks later at the Veronica Beach Race in Holland.
Way back in 1982, after "Bad" Brad Lackey completed his 10-year crusade to win the 500cc World MX Championship, he could not come to terms with his winning Suzuki GP team, so he ended up sitting at home in 1983 and not defending his world crown. Lackey did, however, make a cameo appearance in the series, entering the Carlsbad U.S. Grand Prix on a Fox Racing-backed Yamaha—making his last major race the only time in his professional career he competed aboard Yamaha equipment.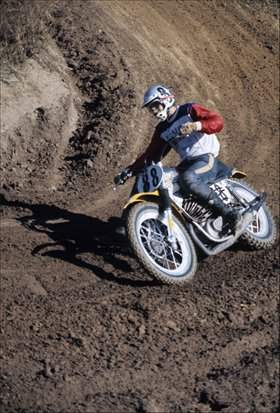 Gary Jones wearing a Honda jersey and riding a Maico!
But the man who made the most moves with the #1 plate remains Gary Jones, America's first AMA 250cc National Champion. Jones rode a Yamaha to the inaugural title in '72, but then switched to Honda before the '73 season. However, he did want to race the '72 Trans-AMA Series, and Honda did not yet have an Open class Elsinore, so they let Jones ride a Maico, so long as he wore a Honda jersey, which he did! Then after winning the 250 outdoor title again in '73, he switched to Can-Am equipment, where he won a third straight title—on his third different brand!
One more Lackey thing: He was winning the '72 500cc National MX Championship on a CZ, but then Kawasaki signed him to ride their new bike, and he handed them the title he started out competing for aboard a CZ!