The 12-round 2008 AMA Toyota Motocross Lites Championship has all the makings of a knuckle-throwing, club-swinging affair. The series kicks off this Sunday afternoon at Glen Helen Raceway in San Bernardino, California, and the following 10 racers are certain to be in the middle of the melee for the coveted red-and-black AMA Lites #1 plate. Here's a Racer X preview what you will likely see this season.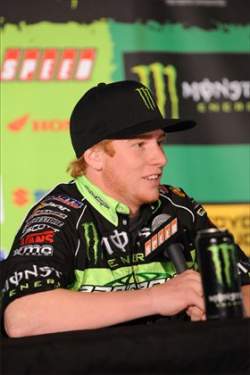 photo: Simon Cudby

Ryan Villopoto
Winner of the last two AMA Toyota Motocross Lites Championships, there is no doubt in anyone's mind that the redhead from Poulsbo, WA is the unanimous pick to win his third consecutive championship for Mitch Payton's mighty Monster Energy/Pro Circuit Kawasaki. The undisputed champion of the 250F world (the 2007 Motocross of Nations certainly proved that), the title here is Villopoto's to lose. However, unlike in 2007, Villopoto will not enter as an AMA Regional Supercross Champion (he won the West Region in 2007). Perhaps for the first time in his young career, Villopoto's confidence was rattled a bit at the final round of the 2008 Monster Energy AMA SX Lites series when he was defeated for the title by rookie Honda rider Trey Canard. While Canard and Villopoto collided halfway through the race Villopoto got the worst of it, and the clash cost him the title. RV was then upset by Rockstar/Makita Suzuki's Ryan Dungey at the Las Vegas East/West Shootout. Typecast as more of an outdoor specialist, Villopoto will surely come out of the gate of the opening moto at Glen Helen like a bat out of hell. He'll be very, very hard to beat.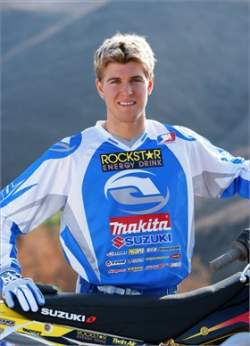 photo: Courtesy Rockstar/Makita Suzuki

Ryan Dungey
Although he lost the West Region to adversary Jason Lawrence by three points, Team Rockstar/Makita Suzuki's Ryan Dungey went down swinging, handily winning the season-ending Seattle SX, and then backing that up with a brilliant end-of-the-race pass on Villopoto to win the Dave Coombs Sr. East-West Shootout in Las Vegas. Said one former supercross champion of Dungey's win in Sam Boyd Stadium, "I don't think I've ever seen anyone actually chase down Villopoto, catch him and then pass him. Dungey might have his number."

Dungey placed fifth overall in the 2007 AMA Toyota Motocross Lites Championship, and this after missing the last six motos due to injury, as well as crashing out of Red Bud in a violent practice-day crash. In eight separate motos, Dungey placed on the podium, the highlight of his season being a runner-up finish at Unadilla. Faster, more confident, and certainly more mature after the ups and down he experienced in SX this year, Dungey certainly has the potential to make a run at Ryan Villopoto's domination of the division.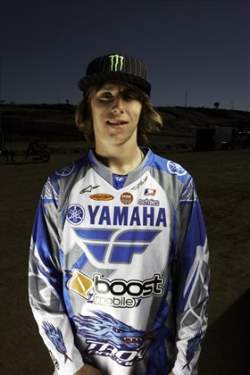 photo: Courtesy Yamaha of Troy

Jason Lawrence
After fighting valiantly all season long, Team Boost Mobile/Yamaha of Troy rider Jason Lawrence clinched the 2008 AMA West Region Supercross Championship at the last round in Seattle. The first AMA professional title for the New Jersey-born rider, it was the fulfillment of a lifelong dream. Often looked at as the class clown of the AMA Lites division, Lawrence's proclivity for mischief and some off-track hijinks can be somewhat deceiving because when it comes race time, there are very, very few who are better. Lawrence can be a championship-caliber outdoor rider; last summer he was fourth in the outdoors, visiting the podium on numerous occasions. Now a champion and convinced he has what it takes to fight with Villopoto and others, J-Law is every bit a contender for the 250F motocross championship.

"I feel great, for sure," declares Lawrence, looking ahead to this weekend. "We're ready. We got our bike good. It's fast and the suspension is good. So just like supercross, it's just going to be all on me. My bike is already ready."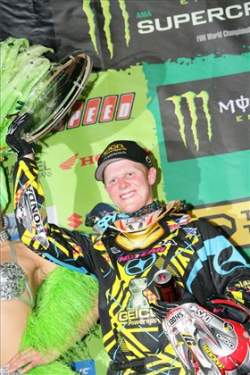 photo: Simon Cudby

Trey Canard
GEICO Powersports Honda rider Trey Canard has been the sensation of the 2008 season. Beginning with an inspiring win at the AMA East Region opener in the Georgia Dome, Canard forged ahead to win the next two rounds before a string of crashes, bad luck and bad decisions allowed Villopoto to close in on him and set up a last-race showdown in St. Louis. With everyone in the stadium figuring Villopoto had it won — especially when he motored into the lead near the halfway mark of the main event — Canard charged right back up on RV, resulting on contact that sent RV off the side of the track, his race ruined.

"I really didn't mean to take him out," said Canard, the rookie champion. "I think that's racing, and I would expect him to do the same to me if it came down to this last race. I really wanted this championship since I was, like, 3 years old. I just trained hard all week long and I can't thank my team enough for getting this championship."

Now a champion and quite aware of the pace required to run in the AMA Toyota Motocross Championships, "Ice Trey" has all the tools required to knock the job out in the National Championship donnybrook.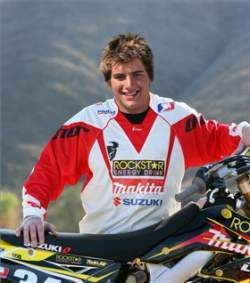 photo: Courtesy Rockstar/Makita Suzuki

Nico Izzi
Team Rockstar/Makita Suzuki rookie Nico Izzi proved that he, just like Trey Canard and Austin Stroupe, had the right stuff when it came time to turn professional. Part of the small and elite group of new riders to blitz American motocross late last summer, Izzi also displayed his talent for supercross by finishing third overall behind Canard and Villopoto in the hyper-competitive Eastern Region. Like the other sophomore aces he came up through the amateur ranks with, Izzi has a well-honed skill set for traditional motocross and will be regular visitor to the podium.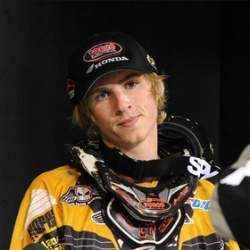 photo: Steve Cox

Jake Weimer
Last summer, Jake Weimer placed a respectable sixth overall in the AMA Toyota Motocross Lites Championship, finishing in the top 10 in eight of 12 Nationals. However, the well-spoken kid from Rupert, Idaho, seemed to reach for another gear at the second night of the Rockstar Energy Drink U.S. Open when he took off like a scalded cat and raced away to win the main event against mostly 450 equipment. It was a confidence-inspiring victory for Weimer, who used it for motivation during the winter off-season. But then things turned erratic for Jake, as he didn't qualify at the opening round of the West Region at Anaheim, Weimer came back seven days later to win a thrilling main event in Phoenix. Despite a number of off-song performances throughout the SX series—he didn't qualify in Vegas either—Weimer did show flashes of brilliance, including a third-place finish at Houston. A bit older and more experienced than some of his rivals, Weimer, now a proven winner, hopes to string together a series of top-five — if not top-three — finishes to make himself a part of the beautiful mess the 2008 AMA Lites Series promises to be.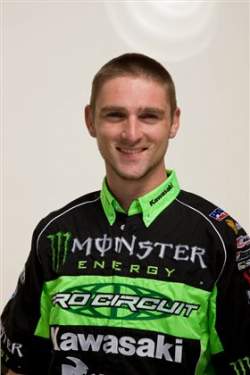 photo: Courtesy Kawasaki

Brett Metcalfe
Although Australian-born Brett Metcalfe missed five of the first six nationals in the run for the 2007 championship, he still wound up a remarkable seventh overall, placing on the podium in three of the last four races. In fact, if Metcalfe had not been absent from the fray during the summer months, he very well may have been there fighting with Monster Energy/Pro Circuit Kawasaki teammates for the championship. Considered to be a much stronger motocross rider — his never-give-up approach to racing is perfectly suited to the grueling 30-minutes-plus-two-lap motos of National Championship motocross, Metcalfe placed an admirable fourth in the West Region SX Championship. In perfect shape and as well-conditioned as a boxer, it's time for Metcalfe to finally get himself a win here in America.
"Everything looks strong and up for me," says Metcalfe. "Man, it's going to be such a competitive series. It'll be awesome and I feel I'll be one of the strongest guys. Me, I feel great. My bike is great. The team is ready to roll. My main goal is to win a race. I have not achieved that in my career in America. In the big picture, I want to win the championship. Even if I won the championship without winning a race, I'd be bummed. My main goal is to pull off a win in the 2008 Nationals."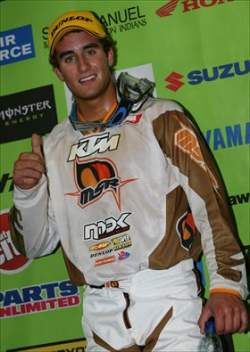 photo: Simon Cudby

Martin Davalos
Straight out of Quito, Ecuador, MDK/KTM rider Martin Davalos has made it abundantly clear that he has the natural speed and work ethic to make it to the top in AMA Motocross. While haunted by DNFs, injuries and some inconsistency in last summer's tour, Davalos still managed to score seven top-10 finishes to place ninth in the final series standings. The 2008 East Region SX Series was another mixed bag of results for the MDK KTM factory pilot, three podium finishes offset by at tenth at Indianapolis and three non-scoring outings. As he did in the nationals, Davalos finished ninth overall in the series, an end result not truly indicative of what he is capable of. If Davalos can come out of the hole well at Glen Helen and begin building up both confidence and momentum — and manage to improve his consistency — he has a chance to stand on the podium and make himself a true player throughout the course of what will be a long, hot summer.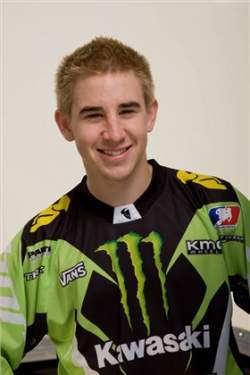 photo: Courtesy Kawasaki

Austin Stroupe
Last August, Austin Stroupe fresh out of the amateur ranks, made his professional debut behind the starting gate at Steel City for the world-class Monster Energy/Pro Circuit Kawasaki race team. One might expect that the teenager from Lincolnton, North Carolina, would be intimidated. However, a funny thing happened when the gate clanked into the Steel City mud: Stroupe pulled the holeshot, led the world's best 250F riders for most of the moto, and finished an astonishing second in the first big-time moto. One week later in Texas, he did it again! By any standard, Stroupe's was a truly sensational rookie debut. He then placed third in his rookie season of supercross in the West Region, winning the round in Houston. Flush with confidence and on the best 250F team in the world, Stroupe counts teammate Ryan Villopoto as his one true roadblock to the 2008 AMA Motocross Lites National Championship.

"Hopefully, other than Ryan, I think I can beat Jason Lawrence and Ryan Dungey and everyone else outdoors," offers the friendly Stroupe. "I think I'll be behind Ryan, but I want to try and race with him and I'd love to get a win or two. If I could get on the podium at ever round, that would be awesome."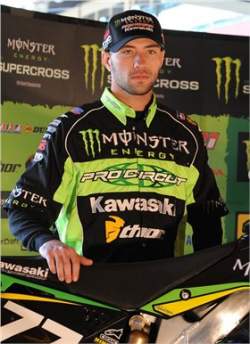 Branden Jesseman

photo: Steve Cox

Branden Jesseman
Having made his first AMA National run in 1998, journeyman rider Branden Jesseman has raced for a myriad of Suzuki, Honda, Yamaha and Kawasaki race teams. Following a decade-long career replete with injuries, Jesseman received a new lease on life just after Christmas 2007 when Mitch Payton, looking for a rider to pencil into the starting lineup for his '08 SX effort, decided to give the veteran a shot to race aboard his A+ equipment. Teamed with Villopoto in the East, Jesseman placed a creditable fourth overall, his finest moments coming in the last two rounds of the seven-race series where he placed third (Detroit) and second (St. Louis). Pleased with his performance, Payton has decided to keep Jesseman on for the rest of the season. Don't count Jesseman out of anything. In fact, he could be the sleeper of the talent-saturated field. Should the racing gods smile on him and a little bit of luck come his way, don't be shocked to see Branden on the podium again, if not on the very top step.
Who do you think will win the Lites class at Glen Helen? Click here to vote!