Welcome to the Shift Number Cruncher. With Glen Helen on the horizon I got to thinking about all of the new talent in the class. Each year the Lites class has gotten more, and more competitive. This year will be the most intense year of tiddler division competition in outdoor motocross history. It made me wonder if we had finally tapped out, talent wise. Then I leaned back in my office chair and glanced at my book shelf and saw a recent cover of Amateur MX. After that I went through some of the results of the final weekend of area qualifiers and saw names that I know we'll be seeing for a long time. The talent pool is deep right now, and will only further itself into an abyss of hard charging young talent in the near future. Heck, it's only what, five or six years until we see Adam Cianciarulo line up at an AMA supercross? And chances are he'll be racing Barry Carsten at his first outdoor national! Well, maybe not, but they've both ran #92 so we decided to roll that number out for this week's column.


Mike Chamberlain
was a Southern California hotshoe that made a lot of noise in the mid-1990s. His rides on a privateer YZ250 with #92 on the plates during the 1992 season attracted the attention of Mitch Payton. Mike is one of the lucky few that have gotten to feel one of Payton's rocket ships.
Meanwhile across the pond in 1992, Monaco's
John Van Den Berk
wore the #92 in the 125 World Championships. Can anyone tell us what brand of riding pants John is wearing?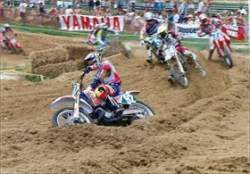 Jeff Emig
photo: Rob Harris
The "Fro Show" arrived in Budds Creek in 1993 wearing #92 on green backgrounds. This was when Jeff really began to come into his own in his professional career. Very few rode the outdoors with more speed, style, and determination as Jeff Emig.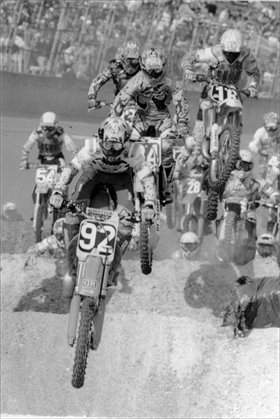 photo: Davey Coombs
Sit back and try to think about all of the teams and numbers Mike Brown raced with during his career. Brownie has seen and done it all in his elaborate and successful career – including wear #92 in 1994. As we sit here staring down Glen Helen, think back and remember when James Stewart came in for his first outdoor national. Brown held the #1 plate, and beat #259 to the checkered flag in moto two.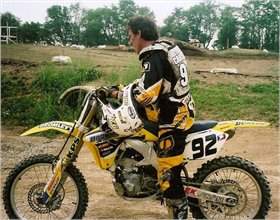 Barry Carsten
photo: Rob Harris
The legendary Barry Carsten was AMA #92 last year. I remember seeing Barry in Cycle News when I was on 80s, then racing against him in the Arenacross series. It's been ten years since I've been on a starting gate with Carsten, but he's still out there digging. He probably will be for years to come.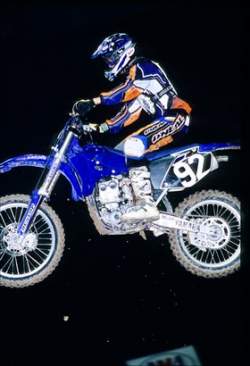 Ryan Dudek
photo: Simon Cudby
Ryan Dudek
is currently the Off-Road Editor for
Cycle World
magazine, but not that long ago he was a top local pro in Southern California who hit the national circuit full time for a few years, his best season being 2003 when he earned enough points to earn #92 for the 2004 season. We'll let him tell the story:
Number 92 is plagued with disaster. Getting a national number was my biggest racing goal ever. I thought if I could just get a number then I made it in racing, I didn't care if it was #99. In 2003 I raced all but one national and earned seven points. (I missed round three and Troy was canceled that year because it was flooded). I tied with three riders and I got the highest number--#92. I was only able to do two races using #92. I raced the U.S. Open in 2003 and the last national (Glen Helen) in 2004.
It was actually harder for me to get sponsors when I had the number than when I didn't. I had to go to the U.S. Open with my practice bike that I had ridden all year; my bike was absolutely hammered. The most memorable thing from the U.S. Open was clipping a tuff-block going up the face of the triple. I cased the triple so hard that the landing completely stopped me and I fell over. I don't think I had the speed to make it to the main anyways.
A week after the U.S. Open I had a practice crash and broke my left tib and fib. That put me out for eight months and I was only able to use the #92 at the final national round, Glen Helen. I rode the Lites class and qualified for the motos. Of course with my luck in the first lap of the first moto my foot slipped off the peg and I twisted the injured leg and was unable to finish either moto because of the pain. There was no hope to earn points and get another number.
That was it for 2004. My only other race was the 24 Hours of Glen Helen, and our team of Ty Davis, Nathan Woods, and Terry Fowler won.
After that I got a Real Job…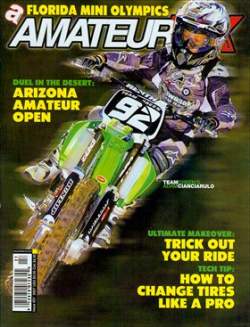 Adam Cianciarulo
Is this America's next superstar? Well, there are a few kids ahead of him that we'll see racing for factory teams and winning supercrosses before he makes it to the big time. Although, it's been a long time since there has been this much hype surrounding a kid riding the 85cc class. Adam Cianciarulo and his #92 attracts attention from the media and strikes fear in his competitors wherever he shows up. When I type his name into our Trackside database here at the office, all I see are first place finishes. I guess we'll have to wait until the Glen Helen round in 2015 to see if Adam is the new face of American Motocross.

This year Texan Jeff Dement is listed next to #92 in the program, but we haven't seen him at all. If anyone know what Jeff has been up to, drop us a line.
Well, that's it for this week. Short and sweet. If you have any #92s, please send them to me at andy@racerxill.com and we'll show them to the world.