Between the Motos: Trey Canard
Trey Canard looks a lot like a young Ricky Carmichael. Be it his training, riding, testing or even his eating habits, Canard's entire life is geared entirely towards racing. And it all seems to be paying off. Refusing to be intimidated or overpowered by the brilliant Ryan Villopoto, another Carmichael-esque phenom, Canard thrilled fans around the world when he took the world's best 250F rider on in the East Region Championship showdown in St. Louis and, one controversial pass later, came out on top.
Along with Austin Stroupe, Nico Izzi and Wil Hahn, Canard is part of a quarter of top young riders that turned professional right after Loretta Lynn's last August and immediately went to work putting results up on the board in the 2007 AMA Toyota Motocross Lites Championship. This Sunday at Glen Helen Raceway Park, they will all line up to begin the chase their first full-season of AMA Toyota Motocross, with GEICO Powersports Honda's Canard leading the way. Confident and motivated, and as you're about to read, he's going to Glen Helen to leave a mark.
Racer X: Trey, what are you up to today? Did you ride?
Trey Canard: Yeah, I just got back from practicing at Perris and I'm about to go to the gym.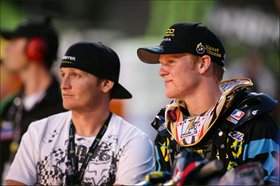 RC and Trey at the Vegas Supercross

Will you ride anymore this week or is this it until Glen Helen?
Yeah, I'll ride some more. Not a whole lot more, maybe Wednesday and Thursday and maybe a little bit on Friday. I'm just excited to go race this weekend.
How is your outdoor bike? Were you able to get in as much testing and seat time as you wanted to and needed to?
I'm really happy with the bike right now. I'm really happy with the setting I got with suspension and I feel the bike is where I need it to be. We tried to make some changes, but we seemed to go back to the same settings that I had it at. It's working really good. I'm sure it'll change more, but other than that, I think we have a really good baseline and I think the bike is working great.
Is it difficult to adjust from the supercross bike to the outdoor bike? I've had a few riders tell me that lately…
A little bit, but just because you're running such stiff suspension. It's a little different, but it's riding a dirt bike, so it's pretty easy to make the transition.
Is this new bike ahead of your '07 bike? Does it have everything that you need?
Oh yeah. With this bike, we have 10 times more testing time on it compared to last year. Last year I didn't have any testing at all and didn't really get to know the bike too well. I think we have a really good setting right now and I have a lot time in it and I'm happy with it, so I'm looking forward to the first race.
You were out riding at Glen Helen with a number of the factory guys last Thursday, weren't you?
Yeah.
How was it? Did you get any kind of read on things?
I don't know…. I don't try and think about anyone else but myself. I just go out and do what I can and concern myself with myself and I go from there.
Are you still feeling the afterglow of the supercross title you won?
I still wake up and wonder if it was a dream that I had. It's insane…. I don't think I'll ever get used to it. It's unreal. It's awesome.
Have you talked with Ryan Villopoto since you guys went at it for the East Region Championship?
I tried to talk to him at Vegas a little bit, but no, not really.
Do you have a pretty good feel for the Glen Helen track now? Do you think you're going to like it?
Yeah, we have been able to ride out there quite a bit and I've been out there pretty much every Thursday to get time on it. As far as the track, you kind of have to ride it to get to know it. The dirt is different than anywhere else. I've got good time there and I feel really good there and my bikes works good there, so I'm looking forward to this weekend and I'm just going to go do the best that I can and give it 200 percent and we'll see how it goes.
What do you think about the big hills and jumps? Are you okay with them?
Oh yeah, the place is awesome. It's unreal. It's like something you'd see in a video game. It's a lot of fun.
You turned professional at Millville. Coming straight from Loretta Lynn's, was it a huge change to be sitting behind the gate at a National?
It's different, you know? I think one of the biggest things is that you've been watching these guys on TV forever and it's weird to see yourself in that position and being with those guys. It's really an odd feeling. It's really enjoyable, but at the same time, you don't really know what to do and you kind of feel out of place. It's something you've never done and it's pretty stressful, but I'm glad I did those races and I know they'll help me out a lot for this coming season.
What's the plan for Glen Helen?
Basically, it's the same as supercross. The pressure is the same. I'm just going to go do the best that I can and give it 200 percent. I want to be prepared everywhere I can possibly. With my bike, physically, mentally, everything that I can do to be prepared, I'm just going to do it. I'm going to try and get a good start and give it everything that I've got for every lap.
Ryan Villopoto is the two-time class champion. Can you beat him? Can you run with him?
[Laughs] I'm not going to answer that question because it's going to put me in a bad spot. But I'm going to do everything that I can to beat him. We're all out there racing and we all want to win really badly. There are five or six guys this year that are just really on it and have some really good speed. I think it'll be a long, hard summer, but I think that at the end, it'll be good, you know? It'll be tough, but I'm just going to give it everything I can.
Who do you see those five or six guys being? Who do you see being in the mix?
[Laughs] I'm pretty sure everyone knows who is going to be in the mix. I don't really have to mention those names!
Can you win it if things go your way?
I'd be lying if I said I didn't want to go win. I'm pretty sure that's everybody's goal and if it isn't, I don't even know why you would be out there. That's racing. That's what we do this for — to win. That's' what's kept us going for as long as we've been doing it. Yeah, I want to go win, but at the same time, I just want to do the best that I can. Last to first, I'm going to be holding it wide open.
Are you going to use any sort of strategy for the overall season, say trying to be in the top five in every race?
No, I learned the hard way that when you ride defensive, things don't go your way, so I'm just going to ride like I know how to ride. I've think I've done everything that I could do up to this point to be ready.
For all intents and purposes, you've been a professional for a year now. Has it been everything you thought it would be or that you've wanted it to be?
It's been awesome. This first year has been great. I know a lot of guys don't really have a great first year. But for this year to go the way that it has, it's been unreal. I mean all of my dreams have come true this year. It's been unreal. I'm really pumped to be here and I'm looking forward to racing for years and years.
We heard you keep a very strict training routine. When is the last time you treated yourself to something?
The Sunday after the St. Louis Supercross, I got some Mexican food, so that was good.
That was the last time you overdid it?
Yeah, but it was spectacular, though. It was awesome! I want the world to know how delicious that was! I went to town, dude: I had fried rice with beans, a beef, chicken and cheese enchilada, a soft shell taco and fried ice cream. Oh man, it was so good that I almost cried.
Seriously, you have not had any cookies or ice cream or anything?
No!
How long had it been since you had anything like that?
Hmmm… I want to say Christmas.
Wow, I guess it works, huh?
Yeah.
Okay Trey, best of luck out there on Sunday.
Thanks, I appreciate it.