Monday Conversation: David Philippaerts
MX1 world championship leader David Philippaerts was many people's silent tip for title success this season, and so far he is vindicating the faith and belief shown by Michele Rinaldi, Mino Raspanti, and the Italian crew. He took a first podium for the Yamaha Monster Motocross team at the soaked Spanish Grand Prix and since then has not missed the top three, also taking victory in Bulgaria. He leads the MX1 series by 28 points after five rounds. David's English is coming along, and he is friendly and open; the fiery Latin temperament for which he was known in a successful two season rise in MX2 seems to have been edged away and replaced by steadfast determination.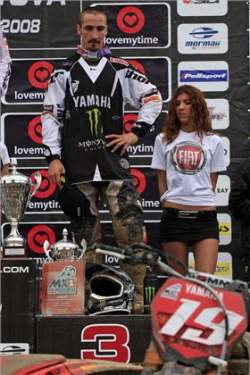 Yamaha Monster's David Philippaerts

photo: Courtesy of Yamaha

Racer X:Twenty-eight points in front and series leader for three GPs now. Things are going well for you....
David Philippaerts: Yes, of course. Perhaps I did not expect this much so soon, but you know me, I am trying to keep my head out of the clouds and on the job. I have won already, and I think I know what it takes to win this championship. I am aiming for that podium each week, and so far I have made it four times from five GPs, so I am really happy at the moment. We have a good momentum building.
Are you getting used to seeing the red plate on the bike?
Yes, and it looks good, doesn't it? Honestly, the color of the plate is the same for me. If it is blue, white or black, I don't mind!
How was the Italian GP this year for you? Very busy, we can imagine.
Yes, busier than before but very good. I did not want to look at any magazines or internet sites before this GP and instead worked on getting prepared, because there were so few days after we got back from Bulgaria. Having the support of the crowd is a special feeling. The first moto was good and bad. I could not win for the fans, but I hope I gave them an entertaining display at least.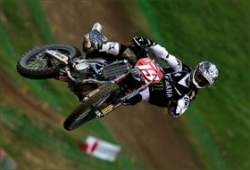 David currently has a 28-point lead in MX1

photo: Ray Archer

What about that first moto? From last to fifth was pretty incredible to watch.
I went over the bike that was lying on the ground and I thought....well, I cannot say, but it was not good words! It was a big crash and also disappointing because I knew it would be hard to win the GP after that. I scraped some skin off my finger and thought I had done more damage at the time. I tried as hard as I could after that. I was watching my lap times, and I knew they were fast. I did the best lap of the race near the end and that was a good thing.
You grew up around motocross, didn't you?
Yes, my dad was a mechanic for Andrea Bartolini in 1999 and we moved as a family to be near his work, so I was always around bikes. Andrea helped me a lot to get where I am. My brother, Deny, also races and he is doing his best in MX2 at the moment.
Where do you live?
In a quiet place near a small town called Borgosesia that is north of Milan. I have been building a house for some time there now, and I live with my girlfriend Alice and our dog.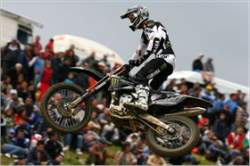 photo: Ray Archer

What do you do away from the track?
Not too much, actually. Like most riders, I spend a lot of time training and riding. I have a small gym in my basement. I like watching films, and recently I have been interested in driving radio-controlled cars. Alice bought me one for my birthday, and although I am a beginner, I am really enjoying making the car jump and corner. I think I will be getting more!
Back to racing; obviously, you have gelled immediately with the bike and the team.
It was a dream for me to come to this team. When Michele came to see me last year I said, "Stop! That's it, say no more." I was honored to be asked to join. Since then I can honestly say we have not had one problem. The bike is very easy to ride. I find I can do more and more things with it every time I go to a track. The machinery and the work of the team have been perfect, and that is a major reason we are as high as we are in the championship.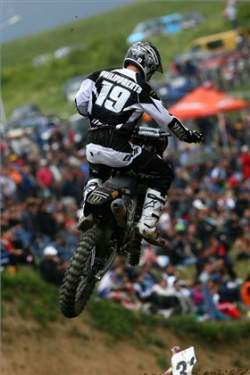 photo: Ray Archer