Privateer Profile: #343 Stephen Stella
It's just not easy being a privateer. Something is wrong when the fastest rider in the state of Maryland (Travis Pastrana excluded) can't find someone to get his bike to the races. And that is exactly the problem for Stephen Stella. Like any true, hard-working racer would, Stephen is doing his best to raise money and get himself to as many nationals as possible this summer.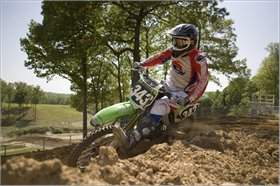 Maryland's Stephen Stella is trying to find support to contest the 2008 AMA Toyota Motocross Championship.

Racer X: Tell us what you've been up to all year.
Stephen Stella: I started out this year racing the Florida Winter Am Series. I did pretty well in that even though I didn't have a 450 to ride. I was racing the open pro class on my 250F. It was good racing though. Ricky Renner, Stephen Clarke and Taylor Futrell were all doing those races so it was good experience for me. Since I've been home I have just been trying to get something put together for this summer and racing anywhere I can to try and make some money.
Did you race any Supercross?
No, I didn't. I wanted to but it was just too costly to get to them. My dad has been helping me as much as he can but he can only do so much. I've been trying to raise money to get to the nationals and try to find someone to help me get to them.
Have you always lived in Maryland?
Yeah, I've lived here my whole life. I was born in Annapolis and we live in Westminster now.
So, you don't live to far from Pastrana then?
No, he's not that far. I'm friends with him. Everyone hangs out down there and plays. I don't do any of the crazy stuff he tells everyone to do.
Do you have any type of ride for the summer?
No, I don't. I was talking to the Wonder Warthog guys about taking my bikes but that fell through and now I'm just doing whatever I can to get myself to the races.
How did you do at the nationals last year?
I raced five of them and qualified for four. The one I missed was my hometown race at Budds Creek because of a bike problem. The other ones I did pretty well at and I am riding better this year than last so I'm sure I'll qualify for the ones I get to. I did have some bad luck at Unadilla last year. I was in a first turn crash with Hepler in one of the motos and got the end of my finger chopped off. That's all healed up now though. It did cause me to miss Ponca and Loretta's last summer, which was a bummer.
What else have you been doing to get ready for this summer?
I've been teaching motocross schools out here to help kids and to make some extra money. The local association that I grew up racing is where I'm doing the classes. It's good for the kids and it's good for me so I do as many as I can when I'm home.
Since they changed the rule to allow 250 two-strokes in the 250F class, are many kids taking advantage of that? It seems like it might be a good option since they are cheaper and more powerful.
Yeah, there are quite a few guys doing that now, especially at the local tracks. They definitely make a lot more power. I tried to get back on them and I just couldn't get used to the power again. It was so snappy that I couldn't get comfortable on them. And I was the last guy to switch to four-strokes, too. It's funny that I didn't want to get off them and now I can't ride them anymore.
How can someone get in touch with you if they have an opening on their team or they want to help out?
My email is stellamxschool@aim.com and my phone number is 410-984-9225. They can contact me anytime they would like. Any help is welcome.
Who would you like to thank?
I'd like to thank my mom and dad and my family. Also Mark Spence from MFI, Pro Circuit, Factory Connection, Jay at Oakley, JD Photos, The Neal and Simpson family, Vision Graphics and www.MotoXpress.net, Billy Ursic, Shane Shanft and Blake Taylor.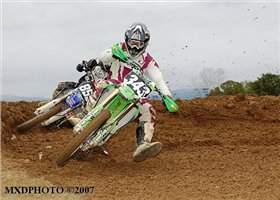 photo: Dusty Debusk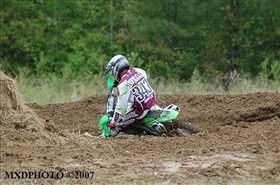 photo: Dusty Debusk