Between the Motos: Dubach Racing's Terry Beal
Anybody who knows Terry Beal would agree with three things: he loves to surf, loves the Oakland Raiders, and is a great guy. I worked with him at Yamaha for three years when he was the PR guy and got to know him well; so well, in fact, that when I heard he left the blue squad to be the head business guy at Doug Dubach's DRD pipe company, I seriously thought it was a joke.
He was such a natural at the PR game that I thought he'd be a lifer there. I suppose that when Timmy Ferry left, a little piece of him left, also. Anyway, he's enjoying his new gig at DRD and I thought there was no better guy for a "Between the Motos."
Racer X: After a long time at Yamaha, where we were work buddies, you left to go to DR.D Exhaust. How is it going for you, and what's it like working with a legend like Doug?
Terry Beal: It was an easy transition from working with a legend like you to a legend like Dubach! I had the honor of working for Yamaha for 13 years as the Public Relations Manager; it was the greatest position, with an incredible company and the most enthusiastic workforce imaginable. Leaving Yamaha for DRD was a gamble, an opportunity and challenge, but I've been here for one year and have thoroughly enjoyed every minute. I've known Dubach for over 10 years. When I was at Yamaha, his position as the primary test rider for off-road products was valuable to me from a PR/Marketing standpoint. I involved Dubach with a myriad of events from photo shoots to Dealer Shows and practically every press function as his expertise and knowledge enhanced product information we would disseminate. Doug is a legend not only because of his racing success but his testing credentials and easily approachable, friendly demeanor at the track.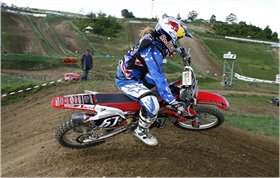 Top WMA star Ashley Fiolek runs Dr. D exhausts.

photo: Sarah Guiterrez

Tell me a funny PR story from the Yamaha days that I can print.
Doug Henry and his family purchased a motorhome before the supercross season and they wanted to drive to every race, spend more time with the kids and see this great country firsthand. Days prior to Anaheim, I called Henry hoping to pull a practical joke. I asked him for a quote concerning the upcoming, "Travel with the Henry's Promotion." Doug was completely confused and asked what this promotion entailed. I told him, per his contract, at each and every round of the supercross series, two lucky Yamaha fans would win the opportunity to join the Henry's in their motorhome and drive from one race to the other. Henry was stunned. I could hear him asking Stacy if she had heard of the promotion, he asked a few more questions then finally said, "Well, ok Beal, I don't remember the promotion but if that's what you need, my quote is, 'We look forward to spending time with hardcore supercross fans and showing them our lifestyle.'" The promotion was a joke but in typical Henry fashion, he was agreeable. Talking about it still makes me laugh. Guys like Henry, John Dowd, and Jeremy McGrath were just awesome guys to work with. I called Doug a day later and informed him of the joke, they laughed but, dang, he got me back good a few months later!
Okay, so, if those riders were the great ones, who was the hardest to work with?
Ironically enough, I'd have to say David Vuillemin! I still root for Villy to this day and consider him a friend – he's very intelligent and can be quite the comedian. When Villy first joined Team Yamaha, let's just say he did not place the same level of importance on Public Relations as I did, and that led to many battles. Over time, Villy adjusted his attitude and demeanor, began to have fun with the fans and the media, and I think it benefited the longevity of his career.
Having an ex really, really fast guy like Doug tell you what a pipe is doing is a huge help, I'm sure. How much does what he say go into making a pipe for an average guy?
After Dubach's years as a Yamaha factory racer, his racing success and motorcycle knowledge was rewarded by Yamaha with a position within the Yamaha Testing Division. The years Doug spent with Yamaha and the engineers from Japan helped advance his testing knowledge. As an integral part of the team that launched the original YZ400F, the hours that Yamaha spent testing and developing provided him valuable experience. The primary lessons learned, and what Dubach applies to this day, is that the delivery is just as important as the power. While dyno machines may help in development, it only shows peak numbers at maximum rpm. Nothing can replace seat time on the track. DRD uses on-board data acquisition to monitor throttle and rpm patterns confirming Doug's experiences. Dubach's skills lie in his track development. Every bike works differently and needs power in specific areas. It's why Doug rides and tests every system DRD sells before he puts his name on it; he is our human dyno.

What is Doug like as a boss? Does he walk around with his San Jose SX plaque and physically hold it over you?
I've been so lucky to work with exceptional people during my career. After college, I was hired by Jim O'Neal who, to this day, amazes me every time we speak. At Yamaha, I worked Bob Starr, Keith McCarty, and Jim Gentz, each of whom I owe a debt of gratitude for their energy, enthusiasm, and knowledge that helped my career. Now working for Doug is a continuation of that good fortune. Doug is extremely bright, incredibly funny, and determined to grow DRD. As for the San Jose SX win, I'd say I bring it up more than he does. I hope I'm not overstepping my bounds, but I think Doug is more proud when his kids play a great soccer or softball game than any of his past racing accomplishments.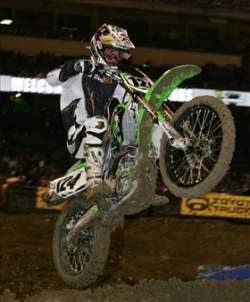 And Jiri Dostal...

photo: Simon Cudby

What do you think about the DB level of the current bikes, and what is DRD doing to help stay quiet?
All of our exhaust systems meet AMA guidelines and we offer several variations of DRD "Quiet Cores" to drop DBs even lower to meet USFS guidelines. As the DB guidelines drop, I can assure you DRD is ahead of the curve with our development. We are testing several variations, new ideas and technology that will meet more stringent guidelines as put forth by varying agencies. A key factor for the consumer is understanding how reducing noise affects performance. It is relatively easy to get "peak HP" numbers with decreased DBs, but this is not telling the whole story. The difficulty, and what Dubach works hard to develop, is making an exhaust that lowers DBs yet still has hit and pulling power. We want our customers to know that "Peak HP" and "Power Delivery" are completely different issues.

Why does Doug Dubach call you "The Marlin?"
It's a jealousy issue. I tend to jump every obstacle with my front wheel really high; this enables me to get the rear wheel on the ground faster for more acceleration. Dubach may mock "The Marlin" today, but I'm confident "The Marlin" will become the Bubba-scrub of 2010. They said MC was "too BMX," they said RC was "too out-of-control," well... look how many championships their styles produced!

How's business going for you guys? It's a very competitive market.
We have experienced incredible growth over the last year and had a substantial spike in business after the Indianapolis Trade Show. Our customers and the various testing publications have been impressed with the products and DRD continues to grow. We're focused on bringing more national and global attention toward DRD and, in turn, providing more products to our customers, dealers, and both domestic and international distributors.

What's the future for DRD?
It's so bright I need to call Warren Johnson at Fox for more free sunglasses! I saw incredible potential for DRD and it gave me the confidence to leave a dream position at Yamaha, and I've only had these beliefs reaffirmed during the past year. If we stay true to our brand identity, the best developed, fit/finish, and durability with our accessories and exhausts, provide exceptional customer service, at events, with our business partners, support our riders, and keep the fun, passion, and motivation, I'm extremely optimistic for our continued growth. We will develop more accessories, increase our motor modifications to retail customers and, to meet AMA guidelines, work on lower-DB systems without compromising performance.
Last Words?
Not to suck up to the interviewer, but I must agree with you that the Raiders will be our 2009 Super Bowl Champions!
Learn more about Dubach Racing Development at www.dubachracing.com.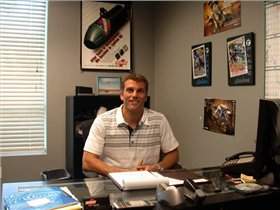 Terry hard at work...
photo: Courtesy of Beal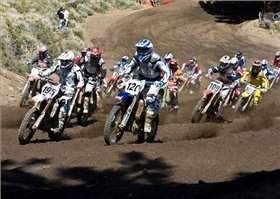 ...and then hard at play (#120).
photo: Courtesy of Beal