Monday Conversation: Shaun Simpson
Earning glory in Bulgaria...
The heart of the KTM UK team is a vintage family affair, and an effort normally found in the schoolboy or amateur ranks. MX2 Grand Prix racer Shaun Simpson, son and charge of the popular and friendly Willie Simpson – renowned as one of the hardest-working privateers in the golden age and hardest phase of 500cc racing in the 1980s – is backed by mechanic and younger brother Stefan. The Simpsons had cause to celebrate at the Bulgarian Grand Prix last weekend when the 20-year-old Scot steered his KTM (with which he is enjoying his best season to-date and is fighting for the British title) to third place overall, and took part in the best race of 2008 when he duked with Tommy Searle for the second-moto victory.
Trophies and career-firsts all round for Shaun and Stefan, and finally some Grand Prix champagne for Willie after all those years chasing the tails of the factory machines. It made a nice story and such is the high regard and fondness in which the family are held many people within the paddock were thrilled for the clan.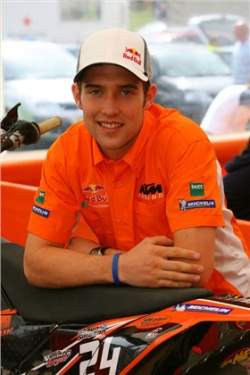 Shaun Simpson

Racer X: Shaun, how did it feel to be out front at a Grand Prix for the first time? What was going through your mind?
Shaun Simpson: I tried not to think that it was a GP, instead a British Championship race or something! There was no one in front and I just tried to look ahead rather than worry about what was behind me. It felt quite easy, although obviously I did not get the job done. I think it was quite a feat to keep the factory bike behind me for that long. Once you get ahead, it's not easy to pass on this track and that helped me. My bike is not factory, but we have a suspension kit and it's tuned in Holland. It is not that far away from what Tommy and Tyla have, and I proved that today with two good starts. We have all we need. The factory materials are obviously a bit better and maybe a bit more reliable.
Can you talk a bit more about that phenomenal second moto?
In the second race, I turned tight on the first corner and passed Tommy on the tabletop. The track was a little bit slower and more to my liking. I rode my own race, even though he was right behind me, and just couldn't hold it until the flag. Tommy has been riding good all year and finishing ahead of me, so to be in front and have him applying the pressure was something new. He made a mistake, which gave me a bit of breathing room for a while. He was quicker, though, and caught me up; I led the whole race but not the part I needed to!
In the past, you have been quick in places, but small mistakes have cost you dearly. Do you think you have eradicated this from your riding?
I think so, but on the first few laps, I still get too excited. The first race today was a prime example: I was fifth or sixth and then went down trying to pass [Rui] Goncalves. I'm confident I would have been top six. I hope I have broken the ice now. There are some good tracks that I like coming up. Racing with these guys, you can pick up some good tips and lines. The main thing is to be up there with the faster guys.
Taking part in a second race like that must have been fun...
Yeah, obviously I didn't know it was a good race to watch, I was just focussing on what I had to do. I wasn't pushing as hard as I could and I felt a bit slow in places, but I didn't want to push the limit and crash. It felt quite easy. I was hooking high gears or revving and being careful; I wasn't the fastest guy out there, but it proves that here and at other GP tracks the starts are so crucial.
Were you confused at the finish? Split between disappointment and joy?
I was, but what could I do? He put a good move on me and maybe I was a bit stupid to take the same line and not change or try to block. Coming down the hill, I was still excited, but a bit pissed off at the same time. I had a big smile on my face when we came around though. It was my best finish in a GP and I did not know at the time that I had made the podium.
Your move to re-take the lead was probably one of the best of the weekend...
Yeah, Tommy can down the outside and kept the gas on but when he jumped he went a bit wide and I thought it was strange because I would have moved to the inside. I saw the gap and made quite an aggressive attempt down the inside that worked. It was quite greasy on the ground and as I was coming over the jump I thought, "I could lose the front end here," but I managed to turn on the nice loamy stuff and got the power going. The crowd seemed to be loving it!
This is your fourth season in the World Championship. Do you feel you have done the Simpson name proud?
I don't know, really. I just try to do my best all the time. I guess it's up to other people and the media to decide if I am doing a good job! It was good to see Dad with a smile on his face, although he was on the phone a lot!
[Turns to dad, Willie Simpson] Willie, you must be proud of Shaun, but it cannot have been an easy moto for you to watch...
Willie Simpson: Absolutely! That start was great and when he was still leading after one or two laps I thought, "Oh shit, don't make a mistake!" but it never happened and the race took forever. I just hope he can continue the way he is going. At this stage, we're not looking for the podium, just good, consistent results and learning.
Did the last moments feel a bit bittersweet? He was so close to winning but still made personal bests...
Willie Simpson: Yeah, a little bit. I really did think he had it but just lost out at the top of the hill, but that's the education you know? Next time he'll know to block that line.
Do you expect a debut podium this soon in the season?
Willie Simpson: Not really. I didn't even think it was possible here because he made a mistake in the first moto. The conditions helped because it was wet and he was lucky he got a good start because it paid off for him.