Kawasaki/Racer X Race Report
First spoils for Philippaerts and Searle
A drama-packed fourth round of fifteen in the 2008 FIM Motocross World Championship delivered some of the best action seen yet this season, as the Grand Prix of Bulgaria at the dauntingly fast Sevlievo circuit gave the riders of the MX1 and MX2 classes a mix of weather and conditions to negotiate throughout the six-hour race program. After last-lap crashes, last-gasp lead changes, first-corner melees and a set of motos run first in the dry and then the wet, factory Yamaha Monster Motocross Team's David Philippaerts scored his first victory on the YZ450FM to increase his window at the top of the MX1 series while AMA-bound Tommy Searle etched a second-career MX2 success with his Red Bull KTM SXS-250F.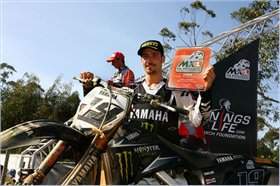 David Philippaerts captured his first win of the season
Hard-pack and hard on the throttle, the otherwise sun-blessed Sevlievo course benefited from a coating of rain in the lunch break that created slippery, slower and slightly more technical terrain for the second motos. Starts were at a premium, and overtaking possibilities were a rare commodity.
Philippaerts was less than one minute from accepting a second runner-up position in a row. The Italian escaped from the Hondas of Billy Mackenzie (who would later suffer from arm-pump and drop back) and then Marc de Reuver (having his best ride since the final GP of 2007) to clinch moto one and his second checkered flag in two meetings.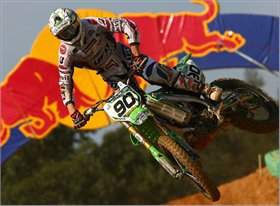 Seb Pourcel
Philippaerts launched brightly in moto two – touching teammate Coppins on the start-straight – but could not match KTM's Jonathan Barragan (second in moto one) who surged to the front and away from the pack. Barragan has suffered a few sickly engines this season, but Sevlievo was a feeding ground for the Spaniard (he took a second-moto win and runner-up overall finish there in 2007). Still trying to shake his reputation as a crasher, the 21-year-old will have to wait a bit longer for the criticism to lift as he unbelievably dropped his factory-motored 450 on the last lap while holding a lead of more than five seconds. Portuguese Grand Prix winner Seb Pourcel – who had been punted to the ground and then crashed again by himself later in the first race – produced a fantastic performance to spurt from the mid-top-ten and pass his peers to cross the finish line first. Philippaerts gladly overtook the prone Barragan (who would finally restart for fourth and second on the podium) for his second career victory in MX1 and give the Yamaha crew their maiden winner's trophy of 2008. Pourcel's persistence was rewarded with third overall.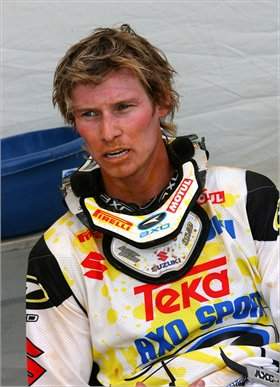 Steve Ramon
Former series leader and master of Valkenswaard Ken de Dycker was again off-song, while teammate and World Champion Steve Ramon was never in contention for the win. De Reuver registered his second-best MX1 result with fifth overall, and CAS Honda's
Mike Brown
never really got going with the track to take twelfth. Josh Coppins was part of a late three-rider tussle for third in moto one, but in truth was undone by two uncharacteristically bad starts – the second of which left him outside the top fifteen around the first few corners. Despite resilient speed at the end of the races, the Kiwi was visibly disappointed with sixth overall.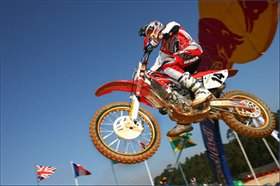 Marc de Reuver
MX2 World Champion Antonio Cairoli's padlock on the series was levered open after he lost the front-end of his Yamaha around the perilously slippy first corner and was subsequently struck heavily by
Tyla Rattray
. The Sicilian flew back to twelfth spot before being hit by another rider whilst slowing to avoid a stationary figure in his line. For the first time since the GP of Belgium in August 2007, the 22-year-old did not make the top three, but was a little more concerned about the pain and tire marks on the right side of his ribcage after the race. Rattray even came into the Yamaha awning after the GP to see how the popular champion was feeling.
"I was going at such a speed that I could not avoid him," the South African, who was second overall for this third podium from four, said. "I know that I hit him pretty hard because my steering was damaged."
Cairoli's turbulence was a big talking point but it was not the main one in Sevlievo. He had dominated race one from Searle and Rattray, but an entertaining treat lay in store for the 27,000 spectators once the sodden second sprint got under way.
KTM UK's Shaun Simpson made the most of a bright start to head Searle from the opening lap. The likeable Scot – who is having his best season yet after two terms with Honda and one with Kawasaki, and is now setting personal best finishes with every round – did not make a mistake and the duel went literally all the way to the wire. Twenty-year-old Simpson benefited from a slip by 18-year-old Searle and the latter was clearly faster but Simpson was unperturbed. A bold move by the factory rider (Searle) was immediately countered by the privateer (Simpson) and again the chase continued. Searle eventually used a little more of his experience in running at the front of the field (Simpson had never been as high) to grab a different line coming out of the final turn and down the hill to steal the win by less than half a second. Third place was still a landmark for Simpson, who maybe could have been second if he hadn't crashed while vying for fifth in moto one. Rattray made an all-orange top three. Even KTM team boss Stefan Everts, surely a man who has seen and ridden everything in motocross, expressed his bewilderment with the events that had passed through the afternoon.
Yamaha's Nico Aubin shrugged off a poor first moto to catch the KTM spat and was less than three seconds away from the exciting culmination. Works Kawasaki racer Stephen Sword would have been a podium contender if a technical problem with his forks had not occurred, ruining his fourth place from the first race, and teammate Gautier Paulin, fresh from his best result of the season in moto one (fifth), had to pit with a warped front disc after becoming involved in the Cairoli mess at turn one.
The first round of five in the inaugural Women's World Championship was swept by the talent and Gallic beauty of Kawasaki's Livia Lancelot; the firm favorite for the title with double World Cup winner Katherine Prumm struggling to a brave fourth courtesy of a broken right ACL, and 2005 victor Stephanie Laier out of action with an injured shoulder. Lancelot had to accept second spot behind pole sitter Larissa Papenmeier in moto one, but a first-lap crash by the diminutive German led to a suspected broken ligament in her right foot. Moto two belonged to the French rider with some ease, with another German, Maria Franke, in second and Katherine Prumm third. The honor of the Stars and Stripes (and that of Honda, still podium-less in MX1 and MX2) was upheld by a good performance from 17-year-old Honda U.S.-backed Ashley Fiolek, who grabbed the final step of the rostrum beside the Kawasaki ladies.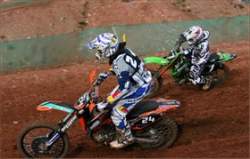 Shaun Simpson battles Stephen Sword
The end of day saw minor but not massive movements in the mathematics of the World Championship standings. Philippaerts managed to distance himself from Ramon a little further thanks to a 17-point gap, while Coppins in third now needs more than one moto (35 points, to be exact) if he wants that number-one slot. In both classes, a distinct division has emerged with the top three enjoying something of cushion over numerous pursuers. Billy Mackenzie stays in fourth, but is a hefty 49 away from the leader, while in MX2 Rattray has resumed ownership of the red plate from Cairoli and Searle (8 points split the trio) and Aubin is 51 points adrift in fourth.
A convoy of trucks and rigs will now slowly eek their way west across Europe and straight to the Mantova circuit for the Grand Prix of Italy next week; a meeting that fell into Yamaha hands during 2007 thanks to authoritative performances from Cairoli and Coppins, and will now host the second appointment of 2008 for the women.